Gutu, Tibetan New Year Reunion Dinner
Gutu is a special dinner Tibetan people have on December 29 on Tibetan calendar to dispel ghosts, hanker for happiness and welcome Tibetan New Year. On December 29 of Tibetan lunar calendar, when it is dark, every family member is seated according to their seniority in the family tree and eats Tuba, which is a ceremony called "Gutu" to drive evil away and can be traced back to Tibetans' rituals. This is a very grand ceremony, and in Tibetan language, Gu means nine (for 29), and tu means Tuba.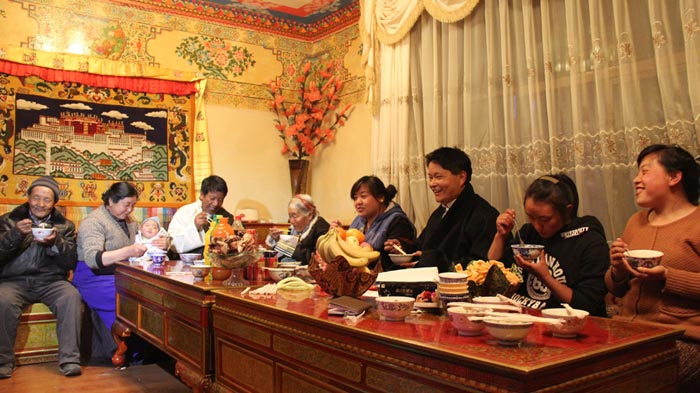 All the family members are eating gutu together.
On this day, people prepare a very special dinner called "Gutu". For dinner people usually eat congee of barley or soup of Zanba. The special dinner "Gutu" consists of nine foodstuffs, barley flakes, peas, dough ball soup, radish and etc. To add to the festivity of the scene, people choose some symbolic things and stuff them into the wheat paste balls. Some symbolize luck and some symbolize different personalities. The stuffed paste balls and the dough balls are cooked together in a pottery pot into delicious soup. Before they eat Gutu soup, everybody rubs some parts of his body with a wet paste ball uttering these words like "Ah, the sufferings, pains and diseases all go away from me."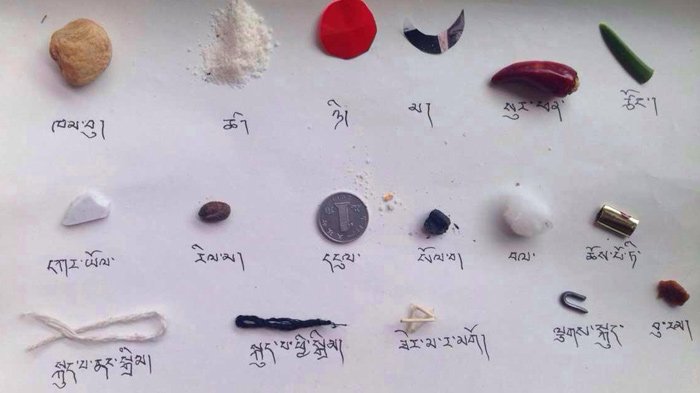 Different stuffing has different meanings.
What a family member eats predicts his/her luck of the coming year. All the family member sit together and discuss what they are eating and their luck and wish of the New Year. It is really a very happy and peaceful scene. If you are just travelling in Tibet around Tibetan New Year, just join local Tibetans' new year dinner. You will be welcomed.
Tibetans are preparing for the ghost-dispelling ceremony.
Another ceremony comes after the special dinner, that is, ghost-dispelling. Every household in the village lit firecrackers and torch made of straw, and yell "come out, come out" while running out of their houses to an intersection of their village. They would throw the torch and remained gutu at the intersection, which means that they have dispelled all the devil in their house and a good new year is coming.