Ritual Walk Season in Tibet – Saga Dawa Festival
The whole fourth Tibetan lunar month is the ritual walk season in Tibet when Tibetan people celebrate Saga Dawa Festival by ritual walks around sacred sites, like temples, holy mountains and lakes.
Saga Dawa is the entire fourth month of the Tibetan lunar calendar and is the holiest time of the Tibetan year and a peak time for pilgrimages. The Saga Dawa Festival lasts from April 1 to April 30 on Tibetan calendar, but April 15 is the grandest day. The highlights of Saga Dawa Festival 2017 will fall on June 9, 2017 in solar calendar. (See our predesigned Saga Dawa Festival Tour 2017)
The seventh day of Saga Dawa is the day of the historical Buddha's birth for Tibetans. However, the Buddha's birth, enlightenment and entry into Nirvana at his death are observed together on the 15th day of Saga Dawa. "Saga" is the 28th constellation named Di and "Dawa" means "month" in Tibetan. The birth and the attainment of nirvana of Sakyamuni is believed on April 15, the fifteenth of the fourth month on Tibetan calendar, so more Buddhist ceremonies are held in this month.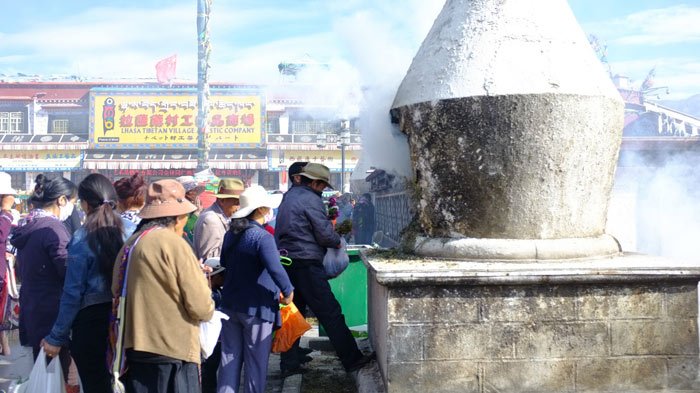 Tibetans are burning the mulberry branches in front of Jokhang Temple.
Lhasa is a centre for celebrating Saga Dawa Festival. During the period of the Saga Dawa Festival, hundreds of thousands of believers gather in Lhasa to take ritual walks while participating in ceremonious activities including fasting, freeing captive animals, alms giving, etc. Tibetan Buddhism believers burn mulberry branches in the incense-burner in front of holy temples and mountains.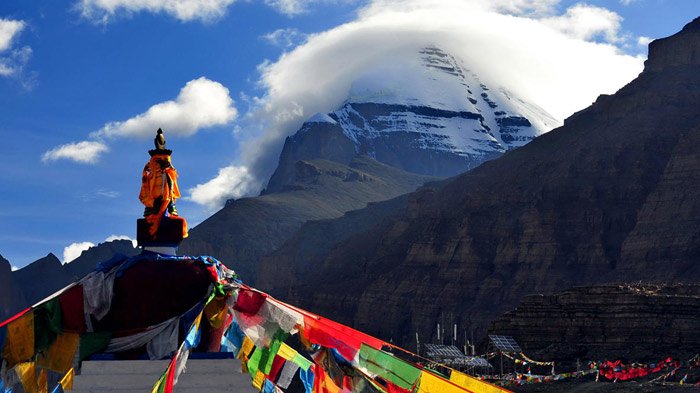 New prayer flags have been put on around the holy mount Kailash.
Another centre of Saga Dawa Festival is Mt. Kailash. During the Saga Dawa Festival, Mt. Kailash would witness thousands of pilgrims. For over a thousand years pilgrims have flocked to Mt Kailash to replace the Tarboche flagpole, a huge pole that stands on the Kailash kora (hiking circuit), south of the mountain. The ceremony is led by a lama from the nearby monastery and Tibetans and Buddhists gather here to attach their prayer flags, to pray and to help erect the flagpole.
See more about How Tibetan People Celebrate Saga Dawa Festival at Mt. Kailash