Tibetan Language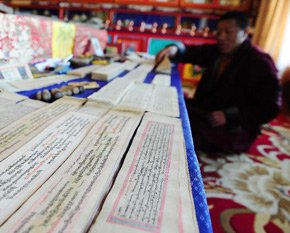 Tibetan Literature
Language is the carrier of our history, helping us know the past better; meanwhile, language is a way of interaction among different ethnic groups, reflecting their unique life.
After years of studying Indian script, Tomi Sangbozha, the language scholar, created Tibetan script during the period of Songtsen Gampo. Since then, Tibetan language has been widely spoken across Qinghai-Tibet Plateau. As People's Republic of China established in 1949, communication between Tibetan and outside world has been further strengthened. Together with four Chinese famous classic books, many world-known masterpieces were translated into Tibetan, too. In return, Tibetan literature were translated into Chinese, English, Janpanese and other languages.
Tibetan folklore and authorial literature offer you a great opportunity to explore Tibetan ancient history, diverse culture, mysterious religion, folk art, social life, distinctive customs, etc.
Just a Reminder
Joining in a small group tour is the very BEST way for solo travelers or traveling Tibet on a budget!
As the Pioneer of Tibet Tourism for global tourists since 1984, TIBET VISTA has been the FIRST TOUR OPERATOR of running join-in group tour business in local and with ability of organizing over 5000 visitors a year. For Tibet Vista's special contribution to Tibet Tourism especially to Mt. Everest Tour, we were the ONLY company awarded by Tibet Tourism Bureau Shigatse "THE EXCELLENT ORGANIZER OF MT. EVEREST TOUR "in 2015.
View our Tibet Small Group Tour