Here's Why Tibetan Rugs Are Becoming More Popular Around The World
Have you ever wandered around a medina, market or plaza in some unfamiliar territory somewhere, and found yourself drawn to the myriad of velvet and pastel rugs? We have! The rug shops are nearly always the best presented of all the market shops, with huge weaved hangings draping off the walls and layers of sample rugs taking up much of the floor space; they are just so inviting to touch and sit on!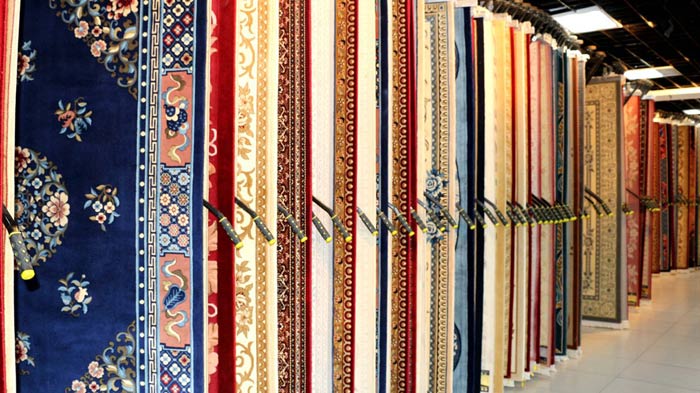 Beautiful Tibetan rugs are exhibited in the shop.
"That rug would look great in my living room", we have heard people say on more than one occasion.
As a traveller or holidaymaker, it is sometimes hard to not give in to the temptation when you come across something magnificent like a traditionally made rug. You wish you could take it home, but it just isn't practical to travel with (please, don't even try to imagine checking in at the airport with a huge rug). However, with constantly improving worldwide courier services, purchasing such items is becoming increasingly more realistic, therefore raising the bar on the number of rugs being sold to foreigners.
So, let's introduce you to the idea of purchasing your very own Tibetan rug.
A Brief History
Tibetan rug-making is an ancient tradition of the Central Asian region. Tibet prides itself on its long history of fine craftsmanship and quality finishes, and is very aware of its influence on neighbouring countries such as Nepal and India. They have been welcoming Tibetans willing to teach their nation's rug-making methods. Because of this influence, Tibet's traditions have subsequently brought new and thriving business to their neighbours and thus, attracted buyers from all around the world.
Historically, Tibetan rugs were made equally between men and women, and seen as a relaxing and expressive thing to do. It has held this art close to its heart for hundreds of years and was only first discovered by Europeans when British travellers passed through Tibet early in the twentieth century. Weaving workshops were found in the forecourts of palaces, aristocratic houses and monasteries, and the resulting pieces were draped over walls, floors and even horse saddles.
Nowadays, these rugs are making their way into people's homes thousands of miles from Tibet, which reflects upon the hard work, dedication and skill levels of those Tibetans who have worked tirelessly to produce such wonderful pieces of art.
Designs to look out for…
You will come across a few weaving shops dotted around the city of Lhasa, making luxury rugs and hangings. Mainly constructed with the use of local sheep's wool, the process for completing one rug takes a lot of man hours, spending the utmost care getting those final details perfect. The quality hasn't dropped in Tibet, even with the temptation of using cheaper dyes and imported or synthetic wool.
Rugs that have lasted the past 200 years are still in their plenty and found all around Tibet. They are also prized possessions of people in many other countries. The colours are typically subdued because natural dyes were hard to come by until recently, but with that being said, the designs are still wonderfully presented and still sought after today. The natural dyes produce colours such as scarlet, indigo, and yellow (also labelled as Tibetan rhubarb), and many more. It was always important for the rug makers to stick to these natural dyes and not revert to synthetic or chemical-based dyes, and this has been a main reason why Tibetan rugs have maintained their reputation. In addition, the importance of environmentally friendly designs prompted a steady increase in popularity around the world. Morals go a long way!
Here are the two most popular designs:
1# Tiger Rugs
They were initially made with actual tiger skin. Tibetans in the modern era have realised that tigers are endangered and therefore looked to preserve them, reverting to the tiger skin look only. These realistic interpretations of tiger pelts show more abstract versions of tiger stripes, which has seen a surge of international sales from admiring Westerners. Traditionally, Tibetans believed that the tiger skin provided protection to a person engaged in meditation, but even if you don't meditate, they are full of character and a piece you could own with pride (we're talking about the ones that look like tiger pelts, not actual ones).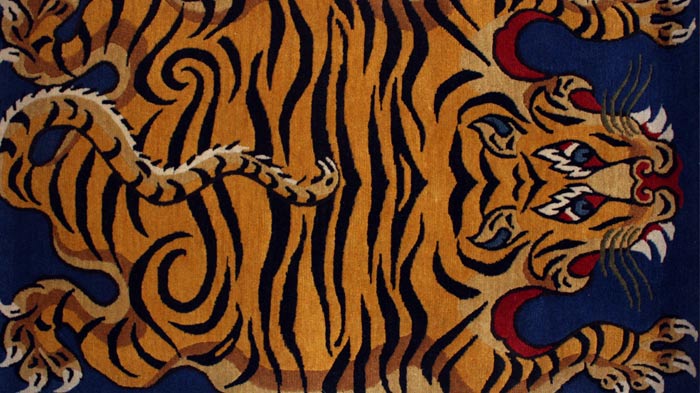 Tibetan Tiger Rugs
2# Wangden Rugs
They are thick, weaved rugs with a growing popularity. Traditionally used as sitting carpets by monks, they have made their way into the sitting rooms and onto the floors of many admirers. Wangden is actually a small town in south central Tibet, which is where this design originates. However, there is no need to head all the way to the town nowadays, as sales have been boosted by the emergence of Lhasa's rug market.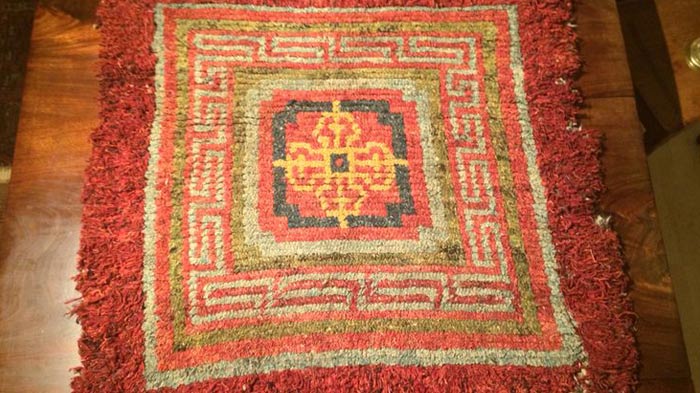 Tibetan Wangden Rugs
How do they compare to the rest of the Rug industry?
Because modern technology has evolved and the demand is higher, many rug businesses around the world have adapted the way they make their rugs. Even though their environmental stewardship may not be as well endorsed as the Tibetan ways, many businesses outside of the nation are still using the Tibetan patterns as their chosen theme. Why? Because the designs are ancient and cool, because each weave tells part of a story that represents the mysterious Tibet; and because they bring a desired mood to a room.
Some of the traditional Tibetan processes have been followed as closely as possible and offer the most genuine options. These outlets present their products so well, it's as if you had walked through the city of Lhasa and walked right into a weaving factory. You will certainly find man-made, hand-cleaned Yak-Soo, the traditional rug made from traditional processes and holding unexpected loveliness, and they will be the crème de la crème of rugs on the market.
Helpful tips when purchasing a Tibetan rug
If you are looking to buy a Tibetan-style rug outside of Tibet, here are some questions you should ask your seller before purchasing:
#1 What was the dying process?
#2 What was the washing process?
#3 Were the rugs made via hand or machine?
The most ethical and environmentally friendly ways represent the Tibetan way, and that is why they are becoming so popular again. If you are thinking of travelling to Tibet, there is so much to plan and see. If you are the type of traveller or tourist that likes to buy a piece of each country they visit, we recommend considering purchasing a highly renowned and sought after Tibetan rug. There will be opportunities to get a custom made design if you have time, but otherwise there is plenty of choice in the shops around Lhasa. Let us know what designs you get!