Pabang Dangkuo Festival in Reting Monastery
Pabang Dangkuo Festival is the most important festival held in Reting Monastery north of Lhasa. Pabang Dangkuo Festival in Reting Monastery was only purely religious prayer activity and then gradually developed into an integrative festival including varied entertainments and goods exchange.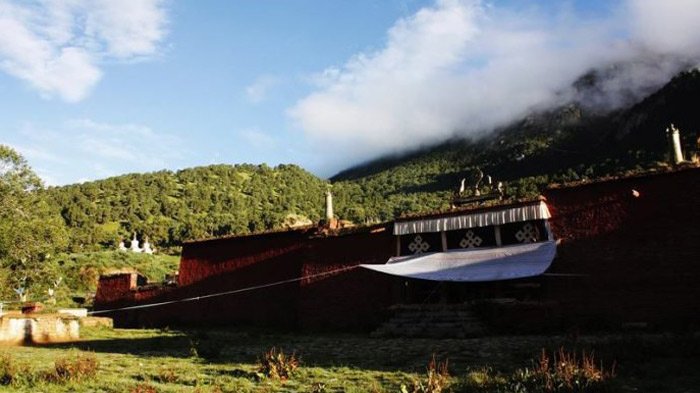 Reting Monastery in Lhasa
Pabang means big stones, Dang glass lawn. Pabang Dang, called holy place by Lamas, is located in the western side of Reting Monastery, the first temple of Kadampa built in Tangguo village, Linzhou Country, which is 240 kilometers away from the north of Lhasa. Jiang Bai Duo Ji is the lord Buddha in the Reting Monastery. In the date of festival, devout worshippers come to present offerings, chant sutras, pray from thousands miles away. The Pabang Dangkuo Festival falls on every July 15th of Tibetan calendar.
In the morning, the horse racing and the ripening crop robbing are extremely exciting. According to the traditional rules, one of the horses must be white, and one of riders must wear white. In the racing, the white horse and the rider who wears white must reach the destination, which shows good luck. The dignitary of Reting Monastery will give away the prizes and Kada to the winner.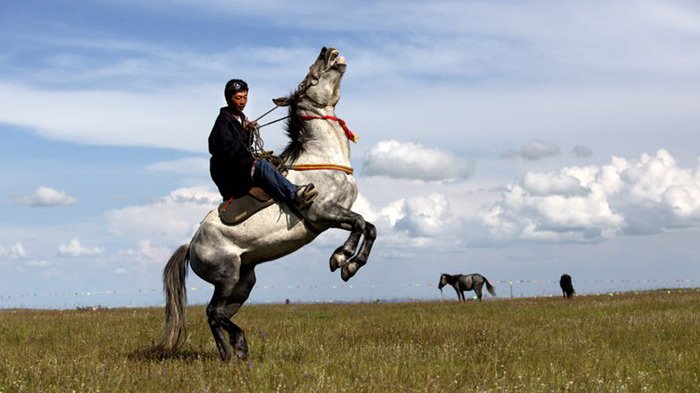 Horce racing in Pabang Dangkuo Festival
At 12:30 at noon, the moment to establish Reting Pabang throne starts. Lamas chant sutras in the big tent. In front of the tent, there is a red stone altar which called Tso. Tso is terraced and decorated with Butter sculpture. In the middle of the altar, there is a picture about the cycle of birth and death. A whole lamb without its skin is put in front of the picture. Devout worshippers put their offerings around Tso. After Lamas chant sutras, people scramble for the offerings. Grant that you get a little offering, you could be very lucky.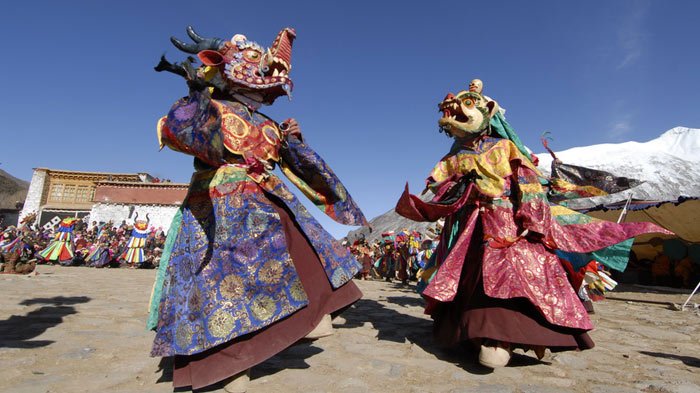 Tibetan Buddhist dances are something you can't miss during Pabang Dangkuo Festival.
In the afternoon, the climax of the festival is Chamo, a kind of temple dance of the Tibetan Buddhists. Chamo is the pioneering work of AMECHAMJIURINQEN, a famous yoga teacher. The Young lamas of Reting form the Chamo group and make all kinds of dances with religious names and rubadub music. Pabang Dangkuo Festival finishes with Chamo.
This festival ranked second among 20 Tibetan festivals on the 3rd Chinese Festival Innovation Forum or 2012 Chinese Brand Festival Press Conference. Planning a Tibet tour during Tibetan festivals can enrich your Tibetan culture experience. If you need any help on arranging your trip to Tibet, just feel free to contact Tibet travel org with rich experience in organizing Tibet tours.