Chawalong Horse Racing Festival - Carnival on Horse Back
Chawalong Village is located in Chayu County, Nyingchi Prefecture, Tibet. Chawalong has very limited resources, with no access to electricity, phone signals, etc., almost everywhere! Most importantly, there are only 4 roads connecting Chawalong to outside world. However, whichever road you choose, you are going to need to ride horses though some rough sections. Thus, horse is a very important part of Chawalong villagers' life.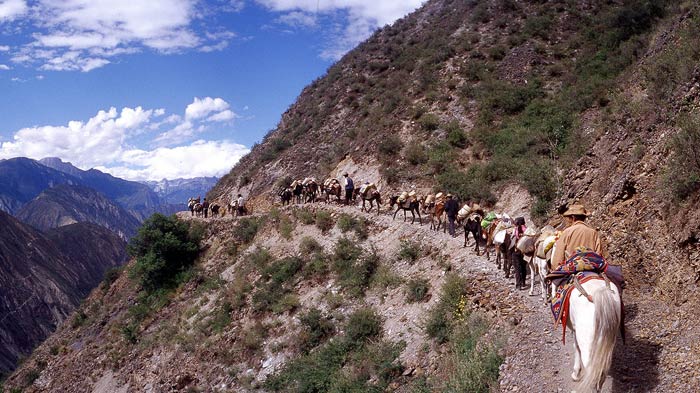 Chawalong Village
Chawalong Horse Festival falls on Feb.15th in Tibetan calendar. If you want to experience the most local and traditional life of Tibet, watching the horse festival is your second-to-none choice. Because of very bad road conditions,sometimes horse is the best and the only choice. Villagers also take horse as the closest friends and intimate family member. Horse Racing Festival is a way to communicate,to mingle and also a way to show manliness and bravery.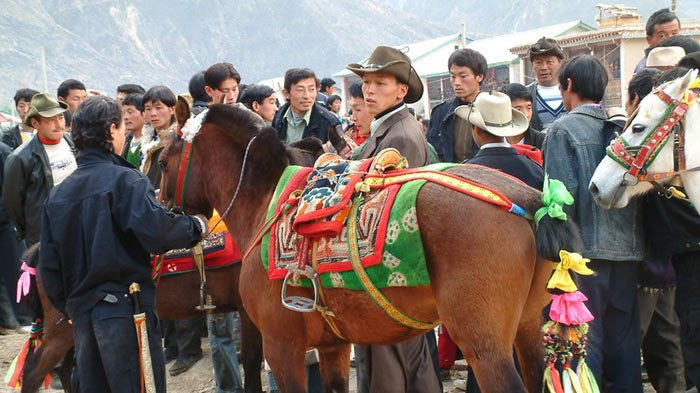 Tibetans are buying horses for Chawalong Festival.
The festival riders will begin to select their favorite horses many days in advance. Some even buy horses from Xinjiang and Inner Mongolia. On the first day of the festival, all the locals will dress up and gather together to have fun. Even the horse will be decorated with colorful ribbons and flags. Audiences stand by the track, cheering and applauding for the competitors. All riders will spare no efforts to show their skills and sports spirit. These horses are raced to see who owns the best horse. The winner will receive a lot of honor and prestige. This festival lasts for about 1 week. Besides ordinary horse racing, singing, dancing, running, tug-of-war competitions will be held concurrently. Tibetan people from other villages will gather together to watch the games, competitions and by the way, do some businesses. You can buy authentic Tibetan crafts at such big market.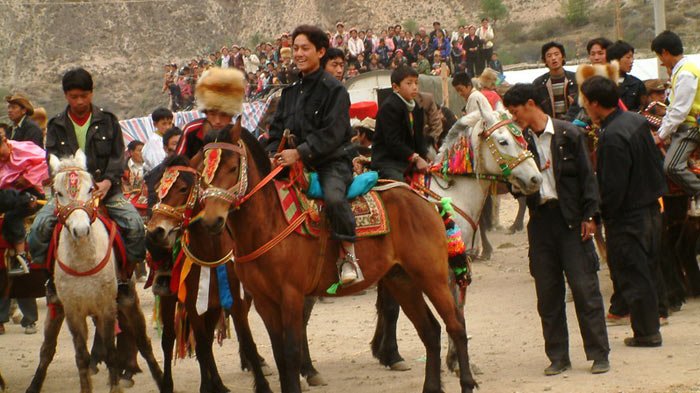 Couples of riders are ready for Chawalong Horse Racing Festival.
In addition, it is also a fashion show. Tibetan men and women will wear their most beautiful folk dresses and most valuable jewelries. During the festival, people will talk about which girl is the cutest, which boy is the most handsome, whose dance is the most amazing, whose horse is the best, etc. Actually, many young Tibetans will find their better half at this grand event.
Thanks to this festival, the villagers get business convenience, the winners receive honor, the traders make money, the young people find love, and–most important of all—the locals have an enjoyable way of life.