Butter Sculptures Exhibition
An annual exhibition of butter sculptures was held in celebration of the Chinese Lantern Festival in Taer Monastery, a prominent monastery in northwest China's Qinghai Province. With delicate handmade yak butter sculptures, the exhibition has attracted up to 150,000 masses and visitors from all ethnic groups on Chinese Lantern Festival, the climax of Chinese New Year celebrations on the 15th day of lunar January.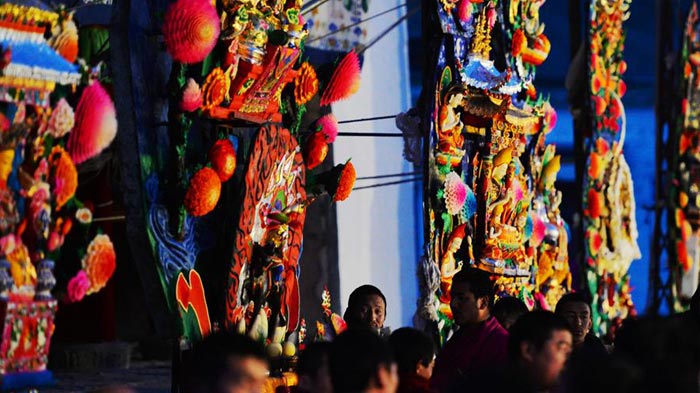 Local people are appreciating butter sculptures outside Taer Monastery.
The Tibetan butter sculpture has derived its name from yak butter, which is sculpted into various shapes such as Buddha, religious characters, landscapes, pavilions, animals, flowers and trees. Originated from Tibet, butter sculpture in Qinghai Province's Taer Monastery boasts high artistic quality and unique style with various dimensions and rich contents. Together with barbola and mural painting, it constitutes the three artistic treasures of the Taer Monastery. In 2006, butter sculpture was listed as a national intangible cultural heritage by the State Council.