Best Places to Visit in Lhasa during Tibetan New Year
Probably, you have been to Tibet many times and travelled a great deal there. However, if you fail to experience the carnival atmosphere and deeply religious celebrations of Tibetan New Year (also known as Losar) in Lhasa, you definitely miss out the best opportunity to understand exotic Tibetan culture and customs. As Tibetan New Year's eve draws close, then entire Lhasa city is adorned with eye-catching red lanterns, peppered with strong festive ambience. Throughout the 15-day celebration, a wide array of rarely-seen festivities and distinctive customs will reshape your understanding of Tibet.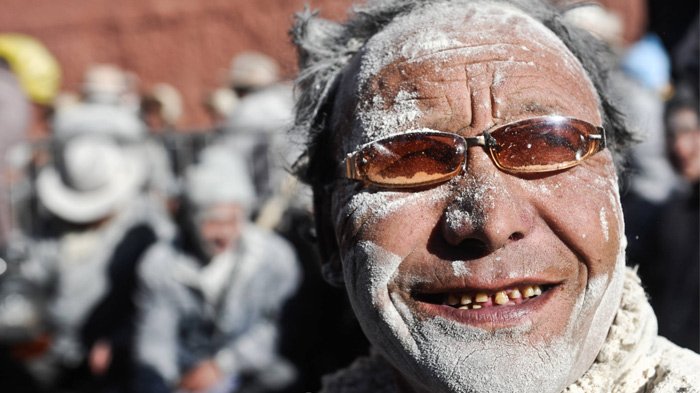 A Tibetan's face was covered with Tsampa, which was considered to be auspicious during Losar.
Travel Tips: Compared with the high season, winter tour in Lhasa sees far less crowded tourists and more tour discount, such as accommodation, transportation, attraction ticket, etc.
A number of places in Lhasa are highly recommended for exploration during Tibetan New Year.
Potala Palace: Worship Tibetan Buddha and Enjoy the View of Lhasa City
To many Tibetan pilgrims and Lhasa residents, Visiting major religious sites like Potala Palace and Jokhange Temple for pilgrimage after they get the "First Waster of New Year" is deemed extremely important and auspicious on the first day of Tibetan New Year. The century-old tradition has remained unchanged.
Tourists can follow the fervent pilgrims to climb Potala Palace and add butter oil to lamps inside. To enjoy the festive view of Lhasa city from the rooftop of Potala Palace would be a once-in-a-life-time experience.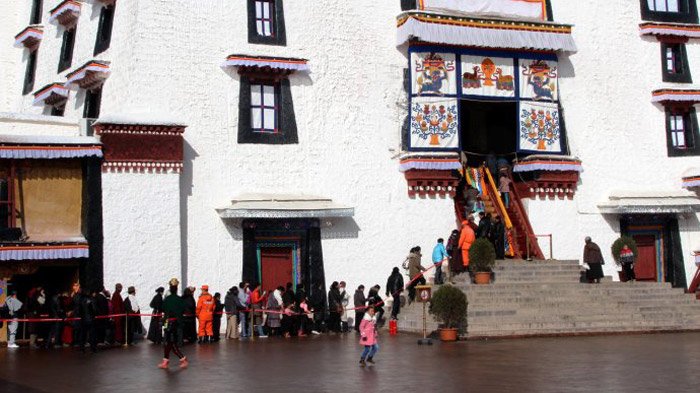 Numerous Tibetan pilgrims and other visitors lined up to worship Potala Palace on the first day of Tibetan New Year.
Besides, you can see the new "fragrant curtain" ( normally, white and blue cloth on windows or rooftop)being placed on Potala Palace and photograph with the huge "Chemar" in front of the Potala Palace. At night, the beautiful musical fountain will move in line with enchanting music. Luckily, tourists may also see lively Guozhuang dance before Potala Palace, a traditional dancing and singing in circle.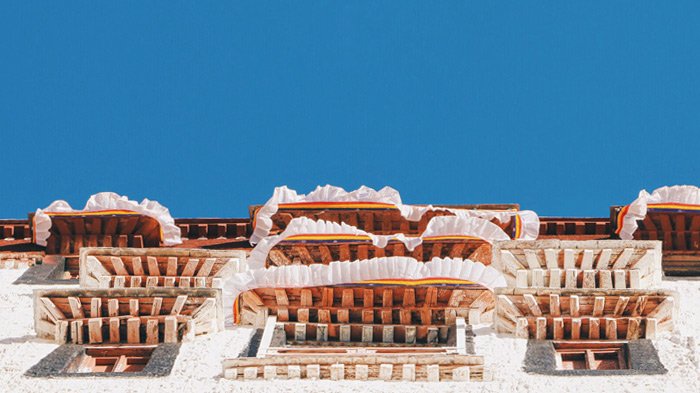 The auspicious "Fragrant Curtain" was expected to be replaced with new one on Losar.
Travel Tips: the long steps on Potala Palace are a bit challenge to new comers in Lhasa. It's advisable to climb slowly and steady.
Jokhang Temple and Barkhor Street: Experience the Most Fervent Pilgrimage Atmosphere
As the spiritual heart of Lhasa, Jokhang Temple will be the center of celebration and pilgrimage. In fact,normally as early as Tibetan New Year's eve, there would be huge crowds of well-dressed Tibetans, lining up to visit worship the sacred religious site for the beginning of the New Year.

Starting from Day 4 of Tibetan New Year, large-scale Buddhist assembly and monk debate will also be held in Jokhang Temple as well as in Sera monastery, Drepung Monastery, and Ganden Monastery (top three monastery with Gelugpa sect in Lhasa). Then, monks will chant Buddhist mantra to pray for the blessings and peace for all living creatures.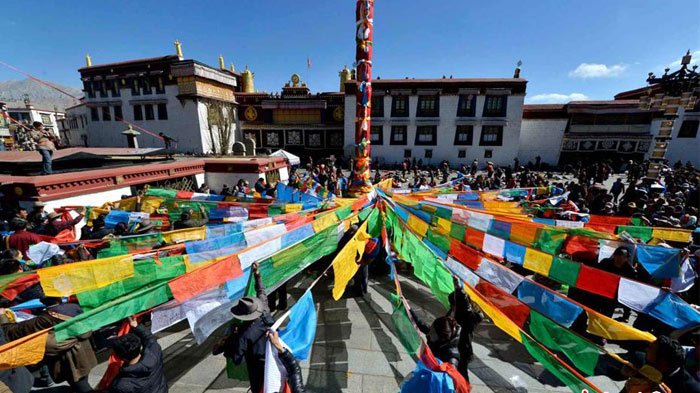 Pilgrims helped to wrap and erect new prayer flags in front of Jokhang Temple.
The most impressive event would the annual replacement of new prayer flags on 5 gigantic prayer flags mast in front of Jokhang Temple. Number pilgrims are expected to attend the event, and fast the new prayer flags on which best wishes and blessings are written on the mast.
Of course, the religious prostration and burning herbal offerings before Jokhang Temple and around Barkhor Street are also a great sight. Though many shops may be closed due to the festival, many street vendors selling lucky ornaments on Barkhor Street like colorful butter flowers, New Year couplet, Chemar, etc. can also be found.
Tromzikhang Market: Explore the Most Busy Market in Lhasa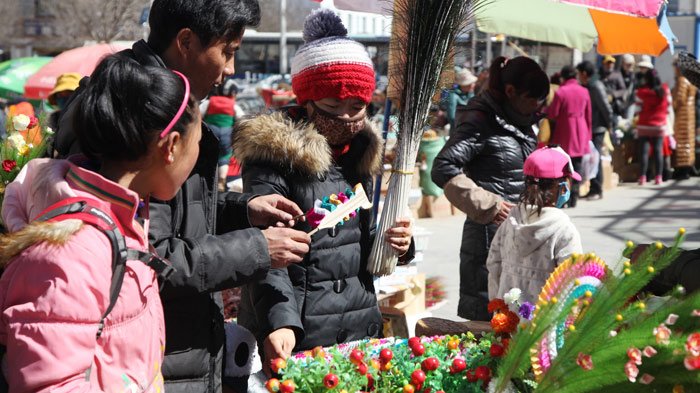 Lhasa residents were busy shopping in Tromzikhang Market .
In terms of secular life, no other place is busier than the scene you see in Tromzikhang Market. Located at northwest of Jokhang temple, Tromzikhang Market is the largest market that sells the daily necessities for Lhasa residents. Products sold here are so diverse but mostly are farm produce, such yak butter, cheese, tea, noodles, vegetables and candy, etc.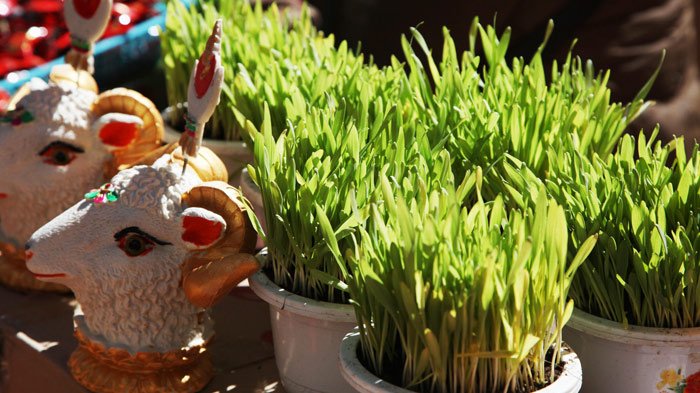 Common Tibetan New Year ornaments were like sheep head, barley sprouts, butter flowers, etc.
To store the ingredients for making traditional food and Tibetan New Year's ornaments to decorate houses, the Tibetan housewives will start to shop far before Tibetan New Year's eve. You may find delicately-made butter flowers, beautiful New Year couplet, and auspicious sheep head, color barley straw and khapse, barley sprouts and many more await your discovery. By chatting with the vendors, you will learn more about the daily life of Tibetans.
Chagpori: Hang Pray Flags and Worship Mountain and River Gods
Traditionally, on the third day of Tibetan New Year, Tibetans will travel in groups to suburbs of Lhasa like Chagpori where they will burn pine branches, cypress (the ritual is known as Weisang) to make smoke as special fragrant offerings to mountain god and river gods.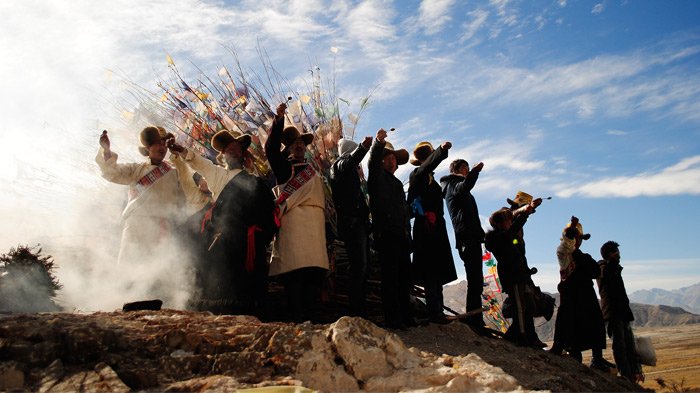 As Tibetans worshipped mountain god, they would sprinkle Tsampa to express their goodwill.
In addition, tourists can follow Tibetans and hang the lucky prayer flags on the mountain. While you burn cypress and erect prayer flags tree, you need to sprinkle a nibble of tsampa high above the air and later eat the tsampa with the blessing words "Tashi Delek". In this way, you and your family will be blessed in the New Year.
Since the sacred hill is situated right at the left side of Potala Palace, it is also widely known as the best place to photograph magnificent Potala Palace at twilight.
Horseracing Venue at Lhasa Suburb: Enjoy the Impressive Archery and Horsemanship
Another entertaining occasion is the annual horseracing event to be held on the day 3 of Tibetan New Year on the eastern outskirts of Lhasa. Inside the horseracing venue, skillful archers and horsemen will fully display their stunning horsemanship and archery by shooting balloons at great distance on horseback or using sharp blade to cut tree branches, etc. The traditional Tibetan delicacies sold during the horseracing are also worth a try.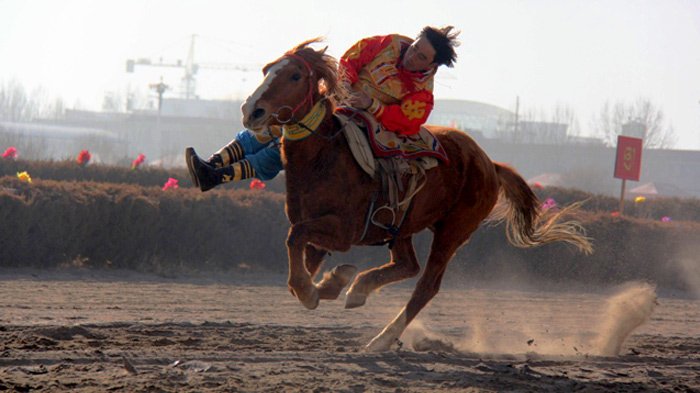 Annual horse racing and stunt performance were an integral part of Tibetan New Year's Celebration .
Farmland of the Suburbs of Lhasa: Join the Unique Farm-ploughing Ceremony
Day 5 of the Tibetan New Year is a special day to Tibetan farmers. It's known as day of farm ploughing or spring ploughing. Not only do Tibetan farmers dress formally, so are yaks. All the horns of yaks will be decorated with colorful butter flowers, and beautiful flags and feathers.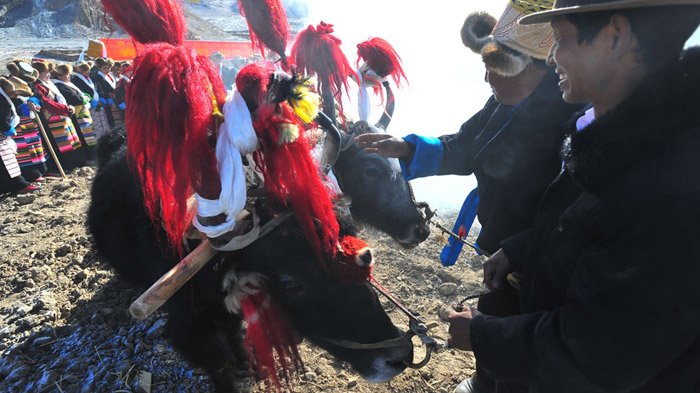 Farm-ploughing Ceremony matters alot to Tibetan farmers for all are keen to have a great begining for New Year's farming .
Then, a white stone which symbolizes the deity of harvest will be placed at the center of the farmland. Soon, farmers begin to plough on the farm and sow the seeds like barley, rapeseed, etc. Later they will sprinkle tsampa and drink chang (Tibetan barley wine) and dance around the farmland. If you find Tibetan farming customs interesting, this event is a great choice during Tibetan New Year.