Tibetan Sweet Tea: one of Tibetans' Favourite Pastimes
Drinking sweet tea is not only a deeply-rooted custom in Tibet, but also forms an integral part of local Tibetans' favorite pastime. Wherever you are, pastoral areas, small villages or big cities, as long as you make a visit to a Tibetan family, you will be warmly received with tasty sweet tea for hospitality.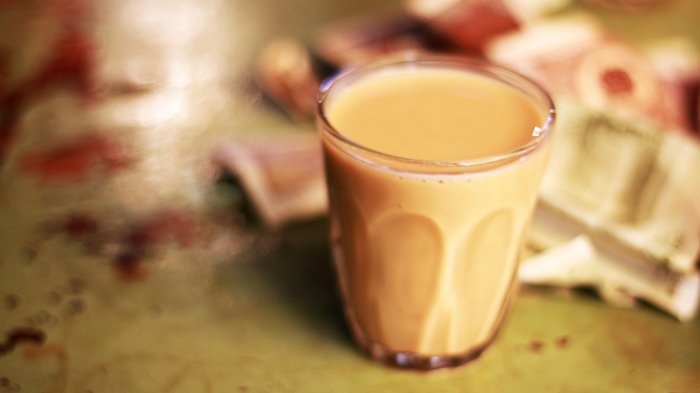 Origin of Sweet Tea Drinking
Though the tradition of sweet tea drinking has lasted for over a hundred years, no one can tell exactly who brought such practice into Tibet. Some believe that it was the British troops who first introduced the sweet tea drinking custom to Tibet. Whereas many more clung to the facts that the existence of the sweet tea drinking culture was largely due to the influence of neighboring countries such as Nepal and India.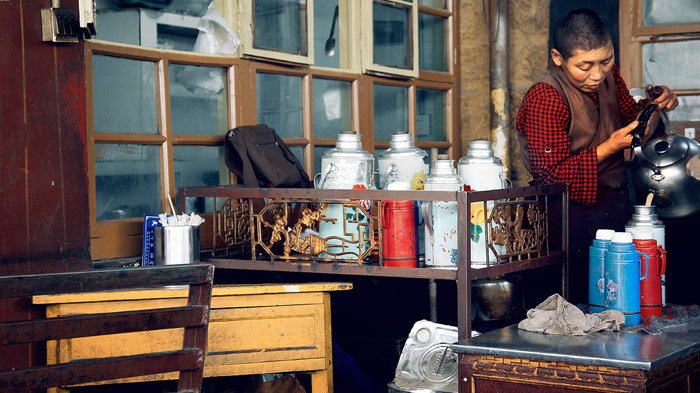 No matter which account is correct, so far sweet teahouses are so pervasive in Lhasa city that tourists can easily find a couple of them on any streets. Like famous Tibetan butter tea, sweet tea has an irreplaceable place in Tibetan folk culture.
Ingredients of Sweet Tea Making
The process of sweet tea making is extremely simple, so are its main ingredients which consist of powdered milk, black tea and sugar. The black tea can either be domestic black tea or Nepali one. As to sugar, it can be refined white sugar or black sugar. And you may either fresh or powered milk for cooking.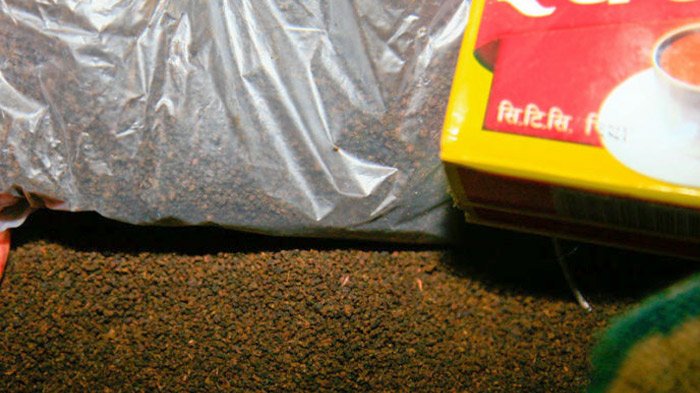 Step one: Boil Black Tea
Put the black tea into a specially-made cloth bag used to filter the unwanted substance from black tea, and later put the bag into the boiling water for around 5min.
Step Two: Mix Powdered Milk with the Tea
Put the powdered milk into the mixer and add tea for mixture. And the trick is using different kinds of milk can have better taste. Later stir the tea and remove the foam on the surface.
Step three: Add Sugar into the Tea
Add sugar into the tea and evenly stir it. The tea must be fully boiled. Then, after 5-6min, everything is done.
Celebrated Sweet Tea House in Lhasa
Interestingly, although many tourists may find it hard to get used to the salty butter tea, almost all of the global tourists are big fans of refreshing sweet tea. And drinking sweet tea and tasting local Tibetan food in Tibetan sweet teahouse become one of the most direct ways to experience exotic Tibetan culture while touring Lhasa. Amid the large numbers of sweet tea houses in Lhasa, three are highly recommended for tourists to stop by.
a. Guang Ming Gang Qiong Sweet Teahouse
Guang Ming Gang Qiong Sweet Teahouse is one of the most renowned sweet teahouses in Lhasa. Due to its proximity to Jokhang Temple and Barkhor Streeet, it's a great place for locals and Tibetan pilgrims to chat while enjoying sweet tea and Tibetan noodles.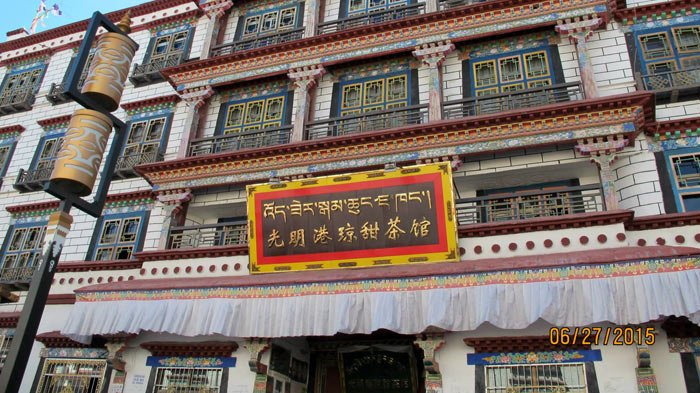 Probably to your great surprise, there is no waitress or waiter to greet you at the entrance. You get your own tea cup and find a place to sit. After you put your money on the table (usually 0.7 CNY/ cup) and soon a waitress will come to you and fill your cup with refreshing sweet tea. Once you finish one cup and just repeat the same move, and she would come again and refill the cup.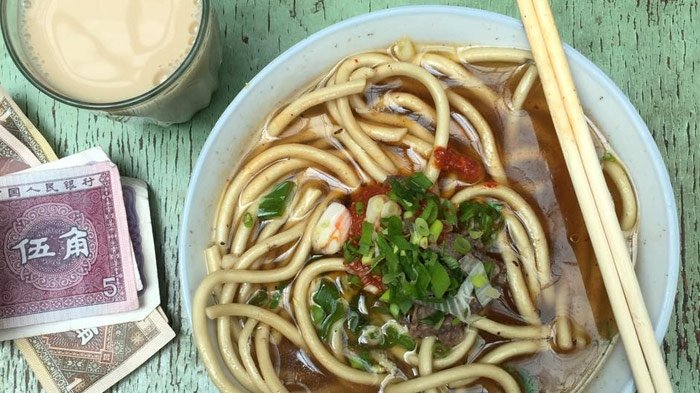 As you sit in bustling teahouse and look around, you are literally surrounded by plenty of local Tibetans and international tourists. Many elderly Tibetans would have a rest in this sweet teahouse after Barkhor Kora. With their face overflowing with religious devotion and happiness, they keep chanting the Buddhist mantra and spinning hand-held prayer wheel on their right hand. You will be deeply impressed with how harmonious the religious and secular life blends with each other for locals Tibetans.
Address: Danxielin Road, Chengguan District, Lhasa

b. Tsamkhung Nunnery (Cang Gu Nunnery)
Unlike the somewhat a bit noisy Guang Ming Gang Qiong Sweet Teahouse, Tsamkhung Nunnery is a great choice for someone who longs for peace and quiet. Tsamkhung Nunnery is the largest nunnery in Lhasa city and lies deep inside an alley off Barkhor street, close to the Makye Ame restaurant.Mostly only Tibetan families and old folks are found here.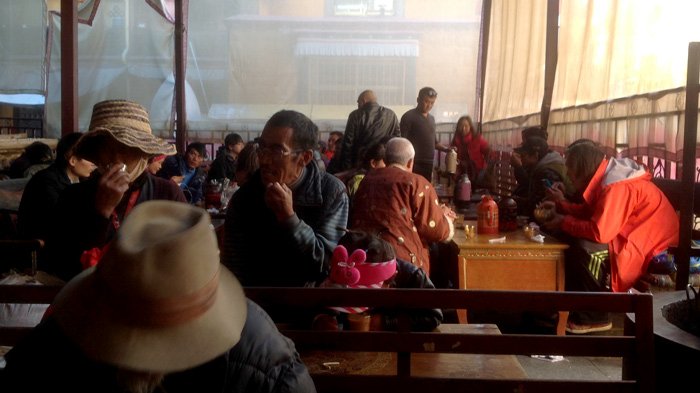 If you only come for sweet tea, there is no need to buy ticket for visiting Tsamkhung Nunnery. Tea tables are set in orderly fashion under the beautiful tent. You spend around 5-7 Yuan for a pot of sweet tea and then sit back and sip your sweet tea. Sporadically, a faint of Buddhist mantra chanting floats to your ears from the nearby nunnery. Overall, it's a terrific place to spend the pleasing afternoon inside Lhasa city.
Address: Linkuo Road, Chengguan District, Lhasa
c. Laogeming Sweet Teahouse
Though Laogeming Sweet Teahouse is decorated more like a fast food restaurant, its Tibetan noodles is believed to be the best in Lhasa city. You can see many locals having sweet tea and Tibetan noodles here.
Address: Renmin Stadium, Jiangsu Road, Chengguan District, Lhasa
As the Tibetan proverb goes that one can live without food but never without tea. Never miss such a great opportunity to get a real bite of Tibetan folk culture in Lhasa.