Tibetan Sweet Tea: One of the Most Favorite Tibetan Pastimes to Try During Your Tibet Tour
Drinking sweet tea is not only a deeply-rooted custom in Tibet but also forms an integral part of local Tibetans' favorite pastime. Wherever you are, pastoral areas, small villages, or big cities, as long as you make a visit to a Tibetan family, you will be warmly received with tasty Tibetan sweet tea for hospitality.
Sweet tea to Tibetans is just like coffee to Westerners. Most Tibetans get used to making a sip of sweet tea in the morning and their dinners are paired with sweet tea either, and some of them even don't drink water but only sweet tea.
In Lhasa, the best place to experience the popular Tibetan pastimes is to have a cup of tea in a local Tibetan Teahouse, which is not merely an ordinary tea house, in a large sense it's a place for information collection, socializing, moreover it also serves as the local news forum.
Here, for you to learn more about the popular Tibetan beverage and how Tibetans enjoy their life in a tea house, we offer you the most comprehensive travel guide to try the most favorite Tibetan pastimes during your Tibet tour.
What is Tibetan Sweet Tea?
Tibetan sweet tea, called "Qabadi" in Tibetan, is made of black tea, mixing with milk and sugar, serving as refreshment. It is a typical Tibetan flavor beverage that you shall not miss a try during your Tibet tour.
History of Tibetan Sweet Tea
Sweet tea doesn't originate from Tibet. About one century ago, some Islamic business persons who shuttled from Nepal and India to Tibet brought the sweet tea in and some riches and politically influential families in Tibet for the first time tasted it.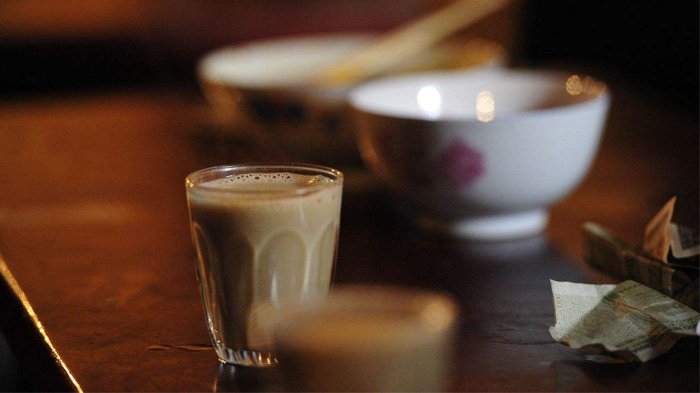 Tibetan Sweet Tea
Ever since then, Tibetan aristocrats have been found of sweet tea and some of them even hired special cooks from Nepal or India to make sweet tea for them, therefore, this kind of beverage was soon popular among the Tibetan aristocrats and the act that treat the guests with sweet tea became a representation of the hosts' hospitality.
Development of Tibetan Sweet Tea House
Although sweet tea houses are now so pervasive in Lhasa city that you can easily find a couple of them on any streets, until the 1920s, only Tibetan nobilities, riches, and aristocrats were allowed into sweet houses in Lhasa.
Women were even not allowed into sweet tea houses until the 1980s. Since the business of local tea houses has been booming for decades, women, as well as every citizen in Tibet can enter a sweet tea house and take a rest there with their families and friends.
Tibetan sweet tea, the once aristocracy privilege beverage, has become the drink for everyone in Tibet.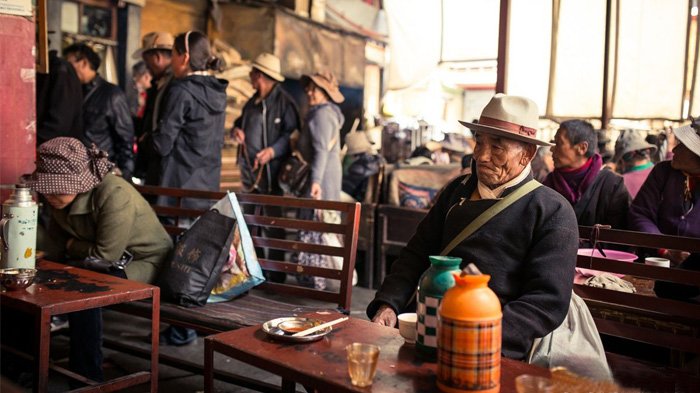 Tibetan Tea House
Now, it has become a stylish popular scene in Tibetan sweet tea houses that groups of young men, Tibetan Buddhists, and senior citizens gather at each table, speaking the stories of their own.
The sweet tea house in Tibet is not only the place for information exchange but also provides Lhasa citizens with a public cozy place of socializing.
How to Make Tibetan Sweet Tea?
The ingredients of Tibetan sweet tea mainly consist of milk, black tea, and sugar. The black tea can either be domestic black tea or Nepali one. As to sugar, it can be refined white sugar or black sugar. And you may either fresh or powdered milk for cooking.
The process of Tibetan sweet tea making is extremely simple.
Step One: Boil Black Tea
Put the black tea into a specially-made cloth bag used to filter the unwanted substance from black tea, and later put the bag into the boiling water for around 5min.
Step Two: Mix Powdered Milk with the Tea
Put the powdered milk into the mixer and add tea for a mixture. And the trick is using different kinds of milk can have better taste. Later stir the tea and remove the foam on the surface.
Step Three: Add Sugar into the Tea
Add sugar into the tea and evenly stir it. The tea must be fully boiled. Then, after 5-6min, everything is done.
Tibetan Pastimes in Tibetan Sweet Teahouse
People in Lhasa always kill their leisure time in sweet houses. Though a panorama view in sweet tea houses, you can see: senior citizens are discussing family issues, echoed by laughter; groups of young men are playing Xiu, a traditional Tibetan dicing game, in which players can "kill" each other, lingering around excitement.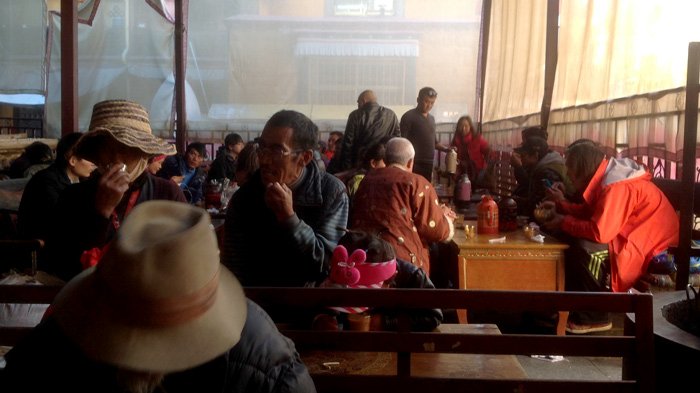 Locals were enjoying the Sweet Tea in a tea house.
Sweet tea house also provides a rest area for Tibetan Buddhists. Lamas spin their prayer wheels in one hand while holding the teacup in another murmuring the Buddhist texts and meditating ever now and then.
In sweet tea houses, costumers always put several small amount amounts of cash (usually 0.5 or 0.6 RMB) on the table and waiters will fill their cup accordingly. Everybody loves this public space, they discuss social news, beliefs, lives, and business, the atmosphere there is lively, joyful, friendly, and cozy.
In Lhasa, the sweet tea house is not in a society, it is the tiny Tibetan society, and it also symbolizes the slow and relaxed lifestyle in Lhasa. People in the sweet tea house are all basking in their exclusive happiness. For this reason, tourists to Lhasa should never miss the sweet tea house.
Video about Tibetan Sweet Tea House
Celebrated Sweet Tea House in Lhasa
Interestingly, although many tourists may find it hard to get used to the salty butter tea, almost all of the global tourists are big fans of refreshing sweet tea. And drinking sweet tea and tasting local Tibetan food in Tibetan sweet teahouse become one of the most direct ways to experience exotic Tibetan culture while touring Lhasa.
Amid the large numbers of sweet tea houses in Lhasa, three are highly recommended for tourists to stop by.
Guang Ming Gang Qiong Sweet Teahouse
Guang Ming Gang Qiong Sweet Teahouse is one of the most renowned sweet teahouses in Lhasa. Due to its proximity to Jokhang Temple and Barkhor Street, it's a great place for locals and Tibetan pilgrims to chat while enjoying sweet tea and Tibetan noodles.
Probably to your great surprise, there is no waitress or waiter to greet you at the entrance. You get your own teacup and find a place to sit.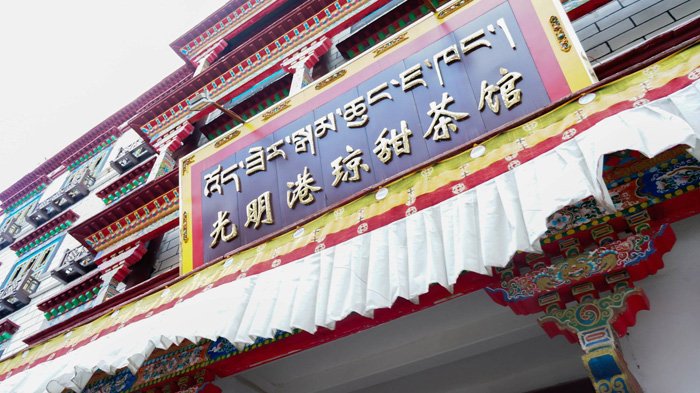 Guang Ming Sweet Tea House
After you put your money on the table (usually 0.7 CNY/ cup) and soon a waitress will come to you and fill your cup with refreshing sweet tea.
Once you finish one cup and just repeat the same move, and she would come again and refill the cup.
As you sit in a bustling teahouse and look around, you are literally surrounded by plenty of local Tibetans and international tourists.
Many elderly Tibetans would have a rest in this sweet teahouse after Barkhor Kora. With their face overflowing with religious devotion and happiness, they keep chanting the Buddhist mantra and spinning hand-held prayer wheels on their right hand.
You will be deeply impressed with how harmonious the religious and secular life blends with each other for locals Tibetans.
Tsamkhung Nunnery (Cang Gusi Nunnery)
Unlike the somewhat a bit noisy Guang Ming Gang Qiong Sweet Teahouse, Tsamkhung Nunnery is a great choice for someone who longs for peace and quiet.
Tsamkhung Nunnery is the largest nunnery in Lhasa city and lies deep inside an alley off Barkhor Street, close to the Makye Ame restaurant. Mostly only Tibetan families and old folks are found here.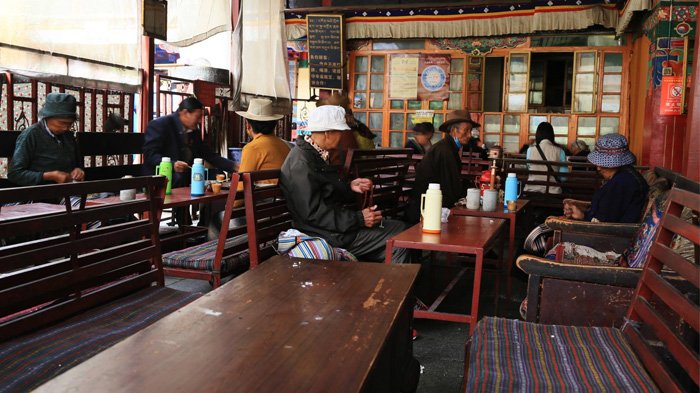 Cang Gusi Sweet Tea House
If you only come for sweet tea, there is no need to buy a ticket for visiting Tsamkhung Nunnery. Tea tables are set in an orderly fashion under a beautiful tent.
You spend around 5-7 Yuan for a pot of sweet tea and then sit back and sip your sweet tea. Sporadically, a faint of Buddhist mantra chanting floats to your ears from the nearby nunnery.
Overall, it's a terrific place to spend the pleasing afternoon inside Lhasa city.
Tips:
1. No smoking in the tea house.
2. Specialties here include yak meat, Tibetan noodles, sweet tea, buttered tea, bean jelly, beef noodles.
Laogeming Sweet Teahouse
Though Laogeming Sweet Teahouse is decorated more like a fast-food restaurant, its Tibetan noodles are believed to be the best in Lhasa city. You can see many locals having sweet tea and Tibetan noodles here.
As the Tibetan proverb goes that one can live without food but never without Tibetan tea. Never miss such a great opportunity to get a real bite of Tibetan folk culture in Lhasa.
Luo Qu Sweet Tea House
Specializing in sweet tea and Tibetan noodles, Luo Qu Sweet Tea House is a popular place for local citizens.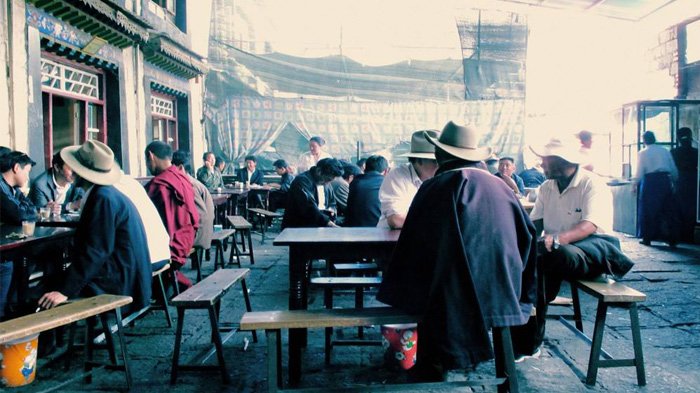 Luo Qu Sweet Tea House
Before you are considering where to take the teacup, the house owner has been greeting you with enthusiasm already.
One smallest pot of sweet tea will only cost you 5 RMB and here is also the place suffused with authentic Tibetan atmosphere.
Shan Dong Sweet Tea House
As it is located in a cave near the famous Potala Palace, many local Tibetan lamas and tourists from all over the world will visit here after the shrine worship or palace tour.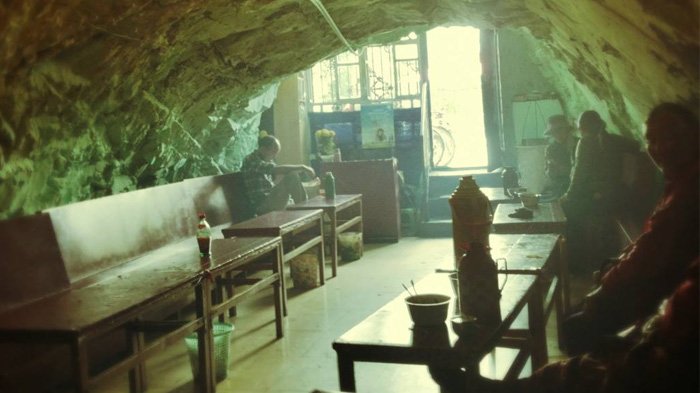 Shan Dong Sweet Tea House
Besides its great geographic location, Shan Dong sweet tea house is also featured with special scenery, the cave, through which streams of gloomy, dim light penetrate from outside and caste on all kinds of faces, in the air, Tibetan conversations echo with boiled tea fluid purrs, composing a wonderful cozy leisure ambient.
Ni Ma Tea House
Featuring as one of local citizen's favorite tea houses, few tourists will appear in Ni Ma Tea House, therefore, here is one of the best places to experience the decent Tibetan culture and pastimes.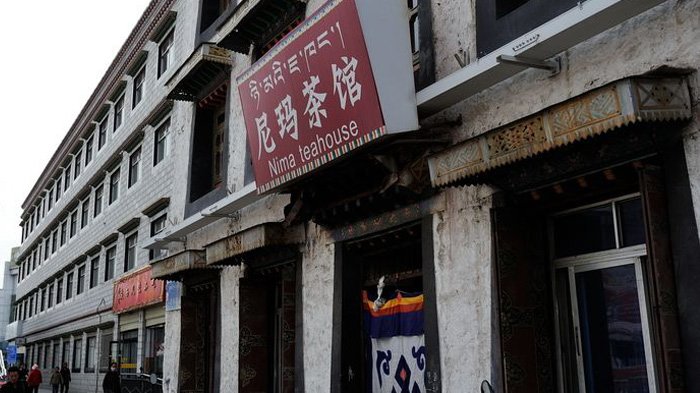 Ni Ma Tea House
Despite the humble decoration, the authentic sweet tea flavor and Tibetan dessert will capture your mind through your stomach and let you forget you are traveling here.
Ni Ma Tea House also provides decent Tibetan noodles; hence you win a chance to taste the ingenuous Tibetan food here.
Conclusion
One old proverb indicates When in Rome, do as Romans do." Sweet tea, the most popular and essential drinks for Tibetans, all tourists in Lhasa should also drink as Tibetans do."
So you will not miss the chance to take one afternoon of doing nothing, but sitting beside one old table in a sweet tea house, then slowly drink your tea out, intoxicating yourself in the typical sweet Tibetan charming.
More Pictures about Tibetan Sweet Tea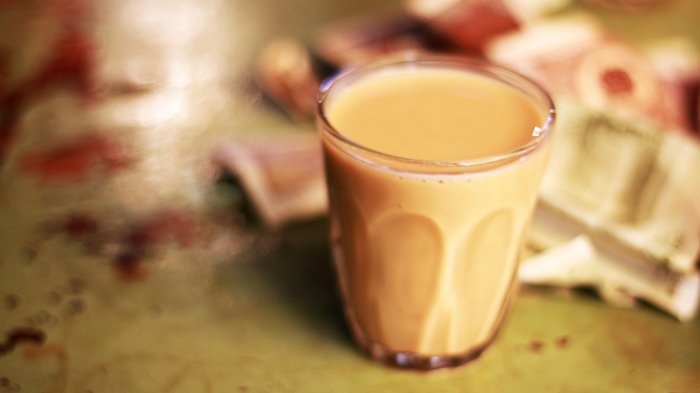 Tibetan Sweet Tea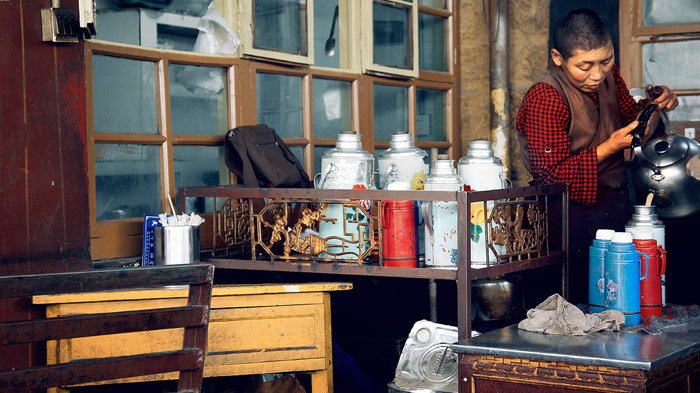 Sweet Tea House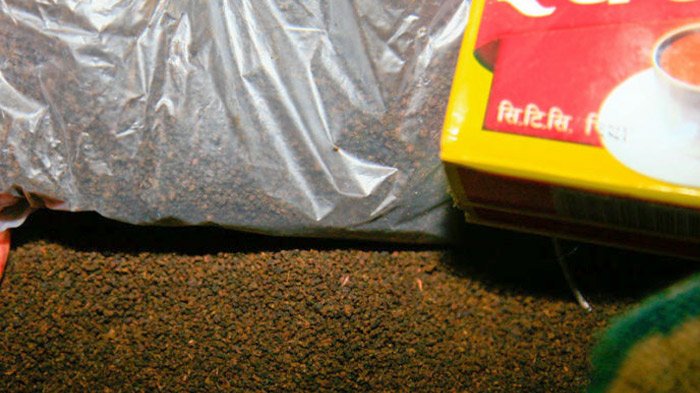 Black tea is an ingredient of sweet tea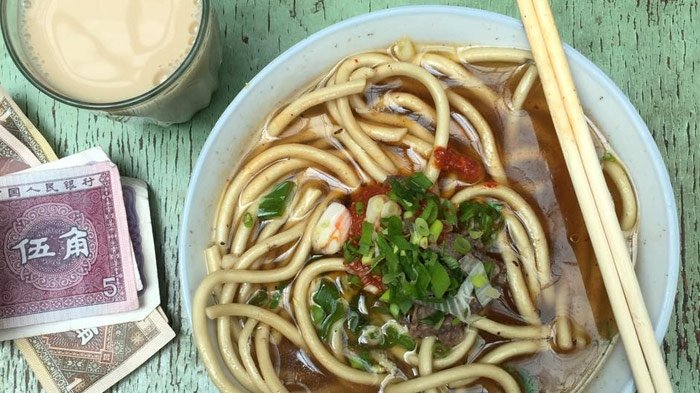 Typical food in sweet tea house in Lhasa