Prostration - Tibetan People's Sincerest Gesture of Respect to the Buddhism
There is a Tibetan folk song that says: "the vast black earth is measured by my body; the floating white clouds are counted by my fingers; the steep cliff I climb as climbing a ladder; the flat plain I across over as turning over the pages of Scripture......" The lyrics of this song describe one of the sincerest gestures of respect to the Buddhism - prostration.
General Introduction on Prostration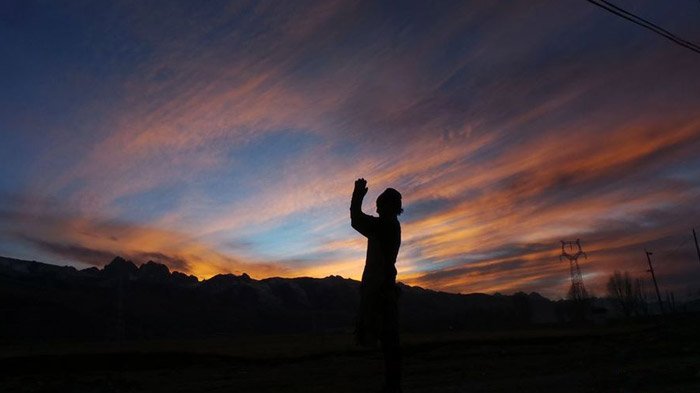 Tibetan Buddhism believes that to show respect to the Buddha and the Buddha's reverence, body (action), language (spell), and thought (ideas) these three gestures are indispensable. Kowtow pilgrimscasting their five limbs to the earth is considered to show the respect from the perspective of body; constantly chanting is regarded as the signature of respect to Budda of language; while thinking Buddhism all the time in the mind is believed to show the respect from the mind, thus three aspects unify together that one's belief to the Buddhism is truly embodied.
"Kowtow" is divided into long distance pilgrimage(covering areas far for thousands of miles, costing many months even years, standing exposure, deprivation and hunger and go directly towards to destination), short distance pilgrimage (which usually lasts for hours, ten days or half month), and in site pilgrimage.When you perform the Tibetan gesture Kowtow, you fully lie down facing the ground with two arms stretching forward straightly to the extreme point where you make marks, then you get up and go to the place where marks are and where you start to prostrate again and perform the gesture again. If you meet a river, you have to cover the distance as long as the river width with your body before you across it. If you have a break or spend the night, you should start to prostrate from the place where you left before or yesterday.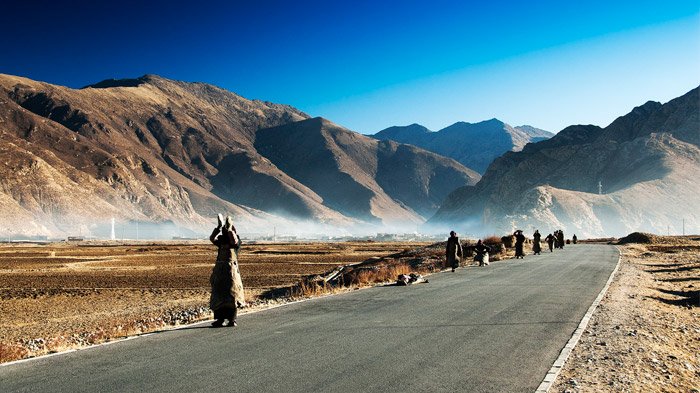 Reaching to Lhasa by making long prostration step by step
For the short distance prostration, generally, you perform kowtow around the temple, the sacred mountain, the sacred river and the sacred heritage, which would cost you several hours or half month at most. Insisting on kowtowing in site is also one of the means to show respect. You can perform it in front of Budda statue inside your own house or the gate of temple nearby your home. Perseverance of doing it, as time passes, the floor and rock would be polished by people. Tibetan Buddhists believe that within life of those who practice Buddhism, at least to practice 100000 prostrations it is regarded as a means of overcoming pride and pilgrims kowtowing with barefoot arebelieved to fully devout to the religion.
Significant of Prostration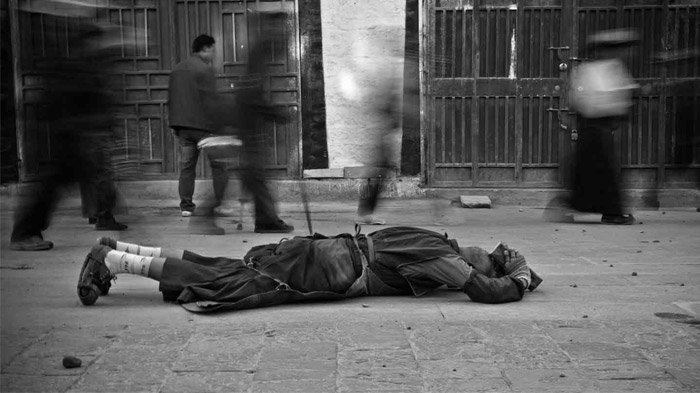 Prostration is a kind of way for the Tibetan Buddhist believers to realize their faith and pray for happiness and avoid the disaster. It is a kind of method and practice of Tibetan Tantric Buddhism. Many farmers in Tibet regard the journey of worshiping toward Jokhang Temple for once as their lifetime dream. They work hard to accumulate wealth so that when it's time to pilgrim, they would spend all the wealth to achieve this one goal. Many people do not agree with them, thinking that is stupid. However, this approach can let them feel the peace of mind. When they are on the way of worshipping, if you observe their faces carefully, you will see no pain at all, and no special joy, only peace, just like Tibet's sky, spotless. In addition, they also pray for supreme happiness and kindness for all mankind, pray for blessing for all creatures, day and night, years and years. Auspicious becomes the repeated and eternal theme.
Splendid Scene of Pilgrimage with Prostration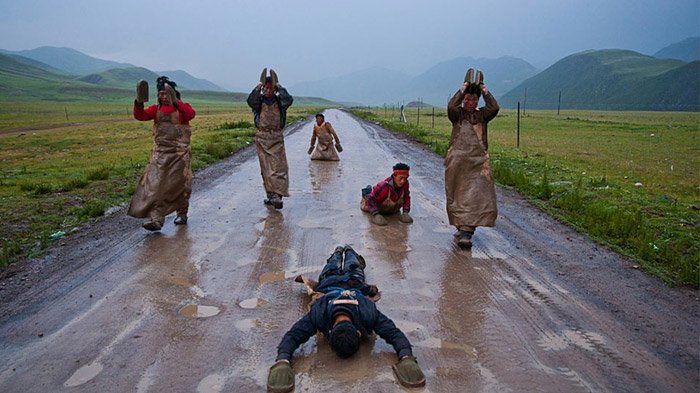 On the roads to Lhasa, believers from distant areas were saw prostrating on the roads, equipped with gloves and kneecap, hang the fur clothing in front of breast, the faces covered with dust, not afraid of difficulties and suffering, kowtowing every three steps to Lhasa for the Buddha. Generally speaking, people would form a group (3 to 5 generally) and under the common strong faith, they go to the destination. In the very past, Buddhist believers would pilgrim without anything. They would beg for basic subsistence along the way.But in nowadays, there are usually believes who are in charge of basic necessities of life and other aspects of the logistics of the ones who are in charge of prostration so that to provide convenience for their companions.And the role of them cannot be switched or replaced. No matter obstacles or setbacks, rain or sunny, river or mountain, they will overcome all difficulties.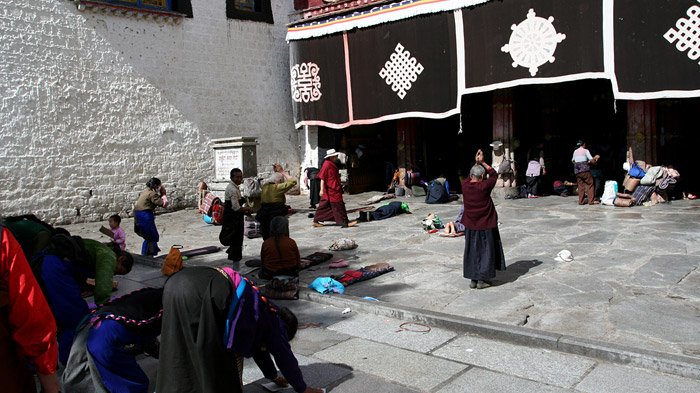 There is the 12-year-old-like Shakya Muni statue enshrined at the Jokhang temple where is the destination of pilgrims. In here, crowds of people gather from day to night to perform the prostration. After long years, many smooth grooves appear on the stone path before the door.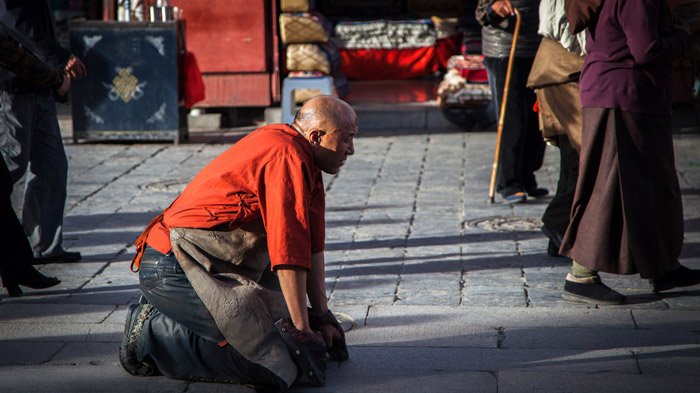 In Tibetan areas, you can see the Potala Palace is resplendent and magnificent with countless treasure, oblations are always given to temples, Butter lamps are always illuminating, and religious leaders live a rich and full life. You can also see disciples prostrate along the road, farmer and herdsmen in the barren land are suffering from lack of food and clothes. It is said that every pilgrim is on behalf of a village or family. They dray their clothes and tools, finding no shelter from the rain or snow, firmly head to the direction of Tibetan. It's a great journey. Their devout, persevere and firmness are so touchable that almost everyone cannot help respecting them as long as seeing the sight.