Top 6 Remote Villages of Tibet: Off-the-beaten Path to Autentic Tibetan Village Life
Tibetan villages, like all countryside villages worldwide, are tranquil and harmonious. However, what sets them apart are their unique settings—nestled by turquoise lakes, beneath towering snow-capped peaks, creating a picturesque landscape akin to an artist's masterpiece.
Every village has its own sacred Buddhist monastery, a spiritual place safeguarding the village's well-being and offering blessings for every significant life event. The villagers also love their spiritual home, visiting daily to turn their prayer wheels thousands of times to seek blessings in the monastery.
Stupas, temples, monks, yaks, sheep, terraced fields, herders, Tibetan houses, and the backdrop of snow-capped mountains or serene lakes compose the beauty of a Tibetan village. Each village is a holistic retreat, a sanctuary where you can embrace nature and experience genuine serenity.
What to See in Tibetan Villages
Ancient Stupas and Monastery
In villages of all sizes, a dedicated monastery stands as a beacon of communal unity. These spiritual sanctuaries not only symbolize religious faith but also serve as the administration of village life in Tibet. Grand temples and stupa complexes, towering trees, become the place for elderly villagers to gather, converse, and savor their leisure time. Colorful prayer flags flutter in the breeze, and the melodious chanting of prayers resonates, making a harmonic melody.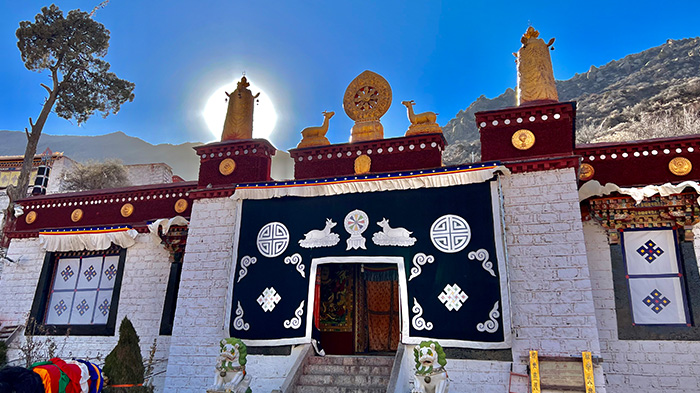 The ancient Monastery in a Tibetan Village
Monks in Tibetan Villages
Monks and their monasteries safeguard the village's harmony in Tibet. They act as the village's administrator, addressing a myriad of matters—blessing weddings, mourning the passed people, celebrating festivals, commemorating achievements, and praying for agricultural activities and harvests. In sickness and health, birth and death, monks offer solace and mediation, ensuring harmony within the community.
Tibetan Village Livestock
Every household raises yaks, cows, and sheep as their most prized assets. In the lush spring and summer months, villagers migrate with their livestock to verdant pastures. They erect simple tents and allow the animals to graze freely in the grasslands. Nomadic herders spend the majority of their time traversing these seasonal pastures with their families, setting up campsites, and following ancient migratory patterns.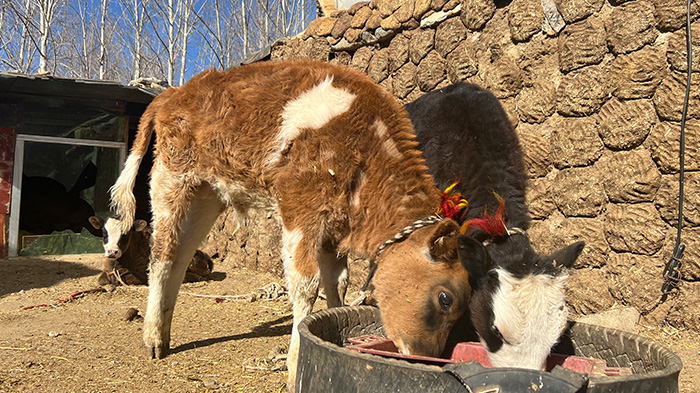 The little yaks are being raised by a local Tibetan family in a village.
Farming Life in Tibetan Villages
In rural parts of Tibet, families grow two main crops: potatoes and barley. These are similar to how bread and rice are important for Chinese and Western cultures. Around the villages, colorful fields of crops bloom during planting and harvesting times, making a beautiful array of colors that cover the village.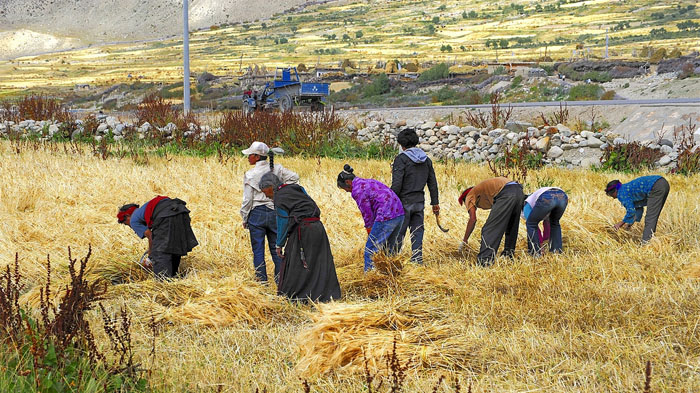 Harvest time of Tibet
Tibetan Village Houses
Tibetan village architecture is featured flat-topped houses, built layers against the terrain of the landscape. Colorfully painted windows and door frames decorated with white walls, create a harmonious village picture and three-dimensional visual delight.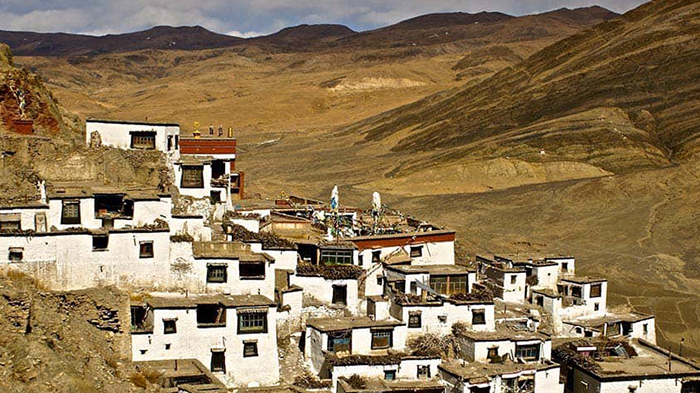 Traditional Tibetan Village Houses
If you love the life of a Tibetan village, spending nights immersed in the rhythms of rural life, herding animals, or joining warm Tibetan families, your wish can be fulfilled with the help of us, one of the best Tibetan local travel agency.
Here, we present 6 lovely Tibetan villages that promise captivating landscapes and authentic Tibetan experiences.
1. Tashi-Zong Village: A Foothill Village for Everest Base Camp Tours
With the magnificent backdrop of Everest, Tashi-Zong Village is situated just 30 kilometers from the world's highest peak. The village offers an incomparable experience with its distinctive flat-roofed Tibetan houses and an unparalleled view of Everest. The villagers, although unable to grow crops, manage a sizable herd of yaks. The growing tourism industry has enabled them to thrive by operating lodges and restaurants at Everest Base Camp.
2. Nganang Village: A Nomadic Village Hidden in Forested Hills
Situated 130 kilometers east of Lhasa, Nganang Village stands as one of the nearest pastoral areas to the city. Nestled within a rocky valley, the village features a tranquil river and verdant fields. Houses with red roofs and white walls punctuate the landscape, emanating a feeling of serenity. The encircling karst peaks and meadows render it a perfect summer getaway and hiking spot, welcoming you to engage in pastoral life alongside the local herders.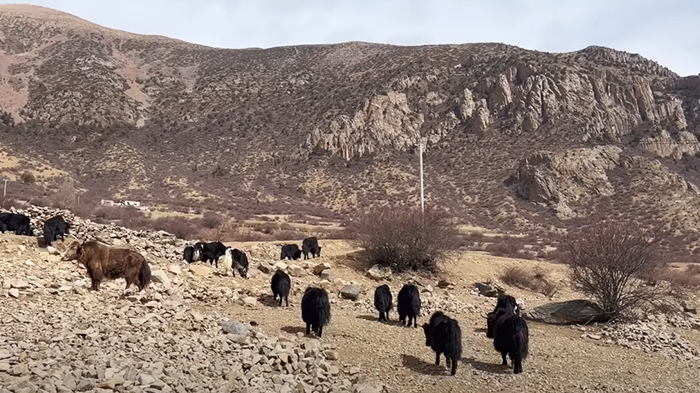 Herds of cows graze by the Nganang Village, creating a peaceful rural scene.
3. Narma Village: The closest lakeside village to Yamdrok Lake
Narma Village, situated along the lakeshore, stands as one of the most stunning in the Yamdrok Lake region. The lake's 250-kilometer shoreline provides a natural haven for abundant grasslands where villagers graze their livestock. Lush meadows, distant snowy peaks, and the turquoise lake blend into a vibrant panorama. The serenity of Narma Village is accentuated by the crystal-clear blue waters and the distant presence of Nyenchen Kangsang Mountain, soaring at 7191 meters above sea level.
4. Jungba Village: The rare fishing village Along the Lhasa River
Located along the Lhasa River, Jungba Fishing Village, a short distance from Lhasa, is famous for its unique tradition—fishing, a rare kind of lifestyle in Tibet. The village's main way to make a living is fishing. In addition to fishing, they produce traditional sheepskin rafts, using them to navigate the river for their catch. You are attracted by this distinctive village, a realm of tranquility and tradition.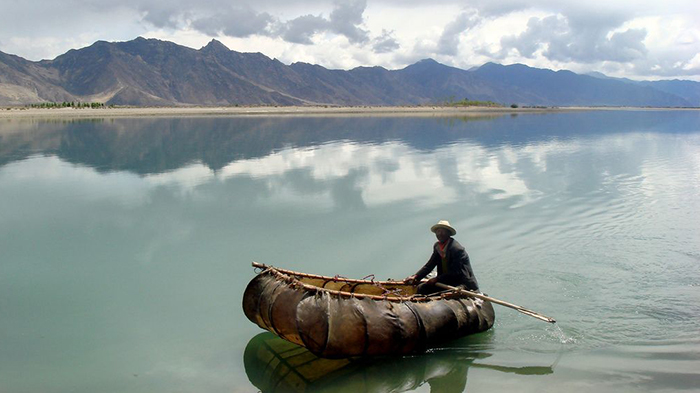 A Tibetan villager is fishing.
5. Dadong Village: Lhasa's Closest Ancient Village and Local Favorite
Dadong Village, is an ancient place near Lhasa, with a clear stream winding through its side. In the summertime, "Lin-ka" people surround the village for picnics. Lin-ka means gathering for a picnic in Tibetan. With preserved ancient homes and the opportunity to experience rural life, the village has become a popular weekend resort for Lhasa city residents, offering respite and harmony for bussing city people.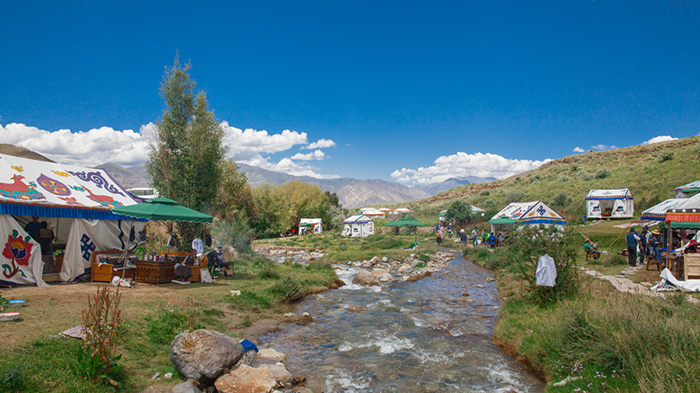 Many people have camped around the Dadong village.
6. Takel Village: The Unique Village retaining Polygamy
Located in Sagya County, within the Shigatse Prefecture, and en route to Everest Base Camp, Takel Village offers a glimpse of a traditional Tibetan custom known as "polyandry"—a single wife married several brothers, a big family with serval husbands and many children who do not know which man is their biological father. While interacting with these families, you can experience ancient customs, yet must tread lightly on private matters, maintaining the utmost respect.
Ready to Start a Unique Village Journey in Tibet?
If the allure of these villages calls to you, allow us to curate a distinctive Tibet tour through these exquisite Tibetan landscapes and the heart of village life.
Most Popular Tibet Tour Packages