Lhasa, the Capital City of Tibet
Lhasa (3658m), literally means "Land of Holiness" in Tibetan, is known by the world as the spiritual, political and economic center of Tibet. With deep blue sky, radiant sunshine, and enchanting alpine scenery, Lhasa draws a sizeable number of domestic and international tourists and Tibetan pilgrims to have a spiritual journey.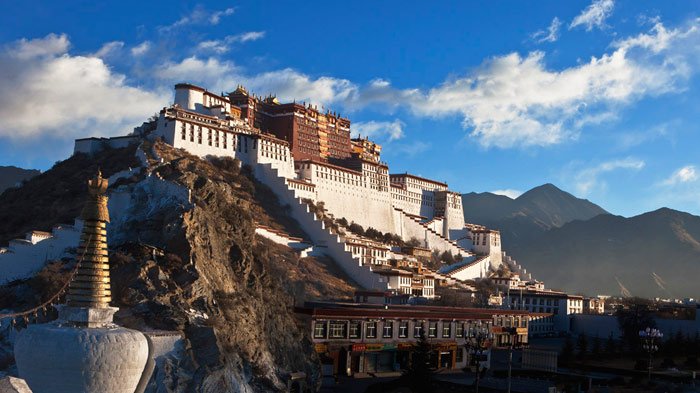 Potala Palace, the most iconic place of Tibet
Nestled in idyllic Lhasa valley, the earliest Lhasa city took shape as little more than a small town surrounding the Jokhang Temple and Ramoche Temple in 7th century. It was not until the construction of holy Potala PaLace that Lhasa truly became the religious and political center of Tibet. To many visitors, the sacred city consists of Potala Palace, Jokhang Temple, Sera Monastery and Drepung Monastery and Lhasa River.
However, in Tibetans' mind, the genuine Lhasa roughly lies in the area around Barkhor Street, with Jokhang Temple as its focus, in part because the life-size gilt bronze statue of 12-year-old Shakyamuni Buddha is enshrined inside the temple.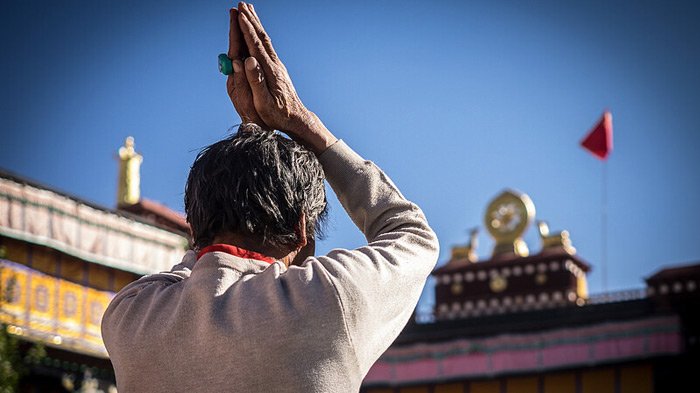 A Tibetan pilgrim is worshipping Johang Temple in Lhasa.
Lhasa Altitude
Tibet falls into 7 administrative regions, i.e. Lhasa is the capital city, with an average altitude of (3658m/12001ft). The next comes Shigatse (3836m/12585ft), home to Mt. Everest; Shannan (3600m/11811ft), the cradle of Tibetan Civilization; Nagqu (4507m/14787ft), residence of Tibetan nomads with vast prairie; Ngari (above 4500m/14764ft), western wilderness and ultimate pilgrimage route; Nyingchi (3000m/9843ft), "Swiss-Alps" of eastern Tibet; Chamdo(3241m/10633ft), the center of Khampa culture.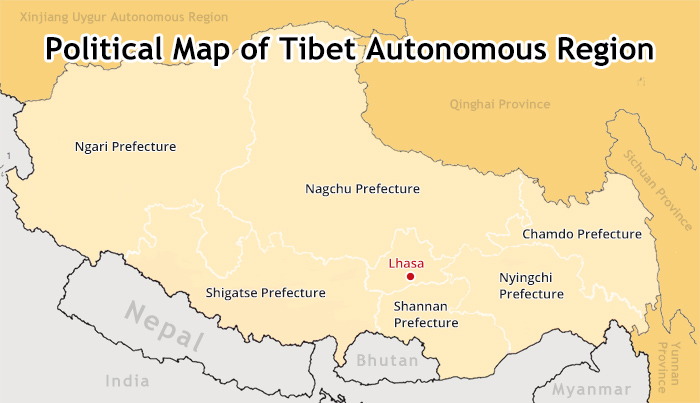 (Simple click to enlarge the map)
Different administrative regions in Tibet
Geographically, the altitude of Lhasa is at an average level across massive Tibet. And to first-timers to Tibet, Lhasa is usually not only their first stop in Tibet, but also a crucial starting point for them to explore other parts of Tibet.
Lhasa Weather
Due to the high altitude, the climate of Lhasa features semi-arid monsoon climate on the Qinghai-Tibet plateau. Blessed with 3,000 hours of daylight annually, Lhasa dominates other cities in mainland China as "City of Sunshine", bearing in mind that Lhasa gets more than 1800 hours of daylight than that of Chengdu and 1100 hours higher than that of Shanghai.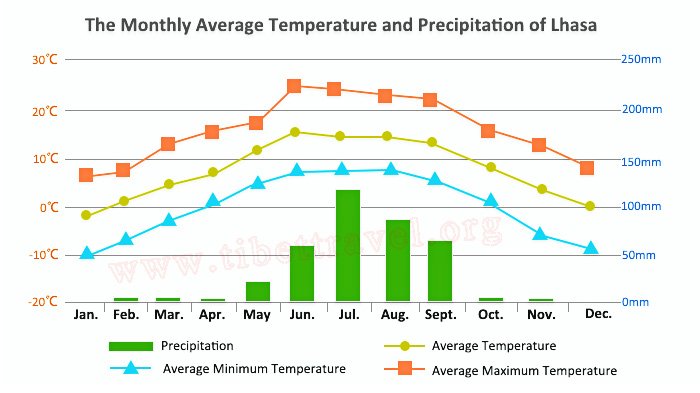 The favorable location of Lhasa, located to the north of Himalayas, shields it from bitter-cold winter and scorching summer. The highest temperate ever recorded is 29 Celsius while the lowest is below 16.5 Celsius, with an annual temperature of 7.4 on average. Therefore, Lhasa's pleasant weather makes it a great place for travel in 4 seasons.
The precipitation centers from June to Sept, and mostly occurs at night. For then new comers to Lhasa, you need to pay special attention to drastic temperature change between day and night. Besides, the oxygen content is much lower in the thin air and it normally takes one or two days' for you to acclimatize to high altitude. In addition, do drink more water and apply sunscreen and lip balms and wear sunglasses to protect you from strong solar radiation and dry air.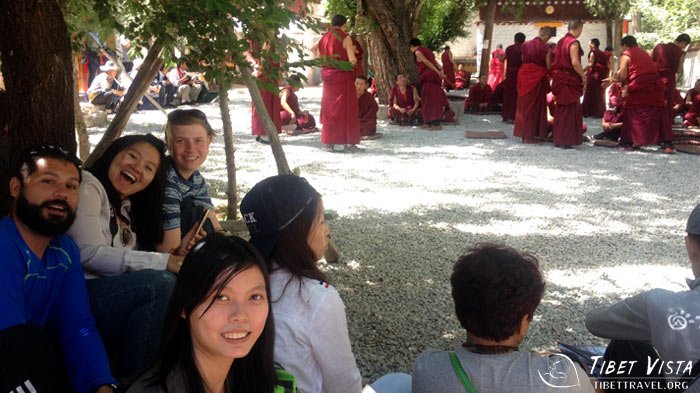 Enjoy the lively monk debate in Sera Monastey in Lhasa
Lhasa City Map
Lhasa is made up of 1 district and 7 counties. Chenguan District, being the center of Lhasa tour, involves the highlighted attractions in Lhasa. It's the most vibrant part of the city, a window for global tourists to explore Tibetan Buddhism and exotic Tibetan culture.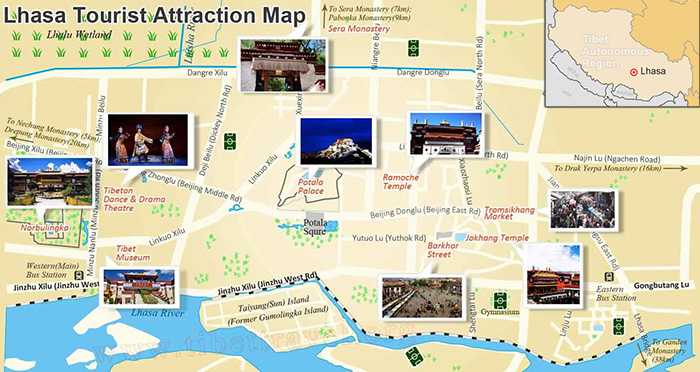 Major Attractions in Chengguan District
Potala Palace: the most iconic religious site of Tibet; winter palace for Dalai Lama with superb panoramic view of Lhasa city
Jokhang Temple: the spiritual heart of Lhasa; perfect place to explore history of Tibetan Buddhism and experience Tibetan Pilgrims' prostration and worship
Barkhor Street: Watch and join Tibetan pilgrims' kora (religious circling) around Jokhang Temple; brilliant place to shop for exotic souvenirs
Ramoche Temple: Second most important temple in Lhasa only next to Jokhang Temple
Sera Monastery: highly recommended place to enjoy dramatic Monk Debate ;one of the three renowned Tibetan Buddhist monasteries with Gelug sect
Norbulinka: known as the summer palace of Dalai Lama; place of relaxation and picnic for Lhasa residents
Tromsikhang Market: historical bazaar where fresh Tibetan farm produce are sold; unusual place to learn the folk life of Lhasa residents
Zongjiao Lukang Park: Peaceful scenic lake next to Potala Palace
In addition, travelling in Lhasa, joining the Kora (pilgrimage) with local Tibetan pilgrims is something you couldn't afford to miss. You will be deeply impressed with prostrating Tibetan pilgrims and their great devotion to Tibetan gods and Buddhas.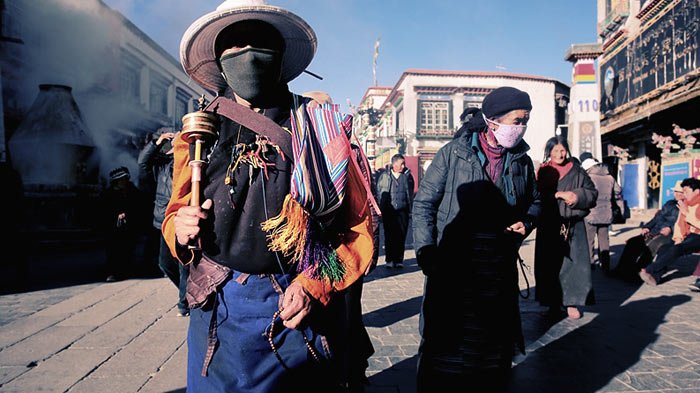 Tibetan pilgrims are doing kora around holy Jokhang Temple along Barkhor Street.
The top 3 kora routes to experience solemn religious ritual are inside the Nangkhor Kora, the closest kora to Buddha; Next comes to Barkhor Kora, most historical kora along bustling business street; the third one is the Tsekhor Kora, holy kora route around sacred Potala Palace.
On top of that, mingling with locals in local tea houses on the Barkhor Street and taste tasty sweet tea and local snacks while enjoying the cozy sunshine are also a great option to savor the essence of Tibetan life. With time permitting, travelling from Lhasa (3658m) to heavenly Namtso (4718m) Lake is highly recommended. Stunning Namtso Lake, one of the top three sacred lakes in Tibet, will never let you down.
Note: Check the most classic and popular tour in Lhasa
Lhasa Hotel
Of all the hotels and hostels in Tibet, Lhasa has the most diverse accommodations. From inexpensive youth hostels to 5 star luxury hotels, hotels in Lhasa can meet the demand of world-wide tourists with varied pockets and preferences.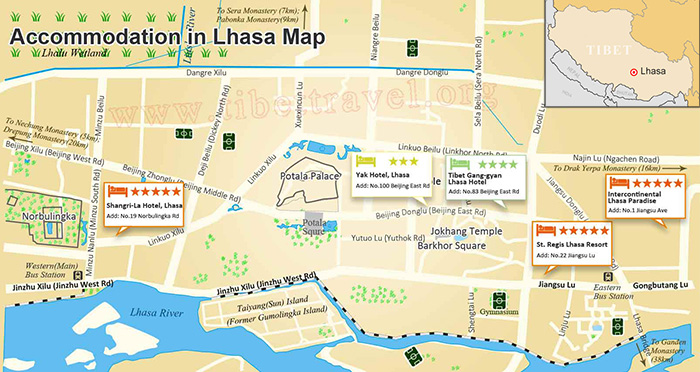 Recommended Hotels in Lhasa:
a. Luxury St. Regis Lhasa Resort (5star)
Location: No.22, Jiangsu Road, Lhasa, Tibet
St. Regis Lhasa Resort is an international luxury hotel in Lhasa, providing high-quality services and modern luxury amenities.
b. Lhasa Manasarovar Hotel (5star)
Location: Building A of Yangcheng Square, Gongbutang Road, Lhasa
As one of the 5-star hotels in Lhasa, Lhasa Manasarovar Hotel enjoys a good location close to Potala Palace, Jokhang Temple, the railway station and the eastern bus station.
c. Four Points Sheraton Hotel in Lhasa (5star)
Location: No.10, Bolinka Road, Lhasa
Four Points Sheraton Lhasa Hotel is definitely one of the luxury hotels in Lhasa. This 5 star hotel in Lhasa has a good location, a 10-min of driving to Jokhang Temple, the Potala Palace and Barkhor Street.
d. Lhasa Brahmaputra Grand Hotel (5star)
Location: Building B of Yangcheng Square,Gongbutang Road, Lhasa
Lhasa Brahmaputra Grand Hotel is the unique museum hotel in the world. The traditional Tibetan architectural style and modern decorative technologies make Brahmaputra Grand Hotel really luxurious.
e. Intercontinental Lhasa Paradise (5star)
Location: No.1, Jiangsu Avenue, Chengguan District, Lhasa
As one of 5-star hotels, situated in Lhasa downtown area along the Lhasa River, Intercontinental Lhasa Paradise Hotel is close to Tibet famous attractions. And it provides all kinds of attentive service for guests.
f. Lhasa Gang Gyan Hotel (4 star, highly recommended)
Location: No. 83, Beijing East Road, Lhasa
Lhasa Gang Gyan Hotel is a 4 star hotel in Lhasa or one of the comfortable hotels in Lhasa, with a superior location in Lhasa center. It's near the Ramoche Temple, the busy Barkhor Street and places for tourists to go sightseeing and go shopping.
g. Lhasa Yak Hotel (4star, highly recommended)
Location: No. 100 Beijing East Road, Lhasa
Yak Hotel is one of the comfortable 4 star hotels in Lhasa and has its good location in the center of Lassa and close to the Jokhang, Ramoche monastery.
h. Lhasa Thangka Hotel (4star)
Location: No.38,Yutuo Road, Lhasa
Thangka Hotel is definitely recommended as a 4 star hotel in Lhasa, located aside the Jokhang Temple.
i. Tibet Tianshu Garden Hotel in Lhasa (4star)
Location: No. 25, South Sera Road, Lhasa
Tibet Tianshu Garden Hotel is a new 4 star hotel in Lhasa located near Ramoche Monastery.
j. Lhasa Shangbala Hotel (3star)
Location: No.1 Danjielin Road, Lhasa
Shangbala Hotel is your best choice among 3 star hotels in Lhasa if you want to be close to the Barkhor.
k. Lhasa New Mandala Hotel (3star)
Location: No.31 Barkhor South Street, Lhasa
New Mandala Hotel, located right next to Jokhang Monastery,is one of the economic 3 star hotels in Lhasa and offers good facilities and high standard of service.
l. House of Shambhala (3star)
Location:No. 7 Jiri 2nd Alley, Lhasa
House of Shambhala is a typical Tibetan courtyard hotel in Lhasa. The Potala Palace and Jokhang Temple are within easy reach.
Note: Check for more detailed information of various hotels in Lhasa
Lhasa Food
Tasting local delicacies and snacks is an exciting way for one to get a real bite of the culture of tour destination. So is it in Lhasa. Largely due to the proximity and trade with neighboring countries like Nepal and India, you can easily find Tibetan, Nepali and Indian, and western as well as Sichuan restaurants in Lhasa.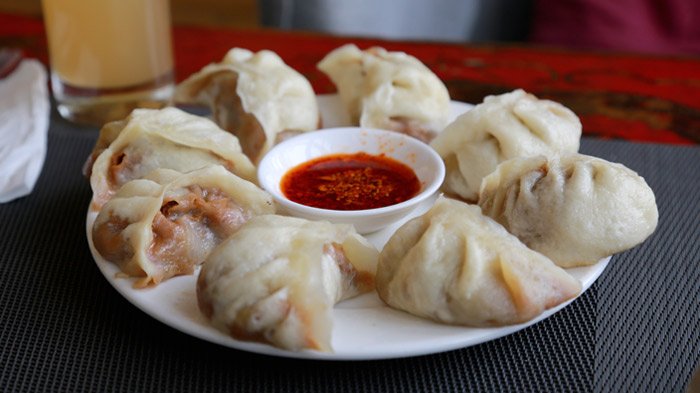 Finger-licking Tibetan momo(dumpling) with yak stuffing
The staple food for Tibetans is Tsampa, made of highland barley. There are a lot more traditional Tibet dishes such as Tibetan momo (dumpling), Sha Phaley (bread stuffed with meat and cabbage), dried yak and lamb meat, Thenthuk (soup), etc. Surprisingly, there is not much dessert to eat except on holiday. And for some reason, Tibetans do not eat fish.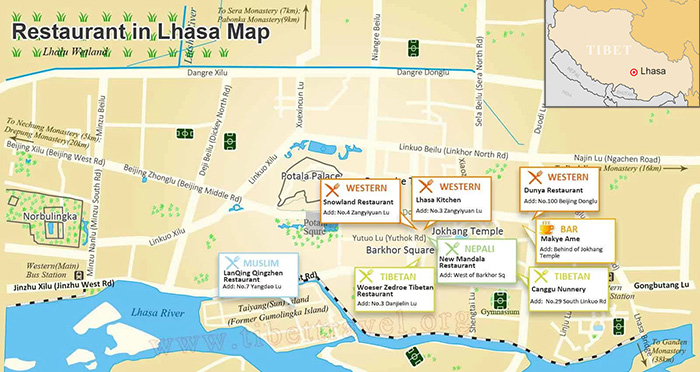 Recommended Restaurants in Lhasa:
Lhasa Kitchen
Lhasa Kitchen mainly provides Tibetan cuisine, and is also known for its Indian, Nepalese, Chinese, Western dishes and other snacks as well. The Nepalese and Indian cuisine are highly appreciated by tourists. The staff are very friendly. You can enjoy the special atmosphere and top service in Lhasa Kitchen. It is a good choice for a budget lunch and dinner.
Add: No.3 Zangyiyuan Lu
Snowland Restaurant
This ground-floor restaurant usually opens from 7:30am to10:30pm and provides Tibetan, Nepalese and Western cuisine in a nice, comfortable atmosphere. The Indian dishes are its specialty. It offers English menu for tourists' convenience. It is quite popular among budget travellers for delicious delicacy. But credit cards are not accepted by this restaurant in Lhasa.
Add: No.4 Zangyiyuan Lu
New Mandala Restaurant
New Mandala Restaurant is a Nepali-run restaurant in Lhasa. Decent food is served here and you have many choices, from Western to Chinese cuisine. If you are going to Jokhang Temple and Barkhor street for shopping, you can drop by this place.
Add: West of Barkhor Sq
Makye Ame
The legendary restaurant is said to be the place where Six Dalai Lama dates with his loved one. Admittedly, it is best place to enjoy the Tibetan pilgrims' kora around Barkhor Street from its rooftop. Mostly traditional Tibetan food is served here such as finger- licking Tibetan lamb, yak soup, etc.
Add: Behind of JokhangTemple
Woeser Zedroe Tibetan Restaurant
It's one of the oldest Tibetan restaurants in Lhasa. The restaurant is peppered with both civic and rustic ambience. Tourists can order simple and tasty dishes like Tibetan noodles, momo( dumpling), and chat with your friends while drinking a cup of sweet tea.
Add: No.3 Danjielin Lu
Dunya Restaurant
Dunya restaurant in Lhasa is a foreign-run restaurant with quality and wide-ranging food, so the price is more expensive than the others. It is located in the old center of Lhasa nearby the Potala Palace and Jokhang Temple. It is a great place to relax and enjoy delicious food from the oregano-flavored pizza crust to the Italian imported pasta. Only top quality meats and vegetables are used in the kitchen. English Menu is provided.
Add: No.100 Beijing Donglu
Canggu Nunnery
To the southeast of Jokhang Temple lies the lovely monastery, i.e. Canggu Nunnery (also known as Tsamkhung Nunnery). The tiny monastery is adorned with colorful flowers and nuns lead a peaceful life here. Tiny as it is, the whole compound gives you the sense of harmony and small haven in this bustling world. Tourists can stop by its famous sweet teas house and spend the relaxing day here
by having the sweet tea and Tibetan noodles, yak meet here.
Add: No.29 South Linkuo Rd
Lhasa Airport
Lhasa airport, also known as Lhasa Gonggar International Airport, is the major airport collecting Tibet with outside world. With an altitude of 3600m, Lhasa airport is located in iazhulin Town, Gonggar County, Shannan Prefecture. It's around 60km's drive from the airport to Lhasa city.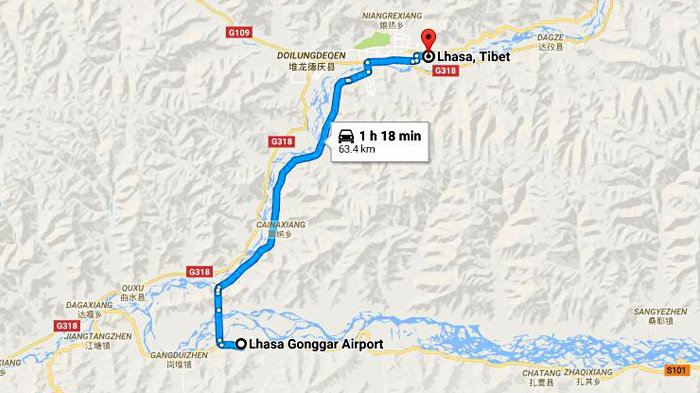 Travel from Lhasa Gonggar Airport to Lhasa City
The shuttle bus is available and travels between Domestic Arrival Hall (Lhasa Airport) and Niangre Road 1 (Lhasa Civil Aviation Bureau in Lhasa city). The ticket is 25 CNY.The domestic flights from major cities to Lhasa include Beijing—Lhasa; Chengdu—Lhasa; Shanghai—Lhasa; Chongqing—Lhasa; Xi'an— Lhasa; Guangzhou—Lhasa; Kunming—Lhasa; Shangri-la—Lhasa; Nanjing—Lhasa, etc.
Currently, there is only one international flight available in Tibet, which is Lhasa—Kathmandu, run by Air China and Sichuan Airline.
Air China: Lhasa and Kathmandu Flight Schedule
| | | | | | | |
| --- | --- | --- | --- | --- | --- | --- |
| Flight Route | Flight Code | Airlines | Dep. | Arr. | Type | Schedule |
| Lhasa to Kathmandu | CA407 | Air China | 12:10 | 11:10 | 319 | every day |
| Kathmandu to Lhasa | CA408 | Air China | 12:10 | 16:00 | 319 | every day |
Sichuan Airline: Lhasa and Kathmandu Flight Shcedule
| | | | | | | |
| --- | --- | --- | --- | --- | --- | --- |
| Flight Route | Flight Code | Airlines | Dep. | Arr. | Type | Schedule |
| Lhasa to Kathmandu | 3U8719 | Sichuan Airline | 11:15 | 10:10 | 319 | every other day |
| Kathmandu to Lhasa | 3U8720 | Sichuan Airline | 11:10 | 14:50 | 319 | every other day |
Note: Check detailed flights schedule and information for flights to Lhasa. And for those who take flights to Tibet, esp. those from places with much lower altitude, it's necessary to stay for a couple of days in Lhasa to acclimatize to high altitude before heading to other higher places like Shigatse or Namtso Lake.
Lhasa Railway Station
Lhasa Railway Station(3641m) is located in Niu New Area, around 20km away from Potala Palace. The railway station and downtown Lhasa was bridged by famous Liuwu Bridge over Lhasa River.Travelling to Lhasa by Qinghai-Tibet Railway is another major way to enter Tibet from other parts of China. Compared with flight, Tibet train gives tourists a chance to experience the stunning window view on the world's highest train.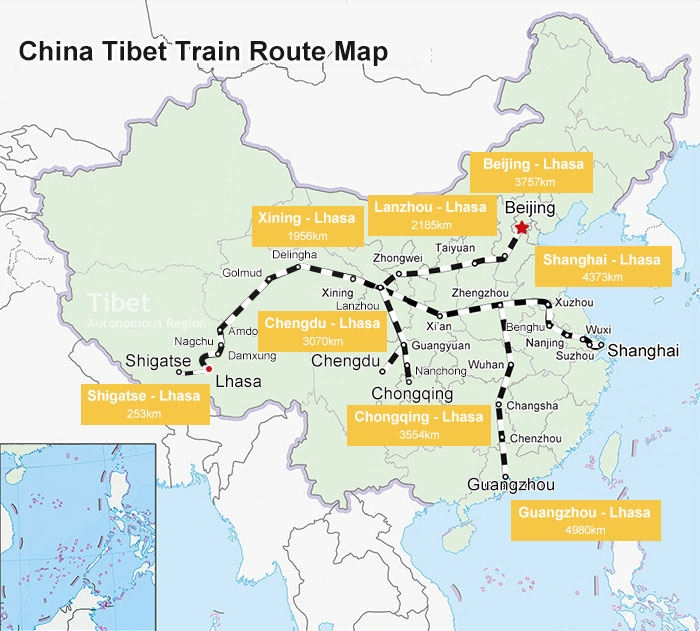 (Simple click to enlarge the map)
All the trains to Lhasa
The essence of Qinghai-Tibet Railway from Xining to Lhasa and it takes 20:55 hours to reach Lhasa. You will enjoy Gobi desert as you pass Golmud, snow-capped Yuzhu Peak, peaceful Tuotuo River, etc. You can reach Lhasa by taking train from big cities like Beijing, Shanghai, and Chengdu, Chongqing, Xi'an and Xining, Guangzhou, etc.
In addition to Lhasa tour, Lhasa to Everest Base Camp Tour and Lhasa to Kathmandu overland tour also play a huge part of overall Tibet tour. The former route takes you from central Tibet to enjoy the awe-inspiring scenery at the foot of world's summit, i.e. Mt. Everest (8844.43m); while travelling from Lhasa to Kathmandu has long been considered as an orthodox route to appreciate full picture of sublime Himalayas and to explore both kingdoms of Tibetan Buddhism and Hinduism.