Guide to Architectural Styles of Tibetan Monasteries 
Tibet is known for many things and apart from the natural beauty, food and cultural traditions, the architecture also stands out. The architecture of a place tells a lot about its history and culture. Tibet has passed through many eras and each era impacted the architecture in a different way. From the temples to the monasteries, there is something incredible waiting to be discovered. Ancient art forms are still visible in the walls of some places and it has touch of contemporary style as well. The designs are grand and they are crafted delicately. The craftsmen showed their talent and impacted Tibet's future in a brilliant way. Temple buildings were formed initially and then separate architectural styles were done to create monasteries.
Cultural and religious significance of Tibetan monasteries and temples
Buddhism is at the core of Tibet's culture and every monastery echoes the teaching of Buddha. Tubo Society felt the rich vibrations of Buddhism in the beginning, but the society was not ready to accept that, at that time. Several religious practices were developed over time and a new society started to form. Sprinkling water, offering sacrifices, chanting prayers and burning incense, a new dawn was awaiting Tibet. As Buddhism started gaining importance, Tibetan architectures started taking a new form. From simple ritual halls, the temples and stunning monasteries began to form. These building complexes became independent and the traditional palace architecture slowly became a different entity. This is the reason palaces are different visually from monasteries. A huge amount of funding was required for this and Buddhism followers took the initiative.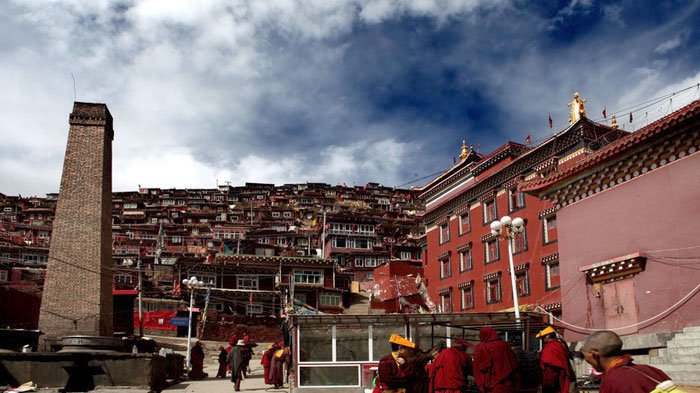 Tibetan Monastery
Along with the clans, monasteries were hugely important in Tibet's history. These social institutions shaped the Tibet of today. Samyé was established in eighth century and since then the monasteries became more and more dominant. The functioning of monasteries was extremely complex and they performed the role of schools, local governments, libraries, centres of vocational training, ritual services and contemplative centres. The bigger the monastery, the more complicated was the internal organization. There were some other religious organizations too and monasteries had a close relationship with these institutions.
Typical colors of Tibetan monasteries
Colours have a very deep meaning in Tibetan architecture and they signify a lot of things. The colours yellow and red are sacred and Tibetan residents never use it in their homes. Yellow exteriors can only be done by temples and some Buddhist residences. Country huts have the white colour in their exterior. The garment of monks and the body of temples often feature yellow as well as red. These colours are linked with Tibetan Buddhism and there is a lot to explore here.
Red and its special language
When yellow and red blends together, the precious joys of human life are silently conveyed. The famous Van Gogh did it perfectly by using his painting, as the medium. Tibetan Buddhism does it aptly in the east. Buddha's facial express is dignified and so are these colours. According to some legends, Tibetan ethnicity has its roots in nomadic groups. Red was a part of the cuisine and the meat was consumed by a lot of people. It started getting famous from their and became everyone's favourite. Secondly, the red colour keeps the evil spirits away and people use it to protect themselves from the negative vibes. Consequently, religious places use red to mark the territory of God. Potala Palace consists of two palaces and one of them is red. This palace is the heart and soul of this complex architecture.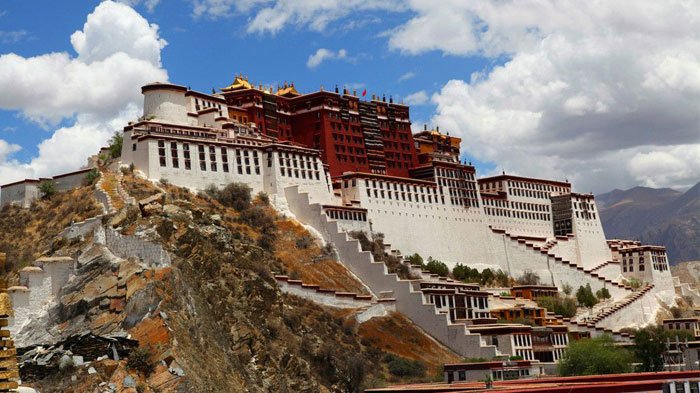 Potala Palace
Yellow and the sacred tone
Yellow has a great religious value and a simple patch of this colour on anyone's clothing gives them respect. Exclusively used by monks, this colour distinguishes the elite from the commoners. Tibetan ethnicities exchanged many things with the famous Han ethnicities and yellow faded slowly. Darker shades of red are most prevalent now and yellow is only used in famous temples and religious institutions. Yellow stands for rootedness and it stands for wisdom. Yellow temples can be found widely in Tibet and "Buzi Golden Palace" is definitely one of them. This is situated in the famous Samye Monastery and was prepared by the great Songsten Gamp. In Drepung Monatery, there is a serene Qangba Buddha hall and yellow is used there in abundance. Mindrolling Monastery's main building also features yellow.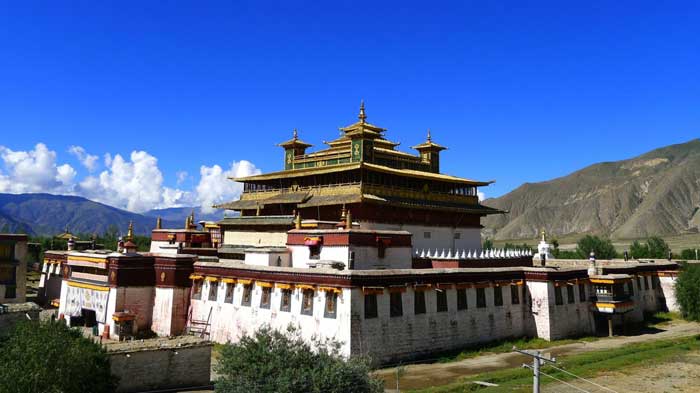 Samye Monastery
Layout of the Tibetan Monasteries
Buddhism spread in an extremely rapid manner and the architecture of the monasteries became highly developed. A great deal of money was spent on the construction process and these buildings show the achievements of Tibet's marvellous architecture.
Monasteries are almost similar to Buddhist colleges and the architecture has been done uniquely. Religious activities happen on one side and on the other, Buddhism is being studied. In Lhasa, Dreprung Monastery draws crowds and is a major attraction for the tourists. It has a teaching department, educational administration, highly-skilled teaching instrument and other chores. A total of four parts are present here and three of them are exoteric colleges, while the other one is an intriguing tantric college. This is called 'dratsang' in Tibet's very own language. Dratsang architecture is different, it consists Buddha hall, a vast scripture hall and the all important front court. A debating area and kitchen is also present.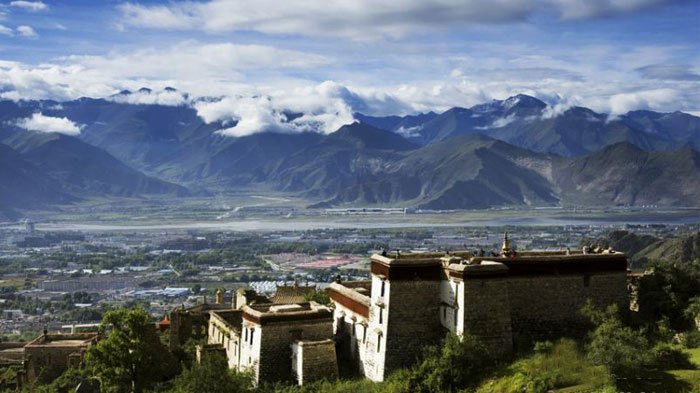 Drepung monastery
Samye Monastery in Shannan paved the way for the other monasteries and the same architectural model was followed here. Toding Monastery followed the style and Gyasa Temple did it too.
Most Tibetan monasteries follow a particular layout and the region's main hall is always situated at the very centre. From Tashi Lhunpo Monastery in Shigatse to Sera Monastery in Lhasa, this is a common trend. Tourists can gather in this main hall and they have developed immensely in the near future. Passages and rear chambers were added on later, to make the monasteries even more interesting. Designers were very particular about the space and the consequent lighting effect. Roof construction happened separately and fabulous items were added to Tibet's golden shine. The building complexes are huge and it is absolutely magnificent. In Ngari prefecture, Throling Monastery is located and tourist can visit this oldest monastery for a great experience. From the beautiful halls to the pagodas, a lot is in store for the hungry eye of explorers.
Architectural style influence from Nepal and India
Neighbouring countries influenced Tibet in many ways and the architecture was nit spared at all. The Nepalese and striking Indian influence is clearly evident here, but the designers adopted the changes smartly. The constructions started 1300 years back ad at that time, Buddhist temples started to come up here. Lhasa's Jokhang exists till now and its origin can be easily traced. Indian prototypes were used in many monasteries and famous temples. Samye Monastery showcases Indian influence in Tibetan architecture and it was created by Trisong. Odantapuri which is currently present in Bihar was taken as a model for this. Potala Palace clearly shows a Nepalese influence and the pagoda architecture proves that. Dalai Lama's home also features this influence of Indian as well as Nepalese Buddhism. Nepalese artists worked on the design of Jokhang Temple and it is simply fabulous.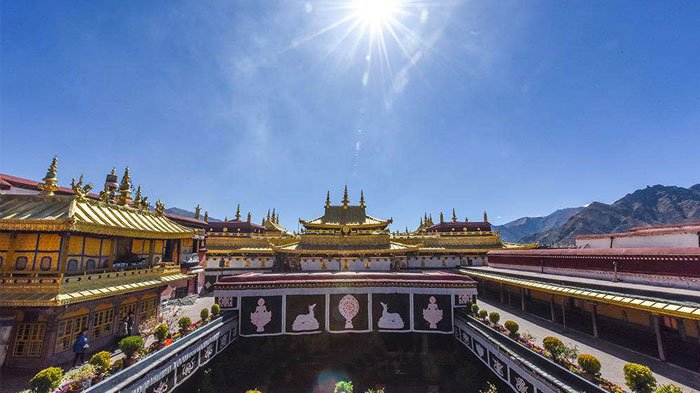 Jokhang Temple
Inherently Buddhist and amazingly contemporary, Tibetan architecture represents a different art form. Tibet's cultural journey is recorded here and the colours speak loudly to let the world know about Tibet's stories.