Tibet Weather in February: Tibet temperature and how to plan a Tibet tour in February
Compared with January, Tibet in February becomes slightly milder, even though it is still in harsh winter. The weather is cold and dry, yet during the sunny days, one can feel nicely cool. Temperatures in the daytime can reach up to over ten degrees, while the nights may drop to as low as -8, averagely. It snows little actually in most regions of the plateau, while the wind is rather strong.
Different from the common stereotype that Tibet in winter is unbearably cold with a lot of heavy snow, the fact is that this highland is dominated by sunny days throughout the winter months. February as the last month of the cold season would be a nice time to visit Tibet. With efficient warm sunshine, the weather of Tibet is more pleasant during the day than most mainland cities in China. Also, the skies are always clear, creating better chances to see great views of mountain peaks.

Average Minimum Temperature (℃): -8
Average Maximum Temperature (℃): 15
Tibet Average Temperature (℃): 3.5
Average Precipitation/Rainfall (mm): 1
Wet Days (>0.1mm): 1
Relative Humidity (%): 27
(Overall Tibet weather in February)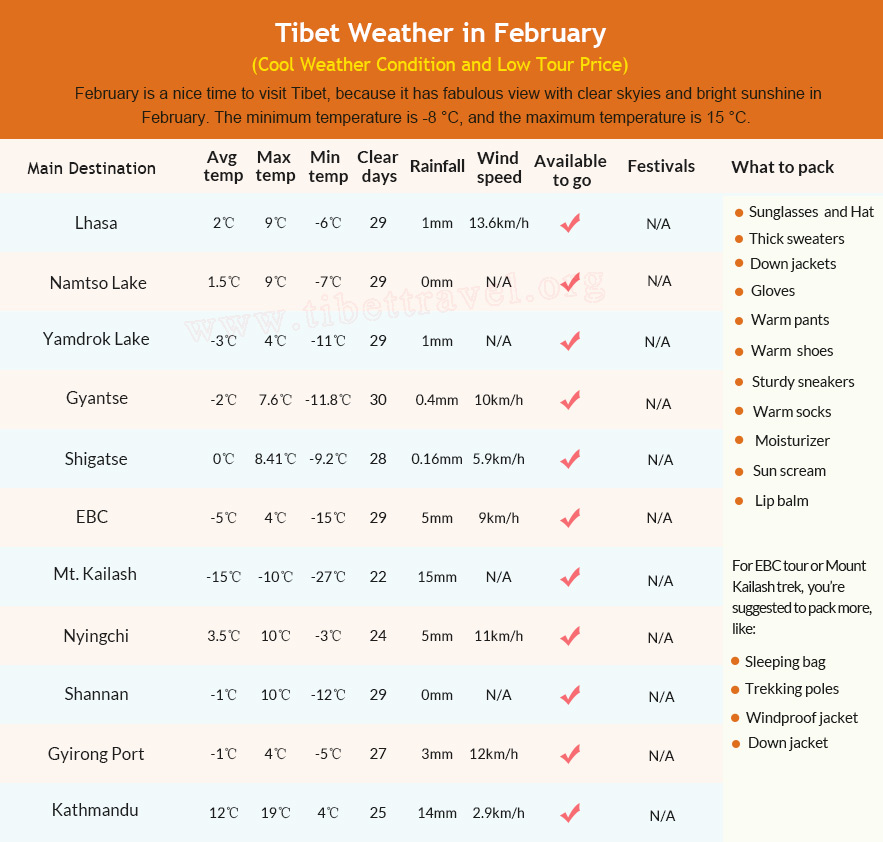 The Temperatures and Climate Features of Most-visited Places in Tibet in February
Although the winter in Tibet is very long, even in February the wind is still bleak, but not all parts of the plateau are in freezing cold. On the contrary, in fact, one can travel to most areas of Tibet all year round, especially in Lhasa and Shigatse, where are provided with plenty of sunshine in winter season.
Except for Ngari and Nagchu who are too cold to have sightseeing, regions including Lhasa, Shannan and Nyingchi are recommended to travel around. The roads to attractions in these places are mostly accessible, excluding the one linking to the Namtso Lake. Besides, February is the ideal time to experience the traditional Tibetan culture as the greatest event of Tibetan New Year takes place at this time.
>> Learn more of winter tours in Tibet.
Lhasa Tibet Weather in February
Average Minimum Temperature (℃): -6
Average Maximum Temperature (℃): 9
Average Precipitation/Rainfall (mm): 1
Rainy Days: 1
Relative Humidity (%): 26
Average Wind Speed (kmph): 13.6
The weather of Lhasa in February is similar to that in January, being dry and cold. In early February, the temperature is basically between -8 and 8 degrees, and in the later part of the month, it is in the range of -5 to 12 degrees. The daytime is usually warm owing to strong sunshine, while the night temperature is relatively low. It is generally windy, and the wind in outskirts will be much stronger than that in the downtown area.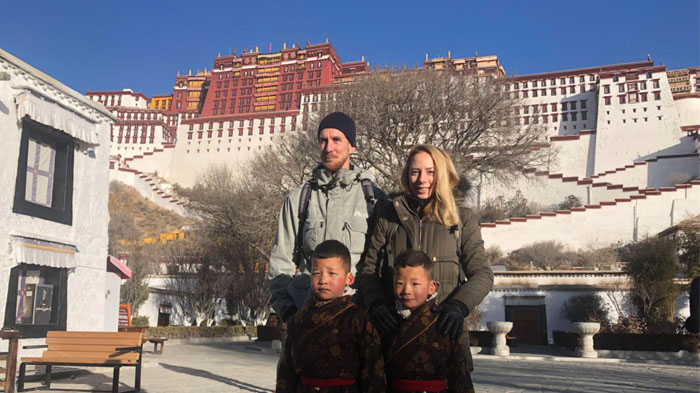 A family tour to Potala Palace in February.
When touring Lhasa in winter months, you don't have to wear too many clothes, since a lot of walking and climbing are required to get access to those monasteries, including Jokhang Temple, Sera Monastery and Potala Palace etc., fairly enough to keep yourself warm. Plus the intense sunlight, it is quite pleasant to travel to this religious center of Tibet during this time.
Namtso Tibet Weather in February
Average Minimum Temperature (℃): -7
Average Maximum Temperature (℃): 9
Average Precipitation/Rainfall (mm): 0
Rainy Days: 1
Known as the "Heaven Lake" of Tibet, Namtso Lake is one of the most popular destinations for tourists travelling to the roof of the world. Though it is only 250 km away from the city of Lhasa, the lake is rather chilly because of its high elevation in the winter months. In February, Namtso Lake is still not accessible since the lake is frozen and the mountain pass is closed owing to heavy snow.
Nyingchi Tibet Weather in February
Average Minimum Temperature (℃): -3
Average Maximum Temperature (℃): 10
Average Precipitation/Rainfall (mm): 5
Rainy Days: 6
When it comes to February, the region of Nyingchi is getting a little bit warmer than the previous month. The average temperature of Nyingchi in February is between -3 to 10 degrees, much milder than that of Beijing. It snows but not so heavily. As a place that is connected to continuous mountains, the land of Nyingchi is also provided with a beautiful horizon line. The Ranwu Lake of the prefecture is clearly blue and limpid, and will reflect the snow-capped mountain peak on a snowy day, presenting a wondrously impressive view in the winter season.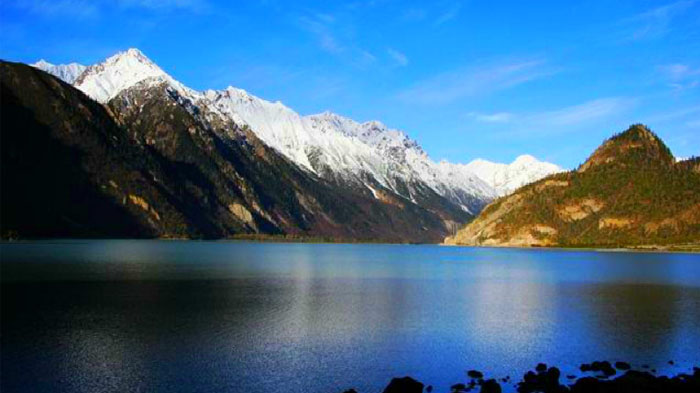 The white snow-capped mountains in Nyingchi in February.
>> Find out more of tours in Nyingchi.
Shannan Tibet Weather in February
Average Minimum Temperature (℃): -12
Average Maximum Temperature (℃): 10
Average Precipitation/Rainfall (mm): 0
In Shannan of February, it is warm in the daytime, with an average temperature of around 10 degrees, while at night the temperature can drop to as low as -12 degrees. It is a good time to enjoy a relaxing tour in Shannan in February, basking in the sun and paying a visit to the Yungbulakang Palace, which is the first palace in Tibet and has a history of more than 2100 years. In addition, one can also drive the way along the Yarlung Zangbo River, to appreciate the picturesque landscape of rich valley and plat land at the riverside.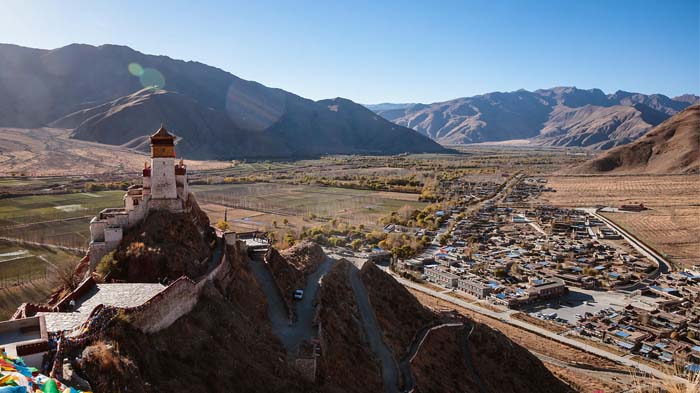 Yungbulakang Palace, the first palace in Tibet in February.
Yamdrok Lake Tibet Weather in February
Average Minimum Temperature (℃): -11
Average Maximum Temperature (℃): 4
Average Precipitation/Rainfall (mm): 1
Yamdrok Lake is a popular place for tourists to enjoy the unique alpine lake scenery of the plateau. And in February, the lake is still accessible even though it is in severe cold of the winter season, with the minimum temperature dropping below minus ten. Indeed, the lake will be half frozen in winter months because of low temperature. With fewer tourists dropping by, Yamdrok Lake in winter presents a more tranquil and peaceful view, stilly embraced by the surrounding snow-covered Himalayan mountains.
Gyantse Tibet Weather in February
Average Minimum Temperature (℃): -11.8
Average Maximum Temperature (℃): 7.6
Average Precipitation/Rainfall (mm): 0.4
Rainy Days: 0
Relative Humidity (%): 33
When tourists travelling from Lhasa to Shigatse or the remote western areas, Gyantse is always the place most will stop and tour around on the way. Sitting a little higher than Lhasa city, Gyanste enjoys a plateau monsoon climate. The winter season of Gyantse is dry and frigid, featuring sufficient sunshine and large temperature difference between the day and night.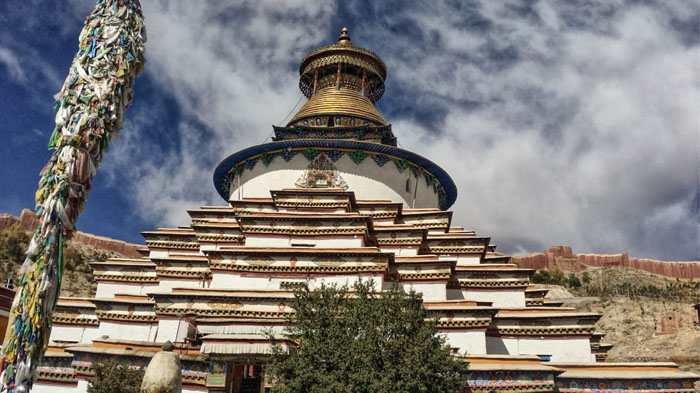 Gyantse Kumbum is a must-see attraction in Palcho Monastery, Gyantse.
Kind of warmer than the weather in January, Gyanste in February is still in cold. But it is suitable to explore the historic monasteries and cultural sites here, like the renowned Gyantse Kumbum in Palcho Monastery, to observe the brightly colored archtectures with the bluest sky as the backdrop.
Shigatse Tibet Weather in February
Average Minimum Temperature (℃): -9.2
Average Maximum Temperature (℃): 8.41
Average Precipitation/Rainfall (mm): 0.16 mm
Rainy Days: 2
Relative Humidity (%): 23
Average Wind Speed (kmph): 5.9
The temperature of Shigatse in February goes slightly up as it moves to the spring season. Though the nights of the last winter month is still chilly, low to -13 degrees at the coldest, the daytime in Shigatse is warmer than many have expected, with temperatures reaching up to 16 degrees. It is the driest time of the year, accompanied by strong wind.
The city enjoys abundant sunshine during winter season, nearly 8 hours of sunshine on each sunny day, making it a pleasant place to travel during this time. One of the most famous attractions is the magnificent Tashilhunpo Monastery, which is the traditional seat of Panchen Lama and is the largest monastery in Shigatse. Here you can find the largest gold gilded bronze statue in the world, namely the future Buddha Statue.
EBC Tibet Weather in February
Average Minimum Temperature (℃): -15
Average Maximum Temperature (℃): 4
Average Precipitation/Rainfall (mm): 5mm
Rainy Days: 0.2
Average Wind Speed (kmph): 9
In February, the Everest Base Camp region of Tibetan side is still in cold winter. The average temperature at the base camp varies between -15 to 4 degrees. Days are always sunny and cloudy, with little rainfall. The wind will blow hard across the region, making it extremely harsh to stay for too long around the camp. Besides, the road to EBC will be sometimes closed due to inclement weather.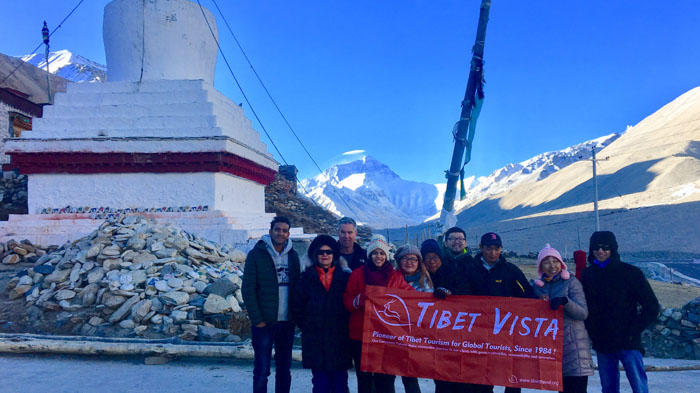 Viewing Mt.Everest peak from Rongbuk Monastery in February.
However the icy scenery is quite beautiful in the most clear, dry, frigid weather, and it's less crowded. In February, you can probably get some of the clearest glimpses of Mount Everest. Snow, unsurprisingly, can also be expected for this month. But do keep yourself warm and prepare for the huge temperature difference.
>> Check for the most popular EBC tours in Tibet.
Mt. Kailash Tibet Weather in February
Average Minimum Temperature (℃): -27
Average Maximum Temperature (℃): -10
Average Precipitation/Rainfall (mm): 15
Rainy Days: 7.9
February offers the most frigid days in Mount Kailash regions as the other winter months do. Even in the daytime, temperatures will mostly be below freezing, and even to minus ten. And the whole mountain area is always covered with thick snow, blocking the mountain passes and trekking roads. It is too dangerous to go to Mount Kailash at this time. And the best time to visit Mount Kailash would be from April to October, when the weather condition is favorable for trekking.
Lhasa to Kathmandu Overland in February
Kathmandu Average Minimum Temperature (℃): 4
Kathmandu Average Maximum Temperature (℃): 19
Kathmandu Average Precipitation/Rainfall (mm): 14
Kathmandu Rainy Days: 5
Kathmandu Relative Humidity (%): 53
Kathmandu Average Wind Speed (kmph): 2.9
Gyirong Port Average Minimum Temperature (℃): 4
Gyirong Port Average Maximum Temperature (℃): -5
February is the last month of winter in Kathmandu, and the temperatures are very similar to those in the month of January. Still, it is cool during the day while the nights are a little bit cold. But generally, it is very suitable to travel to Kathmandu in February, when you can expect to enjoy sunshine for about 5 to 7 hours per day.
From Lhasa to Kathmandu, the Friendship Highway will take you all the way to go through Gyirong Port. The road condition is quite good for driving, but you need to be careful as the snow may make it icy sometimes.
>> Check for the most recommended Lhasa to Kathmandu overland tours.
Insider Tips:
If you prefer to travel overland from Kathmandu to Lhasa, in addition to the Tibet Permit, you need to apply for China Group Visa with your original passport in Kathmandu. Our staff will help you get it. Since the process of it takes 3 business days, so do leave enough time for it. Our travel consultants will help you deal with the details.
Tibetan Festivals in February
The Tibetan New Year, also known as Losar Festival, is the most important traditional festival for Tibetans. Starting from December 29th on the Tibetan calendar, the entire celebration will last 2 weeks. Tibetan New Year offers the travelers a great opportunity to enjoy the annual festive occasion with local Tibetans. During the festival, people celebrate by some ancient ceremonies which represent the struggle between good and evil. Lamas are chanting and passing fire torches through the crowds.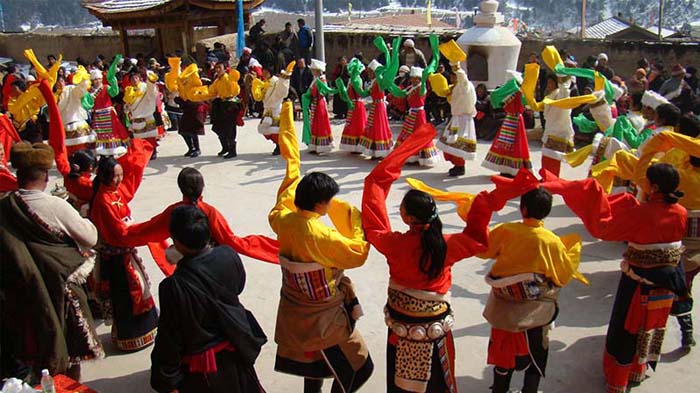 Local people are singing and dancing to celebrate Tibetan New Year.
People perform the dance of the deer and amusing battles between the king and his ministers, and so on, people are cheering for the coming New Year by dancing, singing, and merrymaking. Tourists can also see how Tibetans make New Year dishes like Guthuk and exorcize ghost for New Year, and how do they visit friends with auspicious Chemar and why do Tibetans burn pine branches to worship mountains gods, etc.
Falling on 4th - 11th day of the first month on the Tibetan calendar, the Great Prayer Festival (also known as Monlam Prayer Festival) is one of the greatest religious festivals in Tibet. Its celebration will last from January 1st to January 25th based on the Tibetan calendar. Thousands of monks (of the three main monasteries of Drepung, Sera and Ganden) would gather for chanting prayers and performing religious rituals at the Jokhang Temple in Lhasa.
On the fifteenth day the highlight of the Great Prayer Festival in Lhasa would be the annual Butter Lamp Festival, Chunga Chopa in Tibetan. The Butter Lamp Festival would be the most boisterous night of the Great Prayer Festival. With the decoration of various colorful butter lamps, Barkhor Street became a miraculous and beautiful world. Those butter lamps with various shapes and colors make Barkhor Street bright and splendid.
What to pack for traveling Tibet in February?
In addition to your passport, Tibet Travel Permit and Chinese Visa, which are essential for you to tour around Tibet, you will also need to pack enough warm clothing. Thick sweaters and down jackets are the must to withstand the cold in February, even for tourists who are able-bodied to bear coldness. Glover, warm shoes and anything could keep you warm are also required. Warm hats are also necessary since winter of Tibet is severely windy, especially when you travel beyond urban areas, like Everest Base Camp, Yamdrok Lake etc.
No matter which season you go to Tibet, you should bring sunglasses and sun protection equipment, including sun hats, sunscreens etc., so that you can rest assured to enjoy the warm sunshine in the open air. Considering the dry weather in the winter season, you are recommended to prepare lipstick, hand cream, emollient oil, face cream and other skin care products.
In winter month including February, the oxygen content of the plateau is less than that in summer, resulting in a higher probability to suffer from altitude sickness. It is advised to drink Rhodiola in advance for ten days and a half before entering Tibet. And medication to relieve the symptoms like Rhodiola Compound Capsule and Gaoyuan'an can also be prepared.
>> Check more What to Pack for Tibet Travel.
Conclusion
It is obviously cold in Tibet in February, but not like most people think, since the days are always dry and sunny, with abundant sunshine and little rainfall. Even though there is a large temperature difference between day and night, one can enjoy fabulous view with clear skies during the day.
It is a nice time to visit the cultural and historical sites in Lhasa and Shigatse. Being less crowded, one can have more time to be immersed in the beauty of the architectures and know more about Tibetan Buddhist culture. Also, the roads to Yamdrok Lake and Mount Everest are still accessible, enabling different sightseeing to the alpine mountains and lakes in the winter season.
February also sees the most significant Tibetan festival across the plateau, offering an excellent chance for tourists to experience the special annual highlights of Tibetan New Year, which will celebrate for two weeks. With fewer travelers to the region in the low season of Tibet tours, one can also enjoy a sufficient stay in Tibet at a cost-effective expense and get in-deep contact with local Tibetan cultures.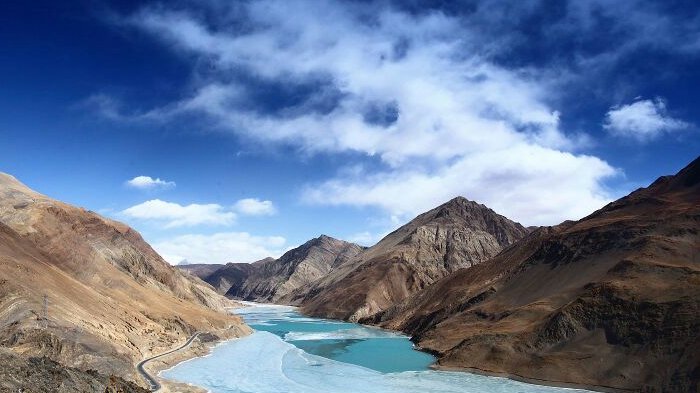 Frozen fairy has cast a spell on lakes in February.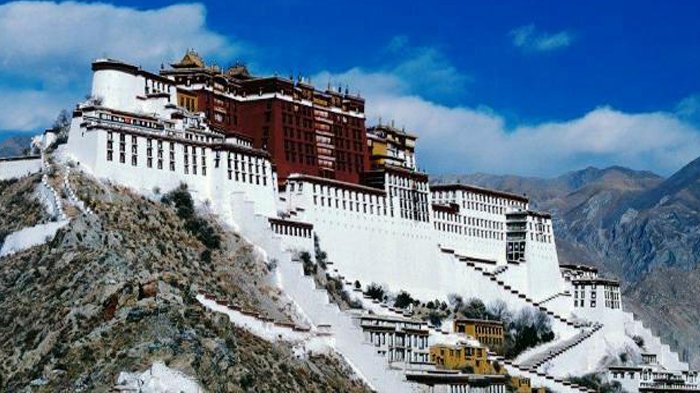 Magnificant Potala Palace in February.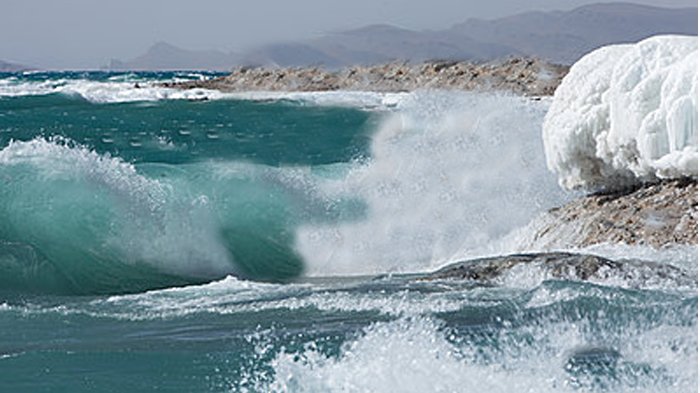 Namtso Lake, heavenly lake in Tibet is frozen in February.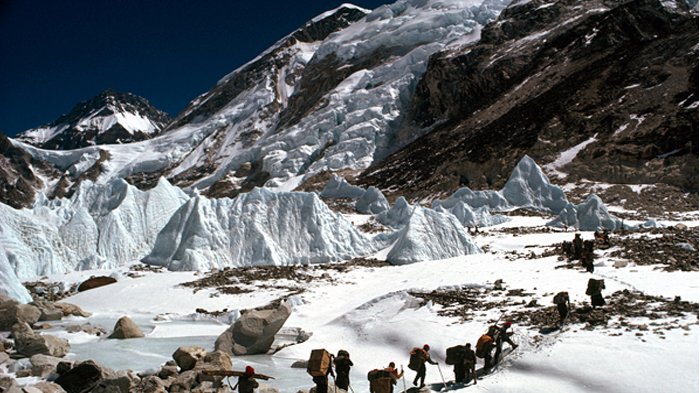 Tourists are visiting Mount Everest happily in February.