Tibet Weather in April: Tibet temperature and how to plan a Tibet tour in April
April marks the beginning of tourism seasons in Tibet, one of the best times to visit Tibet. As spring rolls around, the winter temperatures give way to warmer weather, with daytime temperatures reaching as high as around 16 degrees. Nights can still be cold, dropping to around freezing and below in many places to the west, but warmer in the eastern areas of the region.
There is a small chance of rain in April, though it is usually only light and for a few minutes at a time in the afternoon or evening. Days can still be arid, and with the increased temperatures, can feel a lot warmer than it really is in the bright sun.
Average Minimum Temperature (℃): 1
Average Maximum Temperature (℃): 16
Tibet Average Temperature(℃): 8
Average Precipitation/Rainfall(mm): 5
Wet Days(>0.1mm): 1
Relative Humidity(%): 67
(overall Tibet weather in April)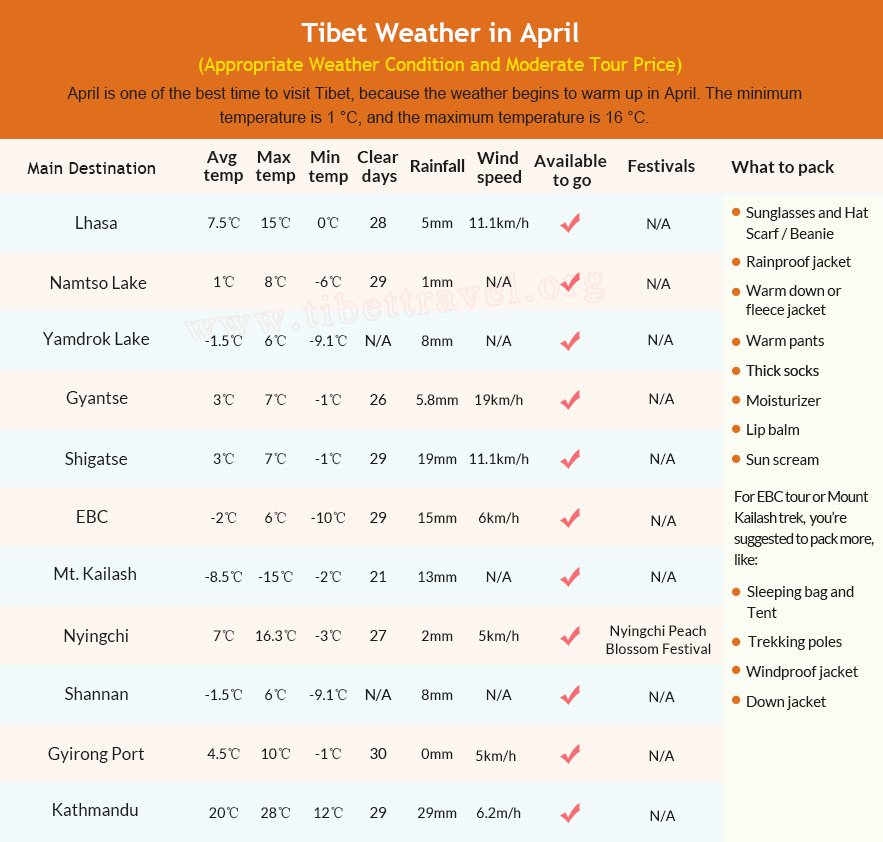 The Temperatures and Climate Features of Most-visited Places in Tibet in April
In addition to fewer tourists, April is also a relatively cheaper to visit Tibet, compared to summer. Discounts are still available on some hotels and flights, and with fewer tourists still, the attractions are not as busy. For those areas, like Mount Kailash, that were inaccessible through in winter, the roads are usually open again in April.
Some parts of the plateau may still have snow and ice in the early part of April, such as Lake Namtso, EBC and Mount Kailash, but this is no bar to traveling there, as the snow is already melting and the roads are usually clear by now. Learn more of small group tours in Tibet.
Lhasa Tibet Weather in April
Average Minimum Temperature (℃): 0
Average Maximum Temperature (℃): 15
Average Precipitation/Rainfall(mm): 5
Rainy Days: 2
Relative Humidity (%): 67
Average Wind Speed (kmph): 11.1
As the gentle breeze of the spring awakens the icy Tibet, Lhasa, the tourist center of Tibet, starts to see an increase in temperatures and the number of tourists. For the newly-arrived tourists like you, never underestimate the drastic temperature change between day and night. Temperatures range from around 2 degrees at night to as high as 16 degrees in the daytime, and while it is nice and warm, you may still need a coat or sweater in the evenings. Mostly importantly, it's highly advisable to spend a couples of days in Lhasa for better acclimatization to high altitude of Tibetan Plateau and crisp air in Tibet in April.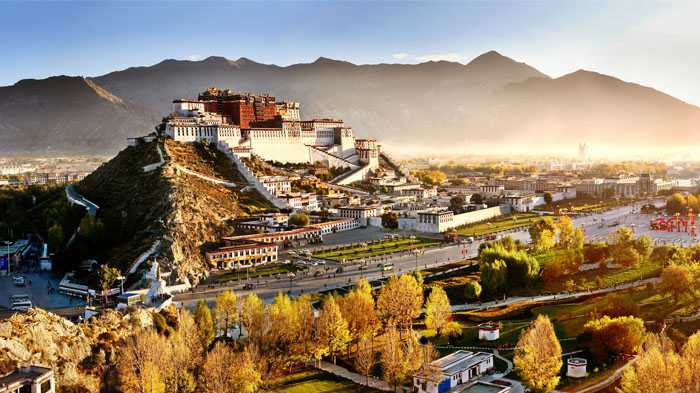 Sunrise over the picturesque Lhasa in April.
While centering your tour to the landmark attractions in downtown Lhasa, like Potala Palace, Jokhang Temple and Barkhor Street and Drepung Monstery, please don't miss out the backstreet of old residential area in Lhasa, where you may enjoy the sweet tea in the tea house and soak up the vibes of historical Lhasa city. In the afternoon, do go to Sera monastery to enjoy the heated monk debate. If you prefer a light trek, then visiting Drak Yerpa monastery or Ganden Monastery will reward you with spectacular view of Lhasa Valley. Check for more Lhasa tours in Tibet.
Namtso Tibet Weather in April
Average Minimum Temperature (℃): -6
Average Maximum Temperature (℃): 8
Average Precipitation/Rainfall(mm): 1
Rainy Days: 1
If you mainly come for the sapphire lake of Namtso Lake in April, you might get disappointed because it's very likely that half of the lake still remains frozen. However, to the discerning travelers, the Namtso in April has its irresistible allure. The picturesque sight of the transition from cold winter to warm spring is one of the most beautiful sights in the region. In addition, traveling from Lhasa to Namtso gives you a glimpse of the life of local Tibetan nomads in Nagqu region. Closely observe nomads' yak tent; enjoy the healing hot spring in Yangpachen; photograph the lofty Nyenchen Tanglha Mountains and smiling herdsmen and Tibetans pilgrims who begin to move to Namtso for pilgrimage, etc. The around 6 hrs.' long drive (one way) fills with exciting discovery.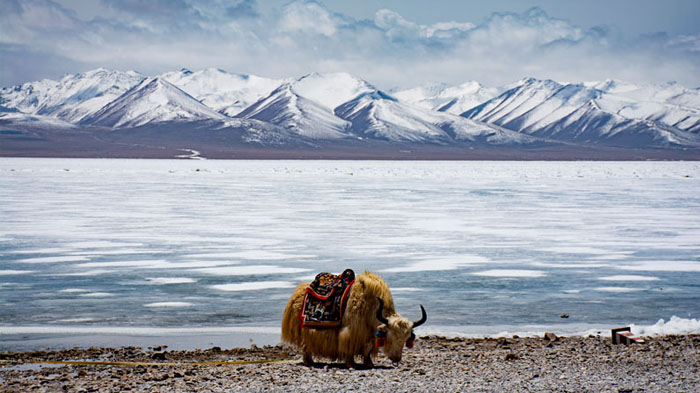 The frozen Namtso Lakes wakes up from the sound sleep in winter in April.
One thing to remind you, with an altitude of 4718m, Namtso Lake is notoriously known for its biting wind, esp. at the imposing Nagenla Pass (5190m) and at beside the lake shore. So, down jacket, warm scarf and mitten and beanie are highly recommended. Besides, the accommodation facilities in the scenic areas are quite basic and rudimentary. So do lower your expectation since it's an adventure tour.
Nyingchi Tibet Weather in April
Average Minimum Temperature (℃): -3
Average Maximum Temperature (℃): 16.3
Average Precipitation/Rainfall(mm): 2
From mid-March to early April, Nyingchi definitely takes the center stage of entire Tibet. With dazzling pinky peach blossoms that span the valleys and riverbanks in full bloom, Nyingchi is an earthly heaven for sightseeing and photography. Meanwhile, Nyingchi is also one of the warmest places to go to in the early spring, with an average altitude of around 3000m. It leaves you no chance to get altitude sickness. Besides, you can enjoy the scenic boating on tranquil Basum tso Lake and go hiking in Lulang Forest and gaze at mighty Namche Barwa, etc. Find out more of tours in Nyingchi.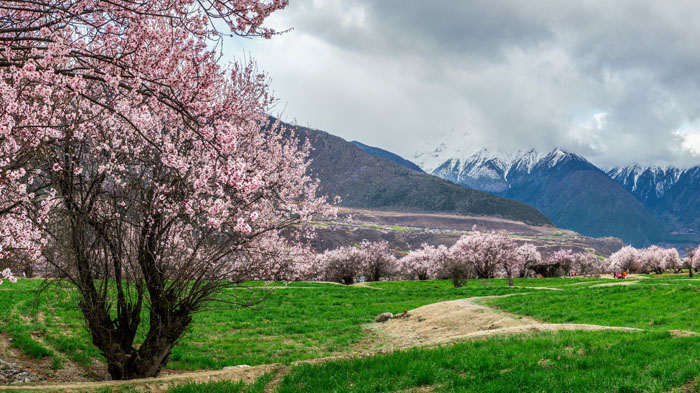 The peach blossoms in Nyingchi are the biggest star in Tibet in April.
Shannan Tibet Weather in April
Average Minimum Temperature (℃): -9.1
Average Maximum Temperature (℃): 6
Average Precipitation/Rainfall(mm): 8
Although the spring brings warmth and moisture in Shannan prefecture, the average temperature of Shannan in April stays fairly low. Thanks to the warm wind from Indian Ocean, the days are quite windy, coupled with sporadic light drizzle. However, the landscape of Shannan in April will definitely live up to your expectation.
Why not enjoy the scenic ride that takes 2.5hrs from Lhasa to famous turquoise Yamdrok Lake? The incredible sapphire water of Yamdrok Lake and adorable Tibetan mastiffs make up the highlights of your day. If you want to learn the source of Tibetan culture and Buddhism, do make it to Samye Monastery and Yungbulakang Palace, you will be deeply impressed by the long history of profound Tibetan Buddhism and legend of the first Tibetan king.
Wanna do some trekking? No problems! The 5-day trek from Ganden to Samye Monastery gives you a chance to follow ancient pilgrimage route from Lhasa to Shannan. And the day hike in Chim-puk Hermitage is the best off-the-beaten path to explore the mysterious religious retreats in Shannan.
Yamdrok Lake Tibet Weather in April
Average Minimum Temperature (℃): -9.1
Average Maximum Temperature (℃): 6
Average Precipitation/Rainfall(mm): 8
No more worry about the weather of Yamdrok Lake in April. Unlike the frozen Namtso Lake, the turquoise Yamdrok Lake is ready to greet you in all its splendor in April. Showered in cozy sunshine, you can enjoy the stunning panorama of Yamdrok Lake at renowned Gangbala Pass (4978m). The wind at the mountain pass can be extremely windy and chilly, do wear your scarf and down jacket. At the viewing platform, you can take photos with lovely Tibetan mastiffs. With time permitting, you may take a stroll right beside the lakeshore of greenish-blue Yamdrok Lake and practice yoga or do the meditation there.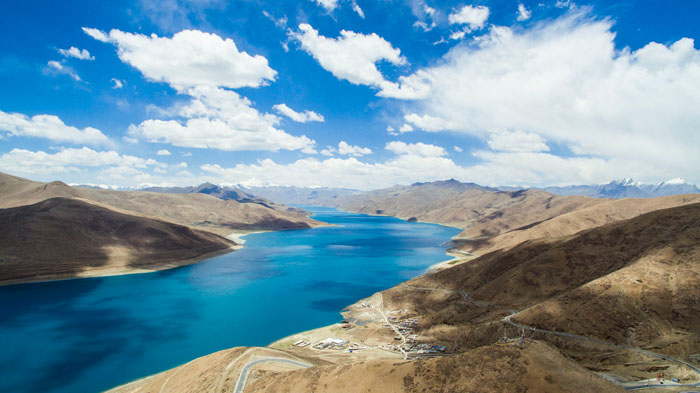 The iconic turquoise Yamdrok lake will blow your mind away in April.
Gyantse Tibet Weather in April
Average Minimum Temperature (℃): -1
Average Maximum Temperature (℃): 7
Average Precipitation/Rainfall(mm): 5.8
Rainy Days: 4
Relative Humidity (%): 35
Mostly visited as a brief stopover between Lhasa and Shigatse, Gyantse is an enchanting county that can be visited all year around. Its favorable location in peaceful and fertile Nyang Chu Valley exempts it from major natural disaster. April is one of the ideal seasons to visit Gyantse, free of large crowds and frequent rainfall in summer. However, you still need to pay attention to obvious temperature change between day and night.
The Nepali-style Gyantse Kumbum stupa in Palcho Monastery is one of the star attractions in Gyantse. Do climb the multi-story stupa and enjoy the delicate murals and hundreds of statues of Buddhist deities inside. Minutes' walk away is the old street of Gyantse town, with awe-inspiring Gyantse fortress overlooking the entire Gyantse County. You may take a leisurely stroll amid the historical alleys and trace the history of this important trade hub between Kathmandu and Lhasa.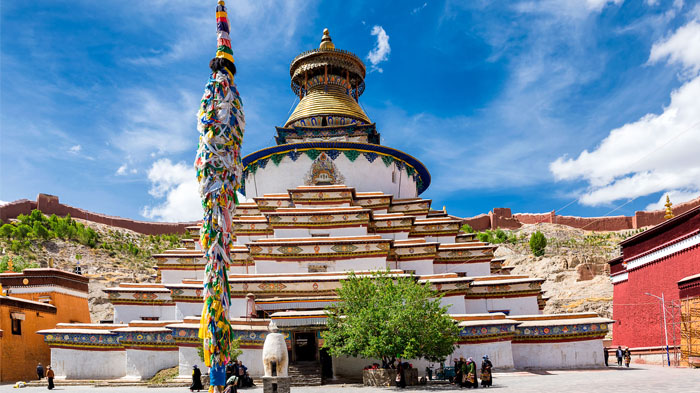 Multi-story Gyantse kumbum Stupa greets you in April in Gyantse.
If you still have energy in your legs, why not try climbing to the top of Gyantse fortress, now dedicated to the patriotic fight against the invasion of British Army in 1940. The incredible panoramic view of Nyang Chu Valley and Palcho Monastery will blow your mind away. For a light trek, never miss the classic 3-day trek from Shalu to Nartang, the shortest and one of the best light-hearted treks in Tibet
Shigatse Tibet Weather in April
Average Minimum Temperature (℃): -1
Average Maximum Temperature (℃): 7
Average Precipitation/Rainfall(mm): 19
Rainy Days: 1
Relative Humidity (%): 34
Average Wind Speed (kmph): 11.1
As the gateway city to Mt. Everest and the second largest city in Tibet, Shigatse features relatively low air pressure and air thin. There won't be a huge temperature change annually yet dramatic temperature drop from daytime to the night is so palpable. The arid and windy weather pattern dominates then scene in April. There won't be much chance for you to be exposed to extreme wind chill. So long as the radiant sunshine engulfs you in the daytime, April is such a sweet season to explore Shigatse, traditionally known as the seat of generations of Panchen Lamas. Learn more of the attractions in Shigatse.
Tashilunpo Monastery should be the center of your visit in Shigatse. Roam over the cobbled lanes of this prestigious Buddhist academy; watch the monk chanting in the great assemble hall; or closely observe the gigantic gilded statue of the Future Buddha; The powerful history of Gelugpa school of Tibetan Buddhism echoes through scriptures and murals on the wall and great devotion shown on the faces of Tibetan pilgrims. By following the footsteps of our guide, you can enjoy a small kora around Tashillunpo and get a photogenic view of Shigatse Dzong. If you have time, it's worth to visit the summer palace of Panchen Lamas in the south of the Shigatse. With all that done, you are on your way to Everest Base Camp.
EBC Tibet Weather in April
Average Minimum Temperature (℃): -10
Average Maximum Temperature (℃): 6
Average Precipitation/Rainfall(mm): 15
Average Wind Speed (kmph): 6
April is one of the best times to visit Everest Base Camp (5200m) in Tibet. Any roads that may have been blocked by snow in the winter months have cleared, and the holy Everest comes to life once again. Devoid of annoying dense clouds that hides the summit of Mt.Everest, you get a postcard photo of the peak of the world's highest mountain. However, thin air, strong gale and bitter-cold weather keeps reminding you about the challenge and the uniqueness of touring this holy region. In fact, until mid-April, the tented area of EBC will not be available to tourists due to the powerful wind. You can stay in the guesthouse of Rongbuk Monastery (5154m), the world's highest Buddhist site, for the jaw-dropping vista of the Everest.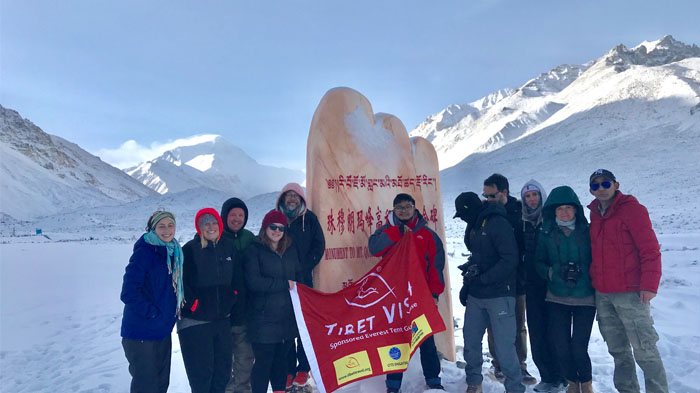 Our clients made it to EBC in April
In addition to exploring the sacred Rongbuk monastery, the most popular activity at EBC is photography. Do prepare enough memory cards and back-up batteries for the epic shot. Meanwhile, down jacket, thermal underwear, thick gloves and socks, scarf, beanie, and sunglasses and sunscreen, etc. are a must for EBC tour. Accommodation and toilet facilities are quite basic, so do play down your expectation, given this is purely an adventure tour. The sunrise of Everest and panoramic view of top 4 highest peaks along Great Himalayas at Gawu La Pass are some of the highlights of the tour. Check for the most popular EBC tours in Tibet.
Mt.Kailash Tibet Weather in April
Average Minimum Temperature (℃): -2
Average Maximum Temperature (℃): -15
Average Precipitation/Rainfall(mm): 13
Rainy Days: 9
April also sees the opening of Mount Kailash as a major tourist destination on the plateau, and the sacred mountain starts to see more tourists and pilgrims. The temperatures are warming up, with lows of only -15 degrees at the most extreme, and highs of around minus 2 degrees in the daytime. Though the kora trek is open once more, most of the mountain trails and land still are covered with snow, particularly in the first half of April, which means you need to be careful with your walk. Meanwhile, the fierce wind at Drolma La Pass (5630m) can be experienced intermittently. Please pay specially attention to the ascent and descent to and from Drolma La Pass on Day 2 of the trek.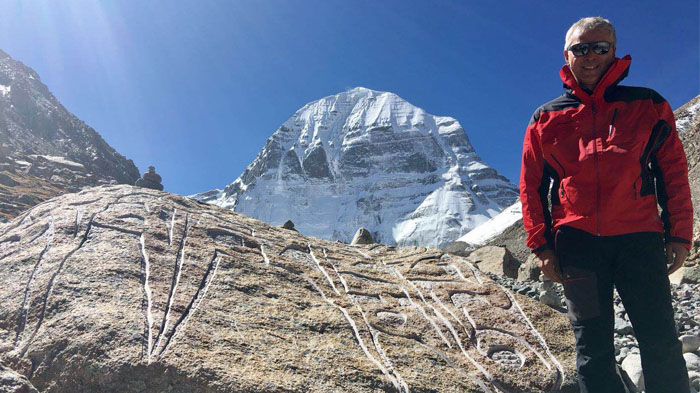 The stunning visibility of Mt.Kailash region in April is perfect for a religious walk.
espite the freezing wind and icy high passes, the land blanketed by white snow, and superb visibility of Mt.Kailash and steady increase of prostrating local pilgrims heightened the holiness of Mt.Kailash. Trekking poles, thermal clothes with multiple layers, down jackets, windproof jacket, sunglasses, sunscreen, trekking boots, sleeping bags etc. are essential to trekking at Mt.Kailash. With the help of our seasoned Tibetan guide and trekking assistants, you will enjoy a safe and adventurous experience during the 3-day trek around Mt.Kailash.
Lhasa to Kathmandu Overland in April
Kathmandu Average Minimum Temperature (℃): 12
Kathmandu Average Maximum Temperature (℃): 28
Kathmandu Average Precipitation/Rainfall(mm): 29
Kathmandu Rainy Days: 1
Kathmandu Relative Humidity (%): 65%
Kathmandu Average Wind Speed (kmph): 6.2
Gyirong Port Average Minimum Temperature (℃) : -1
Gyirong Port Average Maximum Temperature (℃): 10
April is also the start of the season for touring from Lhasa to Kathmandu (or the other way around), crossing the newly-thawed plains and valleys of Tibet as you head for the western Himalayas and the pass into Nepal. The long and winding Friendship Highway, which never really closes now thanks to the decent asphalt surface, is clear of snow and ice, and the journey across the vast Tibetan plateau can begin again.
The trip from Lhasa to Kathmandu takes you through the stunning cities of Gyantse and Shigatse, and on to the famous Everest Base Camp, before transferring you to the Gyirong Port exit from China, as you cross the Resuo Bridge into Nepal, and continue down into the beautiful springtime valley at Kathmandu. For our clients, our tour offers transfer service from Gyirong Port to Kathmandu for 60USD/pax.
Insider Tips: If you prefer to travel overland from Kathmandu to Lhasa, in addition to the Tibet Permit, you need to apply for China Group Visa with your original passport in Kathmandu. Our staff will help you get it. Since the process of it takes 3 business days, so do leave enough time for it. Our travel consultants will heal you deal with the details.
Tibetan Festivals in April
The biggest festival in April is the Peach Blossom Festival that is held in Nyingchi from mid-March to early April every year. The festival is held in towns and cities all across Nyingchi, and is one of the most immersive festivals in Tibet. Not only do you get to see the stunning pinks and violets of the peach blossoms all across the prefecture, but it is a great opportunity to immerse yourself in the exotic scenery of the area and the beautiful Tibetan villages. The festivals often feature many other events, such as horse races, weight-lifting contests, and many other events.
The Peach Blossom Festival in Nyingchi is never set as any date, since it is not usually known when the trees will bloom until closer to the time, once the buds are showing on the trees. The peach trees in Nyingchi can be found all over the area, but are mostly distributed along the valley of the Niyang River, or along the road that leads from Nyingchi Mainling Airport to Bayi Town. The main season usually runs from around mid-March to the middle or end of April, depending on the flowering phases of the trees. The best places to visit the festivals in Nyingchi are in Bome County, Zayu County, Bayi District, Mainling County, Nang County, and Gongbo'gyamda County.
What to pack for traveling Tibet in April?
Tibet may be the start of spring, but it can still be quite cold at nights and in the later evenings. Daytimes are also not guaranteed to be hot, with temperatures that can range from 5-16 degrees in the daytime. Mostly, the skies are clear, but you may experience some rain, so a rainproof jacket would be useful. Warmer clothing is still needed, even in the lower-lying areas of Nyingchi, and in the west, the temperatures can be cold, so layers of warming clothes are essential still.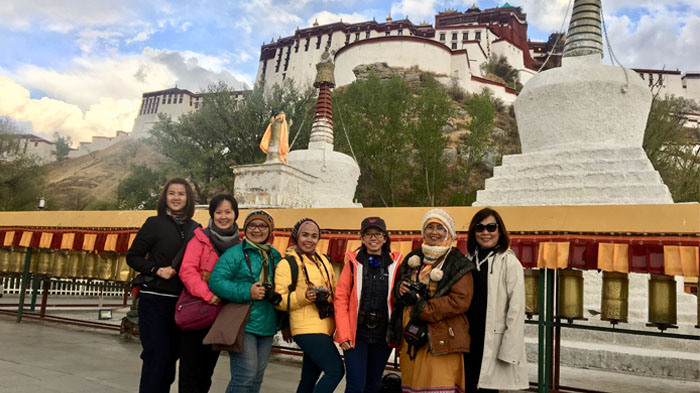 Our clients dressed in down jacket in Lhasa in April.
Good sturdy boots are needed for most of the traveling you will do, with arm thick socks to keep your toes from freezing. You should also bring a warm down or fleece jacket to wear when it gets colder and warm pants, not jeans or denims, will help to keep your legs from getting cold. You should also bring a hat to keep your head warm and keep the sun off, as it can get very bright. Sunglasses are a must, and moisturizer and lip balm will help keep the cold winds from chaffing your lips and skin. And bring a good sun cream, to keep the sun from burning your face and neck.
If you are thinking of trekking, as the season for trekkers has just begun, then you should make sure that you have a warm place to keep your camera, phone, and other gadgets, which can be affected by the cold. Trekkers will also need a good backpack, in which to carry their things, including a good arctic-rated sleeping bag, tent, and changes of clothing. Trekking poles are also a good idea, as the ground can still be covered in snow and slippery or rough. Check the ultimate packing list for Tibet travel.
Conclusion
April is one of the best months of the year, as you get to see the Tibetan plateau landscape coming back to life after the long hard winter months. Focusing on Lhasa, and further travelling to Nyingchi, Namtso, EBC and to Kathmandu, you have ample room of choices for different experiences across Tibet.
Most of the plateau sees some of the early spring blooms, esp. the eastern Tibet, and while you can still see snow in many places across the region, the temperatures are warmer and more comfortable during the daytime. However, the night can still be very cold. With full preparation, there is no problem for visit at all.
Since there are not many festivals in the region in April, it is worth starting your tour in Nyingchi, to get the best out of the trip and visit the stunning peach trees, covered in pink and violet blooms.
It is also a good idea to utilize the early part of the season to get to Tibet without the huge crowds that descend on the plateau for the summer months, when all of the best attractions of Tibet become filled with a host of people with cameras and cell phones.