How to Visit Lhasa 2023/2024? The Ultimate Guide & Some Common Mistakes You Should Avoid
Lhasa, at an altitude of 3,656 meters above sea level, is the world's highest capital city, and the center of Tibetan culture and Buddhist religion.
In this post, we lay out the most complete guide about how to visit Lhasa, including the best time to travel, how to get to Lhasa, how many days to stay, accommodations, what to eat, etc, with the most common mistakes you should totally avoid. This holy city with great delights and wonders will amaze and astound you thoroughly.
When is the Best Time to Visit Lhasa? Lhasa Can't Be Visited in Winter?
Lhasa can be visited in Winter.
Actually, Lhasa is also known as the City of Sunshine and gets more than 8 hours of sunshine per day on average throughout the year.
Lhasa in winter is not as cold as you may think. The weather is dry and sunny, with an average temperature of 7-9℃.
Besides, traveling to Lhasa in winter has several benefits.
Winter is the low season for tourism, and there are very few tourists that are prepared to travel to the plateau in winter. So you can expect a tranquil and authentic Lhasa without too many tourists around.
Compared with other seasons, a winter tour to Lhasa is cheaper, as many of the hotels and guesthouses offer off-peak discounts to attract tourists. Discounts are also available on the flights and trains to Tibet, as well as many of the attractions offering lower entry fees in the winter months.
Moreover, winter is a good season for birding in Lhasa, particularly in December when there are up to 8 hours' sunshine, as well as unfrozen lakes and massive barley fields.
>> Check for the most classic Lhasa winter tour packages.
Best Time to Visit Lhasa: April to June and Sept to Oct.
Spring and autumn are normally the best months to travel to Lhasa for the clearer skies and best views, and if trekking is your thing, then there is no better time of year to do it.
With almost no rainfall in spring and autumn and temperatures that are mild to warm, trekking from Ganden Monastery to Samye Monastery or taking the Pabonka to Pubjoi Monastery Trek around the foothills of the Nyenchen Tanglha Mountains around Lhasa is best done at these times of the year.
Peak Season to Visit Lhasa: July and August.
Summer is the peak tourist season in Tibet, and in Lhasa, it is the most popular time of year as well.
Summer is warmer than the rest of the year, with higher temperatures that can reach as high as 23-25 degrees during the daytime. Nights can still be a little cold, but are manageable with a few warm sweaters to wear.
Summer is also the monsoon season, and can be a little wetter than the west and north of Tibet, though not as wet as the eastern areas of Nyingchi. Monsoon rains normally fall in the late evenings and overnight, though, leaving the daytimes mostly dry and suitable for touring the sights of this stunning capital.
However, during this period, many families head to Lhasa to spend their summer vacations and escape the heat. So you may find the price to travel to Lhasa in summer is higher.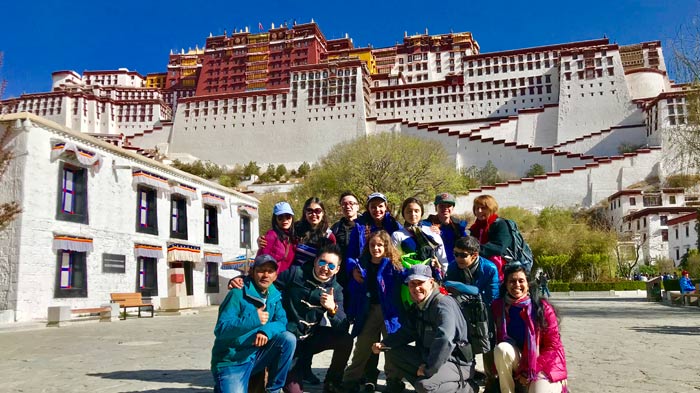 Under the warm sunshine, our clients payed a visit to Potala Palace in winter
Can I Visit or Roam Around Lhasa City by Myself?
Presently, you can't visit or roam around Lhasa city by yourself, especially heading to any of the tourist sites, like Potala Palace, Jokhang Temple, Barkhor Street, etc. You must be accompanied by a licensed tour guide.
In fact, due to the huge language barrier, it's much better to have a professional guide to explain the history and cultures of every monastery, making the most of your lifetime Tibet trip.
Besides, with the local tour guide accompanied, you will have the most authentic experience that Tibet has to offer, like enjoying a bottle of sweet tea in the original Tibetan tea house, tasting the local food, and exploring the hidden gems in the holy city.
Except for Potala Palace, Jokhang Temple, Barkhor Street, Are There Other Beauty Spots?
Lhasa has much more attractions to offer.
Usually, a classic Lhasa trip is arranged within 4 days, which allows you to visit the three popular heritage sites in Lhasa city, covering Potala Palace, Jokhang Temple, and Barkhor Street, as well as Sera and Drepung Monastery, two of the Great Three monasteries of Gelug School of Tibetan Buddhism.
However, if you have one or two more days to spare, you can add the following activities to your itinerary.
One Day to Trek from Pabonka to Pubjoi Monastery
The one-day Pabonka to Pubjoi Monastery trek takes you to explore the Buddhist heritages that are not frequented by tourists in Lhasa outskirts. Pabonka is a cliff-side palace. From here you hike up to Tashi Chöling and then Tagden Ritro, followed by a downward trek to Sera Ütse, Raka Drak, and finally Purbu Jog Monastery.
Note that this isn't an easy trek, so you must be fully adjusted to this elevation in advance.
Recommended trip: 5 Days Pabonka to Pubjoi Monastery Trek Tour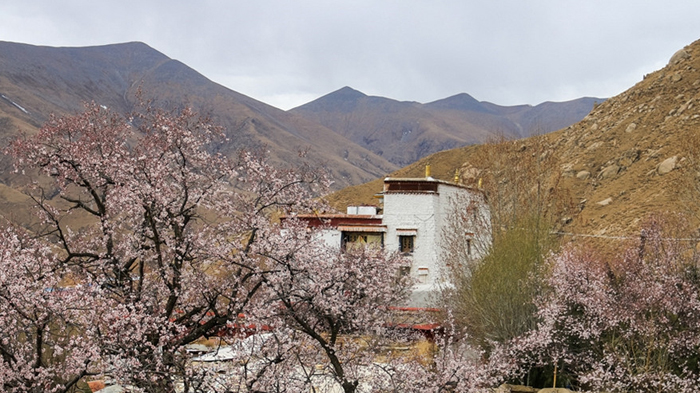 Pabonka Monastery is one of the most ancient Buddhist sites in Lhasa.
One Day to Challenge the Kora around Ganden Monastery
The kora around Ganden Monastery, another Gelug monastery in Tibet, takes a half day. The trekking route contains two sections, a high kora, and a low kora, both offering stunning views of Lhasa Valley and the surrounding Nyenchen Tanglha mountain ranges.
With an altitude of around 4,300 meters, this trek also requires full acclimatization to the elevation and a fit body.
Recommended trip: 5 Days Lhasa Tour with Kora around Ganden Monastery
One Day to Tour Yamdrok Lake
One of the Great Three holy lakes of Tibet, Yamdrok Lake is surrounded by many snow mountains. The highest one is Mount Nyenchen Khangsar with an elevation of 7,191 meters.
En route, you need to conquer Gangbala Pass (5,030 meters), where you can get the best photo opportunity. Also, you get to head downhill to the lakeshore to enjoy a leisure walk.
Recommended trip: 5 Days Lhasa and Yamdrok-tso Lake Tour
Two Days to Visit Samye Monastery
Samye Monastery is the first Buddhist monastery in Tibet built in the 8th century. It was designed in the form of a giant mandala, a representation of the Buddhist universe. You will be impressed by the distinctive spiritual ambiance permeating through the holy Buddhist site.
If time permits, you can hike up to the top of Hepori Hill to enjoy a panorama of Samye Monastery.
Recommended trip: 6 Days Lhasa to Samye Monastery Tour
Two Days to Travel Lake Namtso
Another holy lake for Tibetans, Lake Namtso is a sapphire on the plateau. A day tour from Lhasa to Namtso never disappoints you either. Along the trail, you can see snow-covered Nyenchen Tanglha Mountains and Tibetan nomads' tents settled on grassland, with yaks and sheep grazing.
On the way back to Lhasa, take your time to soak in the hot springs in Yangbajing. That is a big relief from the long ride.
Recommended trip: 6 Days Travel to Sky Lake - Lhasa and Lake Namtso Tour
Close to the graceful Namtso Lake
Are There Only Tibetan-Style Hotels?
There are not only Tibetan-style hotels available in Lhasa.
Lhasa has all levels of hotels to suit everyone's needs, from the five-star St Regis Lhasa Resort and the Lhasa Brahmaputra Grand Hotel to the smallest and most authentic Tibetan guesthouse.
The high-end hotels that are rated as 4 and 5-star are much more expensive, and if cost is an issue, then there are a huge number of smaller hotels, ranging from three-star hotels with an average price to backpacker-style hostels, with beds in dormitories at the lowest possible price.
>> Find out all available hotels in Lhasa here.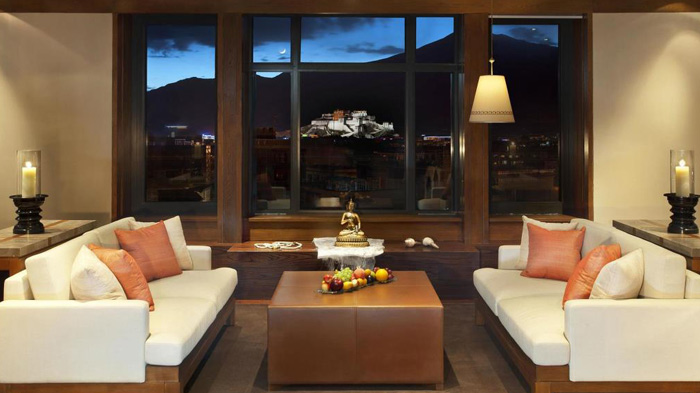 St. Regis Lhasa Resort, a luxury 5-star hotel in Lhasa, offers you a sense of home.
Are There Only Tibetan-Style Dishes Available?
Not only Tibetan-style dishes are available in Lhasa.
With international tourism in full swing, it's easy to find various food choices. No matter where you come from, dining in Lhasa is not a problem. Your guide can always take you to the places that match your taste.
Western food like pasta, pizza, pancake, burger, sandwich, etc., is usually accessible in hotels and large restaurants. Sichuan spicy flavor, and even Indian and Nepalese curry tastes are also within reach in most restaurants. Even vegans can find some places to eat in Lhasa.
Do I Have to Pack a Lot for Lhasa Visit?
You don't need to pack a lot to visit Lhasa. What to pack will depend on the season you travel in and your travel itinerary.
In summer, you will need less warm clothing, though you will still need some for when it gets colder in the evenings, and you should bring a raincoat in case it does rain during the day.
In winter, cold weather clothes are essential. Despite the daytime sun making you feel warm, the weather gets quite cold at night. A thick sweater, down jacket, warm shoes are necessary for Tibet winter tours.
Whatever season you travel, a good strong pair of boots or hiking shoes is essential, as some of the sites on the outskirts of the city are not paved, and have rough ground to walk over, especially if you are visiting Lake Namtso.
Trekking in the area also requires hiking boots, and decent trekking gear such as waterproof, light pants, layers of clothes to keep you warm easier, and a hat and sunglasses to ward off the sun's strong UV rays.
Even if you have a good backpack for your clothes, bring a small one for use as a day pack, so you can keep your important documents on you at all times and to carry snacks and water with you when visiting the sites around the city.
How to Get to Lhasa? Is It Hard to Arrive?
Getting to Lhasa is not hard at all, actually very easy nowadays.
There are three ways to get to Lhasa, by plane, train, or overland.
Traveling by flight to Lhasa from mainland China is fast and efficient, but does not give you a chance to acclimatize the altitude environment. Airfare is a little expensive, which is largely due to the huge demand. So we advise you better to book Tibet air tickets as far in advance as you can.
Traveling by Tibet train is one of the most spectacular ways to get to Lhasa. The train travels across parts of China and stretches from the Tanggula Mountains in the far north to Lhasa. It takes a long ride around 22-55 hours but the breathtaking scenery along the way makes the trip quite worthwhile.
An overland tour to Lhasa is available as well. There are 5 major overland routes, Sino-Nepal Friendship Highway, Sichuan-Tibet Highway, Yunnan-Tibet Highway, Qinghai-Tibet Highway, and Xinjiang-Tibet Highway.
Besides, the overland tour between Lhasa and Kathmandu is also one of the most popular choices with amazing scenery while crossing Gyirong Valley and Everest Base Camp.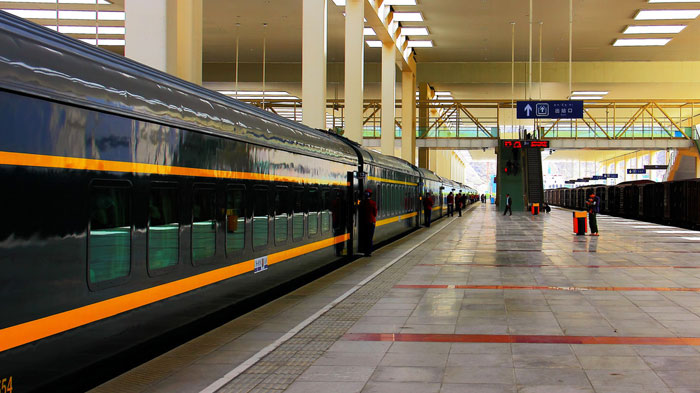 Travelers can enjoy the sky train ride to Tibet
Can I Head to EBC Directly without Adjusting to the High Altitude in Lhasa?
It's very important to wait for your body to adapt to the high altitudes in Lhasa and then start your adventure to other places of Tibet like EBC.
Lhasa has an altitude of 3656m, whereas the Tibet Everest Base Camp is situated at an altitude of 5200m. A sudden elevation rise might cause altitude reaction.
Basically, 3 days are enough for most travelers to get over most initial symptoms of altitude sickness, including headache, dizziness, fatigue, loss of appetite, disturbed sleep, etc.
>> Get the most popular Lhasa to EBC overland tour itinerary here.
Pay much attention that on your first day in Lhasa, don't shower to avoid catching a cold. Take a good rest and keep relax. Walk slowly and avoid strenuous exercise, as well as smoking and drinking.
Also, try your best to avoid additional oxygen. Every time you use oxygen to help relieve the symptoms, you may reduce the body's adjustment to the plateau.
Why I Plan Lhasa Visit with a Tibetan Travel Agency?
It is better to book a Lhasa trip through a local travel tour operator.
There are two main reasons to explain this. Firstly, a local travel agency provides Tibetan guides who are born and raised in Tibet. They are the only ones who can show you the most authentic Tibetan culture, scenery, and local custom.
Secondly, the local tour operator offers a more reasonable price. No middle commission fee will be charged.
Do I Still Need to Wear a Mask? Since There is No Covid-19 in Tibet
Although there is no Covid-19 in Tibet, visitors need to wear masks.
Mask is a must for all tourist attractions, public transport, or any other public zones. Besides, before you enter the main sights, temperature detection is required.
Actually in Tibet, wearing a mask protects you not only from viruses but also from strong sunray, wind, as well as dust. Even without this global outbreak, you can see many locals in Tibet wearing cotton masks in their daily lives.
Conclusion
After knowing these Lhasa visiting facts, all that's left now is to pack. You're ready for a successful lifetime visit to Lhasa.
Starting thinking about your experience in Lhasa? Check our most popular Lhasa tour packages here for inspiration, and your trip will also be created around your particular tastes by dropping us a line.
Most Popular Tibet Tour Packages