Visit Lhasa: the most complete guide to Lhasa travel in 2021
Lhasa is the capital city and center of administration for the Tibet Autonomous Region of China, and lies in the south-central area of the Tibetan plateau. At an altitude of 3,656 meters above sea level, it is the world's highest capital city, and the center of the Tibetan culture and religion.
The center of the Tibetan Empire for more than 300 years, and the heart of the Tibetan Buddhist religion for more than a millennium, Lhasa is a city of delights and wonders that will amaze and astound you. Literally meaning "place of the gods", the city is also known as the City of Sunshine, and gets more than 8 hours of sunshine per day on average throughout the year.
Best Time to Visit Lhasa
Traveling to Lhasa can be done at any time of the year, from April to next-February (Tibet is normally closed to international travelers in mid-February and March for Losar, the Tibetan New Year), and when to go largely depends on your own personal tastes and what you want to do while you are there.
Different seasons have different attractions in Tibet, and even in the coldest month of January, travel to Lhasa is easily possible, and not as cold as you may think. Spring and autumn are normally the best months to travel to Lhasa for the clearer skies and best views, and if trekking is your thing, then there is no better time of year to do it. With almost no rainfall in spring and autumn, and temperatures that are mild to warm, trekking from Ganden Monastery to Samye Monastery or taking the hermitage trail around the foothills of the Nyenchen Tanglha Mountains around Lhasa is best done at these times of year.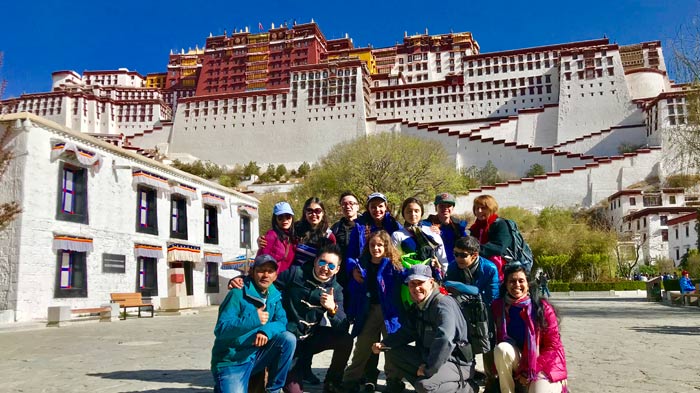 Under the warm sunshine, our clients payed a visit to Potala Palace in winter
Summer is the peak tourist season in Tibet, and in Lhasa it is the most popular time of year as well. Summer is warmer than the rest of the year, with higher temperatures that can reach as high as 23-25 degrees during the daytime. Nights can still be a little cold, but are manageable with a few warm sweaters to wear. Summer is also the monsoon season, and can be a little wetter than the west and north of Tibet, though not as wet as the eastern areas of Nyingchi. Monsoon rains normally fall in the late evenings and overnight, though, leaving the daytimes mostly dry and suitable for touring the sights of this stunning capital.
Winter is normally considered to be too cold to visit Tibet by many people, though they are misguided in their beliefs. While the temperature in some parts of Tibet can get to well below freezing at night, and not even get above freezing during he day, in Lhasa the temperatures are rarely that low during the daytime, and even at night do not get too far below zero. Snow fall in Lhasa normally occurs in late January and February, which means that there is little to worry about in terms of getting snowed in.
Winter is also the lowest season for tourism, and there are very few tourists that are prepared to travel to the plateau in late December and January. This means that many of the hotels and guesthouses offer off-peak discounts to attract the tourists that are wise enough to know that winter in Lhasa is an amazing time of year. Discounts are also available on the flights and trains to Tibet, as well as many of the attractions offering lower entry fees in the winter months. A great time to travel for budget travelers, Tibet is the ideal winter getaway. Here we offer you a couple of classic Tibet Lhasa winter tours for you to choose.
Travel Documents Needed for Visiting Lhasa
There are a number of travel permits that you need when traveling to Tibet, but if you are only visiting Lhasa, then that number is reduced to just one. Aside from your Chinese Entry Visa, which you will need to get into China from your home country before traveling to Tibet, the only permit you will need is the Tibet Travel permit, the main one for entering and traveling around the region.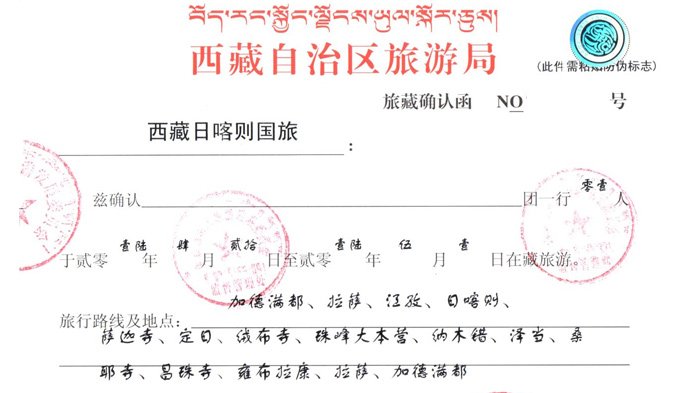 Tibet Travel Permit
The Tibet Travel Permit is required for all international travelers to Tibet, and must be obtained by your tour operator before you travel. As you are required to book a pre-arranged tour with a registered tour operator in order to travel in Tibet, we can arrange your Tibet Travel Permit once your Tibet tour is booked with us. All we need to obtain it is a scanned copy of your passport with visa pages, and it takes around 15-20 days to process. The approved copy will be forwarded to your hotel in China ready for your trip.
Since you will not be traveling outside Lhasa prefecture area, the Tibet Travel Permit covers your entire tour, and you will not need to worry about any other permits being applied for. However, if you are traveling to Lhasa from Nepal, whether by flight or overland, you will need all the required permits for travel in Tibet outside Lhasa. Here we provide you latest info on Tibet Visa from Nepal.
How to Choose Lhasa Tour Operator
Choosing which tour operator to use for your trip to Lhasa can be a confusing time, with thousands of tour operators offering their services as "the best in Tibet" and claiming to be "Tibetan-owned".
The best way to find a decent tour operator for Tibet, since many of them offer tours but use third party tour guides and driver in Tibet, is to check out the two most prominent websites for international travel ratings. Lonely Planet and TripAdvisor are the biggest travel ratings sites in the world, and widely used by millions of travelers every year to get a good idea of the services offered by companies and hotels around the globe.
Globally recognized as the premium sites to get all the best information on businesses in the tourist industry, we, Tibet Vista, are listed on both sites, with thousands of great ratings from our previous customers. While we are, in fact, the largest of all the Tibetan tour operators, with more than a decade of experience in organizing tours to the plateau, we do not find it necessary to make such claims. Rather we would let our own previous clients do it for us.
How to Get to Lhasa
There are three ways to get to Lhasa: you can travel by flight from mainland China or Nepal direct to the Tibetan capital; you can take the train from one of seven gateway cities across China, following the famous and record-breaking Qinghai Tibet Railway to Lhasa, or you can travel overland from Kathmandu, crossing the border at Gyirong Port and meeting your tour guide and private driver at the immigration office, who will take you to the Tibetan capital as part of your overland tour.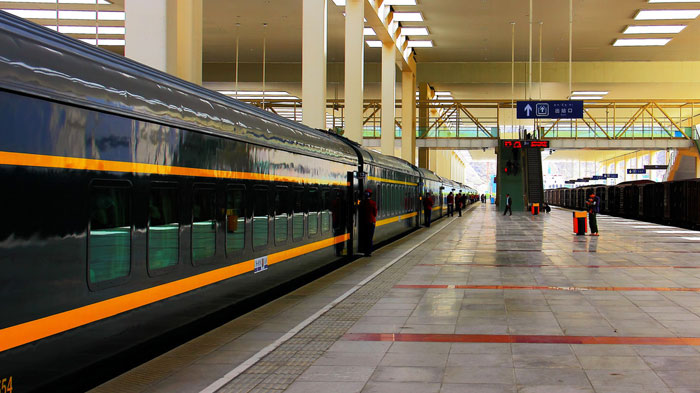 Enjoy the sky train ride to Tibet
The choice is really yours, and there is little between the three methods of travel to get to Lhasa, with each having its pros and cons. Traveling by flight to Tibet is fast and efficient, but does not give you a chance to acclimatize before you get to the Tibetan capital. It is also rather expensive, as flights can be, especially since the number of carriers permitted to take passengers to Tibet is rather limited.
Traveling by Tibet train is one of the most spectacular ways to get to Tibet, traveling across parts of China and over the mountains that fringe the northern edge of the plateau. The trains run the length of the plateau from the Tanggula Mountains in the far north to Lhasa, and the scenery and landscapes you will see along the way make the trip more than worthwhile. However, if time is of the essence, then trains are not ideal, as they are slow, taking from 22 to 55 hours to reach the Tibetan capital.
Traveling overland from Nepal to Tibet is an amazing journey, as you get to see the higher areas of Nepal on your way to the border, and will travel through the Gyirong Valley, one of the most beautiful valleys on the plateau, and even in the world. The trip to Lhasa normally takes around five days, and you will get to travel there via the Everest Base Camp, the most popular location in Tibet. On the down side of things, it is a long drive to Lhasa, and if it is just Lhasa you are looking at visiting, it is not a suitable route to take.
How to Arrange Your Lhasa Tour If You Have… (Days) for Travel
If you have a limited time for travel, then arranging your tour to Lhasa can be done to account for this. Our shortest tour of Lhasa and the sights is a four-day trip to the capital, which takes in the major landmarks of the city. The 4-day Lhasa Impression Small Group Tour covers the three major heritage sites of the Potala Palace, the Jokhang Temple, and Barkhor Street, as well as the Sera and Drepung monasteries, two of the Great Three monasteries of the Gelug School of Tibetan Buddhism.
If you have six days to spend in Lhasa, you can use our popular 6 Days Travel to Sky Lake - Lhasa and Lake Namtso Small Group Tour. Taking in all of the major sites in Lhasa, you also get to travel to the stunning Lake Namtso, one of the Great Three holy lakes of Tibet, located a little way to the north of the city. The trip outside the city takes two days, and gives you some of the best views of the Nyenchen Tanglha Mountains and the plateau's largest lake.
Close to the Graceful Namtso Lake
The 5 Days Short Visit to Samye Small Group Tour is one of the popular tours that takes you outside Lhasa to the Samye Monastery, the first monastery built in Tibet by the Tibetan king, Trisong Detsen, who sought to revitalize Buddhism in the region, which had declined on the death of King Songtsen Gampo in the 7th century.
With plenty of short group tours to choose from you can be guaranteed that your time will be well spent traveling in and around Lhasa, and your tour will be one of the most exciting and adventurous times of your life.
How to Choose Your Hotel for Lhasa Visit
Choosing your hotel really depends on what you are looking for in terms of hotel services, and whether you have a limited budget for accommodation. Lhasa has all levels of hotels, from the five-star St Regis Lhasa Resort and the Lhasa Brahmaputra Grand Hotel to the smallest and most authentic Tibetan guesthouse.
The high-end hotels that are rated as 4 and 5-star are much more expensive, and if cost is an issue, then there are a huge number of smaller hotels, ranging from three star hotels with an average price to backpacker-style hostels, with beds in dormitories at the lowest possible price. From the height of luxury to the most authentic Lhasa experience in a true Tibetan hostel, Lhasa has something to suit everyone's needs.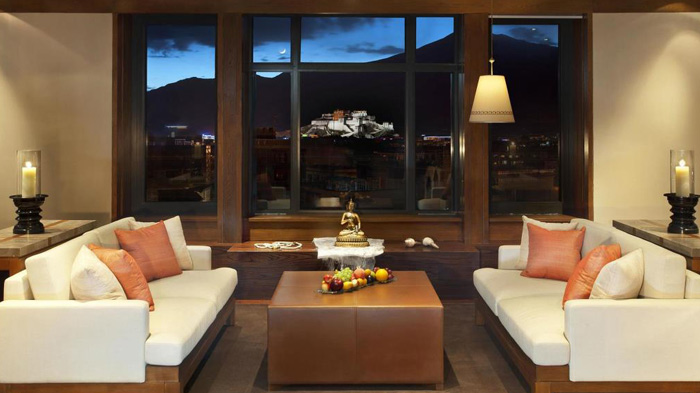 St. Regis Lhasa Resort, a luxury 5-star hotel in Lhasa, offers you a sense of home.
Packing List for Lhasa Tour
Packing for Lhasa is really no different to packing for any other trip, and what you pack will depend on your travel itinerary and the season you travel in. In summer, you will need less warm clothing, though you will still need some for when it gets colder in the evenings, and you should bring a raincoat in case it does rain during the day.
In the winter, cold weather clothes are more essential, as it can get a little cold in Lhasa, despite the daytime sun making it feel warmer. Whatever season you travel, a good strong pair of boots or hiking shoes is essential, as some of the sites on the outskirts of the city are not paved, and have rough ground to walk over, especially if you are visiting Lake Namtso. Trekking in the area also requires hiking boots, and decent trekking gear such as waterproof, light pants, layers of clothes to keep you warm easier, and a hat and sunglasses to ward of the sun's strong UV rays.
Even if you have a good backpack for your clothes, bring a small one for use as a day pack, so you can keep your important documents on you at all times and to carry snacks and water with you when visiting the sites around the city.
Other Dos and Don'ts for Lhasa Travel
You should listen to your guide on certain aspects of Tibetan customs, as there are things that are considered rude in Tibet that might not be so in your home country. Taking photos is not allowed in many temples and monasteries, though a few yuan as a contribution is sometimes required before you can take photos. Your guide will advise you on when you cannot take photos.
There are a number of taboos in Tibet that many international visitors would not know of. Taking photos of a person without permission is not allowed, and touching he heads of people, especially monks or children, is not done. You should also respect the temples and monasteries you visit, as well as the artifacts inside, as they are all active parts of the Buddhist religion, and not just on show for your perusal.
Take care around the market areas of Lhasa, and even on Barkhor Street, as there are some unscrupulous types that will try and take advantage of your lack of knowledge of the customs and traits of the city and the region. If you are in any doubt about something you wish to buy, speak with your guide, or politely turn them down and leave. Tibetans do business in a polite manner, and are never rude, even when refusing something they do not want. If you are polite, then you will not be bothered repeatedly.