Transportation and Road Condition in Tibet
The road conditions in Tibet are better and better with the rapid development of Tibet's economy and the strong support of the central government.
Nowadays, a transport network centered around Lhasa has taken shape in Tibet, covering various areas of Tibet.
Here we are going to show you the road condition in Tibet and useful tips for choosing the proper transportation and vehicles for your land tour in Tibet.
Uncovering the Truth about Tibet's Road Condition
Road Condition in Tibet
Road conditions in Tibet have also been improved significantly in recent years, especially the roads in the cities and between big cities.
Most of the famous sightseeing places have asphalt roads, such as the Lhasa area, Tsetang, Nyingchi, Gyangtse town, Shigatse, Chamdo, and so forth.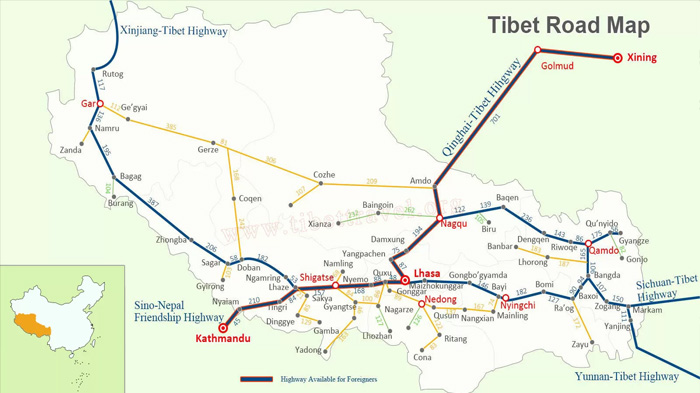 (Simple click to enlarge the map)
Tibet Road Map with Distance
Road Condition of Major Roads in Tibet
Route
Distance (KM)
Driving Hours
Road Condition
Vehicle Type
Lhasa - Gonggar Airport
65
1
Tarred Road
All
Lhasa - Shigatse
(G318 highway)
268
5-6
Tarred Road
All
Lhasa - Gyantse
via Yamdrok Lake
270
5.5
Rough Road
All
Lhasa - Tsedang
152
2.5
Tarred Road
All
Lhasa - Namtso
179
3
Tarred Road
All
Lhasa - Golmud
1165
22
Tarred Road
All
Lhasa - Ngari
1800
3-4 days
Tarred Road
All
Shigatse - Gyantse
94
1.5
Tarred Road
All
Shigatse - Shegar
240
5
Asphalt Road
All
Shigatse - Namtso
280
7
Rough Road
Land cruiser
Shegar - Old Tingri
60
1
Tarred Road
All
Shegar - Rongbuk Monastery
100
3
Rough Road
Land cruiser
Dingri - Everest Base Camp
100
3-5
Sand road
many turnovers
Land cruiser
Old Tingri - Gyirong
266
5
Sand Road
Land cruiser
For Tibet tours in Lhasa, Shigatse, and Nyingchi, you don't need to worry about the road condition. But if you go further to Everest Base Camp, Mount Kailash, or Gyirong border to get to Kathmandu, in some sections, you have to pass through bumpy and dusty roads. In rainy seasons, it will be even much worse. And in winter, the roads to remote areas or in mountain regions may be closed due to heavy snow, like the road to Namtso Lake from Lhasa.
Transportation in Tibet
In Lhasa, the main means of transportation is by minibus. It is also very easy to take a taxi. But hiring a pedicab or rent a bike to tour around downtown Lhasa is a unique experience.
Tough getting to and around Lhasa is straightforward, transport to those remote mountain areas or other isolated tourists destinations far away from Lhasa, may not be convenient.
There are regular buses shuttling between Lhasa and major towns in Tibet. But the public bus routes are not developed like those in other places in mainland China. And for international travelers, it is impossible to take a bus tour in Tibet by themselves with a local guide.
Now, there is also one railway in Tibet from Lhasa to Shigatse. The Lhasa Shigatse railway is an extension life of the famous Qinghai-Tibet railway. It takes around 3 hours to travel the 248 kilometers by train. This provides more options for Lhasa Shigatse travel.
Tibet Highway Road Condition and Travel Tips
In addition to the construction of roads in Tibet, the roads to Tibet are constantly being improved.
Currently, there are four national highways connecting mainland China with Tibet, namely Qinghai-Tibet highway, Sichuan-Tibet highway, Yunnan-Tibet highway, and Xinjiang-Tibet highway.
Besides, the Sino-Nepal friendship highway is the only international highway to Tibet.
Road Condition of Highways to Tibet
The Sichuan-Tibet highway from Chengdu to Lhasa is known as the most scenic highway to Tibet, however, the road conditions of the Sichuan-Tibet highway are not very good. In Sichuan, especially in the mountainous areas of western Sichuan, the roads are mostly winding mountain roads in poor condition. It is recommended to avoid the rainy season if you choose to travel on the Sichuan-Tibet route.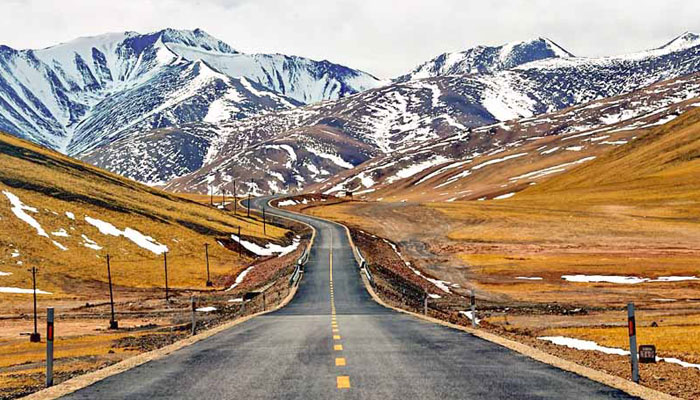 Road condition of Qinghai-Tibet Highway
The Qinghai-Tibet highway is in the best condition among all the highways to Tibet. It is responsible for 80% of the goods transported into Tibet, which is considered the Suez Canal of the Tibetan Plateau.
The Xinjiang-Tibetan Highway is 1455 kilometers long. Although the highway from Xinjiang to Lhasa is in good condition, mostly asphalt, it is the highest and most difficult road in the world due to its average elevation above 4500 meters. There are 915 kilometers of road sections above 4,000 meters in altitude and 130 kilometers of road sections above 5,000 meters in altitude, traversing large uninhabited areas with high altitude and lack of oxygen.
The Yunnan-Tibet highway from Dali to Lhasa is in good condition, with cement roads throughout Yunnan Province. After entering East Tibet, the road is mainly asphalt.
Tips for Planning an Overland Trip to Tibet
If you want to take a Tibet overland tour through any of these highways, please notice the following things.
The best time to take a Tibet overland tour is spring and autumn. From Late March to May is the best time to enjoy the flower blossom along the way to Tibet.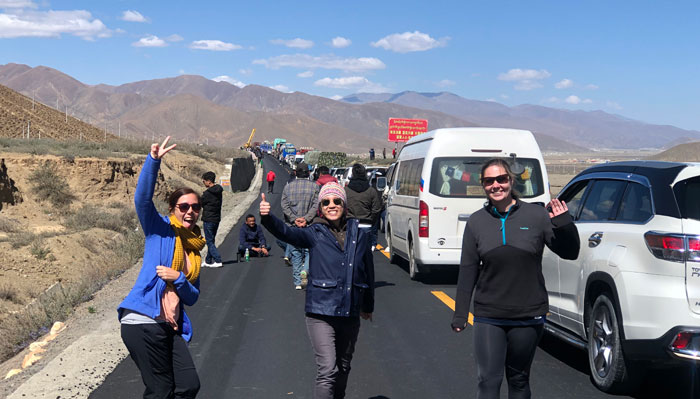 May is one of the best months to enjoy an overland tour in Tibet.
If you take a journey from Sichuan to Tibet, you may have the chance to enjoy the famous Nyingchi Peach Blossom Festival in late March or early April. In autumn, you can see the amazing red leaves along the way. Summer is the rainy season in Tibet and west Sichuan. If you plan to go through the Sichuan Tibet highway, it is suggested to avoid travel in summer since the roads may be destroyed by heavy rain.
It should be noted that the weather along the highway to Tibet can be quite changeable, especially in the mountain areas at high altitude. It may be sunny and clear in one minute and snowing or raining in the next minute. So please bring a jacket that is easy to put on and take off with you in the car.
It is possible to take a self-driving tour through the highway to Tibet. But you need to get the required Chinese Drive License, Tibet Travel Permit, and some other travel documents before you go. Please feel free to contact us for more about Tibet self-driving tour plan.
Vehicles we used for driving in Tibet
Common vehicles could run on these tarred roads. Only to those remote mountain areas far away from Lhasa land cruisers will be used for the smooth passing.
We can offer you different types of vehicles to meet your needs for your Tibet tour.
We offer 5 different types of vehicles, from 7 to 23 seats, to meet the needs of different groups. We can arrange the right vehicle for your group size, and will reserve enough luggage and passenger space to make your trip more comfortable.
We also understand the importance of safety. We employ local drivers who have extensive driving experience and are familiar with the itinerary and road conditions in Tibet. All drivers and vehicles we offered in Tibet are selected through strict criteria to provide you with safety and security.
Conclusion
The road conditions in Tibet may be better than you think right now. Not only does an increasingly sophisticated road network connect Tibet to mainland China and Nepal, but also makes it easier to get around the cities within Tibet.
Most of the major highways are now concrete roads in good condition. Only some of the mountainous and remote areas are in poor condition.
Long car rides are a necessary part of visiting Tibet, especially if you are not just visiting Lhasa. In order to give you a more comfortable and safe driving experience, we can provide vehicles with ample space for your group size, and our vehicles and drivers are carefully selected to ensure your safety while traveling in Tibet.