Shopping in Lhasa: where and what to shop in Lhasa
Why confine your Lhasa visit only to landmark Buddhist sites like Potala Palace and Jokhang Temple, etc.? For cultural explorers, never miss the perfect chance to soak up the lively atmosphere in the backstreet and various bazaars in downtown Lhasa. You will linger over small Tibetan boutiques, selling exquisitely-made handicrafts like small Tibetan prayer wheels, amber necklace, and turquoise ornaments, etc.
To get the best Tibetan souvenirs, do set aside enough time to visit Barkhor Street, Chongsaikang Tashi Market and Lhasa Ethnic Tourism Handicraft Market, where you can shop around and get the best deals for delicate Thangka painting, Tibetan incense, and other mementos. Let's find out together what to shop in the top 3 markets in Lhasa.
Shopping in Barkhor Street
Barkhor Street is a traditional and famous Tibetan shopping center to buy Tibetan souvenirs. Hundreds of fascinating and conventional artwork and handicraft shops and stalls line up on the street. Tibetan rugs, knives, broadswords, traditional clothes, gold and silver jewelry, Thangka and all kinds of traditional handicrafts can easily be found in this street.
Shopping in the Barkhor Street
Thangka is originally a Tibetan silk painting with embroidery, usually depicting a Buddhist deity, famous scene, or mandala of some sort. Most of the Thangka focuses on the motifs of Tibetan Buddhism. Thangka is valued by the local people for distinguished ethnical characteristics, rich religious flavor and unique artistic style. Tibetan Thangka actually is valued for its precision, balance and variety.
Barkhor Thangka Painting Department Store in East Barkhor Street is recommended to buy Thangka for it is a professional place for making and selling the beautiful Tibetan artwork. The shop assistants speak both Chinese and English. Wandering in this shop is also an excellent opportunity to learning how to make Thangka. Besides, Snowland Handmade Thangka Store in South Barkhor Street is also a famous shop for buying Thangka.
Tibetan rug, an ancient and conventional craft, is traditionally made from Tibetan highland sheep's wool. Tibetan rug is said to have a history of six hundred years. This kind of carpet is weaved with bright and harmonious colors that will last very long. The soft, delicate and durable carpet has a high value of appreciation and collection for its national feature of design.
The Tashi Delek Tibetan Rug Factory is a great place for purchasing authentic Tibetan rugs for you can witness and monitor every procedure of the rug. It is also a famous workshop mainly producing traditional Tibetan carpets. You can pay a visit to the carpet workshop and see how to make traditional Tibetan rugs when making a Lhasa tour.
As is known to all, Tibetan carpet is a symbol of the traditional Tibetan arts and crafts. Here Tibetan carpets can be mainly classified into three kinds: Common carpet, Thin carpet and Rug or cushion. Generally, the Tibetan Carpet Workshop is also the best place for purchasing souvenirs. Except for Tibetan rugs, there are also all kinds of Tibetan handicrafts and Tibetan Buddhism items.
Tibetan bracelets, usually made of Tibetan silver and copper, seem unsophisticated and mysterious for the Sanskrit inscribed on them. A crescent silver plate is a symbol of purity in Tibet. And the agate and gems mounted in the silver plate signify blessing from the god, fortune and good health in life. However, beware of imitation goods and be sure to compare goods and prices in several shops before you make a decision. Tibetan knife is also favored by tourists for its workmanship and sharp edge. Unfortunately, you are not allowed to take these items on a plane or as consigned goods, but you can send them anywhere via the post office.
Tibetan medicine is generally known at home and abroad. Tibetan has a unique Tibetan pharmacological science system formed during the course of their struggle against nature and various diseases in the historical long river. Tibetan medicines have magical curative powers in certain diseases. It is not a good idea to buy medicine from the shops in the streets. You'd better go to hospitals and get a full idea about the effect of the medicines. >> More information on shopping, please refer to Tibetan Handicrafts.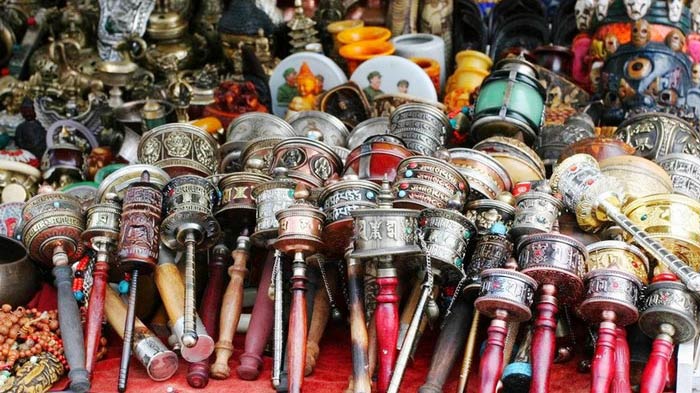 Different kinds of Tibetan Handicrafts
Tibetan incense usually refers to a common style of incense found in Tibet, Nepal, and Bhutan. Authentic Tibetan incense originates either from the traditional monastery or medical college/hospital formulation. The incense is an important representation of the Tibetan culture. It contains more than 30 ingredients, including different herbs, spices, plants and minerals from centuries' old recipes.
The Tibetan incense is used as a puja to purify and cleanse the atmosphere for deep meditation and prayer. It dispels negativity and attracts the positive energy of benevolent deity for healing and peace. The incense is also recognized as a way of treatment for sickness in the Tibetan medical field. This information can be found in Tibetan medical books.
Besides enjoying Tibetan artworks, handicrafts, Tibetan medicine and so on in Barkor street. You can also experience Tibetan cuisine in Tromsikhang Tashi Market, where you can learn how to cook Tibetan cuisine from the local family. Even if you return your own homeland, cooking the food, you will pick up the thread of cherished memory in Tibet. What's more, your relatives and friends who have no chance to visit Tibet also can dabble in Tibetan Culture from the dishes you cook. There also are another two shopping places where you can go and buy souvenirs in Lhasa.
Shopping in Chongsaikang Tashi Market
Chongsaikang Tashi Market, as the oldest market in Lhasa, the history of Chongsaikang can date back as early as 1727. It was the minister's office of the Qing Dynasty's government in Tibet. Chongsaikang Tashi has been the main shopping center for 300 years. Chongsaikang Tashi Market, nowadays, has become a marvelous place to experience the real life of local people when you are traveling in Tibet.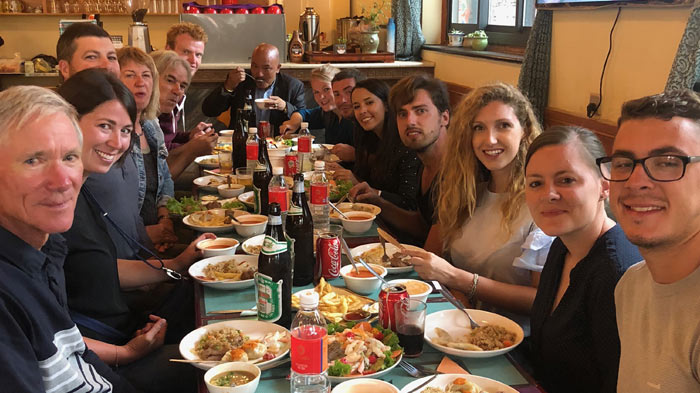 Enjoy authentic Tibetan food in Lhasa restaurant
Different ethnic groups do business together at the market, despite the facts that different ethnic groups have different ways of lifestyle. This small commodity market is also a place for selling and wholesale, where consists of three layers that sells agricultural products, local products, daily-used articles, garments, shoes, snacks, fruits, etc. You can buy dried fruits from Uyghur salesmen, get a haircut in a Han barber shop, or eat a bowl of bean jelly in Hui shops. You can find everything here at a cheaper price than on Barkhor Street. Hence, most of the local people willing to go and buy something they need here.
Shopping in Lhasa Ethnic Tourism Handicraft Market
Lhasa Ethnic Tourism Handicraft Market which is located in No.30 Barkhor West Street, Chengguan District, Lhasa. It is a large handcrafts and souvenirs markets. The range of goods sold in the market are much richer than Barkhor Street, including various thangkas, paintings, Tibetan carpets, tapestries, antiques and other souvenirs with profound Tibetan ethnic characteristics, ornaments, pendants and fancy goods from Nepal and Indian, and other goods like Tibetan Barley Wine, Tibetan Sweet Tea, air-dried Meat.The price of goods in Lhasa Ethnic Tourism Handicraft Market is a little lower than Barkhor Street, and with the guarantee, so it is very popular with tourists.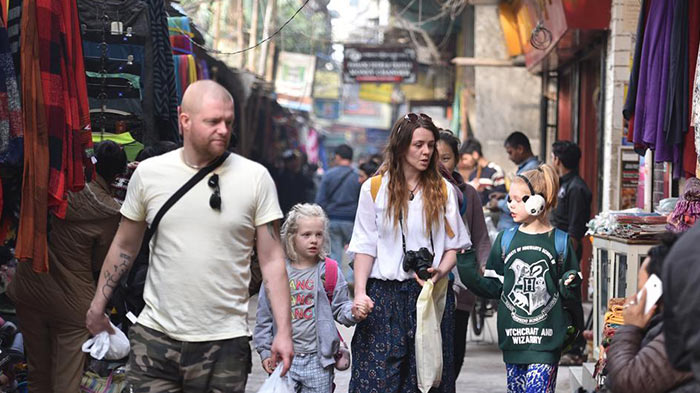 Our clients wandering along the street of Lhasa
Tibet, absolutely, is full of shopping treasures that are worth you waste your money. Please remember, do not go back home with an empty bag.