Shigatse Weather and Climate: when to visit Shigatse at the right time?
The weather and climate in Shigatse have clear wet and dry seasons, with the rainy season running from around June to the end of September and the dry season from October to May. July and August are the heaviest months for rain in the prefecture, although most of the rain that does fall tends to fall in the late evenings and at night. This leaves the daytime warm and sunny, if a little humid.
Shigatse Weather Monthly on Average
The start of the year is within the dry season, and January and February are the driest months of the year, with no rainfall at all. However, being out in the west of Tibet, closer to the mighty Himalayas than Lhasa, the temperature has a tendency to be cold in the first two months of the year, with average temperatures of around 0 to -3 degrees during the day and dropping as low as -10 to -12 degrees at night.
March to may sees the start of spring in Shigatse, and the temperatures start to rise, while the possibility of rain increases slightly. However, the rain is only around 4-5 millimeters a month, on average, and rarely falls during the daytime. Temperatures are increasing a little, though it can still be cold at night, with temperatures as low as 0 to -5 degrees. Daytimes are warmer, with the brighter spring sunshine burning through, giving average temperatures of between 5 and 10 degrees during the day.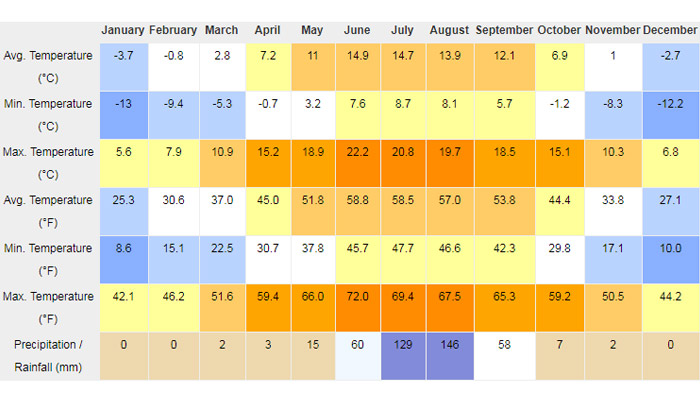 The monthly average temperature and preciptation of Shigatse.
June and July are wetter months, as the dry season draws to a close and the rainy season begins. Temperature actually reach their peaks in July, with an average of around 23-24 degrees during the day. The massive drop at night is still present, though, with nighttime temperatures of around 6-9 degrees. Most of the rainfall, as with most of Tibet, tends to fall in the evenings, thanks to the shadow effect of the Himalayas protecting the plateau from the Indian Monsoon.
August is the wettest month of the year, with an average precipitation of around 146 millimeters throughout the month. There is a higher chance of showers during the daytime, and the higher rainfall can make the roads and tracks wet and muddy, which can hamper travel a little in some of the more outlying areas of the prefecture. Temperatures start to drop a little in August, with a daily average of around 15 degrees.
From September to November, the rainfall decreases and the temperatures drop steadily, as the autumn season heads into winter. Temperatures range from around 12 degrees in September to as low as 2-3 degrees in November, and the nights start to get much colder again as the temperatures drop.
December is the start of winter, and the temperatures have really dropped low, with a daytime average of around 0 to -3 degrees. Nights are even colder, with temperatures as low as minus ten degrees. However, there is no rain once more, and the weather is dry and clear, the last of the wet weather having long since disappeared.
Best Shigatse Weather for Different Travelers
April to November is the best time to visit Shigatse Prefecture because the temperature is stable and cool. However, you still had better be prepared for swift changes in the weather. Winter can be too freezing. Mount Everest' North Base Camp is located in the south of Shigatse Prefecture, sitting 5,200 meters above sea level. The weather at Everest Base Camp is typically very cold, with temperatures at the base camp often being below zero, although the sun can be very intense at that altitude. In addition, April to May and September to November are the best time to visit Mt. Everest.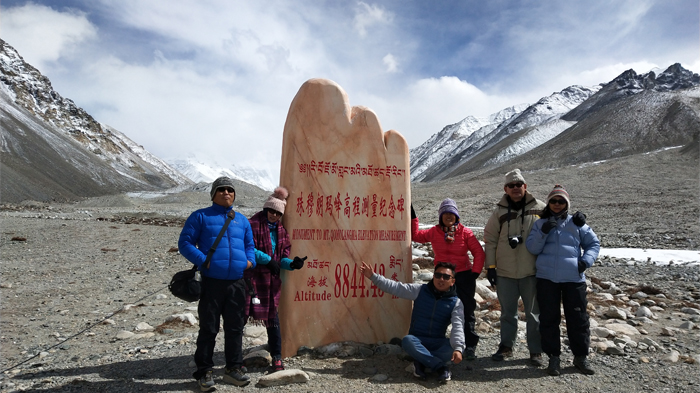 Spring and autumn are the good times to trek from Old Tingri to Everest Base Camp.
Trekking in the area is best done in the spring and summer months, from April to May and October to November. With very little rain in these months, and warmer temperatures than in the winter, the spring and autumn present the ideal conditions for high altitude trekking in the area, including the stunning trek from Old Tingri to Everest Base Camp.
If you are looking for general touring, then the summer months are the best, despite being the wettest. Rain in the area tends to fall in the late evenings and overnight, which leaves the daytimes clear and bright for touring around the stunning landscapes and temples of the region.
Where and When to Check Shigatse Weather Forecast before You Come
There are a wealth of weather forecasting sites on the internet that can give you a good idea of the prevailing weather in Shigatse ready for when you arrive, and while they are not always 100% correct, they can give you a good idea of what the current weather is in the areas you are traveling to, to give you a better idea of what to bring with you for the current weather conditions.
It is best to check out the weather reports daily for the week before you travel, and keep an eye on the current weather and any potential changes while you are traveling to China and before you head for Tibet, by flight or train. This can keep you updated on the current weather conditions, and for those with smartphones, there are weather apps available that you can download to keep in touch with current weather conditions and forecasts.
You can also check out our official website for Tibet weather, where you can find out more about the regular seasons and weather conditions on a month-to-month basis, with both general and specific details of the weather throughout the year. Or you can get in touch with us and our professional advisors would happily give you more detailed information on the weather in Shigatse at any given time of year.
How to Adapt to Shigatse Climate for New Comers
Shigatse city is a little higher than Lhasa, with an average altitude of more than 4,000 meters above sea level. Once you arrive in Tibet, you will normally acclimatize in Lhasa for a couple of days before heading out into the outlying areas of the plateau, such as Shigatse, EBC, and other places. Once you have properly acclimatized to Lhasa, it is easier to acclimatize to areas that are only slightly higher, and you do not need to take extra days to acclimatize before going further.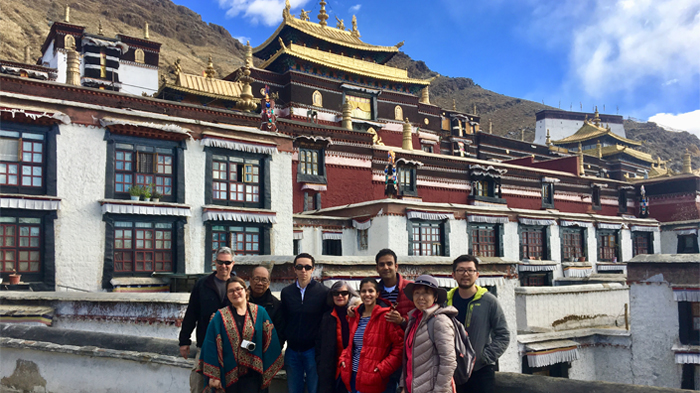 After properly acclimatizing to Lhasa, our clinets payed a visit to Tashilhunpo Monastery, the seat of Panchen Erdeni.
Acclimatization is a funny thing, and can take longer with some people than others, but in general 24-48 hours is usually enough for anyone to acclimatize to the higher altitude, as long as they follow the guidelines given. As you increase in altitude, it is recommended that you sleep at elevations a little lower than the highest altitude you reached during the day, and this is easily done in Tibet, as you will often cross high passes on the roads to your next stop. This allows you to easily sleep at lower altitudes, which helps with further acclimatization to higher altitudes than Lhasa.
Only on severe increases in altitude will you really need to spend another day acclimatizing, such as traveling to Everest Advanced base Camp, which is a trek to more than 6,000 meters above sea level.
What to Wear in Shigatse Travel
Due to its high elevation, the climate of Shigatse is quite harsh. It is often very dry, due to the long hours of sunshine. The ultraviolet radiation is quite strong and visitors should be prepared with a variety of sunscreens, sunglasses and lip-balms to protect them from the strong rays. Thus, the sunburn prevention lotions, sun blinkers (which are better if they can prevent the snow-blind) and lipsticks are quite necessary.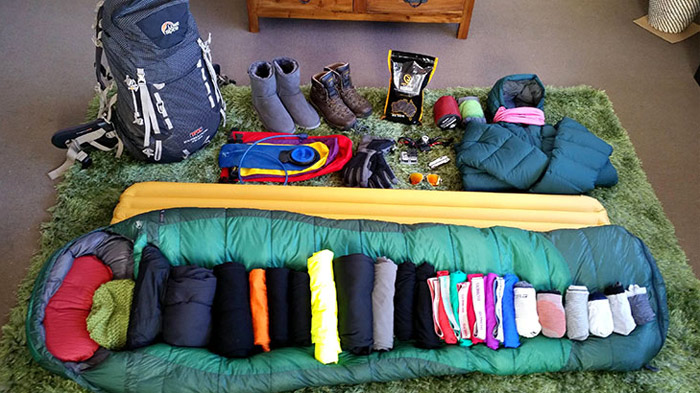 A sample of basic packing items for Shigatse Travel.
While you may think that summer is not going to be cold, you will be wrong. Summer in Shigatse can still get down to nearly freezing at night, and unless you are used to arctic temperatures, then you will need to bring some warm clothes with you for the evenings, as well as a sleeping bag for those overnight stays in remote areas where heating is not available in the lodges.
Bring multiple layers of long-sleeved, warm clothes with you so you will be prepared for the changeable weather. The temperature at night is much lower than it is during the day. If you are traveling in the shoulder seasons of spring and autumn, then you will need a good jacket as well, as it gets colder outside the summer months. Winter is the coldest time, and you will need gloves, a hat, sunglasses, and sun cream, to ensure that the cold does not affect you and the sun does no burn your skin.
You are also advised to bring a pair of strong boots or shoes, such as hiking boots, even if you are not hiking around Tibet, as many of the areas you will wander around are rough and rocky, and the terrain of the plateau is the same all over. Even temple car parks can be rough ground, and you do not want to slip. A first aid kit is essential for those little mishaps that always occur on holiday, and it should include band-aids, small bandages, antiseptic creams, alcohol, and iodine. Add some mild painkillers for headaches and nausea tablets as well, just in case.
Conclusion
Shigatse has a semi-arid, plateau temperate, monsoon climate. Temperatures range from a high of 23 ℃ to a low of -25 ℃ with an annual average temperature of 6.3 ℃. April, May, September, October and November are the best months to visit Shigatse and Mount Everest Base Camp because the temperature is stable and cool. June to August is considered the rainy season, but it only rains at night. From November to April, the temperature is quite low and thus few travelers choose this time to visit there. Weather in daytime is quite good.
The temperature difference between the daytime and nighttime is extremely huge. During the day, especially at noon, the high temperature may cause sunstroke while the low temperature at night may contribute to people catching colds. Accordingly, warm and windproof clothes are highly recommended. Visitors should take the climate and location into consideration prior to traveling to Shigatse, and medications for altitude sickness and cold remedies should be included in any travel kit.