Sera Monastery Architecture: the Layout and Construction of this Famous Buddhist University
Sera Monastery, built in 1419, is located on the northern suburb of Lhasa. As one of the representatives of "great three" Gelug university monasteries of Tibet, Sera is a great seat of learning in the Mahayana Buddhist tradition. Since the ancient time, it has been a holy place for sacred living Buddhas subduing sermons. Nowadays, it serves not only as a traditional Tibet monastery but also a popular tourist destinations.
Sera Monastery takes 28 acres of land, and houses several institutions in its neighboring areas. It mainly consists of three parts: Great Assembly Hall, the main hall of Sera; three "Zhacangs" (colleges), built for housing Buddha statues and making monks learning here; 32 Kamcuns (dormitory), also called Homdong Kangtsang, providing residence for monks. In the early time, Sera Me College and Ngagpa College are center of the monastery. Later, through times of expansion, the monastery finally reached nowadays' scale. Dense but not crowded, mixed but not chaotic, buildings of Sera reflect the unique style of Gelugpai Temple, making it a real fortress of religion.
Recommended Itinerary for Sera Sightseeing
There are so many highlights worth seeing in Sera Monastery: Main assembly hall, Zhacangs, Kangtsang, monk debate, rock paintings, murals, Thangka, Buddha statues, and so on. To make you gain the most impressive and interesting experience in limited time, here we recommend you to follow a very popular travel route in which every spot you pass will leave you fresh memory: Sand mandala - Printing press/Library - Debating courtyard - Main assembly hall.
Sand Mandala -- Combination of Artistic Skill with Buddhism Philosophy
When you walk along the pilgrim route after entering the monastery, sand mandala in one of the side buildings will be the first highlight that you must see. For some Chinese and foreign tourists, sand mandala in Tibet Buddhism may be something of novelty and mystery. In fact, it is a Tibetan Buddhist tradition involving the creation and destruction of mandalas made from colored sand. A sand mandala is ritualistically dismantled once it has been completed and its accompanying ceremonies and viewing are finished to symbolize the Buddhist doctrinal belief in the transitory nature of material life.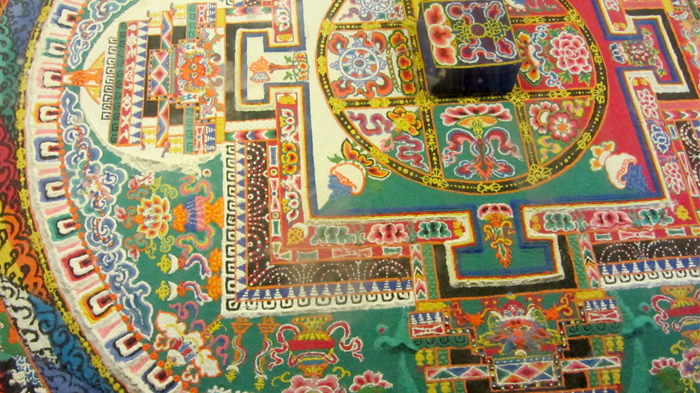 Elaborate sand mandala in Sera Monastery
In Sera, there are three sand mandalas in one room which are beautiful and well worth seeing. The sand mandalas are exquisite with plenty of amazing details and colors. When you see them closely, you will be amazed at the effort and attention to make them, not to mention patience and artist ability. Since hidden away in a room with no signs, they are easy to miss. But remember ask your guide to take you to see them.
Printing Press/Library -- Fusion of Antique Craftsmanship and Modern Technology
Next to the room with sand mandalas is the printing press of Sera Monastery in which stores the first Tibetan Buddhist scripture printed by woodblocks bestowed by Emperor Yongle in Ming Dynasty. Now, it also works as a library in Sera.
The printing press was established in 1980s to repair and print sutra stored in the monastery in woodblocks. Nowadays, this antique printing technique is still preserved in Sera Monastery, but new technique has been introduced, and the printing press in Sera is the only one employing modern printing technique among Tibetan Buddhist temples.
Currently, most of the sutra printed in the monastery are made by new printing technologies, making them easier to be carried, and also transformed printing press into a small library to store and sell Buddhist scriptures. No matter you are a monk or pilgrim or a visitor, you can read ancient sutra in the library and to watch how these scriptures are printed on site. If interested, you can also buy a copy of scripture here. Generally, these books are sold in a preferential prices just to make more people learn about Buddhist culture.
Debating Courtyard -- Stage for Dramatic Monk Debate
As you go ahead to the open-air courtyard behind Sera Je college, you will reach the cobble-stoned debating courtyard where monk debates are held everyday afternoon from 3pm to 5pm except on Sunday. Monk debates in Sera Monastery is of the largest scale among Tibetan monasteries and is highly recommended for you to watch. Here you can watch monks debating preoccupied with dramatic facial expressions and body movements and fierce verbal exchanges. Therefore, to many tourists, monk debates in Sera is like a vivid performance which becomes even more attractive than appreciating the temple. Although monks have already got used to onlookers, visitors still should be self-disciplined and not to speak loudly or shoot photos of monks in-plant. Please remember that: This is their class.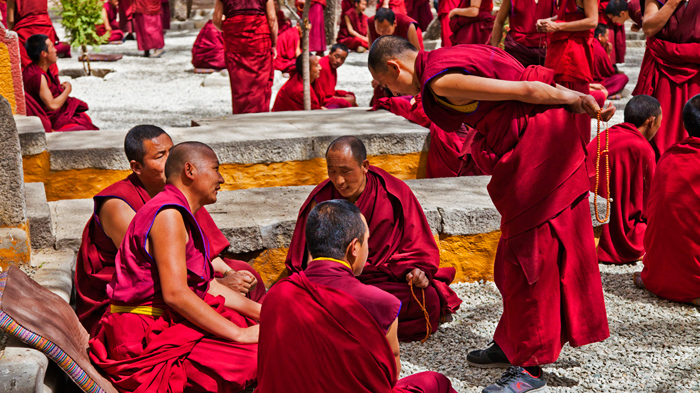 Monks are debating in Sera Monastery
Main Assembly Hall -- The Heart of Sera Monastery
Main assembly hall is also called Great Assembly Hall. As the largest building of Sera Monastery, it's a must-see spot for every traveller to Sera. Having finished your visiting of debating courtyard, you can enjoy the beauty and solemn of this great hall on your way of return.
The Great Assembly Hall, dated to 1710, a four-storey structure to the north east of the monastery, is the religious and administrative center of the monastery where several religious rituals and rites are conducted. It takes an area of 2,000 square metres built with 125 pillars and The entry portico had ten columns. The hall is composed of the Hall Square, the Sutra Hall and five Lakangs. The central hall is particularly impressive and is noted for its wall-length Thangka and two-storey statue of Jampa. He is surrounded by other figures, including Dalai Lamas on the right, while to the left is the large throne of the 13th Dalai Lama. Left of the throne is a figure of Sakya Yeshe. There are some incredibly ornate yak-butter sculptures in this hall.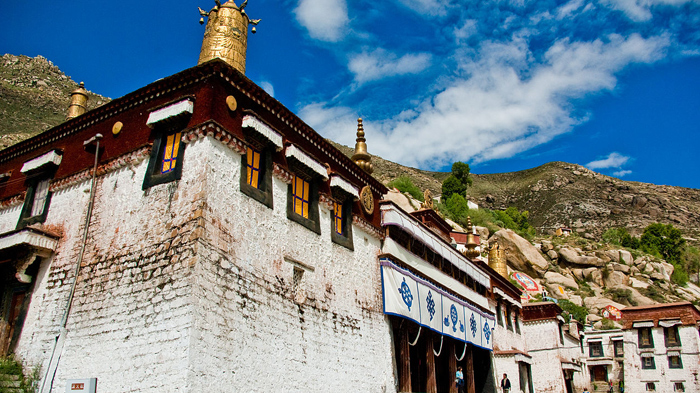 Main Assembly Hall is a must-see spot for every traveller to Sera
Among the three chapels, the 6 meter-high Jampa statue rises up to the upper floor, where it can also be viewed from a central chapel. Also on the upper floor is a highly revered statue of a thousand-armed Chenrezig. Pilgrims usually put their forehead to a walking stick that connects them directly and literally to the heart of compassion for blessing.
Except for various Buddha statues, the Main Assembly Hall also treasures a very precious ancient and delicately written scriptures 'the Gangyur of Tripitaka' written in Tibetan. It was presented by Chengzhu, Emperor of the Ming Dynasty, to the builder of the monastery. It's also the first woodblock printed Tibetan Buddhist scripture, playing an important role in the research of Chinese printing history.
Other Recommend Experience for You
If you have finished routine sightseeing but still got time, there are many other attractions in Sera worthy to be seen such as three main colleges and Kangtsang. During your visiting, don't miss murals inside chapels and it'll be better to carry with a flashlight. Tens of thousands of King Kong Buddha statues are also reserved in the monastery, with most of them are locally casted in Tibet and many others brought from India.
Three Main Colleges -- Je College, Me College, Ngagpa College
Of the three colleges or Zhacangs, Je college is the biggest one. It has a breathtaking main hall, hung with Thangkas and lit by shafts of light from high windows. In Sera Je, there is a most important chapel in Sera Monastery -- the Chapel of Tamdrin.
Tamdrin is a wrathful meditational deity whose name means 'horse headed' for his body is all red with a horse head. He is the chief protective deity of Sera. Here you can often see Tibetan kids with black spots on noseguards. It is a local custom to spread lamp ash in oil lamps in front of Tadmin on kids' nose for blessing. In the side hall on the right side of the main hall, you can find a Manjusri Buddha tiliting his head. It's said that he is listening the monk debate outside.
Sera Me College and Sera Ngagpa College are the earliest-built zhacang in Sera. Murals outside college doors of Sera Me are exquisite. The central image of the impressive main hall is a copper Sakyamuni, flanked by Jampa and Jampelyang. When you pass through the central hall to the next hall, you'll reach a chapel housing Dagtse Jowo, a central Sakyamuni statue that dates from the 15th century, also the most sacred of the college's statues.
Sera Ngagpa College is an esoteric Buddhist temple initially stood as a main hall while later serves monks to learn esoteric Buddhist knowledge. Inside the hall there is seated an arhat statue consecrated with the largest number of khada. More mysteriously, it's said that he has been epiphanic and spook to people, thus is regarded as the priceless treasure. There are also a couple of rooms upstairs featuring Tsepame, the eight medicine Buddhas and the funeral chortens of several past abbots.
Homdong Kangtsang -- Dormitories for Monks to Live
Coming out of the colleges, you can wander around in the neighboring Kangtsang in which resides monks of Sera. Jarung Kangtsang is next to sera Ngagpa college. After exiting of the college, most pilgrims will pay a visit to the nearby Jarung Kangtsang. Tourists just finished visiting of Main Assembly Hall can also go to Dema Kangtsang for sightseeing.
Rock Paintings -- Enjoy the Colorful Buddha Paintings on the Rock
When you finished visiting inside of Sera Monastery, hanging around Sera, you'll find some surprise. On the big rocks surrounding the temple, there are many paintings portrayed on rocks that you should never miss.
These rock paintings are colorful of primitive simplicity, and the pictures are mysterious and awesome; it is not only a great praise of the gods, but also an artistic treasure of the world's Tibetan culture. Every beautiful rock painting is related to a long-standing mythology, so going there to see rock paintings is indeed a great enjoyment of Tibetan Buddhism and Tibetan culture.
There are many in and around Sera Monastery worthy to be explored. Here we just introduced part of it you may be interested in. The true beauty of Sera Monastery are still waiting for you to be found and appreciated. If you want more details, please contact us to obtain a fantastic traveling experience.