Nyingchi Transportation: how to travel easily in Nyingchi and beyond
Why We Choose to Enter Tibet from Nyingchi
As the lowest area of Tibet and with stunning natural scenery, Nyingchi attracts lots of tourists who travel to Tibet for the first time. Nyingchi is an amazing place to visit for first-time travelers to Tibet, not only for the stunning scenery and exotic mountain landscapes, but also for the convenience of traveling to Tibet through this amazing region of the plateau. Situated on the southeastern edge of the plateau, the area of Nyingchi is actually much lower than the central and western areas of Tibet, with altitudes that range from 3,000 meters down to as low as 1,400 meters, making it an ideal place to acclimatize first before heading to Lhasa, at an altitude of 3,656 meters above sea level. This intermediate acclimatization allows you to adjust to the higher elevation much more easily.
The area of Nyingchi is known as the Swiss Alps of Tibet, and the climate is reminiscent of the European alpine areas, and are just as beautiful. Scenic valleys with lush green vegetation, stunning peach trees cove red in blossoms all across the area in the spring, and the awe-inspiring Snow Mountains of Nyingchi are just a few of the spectacular sights when taking a trip to Lhasa through Nyingchi. And with a good road heading west from Chengdu to Lhasa, which is almost completely covered in asphalt now, and the Nyingchi Mainling Airport now open for flights from mainland China, getting to Lhasa through this beautiful region is easy to do.
How to Get to Nyingchi, Eastern Tibet by Air, by Road, or by Train?
Get to Nyingchi by Flight
By air to Nyingchi is the most convenient way and popular among tourists. The Nyingchi Mainling Airport is located at an altitude of 2,949m. It is the lowest airport in Tibet, but it is known as the most difficult airport for planes to reach in the world because it is situated in the valley of the Yarlung Zangpo River and surrounded by over 4000m high mountains, enveloped by clouds and fogs throughout the year.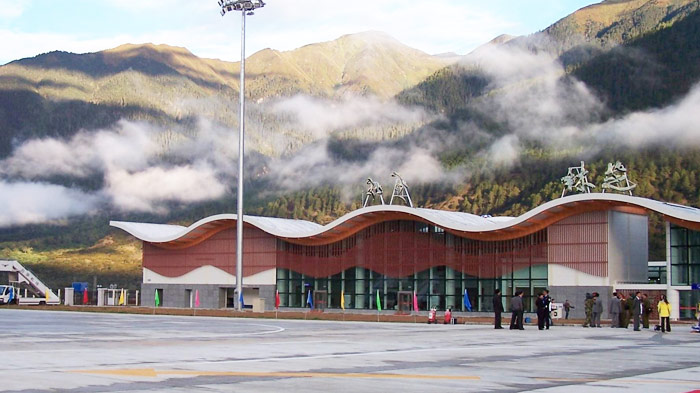 Nyingchi Mainling Airport, with an altitude of 2,949m, is the lowest airport in Tibet Autonomous Region.
Chengdu to Nyingchi Flight
There are currently only three flights a day from Chengdu Shuangliu International Airport to Nyingchi Mainling Airport, which are offered by Tibet Airlines, Air China, and Sichuan Airlines. The flight from Chengdu to Nyingchi takes around two hours, and costs from around US$ 218 per person for an economy ticket.
Chongqing to Nyingchi Flight
Chongqing Jiangbei International Airport only runs one daily flight to Nyingchi, which is offered by either Tibet Airlines or Sichuan Airlines, depending on which day you fly. The flight from Chongqing to Nyingchi takes around 2 hours 45 minutes, and costs from as much as US$ 262 for an economy ticket, depending on the time of year.
Xi'an to Nyingchi Flight
From the Xi'an Xianyang International Airport, there is also only one flight a day to Nyingchi, which is offered by Sichuan Airlines, who are the main airline offering flights to Nyingchi. The flight time is around 2 hours 45 minutes, similar to Chongqing, and costs roughly the same, around US$ 260 for an economy ticket.
Hong Kong to Nyingchi Flight
There are currently no direct flights to Nyingchi from Hong Kong, and the only way to travel by flight from Hong Kong to Nyingchi is to take a connecting flight through either Chengdu, Chongqing, or Xi'an. An indirect flight from Hong Kong can cost from around US$ 419 to more than US$ 1,000, depending on your connections and flight time, with the fastest flights taking more than 12 hours.
Lhasa to Nyingchi Flight
Currently, the flights from Lhasa to Nyingchi are not being offered as direct flights, and the only way to fly there from the Tibetan capital is to get a connecting flight to Chengdu and travel on from there. Since this is not really feasible, based on the time and price, it is a better option for travelers to use the new expressway to get to Nyingchi.
Get to Nyingchi by Roads
Traveling to Nyingchi by road is an amazing adventure, which can take several days to complete, covering more than one thousand kilometers. Nyingchi can be reached easily from either Chengdu or Kunming, although international tourists are required to have their guide and driver before leaving Sichuan and Yunnan Province. Besides, you can get to Lhasa first and then travel along the Lhasa-Nyingchi High Grade Highway with stunning attractions en route.
Chengdu to Nyingchi overland via Sichuan Tibet Highway
The route to Nyingchi from Chengdu takes you along the famous Sichuan Tibet Highway, the section of the G318 national highway that runs from Shanghai to Zhangmu in western Tibet. The route takes you out of the Sichuan Basin, and up into the mountains of the Tibetan plateau, passing through the northern end of the Hengduan Mountains of Yunnan Province, and on into the eastern end of the mighty Himalayas and the Nyenchen Tanglha Mountains.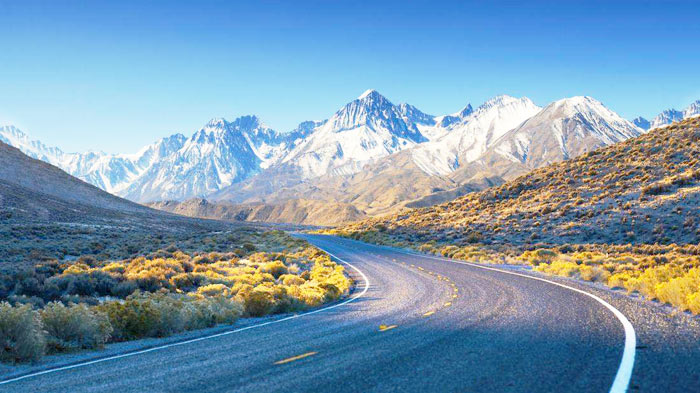 Travelers can appreciate the breath-taking scenery along G318 Sichuan Tibet Highway.
The route covers a distance of 1,679 kilometers, and if you are driving direct, without too many stops, it is a long 38-hour trip. The Sichuan Tibet Highway is well known as being one of the most dangerous roads in the world, mainly due to the former poor road conditions and high altitudes. While the altitudes have not changed much, the road conditions certainly have, and the road is almost entirely covered in asphalt now, making driving a lot easier and safer.
Kunming to Nyingchi overland via Yunnan Tibet Highway
Traveling from Kunming in Yunnan Province to Nyingchi means traveling along the Yunnan Tibet Highway, part of which is the stretch of the Sichuan Tibet Highway from Markam to Nyingchi. From Kunming, the road heads north through the Hengduan Mountains, skirting along its eastern edges, though at times climbing up into the high mountains to cross high passes. The road is complete asphalt for its entire length from Kunming to Markam, and driving conditions are good in the spring and autumn months. However, this is not a route for a novice driver, and you should be experienced to take this epic journey.
To appreciate the magnificent mountains along the Yunnan Tibet Highway.
The route from Kunming takes you through several towns that are worth a stop, including Lijiang, Deqen, and of course, Shangri-La. A route that covers 1,826 kilometers and can take 38 hours of constant driving, this road is best not driven at night, and should take around three to four days to get to Nyingchi. Because of the wetter region of Yunnan and the Hengduan Mountains in the rainy season, the trip should not be done in the summer months, as the roads are too wet and slippery for good safe driving through the mountains, and too cold and icy in the winter months.
Lhasa to Nyingchi overland via Lhasa Nyingchi Expressway
The new Lhasa-Nyingchi High Grade Highway, which starts in the Liuwu New District of Lhasa and ends in Bayi Town in Nyingchi City, is the fastest and best way to get from Lhasa to Nyingchi. Running a length of around 409 kilometers, this amazing new high-altitude road was started in 2013, and opened in September 2018 for travelers. This new highway has reduced the travel time from Lhasa to Nyingchi to around four to five hours, from the previous 8-10 hours that it took along the old G318 National Highway.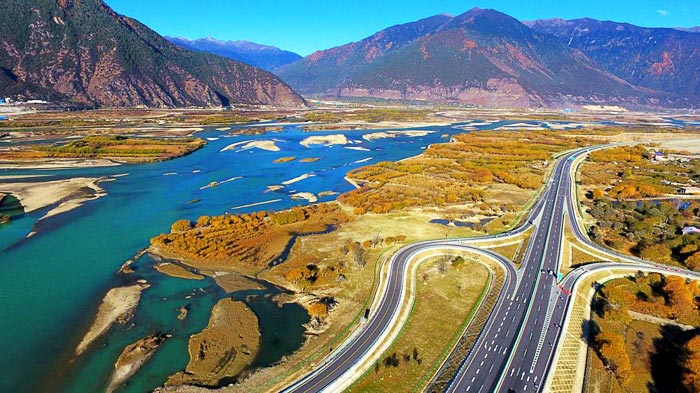 A birdview of Lhasa Nyingchi Expressway.
The road is a two-way, four-lane asphalt expressway, which has a design speed for cars of up to 80 kilometers per hour, and has on and off ramps at every major town and village along the way. As well as plenty of amazing scenery along the route, the expressway climbs up to the crest of the high Mila Mountain Pass, at more than 5,000 meters, before dropping down into the beautiful Niyang River Valley to enter Nyingchi City.
Get to Nyingchi by Train - Lhasa Nyingchi Railway
Currently, it is impossible to travel to Nyingchi by train, but it will become possible in the future. The Qinghai-Tibet Railway is the first railway leading to Tibet. Now, the Qinghai-Tibet has been extended to Shigatse, the second largest city of Tibet, and the railway will eventually be stretched to Nepal. The next section of the railways in Tibet is the line from Lhasa to Nyingchi, which is currently under construction, and is expected to be completed in around 2022. As part of the main line that will eventually connect Lhasa with Chengdu in Sichuan Province, once open, the railway from Lhasa to Nyingchi will cut travel time to less than two hours.
How to Tour around Nyingchi and Surroundings
Nyingchi is a land of stunning scenery, expansive landscapes, and amazing sights, which are all there for you to visit. You just have to work out how you will travel around the prefecture to see it all. Some of the best trips to areas of Nyingchi are listed here to help you decide.
Bayi Town - Basum-tso Lake - Mila Pass - Lhasa
Starting in Bayi Town, this trip takes you to one of the most beautiful lakes in the world, and then on over the Mila Mountain pass to the awesome capital of Tibet, Lhasa. Basum Tso, also known as Draksum-tso or Cuogao Lake, is the largest lake in eastern Tibet, and lies in the beautiful Gongbo'gyamda County. Surrounded by snow-covered mountains, the green waters of the lake are the most stunning feature of this beautiful area, which is often known as the Small Switzerland of Tibet.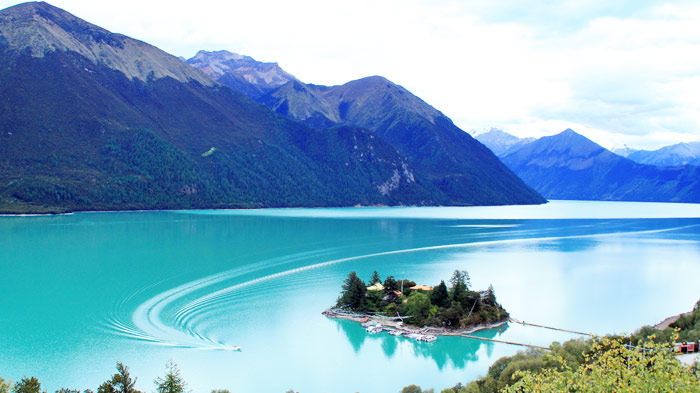 The charming Basum Tso is one of the biggest barrier lake in the east of Tibet.
Once you have visited the lake, then you will head for Lhasa, the Tibetan capital, passing over the Mila Mountain Pass, the highest road pass in eastern Tibet, and one of the most popular tourist attractions along the highway. At the crest of the pass are the sculptures of three huge yaks, crafted out of massive blocks of black stone. A trip of 489 kilometers, it is a great day out.
Bayi Town - Mainling - Yarlung Tsangpo Grand Canyon & Namjagbarwa Peak
A trip from Bayi Town to Mainling and the Yarlung Zangbo Grand Canyon, at the point where it bends to turn south, is an adventure of epic proportions. Mainling County is one of the seven administrative districts of Nyingchi, and the location of the Nyingchi Mainling Airport.
The Yarlng Zangbo River Grand Canyon is the largest canyon in the world, and the entrance to the canyon itself lies at the foot of the great mountain known as Namjagbarwa, or Namche Barwa. An isolated part of Tibet that is rarely visited by international travelers, this beautiful location is outstanding in its natural beauty, and the sight of the river as it bends around the mountain to head south into India is unforgettable.
Bayi Town - Segrila Pass & Lulang Forest - Tangmai - Bome - Ranwu Lake
Segrila Pass, which lies to the east of Nyingchi, is one of the best places from which to view the stunning peak of Mount Namche Barwa, and at 4,700 meters above sea level, is one of the highest road passes in the area. Lulang Forest, which lies close to the pass at an altitude of 3,700 meters above sea level, is one of the most beautiful mountain meadows in Tibet. 15 kilometers long and 1km wide, this stunning area includes pine forests, deciduous woodlands, and natural marshlands.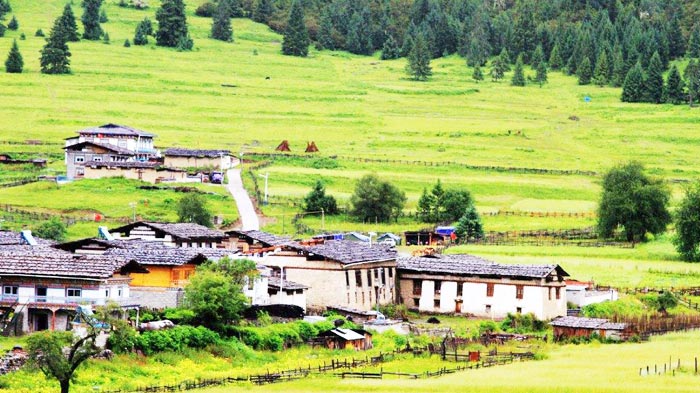 Lulang Forest has typical alpine scenery depicting authentic rural scenery.
A small village in Nyingchi, Tangmai is the only place in Tibet where you can find yourself in dense tropical jungles surrounded by monkeys and other tropical animals. Located in Bome County, on the banks of the Yarlung Zangbo River, near the G318 National Highway, this delightful little place is more of a truck-stop than a village, with only a few houses along the side of the road. Bome County lies in the north of the prefecture, and is an area filled with forests and mountains, much of which has not been explored fully.
The beautiful Ranwu Lake is one of the most spectacular lakes in Nyingchi, and is the largest lake in southeastern Tibet. Lying just outside the small village of Ran, which is actually just over the boundary in Chamdo Prefecture. Around 127 kilometers to the east of Bome County, this long narrow lake is actually three lakes connected by streams, and has an upper, middle, and lower area. Well known for its peaceful and tranquil scenery, as well as its colorful waters which change from dark blue to turquoise depending on the season, the clear blue skies, high snow-capped mountains, and lush green meadows reflect beautifully in the still surface of the lake.
Join-in Most Classic Eastern Tibet Nyingchi Tours
Tibet Travel Permits Needed for Nyingchi Tour
If you are traveling to Nyingchi, then you will need to have certain permits to get there. For all travelers to Tibet, a Chinese Entry visa is a requirement, but before you can get to Tibet, you must have a Tibet Travel Permit, which allows you to enter the region and travel in the area of Lhasa. This can only be obtained by a registered tour operator for Tibet, and we can arrange this once you have booked your tour, using your passport and visa copies.
You will also need an Alien's Travel Permit for traveling outside the area of Lhasa, and this can also be obtained by us once you have booked your Nyingchi tour. If you are traveling to Nyingchi from Lhasa, then your permit will be obtained by your guide once you reach Lhasa, which takes just an hour or so, and allows you to travel to and around all areas of Nyingchi.
Best Time to Visit Nyingchi
Spring and Autumn are the best times to visit Nyingchi, as the weather is at its optimum for travel into the area. Temperatures are warmer than in the rest of Tibet, and there is little chance of rain. Summer is the monsoon season, and the weather in Nyingchi can get very wet, with most of the 650 millimeters of annual rainfall coming down in just three months. Winter is a good time to visit, if you are not planning to climb any mountains. With its milder weather than to the west, Nyingchi has balmy winters that are great for getting some snow photos, or for just relaxing without the crowds of tourists that the peak season brings.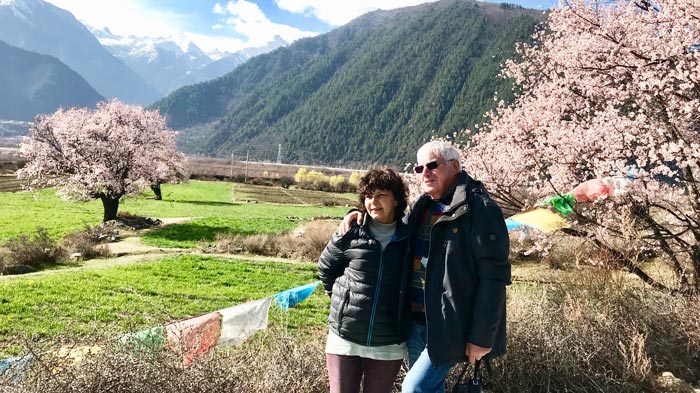 Travelers can enjoy the beautiful peach flowers in the Nyingchi Peach Blossom Festival during spring.
What to Pack for Nyingchi Travel
If you are traveling to Nyingchi in the spring or autumn season, while it is warmer than Lhasa, it can still get a little chilly in the evenings, so it is advisable to have a couple of warm sweaters handy. Summer travel means you will need rainwear, while winter travel, despite it being warm still, will need warm clothing, as it can get chilly during the day and cold at night, though not as low as freezing.
Nyingchi is a remote prefecture with a lot of rough ground and rocky terrain, so a good pair of hiking boots is essential. You may even find that you will need them in some small villages, where asphalt is a myth and rocky roads are not just a flavor of ice cream.