Nyingchi Special Products: what and where to shop in Nyingchi
Located in the southeast of Qinghai-Tibet Plateau, Nyingchi is the lowest area of Tibet with an altitude of 2,988m. It enjoys the humid climate and seasonal weather with comfortable temperature. Under the abundant sunshine and rainfall, scarce medicinal herbs like Ganoderma lucidum, Cordyceps Sinensis and Saffron Crocus are thriving in the mountains and meadows. And you'll be amazed by the mouthwatering foods and various kinds of fresh fruits, such as Nyingchi Matsutake, Gongbo'gyamda Tibetan pig, Gama apple and so on. By the way, if you wanna bring some traditional Tibetan handicrafts to your friends and relatives, Chayu wooden bowl, Medog stone pot, and Menba bamboo ware would be your best choice. Here we'll introduce you the top Nyingchi special products one by one and hope it gives you a hint on what to buy in eastern Tibet Nyingchi travel.
Rare Medicinal Herbs in Nyingchi
Ganoderma Lucidum (Lingzhi or Reishi Mushroom)
Nyingchi has become a famous Ganoderma Lucidum producing area in Tibet because the warm and humid climate is conducive to the growth of it. And their quantity and quality are rare across China. According to the describing of the Tibetan medical book, Ganoderma Lucidum is called "Guo Xia" in the Tibetan language. It is a kind of pretty precious and magic medicine. Also, it has a certain curative effect on many chronic diseases such as neurasthenia, insomnia, coronary heart disease, hepatitis, trachitis, and nephritis.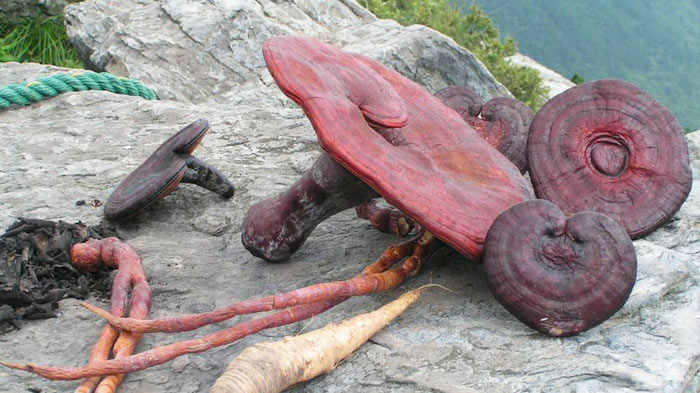 Ganoderma Lucidum is one of the special products of Nyingchi, Tibet.
Nyingchi Maca
Maca is rich in phosphorus, calcium, protein, iron, natural fiber, minerals, and other nutrients. Its unique macaamides and macaenes have a significant effect on balancing human hormone secretion. Besides, maca plays an important role in resisting fatigue, building up people's strength, improving sleep and enhancing memory. Moreover, it is suitable for both men and women, and also has a good regulatory effect on women's menopausal syndrome. Currently, there are maca planting bases in Lulang Town, Mainling County, and Gongbo'gyamda County. If you plan to visit Lulang Forest, you can take some time to buy it at local stores.
Cordyceps Sinensis (Ophiocordyceps Sinensis or Dong Chong Xia Cao)
Cordyceps Sinensis is a valuable nourishing medicinal herb commonly used in Chinese medicine as well as traditional Tibetan medicine. Its nutritional content is much higher than that of ginseng. The main active ingredient is cordycepin, which has various functions such as regulating the immune system, anti-tumor, and anti-fatigue. Cordyceps Sinensis is a priceless medicine that is comparable to gold and ideal for gifting friends and relatives. Nyingchi is one of the important Cordyceps Sinensis producing areas in Tibet. Therefore, when you travel to Nyingchi, you can buy some Cordyceps Sinensis here.
Saffron Crocus (Crocus Sativus)
Saffron Crocus, also known as Crocus Sativus, is one of the rare Tibetan medicinal herbs with strong physiological activity. Saffron Crocus is widely used in promoting blood circulation and removing blood stasis and relieving pain. Besides, the seeds of saffron are also an important Chinese medicine. The oil content of Saffron Crocus seeds is 55.38%. If you eat this oil for a long time, it can lower the cholesterol in your blood and prevent angiosclerosis. And it can be used to treat coronary heart disease. Saffron Crocus is also a good source of paint because of the low linolenic acid content in its oil. Nowadays, Saffron Crocus is cultivated vigorously in the eastern, southeastern and southern parts of Tibet.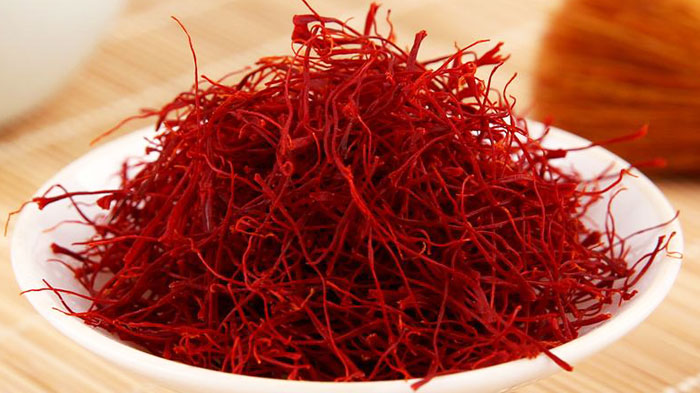 Saffron Crocus is a precious Tibetan medicine.
Bome Gastrodia Elata
Bome Gastrodia Elata is popular for its health benefits of protecting eyesight, improving intelligence and strengthening resistance, etc. It can cure the headache, dizziness, vertigo, epilepsy, convulsions, tetanus, etc. It is particularly worth mentioning that the fresh Gastrodia Elata can be directly steamed and eaten with sugar.
Bome Snow Lotus
Snow lotus is distributed in the alpine mountains of the northwest in China. Most of them grow across the Qinghai-Tibet Plateau and its adjacent areas. Bome is one of the important producing areas of Tibet. Snow lotus is not only a rare flower but also a scarce world-famous Tibetan medicine. It can be used to treat many chronic diseases, such as gastric ulcer, hemorrhoids, bronchitis, heart disease, etc. Unfortunately, it is difficult to plant. Generally, it grows among the rubble near the snow line and the rock slope with an altitude above 4,000 meters. As a health product, snow lotus is very suitable for collecting or presenting to your relatives and friends.
Appetizing Food and Fresh Fruits in Nyingchi
Nyingchi Matsutake
Matsutake, known as the "King of the Mushrooms" on the plateau, is a kind of wild edible fungus that is rich in high nutrition. It contains high protein, low fat, crude fiber, vitamin and a variety of rare amino acids which has various effects such as improving immunity, anti-aging, beauty emollients, promoting gastrointestinal absorption, protecting liver, etc. In particular, Nyingchi Matsutake is popular among tourists at home and abroad. Compared with other production places, Nyingchi's unpolluted snow water, humus soil and unique climate are beneficial to the growth of matsutake. And the meat of Nyingchi matsutake tastes fresh and delicious. It is suitable for broiling, stir-frying and stewing. More importantly, the matsutake can only grow on living trees which makes it very precious.
Morchella Esculenta (Yangdujun)
Ranking first among the world's four major wild fungi, Morchella Esculenta is a valuable edible and medicinal fungus. Its structure is similar to that of the discomycetes. It contains crude protein, crude fat, carbohydrate, and also multifarious amino acids. According to a measurement, the nutrition of the Morchella Esculenta is quite rich, every 100g dried Morchella Esculenta contains 24.5g protein. Therefore, some people think that it is a very good source of protein. And it enjoys a high reputation of "meat in vegetable". Now, there are only a few places in Tibet where the morchella can grow naturally in the wild with suitable climate, like Zayu, Bome, and Mainling in Nyingchi.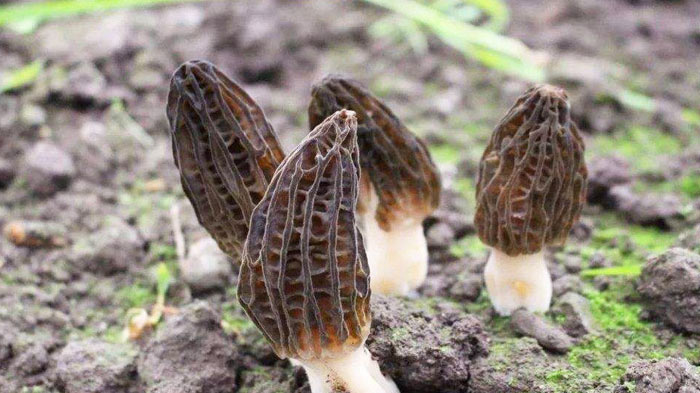 Morchella Esculenta, a kind of rare fungus, is the meat in vegetable.
Gongbo'gyamda Tibetan Pig (Zangxiang Pig)
Tibetan Pig, known as "the treasure of Qinghai-Tibet Plateau", is a traditional ethnic delicacy in Tibet. It grows in the mountains and forests. And it feeds on wild plants and Tibetan medicinal herbs all year round. The pig is small in size, but has high nutritional value. Compared with common pigs, Tibetan pigs' meat is very delicious and not greasy. Thus, it is very popular and always in short supply, especially the pig of Gongbo'gyamda in Tibet. Gongbo'gyamda Tibetan pig has six obvious characteristics, namely, the highest amino acid content in meat, the highest microelement, the lowest fat content, the longest pig intestine, the thinnest pigskin, and the longest mane.
Gama Apple
Gama farm which is located in the Yarlung Zangbo Riverside belongs to the border of Nyingchi area's Mainling County and Nyingchi County. It is the biggest fruit production base of Tibet. The production time of Nyingchi area's apple is from June to September every year. Because of characteristics of its fertile soil, longtime and strong sunshine, and its big range of temperature, it is pretty good for the apple tree to grow. Apple of Gama farm tastes excellent, also its color is bright-colored. There are various kinds of Gama apples in the mart, such as sweet and crisp "Yuan Shuai", fragrant and delicious "Guo Guang", special and distinctive "Hong Feng", luscious "Xiang Jiao" and so on.
Medog Banana
Medog is the sole place where produces bananas in the southeast of Qinghai-Tibet Plateau. Medog belongs to humid tropical and subtropics area. It is deeply located in interior of Yarlung Zangbo River Grand Canyon, and also influenced by Indian warm current. In addition, its soil texture is proper for bananas growing. If you travel there in September, you will meet the best time when the banana is mature. Also, you will witness banana trees which are full of mountains. Under the cover of the leaves, the natural bananas shake with windy gently and send out a full-bodied aroma. Although there are a lot of bananas, local citizens still sell bananas at a high price. Sometimes, it is even sold in one Yuan for one banana. Surely, if you meet enthusiastic local Tibetans, they may give you bananas for free.
Traditional Handicrafts and Souvenirs in Nyingchi
Chayu Wooden Bowl
The wooden bowl is the most common daily necessities of the Tibetan people, carrying the most primitive lifestyle of Tibetans. In Chayu, the wooden bowl is a kind of handicraft with a long-standing reputation in Tibet which is usually carved from birch. It has a firm texture and can not be broken easily. The pattern of the wooden bowl is exquisite and beautiful. According to the size, it can be divided into the big bowl and the small bowl. These bowls are versatile and can be used for tea, tsampa, food storage, etc. Tibetans have a special tradition that they only use one wooden bowl in their lifetime. They take the wooden bowl wherever they go.
Medog Stone Pot (Lhoba Stone Pot)
At the very beginning, local Medogs have no pot for cooking, and the food was cooked in a wet bamboo tube. Later, a kind of soft rock was found, and they dug a big hole in it. Finally, the stone pot was invented. Although iron pots, copper pots, and aluminum pots have already entered their lives, the traditional stone pot is still the main cooker for Medog people.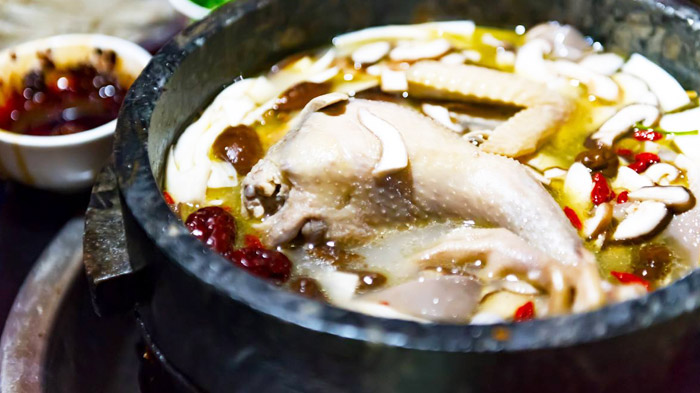 Tibetan chicken is cooked with the matsutake and morchella esculenta in the Medog stone pot.
The raw material of the stone pot is soapstone, which is mainly from the steep cliffs along the Yarlung Zangbo River. The texture of taupe soapstone is soft. And it can withstand the high temperature of two thousand degrees Celsius. Industrious Medog people use it to make the stone pot of different sizes and shapes. The stone pot for cooking is small and exquisite, about 30 cm in diameter and 20 cm in height. The stone pot to cook porridge for baby is flat and round, about 10 cm in diameter, with a long handle.
Menba Bamboo Ware
The place where the Menba People live in is full of various trees and bamboos that supply abundant materials for wood and bamboo wares. The Bangqiong, the most famous sort of bamboo ware, is made of hundreds of slim bamboo splints, and painted with different colors like red, black, blue and yellow, etc. And the designs of its main body are primarily geometric figures.
Notes:
Up to now, foreign friends are still unavailable to visit Medog and Chayu in Nyingchi. But no worries! Our local Tibetan tour guide will help you purchase the authentic Chayu Wooden Bowl, Medog Stone Pot, Menba Bamboo Ware in Nyingchi shops.
Nyingchi Shopping Tips
Actually, you can easily find the Ganoderma Lucidum, Cordyceps Sinensis, Saffron Crocus, Nyingchi Matsutake, Tibetan pig, Gama apple, Medog stone pot, and other special products in the stores of Nyingchi. And to help you get the best deals on Nyingchi souvenirs, we, Tibet Vista team, have the most useful Nyingchi shopping tips for you as follows:
1. Always remember to bargain with the shopkeepers. Bargaining is a normal part of shopping and doing business in Nyingchi because most of the goods in shops or specialty stores do not have a fixed price. You may be charged with a very high price at first, so it's best to respond with a lower price and negotiate from there.
2. If you want to buy Tibetan medicine in Nyingchi, you should buy it at local regular pharmacies. Sometimes, the same kind of Tibetan medicine may also have various prices due to the different production places and quality. Furthermore, some illegal drug dealers often sell medicine at a high price, but the quality is poor. Therefore, you have to polish your eyes when you buy it. Or you can ask for help from our local Tibetan travel guide.
3. According to Tibetan tradition, shopkeepers will offer discounts to the first customer of the day. They strongly believe that the first deal of the day can bring them good luck.