Nyingchi Altitude: how to visit Nyingchi attractions with varied elevations
Nyingchi, with its diverse elevations and breathtaking landscapes, provides a unique and captivating experience for visitors. Nestled in the southeastern part of the Tibet Autonomous Region, Nyingchi boasts elevations ranging from low valleys at around 3,000 meters to towering peaks exceeding 7,000 meters. This range in altitude contributes to the region's rich biodiversity and awe-inspiring scenery.
Whether you're exploring ancient monasteries, trekking through alpine meadows, or simply savoring the tranquility of the lower valleys, Nyingchi offers a journey through varied elevations that promises both cultural enrichment and natural wonder.
In this guide, we will explore how to navigate this amazing land with different altitudes across its various attractions. We hope you enjoy your journey in Nyingchi with confidence.
Nyingchi Location and Topography
Also known as Linzhi, Nyingchi City-level Prefecture lies in the east of Tibet, bordering with Sichuan Province and Yunnan Province to the east, Shannan Prefecture to the south, Nagqu and Chamdo to the north, and Lhasa to the west. Known as the Swiss Alps of Tibet, Nyingchi is the lowest area of the plateau, with altitudes dropping from 4,000 meters to around 1,400 meters in some of the lower areas.
One of the most beautiful areas of Tibet, Nyingchi is the home of the Namche Barwa Peak, the highest mountain in the area, which sits at the entrance to the Yarlung Zangbo Grand Canyon, the largest canyon in the world. Located in Medog County, the last county to have a road built to give access to it, it is one of the most significant tourist areas in the prefecture and a huge draw for thousands of tourists every year. A mountainous region of Tibet, the peaks range from as high as 7,000 meters to around 4,000 meters, with valleys that dip to as low as just 800 meters above sea level in the lowest parts of Nyingchi.
Altitude of Nyingchi District and Counties
Nyingchi City is made up of seven administrative districts, of which Bayi District houses the administrative center of Nyingchi. Formerly known as Nyingchi County, the administrative capital of Nyingchi lies in Bayi Town, which lies in the middle reaches of the Yarlung Zangbo River valley. With an average altitude of around 3,000 meters, there are places in the district that dip to below 1,000 meters, and a wealth of scenic areas that are huge draws for tourists. The district is one of the more heavily populated areas of Nyingchi, with an average population of around 20,000 people.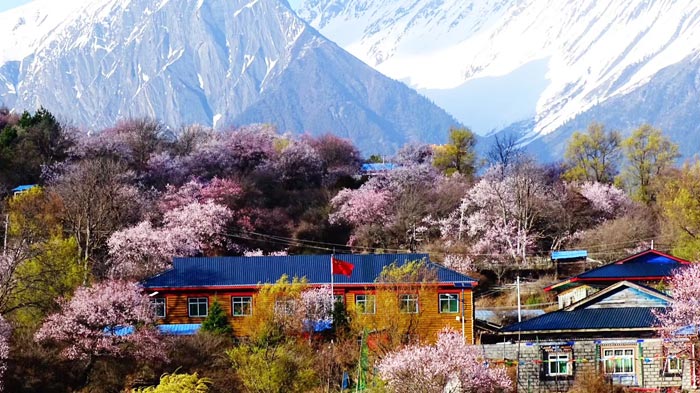 Nyingchi, the Swiss Alps of Tibet, enjoys majestic snow mountain and beautiful natural scenery.
Gongbo'gyamda is the second district of Nyingchi, some 275 kilometers to the east of Lhasa, in the northwest of Nyingchi. Lying to the south of the Nyenchen Tanglha Mountains, the district has an average elevation of around 3,500 meters, and a population of approximately 27,000 people.
Mainling County of Nyingchi is the home of the Nyingchi Mainling Airport, one of only five airports across Tibet, and the main airport for the area, with flights from mainland China and Lhasa. With an area of just 9,471 square kilometers, most of which is farmland and forest, the district still has a population of more than 23,000 inhabitants.
Medog County was once the only place in Tibet that did not have road access, a fact that only changed recently. Covering more than 30,000 square kilometers, the county has an average altitude of just 1,200 meters, making it one of the most sought-after destinations in Tibet for low-altitude tourism. However, for such a large area, it only has a population of around 14,000 people.
Lying in the northeast of Nyingchi, Bome County was once an independent kingdom, an offshoot of the ancient dynasty of Tibetan kings, until the start of the 20th century, when it was incorporated into Tibet by the Dalai Lama. With an average elevation of around 3,200 meters, Bome County is one of the most heavily populated areas of Nyingchi, with around 28,000 inhabitants.
In the southwest of Nyingchi lies Nang County, the smallest district of Nyingchi, and has the smallest population, at around 9,000 inhabitants at the last count. With an average elevation of around 3,200 meters, it is one of the highest areas of Nyingchi, with peaks in excess of 6,000 meters.
Zayü County is the easternmost county in Nyingchi, with an average elevation of around 2,300 meters. One of the larger counties of Nyingchi, covering around 31,000 square kilometers, it has a population of around 25,000 people, though fairly well spread out across the county.
Nyingchi Elevation Chart with All Administrative Subdivisions
| | | | | | |
| --- | --- | --- | --- | --- | --- |
| Name | Simplified Chinese | Elevation (m) | Area (km²) | Population | Density (/km²) |
| Bayi District | 巴宜区 (Bāyí Qū) | Average above 3,000 | 8,536 | 54,702 | 6.40 |
| Gongbo'gyamda County | 工布江达县 (Gōngbùjiāngdá Xiàn) | Average above 3,500 | 12,960 | 29,929 | 2.30 |
| Mainling County | 米林县 (Mǐlín Xiàn) | Average above 3,700 | 9,507 | 22,834 | 2.40 |
| Mêdog County | 墨脱县 (Mòtuō Xiàn) | Average above 1,200 | 31,394 | 10,963 | 0.34 |
| Bomê County | 波密县 (Bōmì Xiàn) | Average above 3,200 | 16,770 | 33,480 | 1.99 |
| Zayü County | 察隅县 (Cháyú Xiàn) | Average above 2,300 | 31,305 | 27,255 | 0.87 |
| Nang County | 朗县 (Lǎng Xiàn) | Average above 3,200 | 4,114 | 15,946 | 3.87 |
Notes: up to now, foreign friends are still unavailable to visit Medog and Chayu in Nyingchi. Any interest in Eastern Tibetan Nyingchi travel and tour? Please kindly tell our travel guru your travel plan, destination, your group, hotel preference, etc. We specialize in planning your journey based on our first-hand experience, your budget, style, and interest!
Top Nyingchi Attractions and Their Altitudes
Nyingchi is one of the most scenic areas in Tibet, and has some of the most beautiful sceneries and landscapes in the world, with a forested region that covers around half of the total land area of the prefecture. With a wealth of stunning sights in all parts of Nyingchi, it is a tourist's paradise on earth. Small wonder it inspired the book, Paradise Lost.
Attractions on the way from Bayi District westwards to Gongbo'gyamda County and Lhasa City
Niyang River: The Niyang River is one of the most beautiful rivers in Tibet, and is a major river in southwest Tibet. The longest tributary of the Yarlung Zangbo River, it flows west from Mila Mountain, at around 5,000 meters, dropping to jus 2,273 meters above sea level where it meets the Yarlung Zangbo. The mother river of the Gongbu people, its jade-green waters give an illusion of paradise.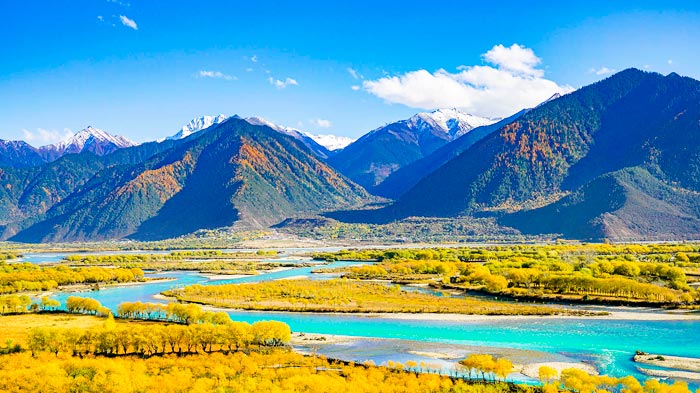 Enjoying the stunning scenery along Niyang River in the far distance.
Xiuba Ancient Castle: It lies in Gongbo'gyamda county and predates the Potala Palace by more than 300 years. Composed of five separate castles, this amazing group of buildings were built in the Tang Dynasty to defend against invaders. With walls that are up to two meters thick, the ancient castles got their name from the skinning of a Buddhist monk by Bon priests.
Draksum-tso: One of Tibet's most famous scenic spots, Draksum-tso lies at an altitude of around 3,538 meters above sea level. An Alpine Lake in the upper reaches of the Bar River Valley, it is dotted with small islands that look like the backs of sheep sunken into the lake, and is surrounded by snow-capped mountains covered with lush forests.
Mila Mountain Pass: It lies on the route from Lhasa to Nyingchi, and sits at an altitude of 5,013 meters above sea level. One of the most amazing places to get views of the Nyenchen Tanglha Mountains, this high-altitude pass is a popular spot for tourists and is covered with prayer flags, left behind by the many pilgrims that pass through it.
Attractions on the way from Bayi District to eastwards to Medog and Zayü County
Giant Cypress Nature Reserve: An amazing site that lies to the east of the city, the reserve is the only place in Tibet that has giant cypress trees that stretch up more than 50 meters from the ground. Hundreds of trees cover the area, the oldest being more than 3,000 years old.
Sejila Forest Park: At an elevation of around 4,700 meters, Sejila is a world of silver and white, and lies in the area of Nyenchen Tanglha Peak. Home of Mount Sejila, it is a holy place for Tibetan Buddhists, and one of the sacred mountains of Tibet.
Lulang Forest: Known locally as the "place that will make you forget your home", Lulang Forest is one of the most beautiful alpine mountain meadow areas in Tibet. Covering the Long Kong Valley, this beautiful fairyland is a paradise on earth that lies at an altitude of around 3,000 meters.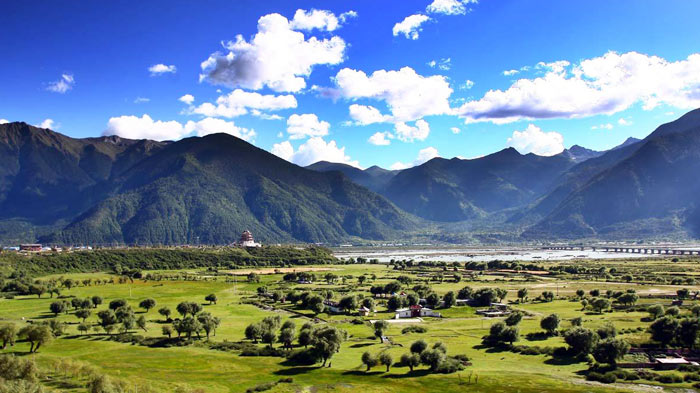 Lulang Forest, with an altitude of 3700 meters, is a typical plateau-mountain-meadow in Tibet.
Tashigang: A small village to the east of Lulang Town, Tashigang lies at an elevation of around 3,400 meters and is one of the most popular places to visit for a real Tibetan homestay.
Medog County Scenic Resort: At 3,767 meters above sea level, Motuo County Scenic Resort is one of the most unspoilt places in Tibet, and one of the most inaccessible. Filled with a mystic beauty, this is one of the most natural areas of Tibet.
Midui Glacier: Lying above Midui Town at an altitude of 6,800 meters, the Midui Glacier is among the top six most beautiful glaciers in China. With a giant ice cascade that stretches for more than 800 meters, it is famous for its avalanches, which are caught in the giant ice basin at its base.
Chayu County Scenic Resort: Sitting below the Demla Pass in Zayü County, this delightful scenic resort is an amazing vista of lakes and mountains, interspersed with lush green meadows.
Attractions on the way from Bayi District southwards to Mainling County
Lamaling Temple: A magical and mysterious temple in Bujiu Town of Nyingchi, this stunningly beautiful monastery is one of the most important temples of the Nyingmapa School of Tibetan Buddhism. One of the most historical monasteries in Nyingchi, it makes an amazing place to visit, and is an inspiring place to tour, with one of the most unique sights in Tibet: young monks performing the ten Thousand Prostrations.
Buchu Monastery: A striking monastery over two floors with an amazing golden roof, this ancient monastery lies around 28 kilometers to the south of Bayi Town, and contains the Eight Images of Padmasambhava carved into the walls of the ground floor. Built in the seventh century during the reign of Songtsen Gampo, it was built as one of the eight temples that were constructed to subdue the demoness whose body parts were strewn across Tibet so she could not come back.
Bönri Mountain: The most famous mountain of the Bon sect in Tibet, the ancient religion of the plateau that predated Buddhism, Bönri Mountain lies on the banks of the Yarlung Zangbo River, its peak standing around 4,500 meters above sea level. A sacred mountain in the Bon religion, it is said that Padmasambhava tried to destroy the mountain and village during his quest to spread Buddhism throughout Tibet, but failed.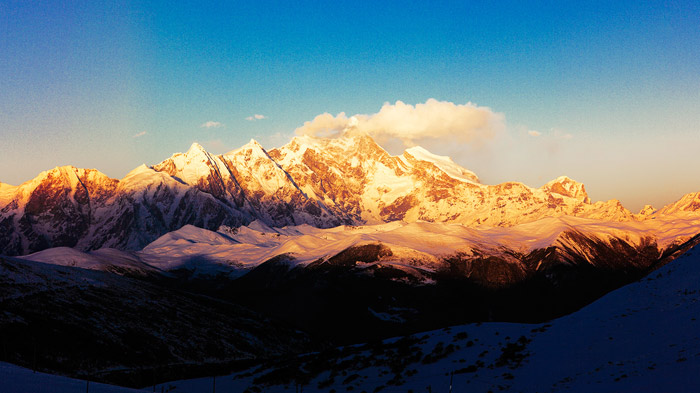 Appreciating the spectacular sunrise over Mt.Namjagbarwa, the highest mountain in Nyingchi, eastern Tibet.
Namjagbarwa Mountain: Lying 7,782 meters above sea level, this soaring peak is the highest mountain in Nyingchi, and lies in the easternmost range of the Himalayas. Known as Namche Barwa, it lies at the entrance to the Yarlung Zangbo Grand Canyon, creating the world's deepest valley with Mount Gyala Peri opposite on the other side of the river. Worshiped as one of the godly residences, the name literally means "burning thunders", and Tibetan legends tell that Namche Barwa was one of the guardians of Tibet who killed his brother, Gyala Peri, and was turned into a mountain as punishment, with his brother opposite him.
Yarlung Tsangpo Grand Canyon: The deepest canyon in the world, the Yarlung Zangbo Grand Canyon is also a feature of the largest river in Tibet, which later becomes the Brahmaputra, one of the longest rivers in the world. Starting at the point where the river bends around Mount Namche Barwa, the canyon is more than 6,000 meters deep at its deepest part, with an average depth of around 2,268 meters.
Conclusion
To sum up, with elevation ranging from 4,000 meters down to 1,400 meters, Nyingchi, Swiss Alps of Tibet, has always been another popular entry point for international friends to travel Tibet and the Himalayas. Here you can appreciate scenic valleys and holy lakes with lush vegetation, colorful flowers, and turquoise blue water. If you come here in spring, you are likely to join the rosy Nyingchi Peach Blossom Festival with local people and experience the authentic lifestyle in eastern Tibet. In addition, the other scenic spots, like Lulang Forest, Niyang River, Namjagbarwa Peak, Midui Glacier, Yarlung Zangbo Grand Canyon, etc. are waiting for you to explore. And here we also offer you the ultimate Nyingchi travel map for your eastern Tibet tour planning.
Most Popular Tibet Tour Packages