Lhasa Nightlife: where to have fun in Lhasa at night
Compared with other cities in China, the nightlife in Lhasa, undoubtedly, is much more low-keyed and simple. The entertainment in Lhasa is even limited to watching a Tibetan singing and dancing show, tasting snacks around the night market, or finding a decent pub or bar for a drink with friends. But all of them are worth your try just because of the unique atmosphere full of mixed flavors of Tibetan traditional and modern culture. Let's follow our travel experts' tips and make the most use of the night in Lhasa.
Take a Stroll at Famous Night Markets in Lhasa
When making a Lhasa tour, going to explore the night markets in Lhasa will add much fun to your Tibet tour. There are two main night markets in Lhasa, Tianhai Night Market and Barkhor Night Market.
Tianhai Night Market in Lhasa
Located in the west suburb of Lhasa city, Tianhai Night Market is the most famous, also the biggest and busiest night fair in Lhasa. Visitors are enchanted by the many stalls of snacks, barbecue, fruits, fashion clothes, handicrafts, mobiles, articles of daily use and home appliance lining the street. The goods at this market are much cheaper than at the Barkhor Street, the most famous commercial street in Lhasa.
The business time of snacks lasts from afternoon to 5:00 next morning, while other shops and stalls run from 10 am to 12 pm approximately. Therefore snacks and barbecue are the real stars at the Tianhai Night Market. There are snacks from all parts of China boasting more post-dinner joy for the locals.
Popular Tibetan snacks are yak's blood, Pink Sausage, Tsamba and Momo. Except for Tibetan snacks, travelers can also enjoy snacks of west China style, such as Hand-Pulled Noodles with Beef of Lanzhou style, Qinghai roast meet and Noodles Mixed with Scallion, Oil and Soy Sauce of Xinjiang style. There are 20 sidewalk stalls featuring lamb recipes, such as sautéed lamb, braised lamb, roast lamb tenderloin, roast lamb leg, Grilled Lamb Chops, Fried Lamb with Cumin and sautéed lamb head.
Barkhor Night Market
The famous Barkhor Street is multiple-functional. The Barkhor Street not only is the oldest and the commercial street in Lhasa. But also is a famous ritual walk path in Lhasa. Then at night, it becomes a night market. Though the Barkhor Street at night is no less busy or swinging than it is in the daytime, it is more charming whenever the curtain of night befalls in Lhasa. If you take a stroll in Barkhor Street, you will encounter people who are making a prostration. It's really worth a visit, for this scene only happen in Lhasa's street.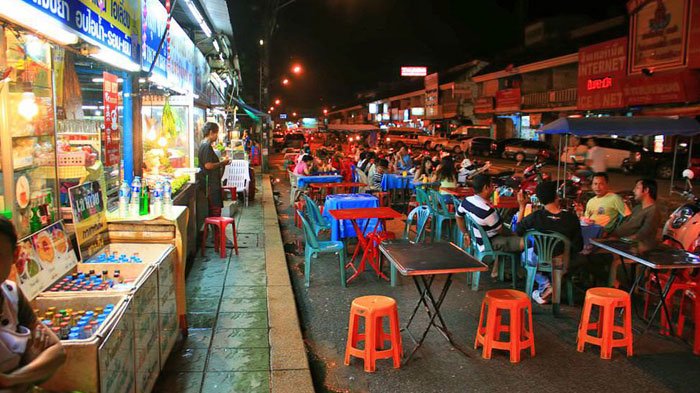 The busying market at night
Unlike the Tianhai Night Market, all kinds of stalls and shops are still in business at night. There is intoxicating music from shops and passional yo-heave-ho from holders. Barkhor Street is not very bounty, it is overwhelmingly busy. Barkhor Street Night Market is not full of handicrafts but also packed by snack stalls. Various goods and snacks are dazzling on street. The old-timey Barkhor Street leaves more thoughts to the tourists.
Best Places to Enjoy the Night View of Lhasa
When traveling to Tibet, some tourists may be also curious about the night scenery of Lhasa. Then where to enjoy the night view of Lhasa comes into their minds. So let's introduce some good night spots at Lhasa.
Potala Palace
Potala Palace is usually the first must-see scenic spot in Lhasa for 99% travelers to Tibet. Yeah, the Potala Palace is majestic at daytime, but do not miss the night view of the Potala Palace. When night falls, the lighting system and music fountain add livingness to the Potala Palace and make a different sight of the grand Potala Palace. The charming night view of the Potala Palace also attracts many visitors. The music fountain in the square changes its shapes with the rising and falling of the music rhythm.
The beautiful Potala Palace at night
At daytime, you will find that the Potala Palace perches on the Red Hill of Lhasa. But at night, you will find the Potala Palace is not rising from the earth, but rising from the cloud in the sky when looking from distance. It is hanging in the sky! That night scene is amazing and unforgettable. Besides, there are some local Tibetans dancing and singing at the Potala Square. So it is a good place for enjoying Tibetan dances and songs, and also traditional Tibetan costumes. It is also a good way to relax.
Yutuo Pedestrian Street
Pedestrian street is always a good place to explore local life, so does the Yutuo Pedestrian Street in Lhasa. The Yutuo Street with one end connected to Potala Palace Square and another end stretched to Jokhang Square is the window of Lhasa City and also the first asphalt road in Lhasa. This pedestrian street gathers three biggest malls of Lhasa: Lhasa Department Store, Lhasa Jinggu Marketplace and Lhasa International Trade Building. At night, people like to stroll among the flowers, fountains and beautiful lights in Yutuo Street, so it becomes quite busy at night.
Lhasa Beijing Road
The Lhasa Beijing Road is the Bar Street in Lhasa. At night, the whole street is brightened by colorful lights and gets very busy. Shining neon lights and striking billboards decor along this road at night. The colorful billboards of the bars and stalls on the street are blooming like flowers at night. - Read more about Lhasa Bars: Never Miss the Sleepless Night in Lhasa
Though bars are the good place to meet different friends and experience exotic life, tourists are highly recommended to avoid drinking before full acclimation because drinking may aggravate altitude sickness. If you do like bars, do not drink too much. If you get drunk, your life may be at risk.
Watch the Princess Wencheng Musical Show
For your first visit to Lhasa, Princess Wencheng Musical Stage Show is definitely a must-see and unique experience for Tibetan tourists. As a huge outdoor live-action performance, it truly presents the Chinese and Tibetan history and culture through the story that Princess Wencheng of Tang Dynasty married Tubo King Songtsen Gambo 1,300 year ago. Premiered in 2013, now the drama is a widely circulated legendary epic, revivifying an original look of Tang Dynasty and Ancient Tibet by integration of drama, music, dance and modern choreography.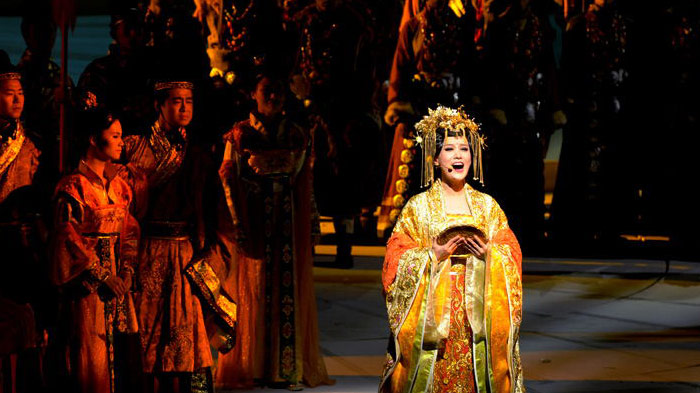 The show of Princess Wencheng
This show is an elaborate spectacle with massive sets, beautiful costumes, gigantic props, theatrical lighting, and special effects. A series of real mountains outside of Lhasa are lit and used as a backdrop for the scenery. Two large projection screens on the sides of the stage that narrated the story and singing in Mandarin, Tibetan, and English. So, wherever you come from, you will understand the show easily.
Even though one has traveled many places around the world, this type of spectacle with a cast of 100s is something he has only can experience in China. The scale of the production is massive, and it is a visual treat to look at the mountains and stars. You can find the entire production to be very moving and entertaining. There are large dancers, riders performing on horseback, and even a winter scene where it snowed on the audience with real snow. It is so impressive that the audience would cheer for it appeared. Come and go to enjoy the splendid show in Lhasa.
Dos and Don'ts when traveling in Lhasa at night
People in Tibet are very peaceful and respect each other very much. Do try to be good with them and treat them with respect. Try to follow their culture when you are in Tibet. Here are some tips for your reference.
1) Wear warm clothes. In Lhasa, temperature varies widely from day to night, especially in the evening of Spring, Fall and Winter. So we strongly advise you to wrap up warm, otherwise, you will catch a cold, quite suffering for your Tibet tour.
2) Drinking manner. If you do like bars, do not drink too much. If you get drunk, unexpected trouble will find you. For example, it may aggravate the need of oxygen or you may delay your next journey schedule.
3) Respect their dietary habit. Eating horse's, dog's, donkey's meat or fish's is strictly prohibited.
4) Be aware of your personal belongings. If you drink too much, do not forget to take your bag, phone and etc.
5) Get in touch with the taxi in advance. At night of Lhasa, the taxi is very busy. In case you have a good travel experience, do it before you start enjoying your leisure time.
6) Behave well and enjoy the special nightlife. You would take things as they come. Just ease your body and mind, and then you will embrace a super-excellent night here. The above suggestions are not obeyed so strictly as before. But we still suggest you take the above advice.
In brief, to explore the nightlife of Lhasa is definitely a wise chose for observing and experience Tibetan culture.