Map of Lhokha City, the Cradle of Tibetan Civilization
Literally meaning "South of the Mountains", Shannan (also known as Lhoka) lies on the south of Gangdise Mountains and Nyenchen Tanglha Mountains, along the middle and lower reaches of the Yarlung Tsangbo River Valley, and is often referred to as the cradle of Tibetan civilization. The land of the first king of Tibet, more than 2,000 years ago, Lhoka is also the location of the ancient royal palace of Yumbulakang and the first Buddhist Monastery in Tibet.
Once the center of the Tibetan Empire, Lhoka was the origin of the Tibetan people today, and it is said that the first farming land on the plateau lies just outside of Tsedang, the capital of Lhoka Prefecture. The first hereditary monarchy was founded here by the first king of Tibet, Nyatri Tsenpo, in around the 3rd century BC, and the region was a major agricultural center by the time of the ninth king of Tibet. It was not until the 7th century that the seat of Tibetan governance was moved to Lhasa, and the famous Yumbulakang Palace became the summer palace of the kings. Possibly the single most historic area of Tibet, Lhoka has a wealth of things to see around the region, and traveling into this ancient cradle of Tibetan civilization can feel a little like traveling back in time to the days of the ancient kings of Tibet.
Lhoka Location Map
Lhoka (or Shannan) is the most southerly prefecture in Tibet, with Lhasa to the north, Shigatse to the west, and Nyingchi to the east. The southern border of Lhoka lies on the Chinese border with Bhutan to the southwest and the Indian State of Arunachal Pradesh to the southeast.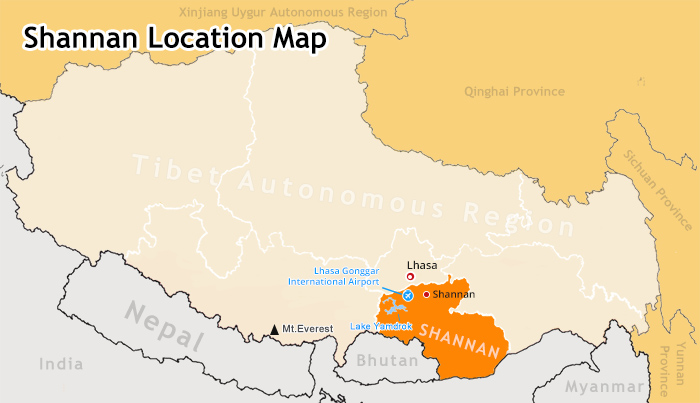 (Simple click to enlarge the map)
Lhoka Location Map
Map of Lhoka City and Surrounding Districts and Counties
Covering an area of 79,700 square kilometers, Lhoka is a prefecture-level city with 1 district and 11 counties: Nedong District, Zhanang County, Gonggar County, Sangri County, Qonggyai County, Qusum County, Comai County, Lhozhag County, Gyaca County, Lhünzê County, Cona County, and Nagarzê County. The political, cultural and economic center of Lhoka is in Tsetang town of Nedong District. And I'd like to introduce the four major tourist destinations (Tsedang, Zhanang, Gonggar and Nagarze) for you to facilitate your Lhoka tour planning: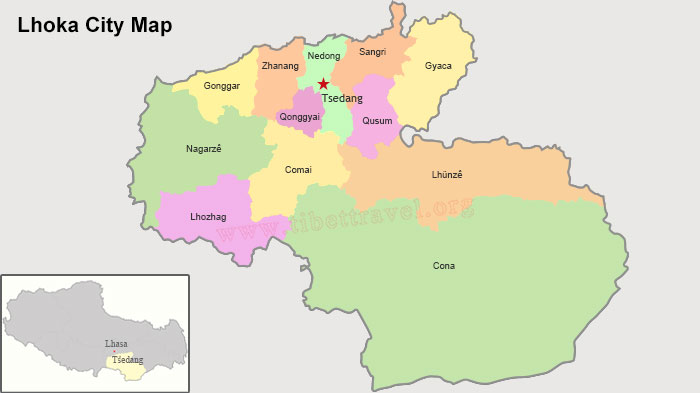 (Simple click to enlarge the map)
Map of Lhoka City and Surrounding Districts and Counties
Tsedang Town - the Capital of Lhoka City
Reputed as "the Cradle of Tibetan Civilization", Tsedang (also Tsetang) in southern Tibet sits on the south bank of the middle section of Yarlung Tsangpo River and enjoys a moderate climate at an altitude of 3,600 meters. As the fourth largest city in Tibet and the capital of the Shannan, it is also the political, cultural and economical center of Lhoka prefecture. Tsetang has been the capital of Yarlung since ancient times and was the seat of the ancient kings of Tibet and, as such, a place of great importance. In the 19th century it is said to have contained some 1,000 houses, a bazaar, a gompa and a fort.
Situated near the flank of Mount Gongbori (3,400m), Tsedang enjoys several No.1s - the first farming land, the first king of Tibet, the first palace (Yumbulagang Palace). Several kings tombs are here and the world treasure - Pearl Thangka (a type of painting) was also and is still kept in Tranduk Monastery.
Zhanang County - Home to Ningmapa Monasteries
Zhanang county is located in middle section of Yarlung Tsangpo River in south-central Tibet, and at an average elevation of about 5,302 meters above sea level. It covers an area of 2,163 square kilometers and has a population of 35,278.
Zhanang is home to the famous Ningmapa monastery. Samye Monastery, 30km from Tsetang, is the first temple to be built in Tibet by King Trisong Detsen in 779 CE as well as the first complete with the three Buddhist jewels of Buddha, Dharma, and Sangha. Except for Samye, Mindroling Monastery is another well-known monastery is Zhanang. There are more scenic spots in this county, like Chipmunk Hermitage which is said to have 108 meditation caves. The Chim-puk meditation caves located to the north of Samye monastery are also a dream place for Tibetan Buddhism practicers.
Zha means "workshop" in Tibetan, while Nang means "inside", therefore Zhanang has the implication of "inside the workshop". It's said that as early as the Tubo period all businesses in the Zhanang were flourishing. Zhanang became an assembly place for various craftsmen from all region. Those craftsmen worked in porcelain workshop, pottery workshop, metal ware workshop, textile workshop, knotting workshop, paper making workshop, ink-making workshop, mill and winery. All the products from those workshops were made for upper class in Tubo period. Remains of those workshops still can be seen. And pottery making, knotting and textile are still brisk.
Gonggar County - Location of Gonggar International Airport
Located in southern Tibet, Gonggar County covers a total area of 2,283 square kilometers. Situated at an average altitude of 3,750 meters, the county has monsoon climate with four climatic seasons. The average temperature varies from 7.2 - 8.5 °C, with the warmest month average temperature being 15.8°C and the coldest month average temperature is -2.2 °C.
The Yarlung Tsangpo River (Brahmaputra River), the mother river of Tibet, flows through the Gonggar County that is thus rich in water resources. The Gonggar County is situated at a location where Yarlung Tsangpo River is very wide. It is for this reason that the Gonggar Airport was constructed at this location, 96 kilometers from Lhasa and 87 kilometers from Tsetang.
As the cradle of ancient culture and its enviable position in the rich history of Tibet, Gonggar County has very unique and rich historical monuments, natural geological features such as meditation caves, scenic regions, sacred lake and holy mountains. This county is bounded by the sacred Mount Chuwaru opposite to the Gambala Pass to the south on the route to the holy Yamdrok Lake in west Tibet, on the east to the limits of the Dal Valley on the south bank of the Brahmaputra and Dorje Monastery on the north bank. The county also envelops the southern side valleys of Namrab and Drib counties and the northern side valleys of Leuchung and Trango counties.
Nagarzê County - Seat of Yamdrok Lake
Nagarze (also Ngarzhag) sits at the northern foot of middle Himalaya in southern Tibet and borders Bhutan. Nagarze has an average elevation of over 4,500 meters above sea level. It covers an area of 8,022 square meters and has a population of around 310,000.
Nagarze means the "white nose tip" in Tibetan. It's home to one of the three holiest lakes in Tibet - Yamdrok Lake. On the southwest shore of Yamdrok Tso is Samding Monastery. It is the monastery that is under the charge of the first female living Buddha in Tibet.
>> Tsedang Day Tours: how to arrange day trip in Lhoka
Lhoka Attraction Map
Lying in the bank of Yarlung Tsangpo River, Lhoka is the home to few of the earliest monasteries of Tibet and is considered to be the source of Tibetan culture, civilization and the birthplace of Tibetan People. There are many famous attractions in Shannan prefecture, such as Yamdrok Lake, the Yumbulagang Palace, the Samye Monastery, etc.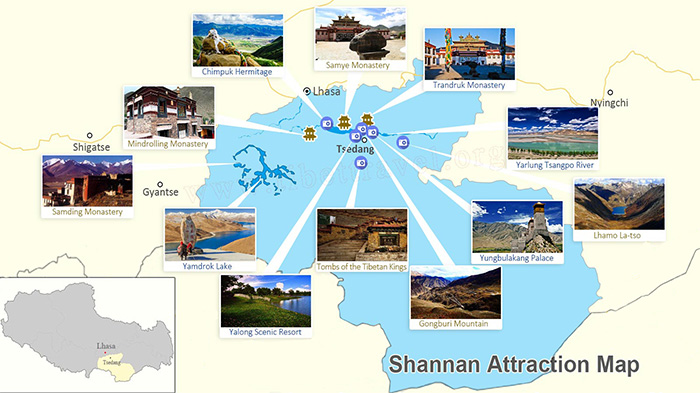 (Simple click to enlarge the map)
Lhoka Tourist Attraction Map
Lhoka River and Lake
Yamdrok Lake: one of the great three holy lakes in Tibet (another two are Namtso Lake and Lake Manasarovar), the largest inland lake at the northern foothills of the Himalayas.
Yarlung Tsangpo River: the total length of the Yarlung Zangbo River is 2,840 kilometers; ranking the longest river of Tibet and the 5th longest river among the famous rivers of China.
Lhamo La-tso: the most sacred lake and one of the most important pilgrimage destinations in Tibet. It's widely said that one can see his previous and present life in this lake. And people also follow the image reflection watching lake for finding clues to choose the reincarlated boy of the Past Dalhai Lhama and Panchan Lhama.
Lhoka Monastery
Samding Monastery: situated on a hill southwest of Yamdrok Lake, Samding Monastery is the only monastery in Tibet runs by an abbess.
Samye Monastery: the first monastery and the first college in Tibet; the first complete one with three Buddhist jewels of Buddha, Dharma, and Sangha; one of the most influential monasteries in Tibet.
Trandruk Monastery (Tradruk Monastery): lying at the east bank of Yarlung Tsangpo River, this monastery is one of the earliest Buddhist monasteries in Tibet.
Mindrolling Monastery: it has placed special emphasis on the learning of Buddhist scriptures, astronomy, Tibetan lunar calendar, calligraphy rhetoric, and Traditional Tibetan medicine.
Dorje Drak Monastery: along with Mindrolling Monastery, Dorje Drak is one of the six great monasteries of the Nyingma Sect.
Dratang Monastery: found in 1081 by Drapa Ngonshe, it's an important conservation site for the artistic heritage of Tibet.
Gonggar Chode Monastery: the monastery belongs to the Zung branch of the Sakya Sect of Tibetan Buddhism; famous fore amazing Tibetan paintings.
Lhoka Historical Sites
Namseling Manor: the most famous manor of the serf-owner and one of the most ancient architectures in Tibet.
Chim-puk Heritage Meditation Caves: at an altitude of 4,300m, it is a warren of caves northeast of Samye that was once a meditation retreat for Guru Rinpoche.
Yumbulagang Palace: the first Tibetan palace built by the first Tibetan King, Nyatri Tsanpo; one of the earliest buildings in Tibet with a history of more than 2,000 years.
Tombs of the Tibetan Kings (Tibet's Valley of the Kings): the largest preserved imperial graveyard in Tibet, including nine recognizable mausoleums.
Attractions around Lhoka City on Map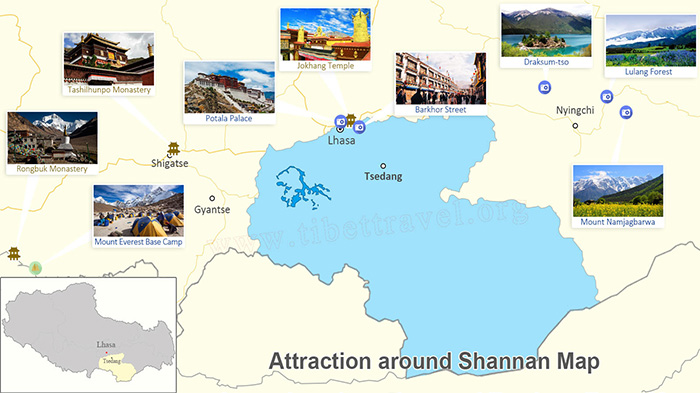 (Simple click to enlarge the map)
Attractions around Lhoka Map
Potala Palace: regarded as the landmark of Lhasa and Tibet, Potala Palace is a great architectural complex consisting of many houses, towers, chapels, etc.
Jokhang Temple: situated at the old town of Lhasa and surrounded by Barkhor Street, Jokhang Temple is the religious center of Tibet and the holiest destination for all Tibetan pilgrims.
Barkhor Street: lying in downtown Lhasa, Barkhor street is the most famous pilgrimage circuit and bustling bazaar in Tibet.
Tashilhunpo Monastery: the largest monastery of Gelug Sect in Tsang; the traditional residence of Panchen Lama.
Rongbuk Monastery: with an altitude of 5,154m, Rongbuk Monastery is the highest monastery in the world and is also one of the best places to shoot the imposing Mt.Everest in Tibet.
Mount Everest Base Camp: EBC is mainly to provide basic accommodation for tourists and climbers, with teahouses, toilets, etc. It is also a great viewpoint to capture the panoramic view of Mt.Everest.
Draksum-tso: lying in Gongbo'gyamda County, Draksum-tso is a sublime alpine lake with a fairy-tale island monastery.
Lulang Forest: a typical plateau-mountain-meadow; a paradise for precious fauna and flora.
Mount Namjagbarwa: the highest mountain in Nyingchi; the world's 15th highest peak.
Lhoka Weather and Climate Chart
Shannan has a temperate climate because of the warm wind from the Indian Ocean. The weather is usually cool throughout the year with a short duration of summer. There is a huge difference in the temperature between the day and night. Generally, the temperatures average from 7-18 degrees throughout the year, with highs of up to 25-29 degrees and lows of between -15 and 10 degrees. Lhoka is suitable for traveling all year round. And June to August is usually the best time to visit Tsedang.
| | | | | | | | | | | | | |
| --- | --- | --- | --- | --- | --- | --- | --- | --- | --- | --- | --- | --- |
| | Jan. | Feb. | Mar. | Apr. | May | Jun. | Jul. | Aug. | Sep. | Oct. | Nov. | Dec. |
| Max temp (℃) | 6 | 9 | 10 | 14 | 19 | 20 | 23 | 21 | 20 | 16 | 12 | 8 |
| Min temp (℃) | -10 | -7 | -3 | 1 | 4 | 8 | 10 | 8 | 6 | 3 | -2 | -11 |
| Ave temp (℃) | -2 | -1 | 4 | 8 | 12 | 14 | 17 | 15 | 13 | 10 | 5 | -2 |
From March to May, Lhoka in spring will experience a lower temperature and rainy days. The average temperature in the spring season is 7 °C to 19 °C. From June to August, Lhoka enters summer with average temperature rising to 16 °C to 23 °C. From September to November, Lhoka in autumn turns much drier with clear weather and warm sunshine. The average temperature is between 7 °C and 20 °C. From November to March, winter comes into Lhoka and average temperatures can get as low as -8 °C.
Map of Tsedang Hotels and Restaurants
Compared with other cities in Tibet, hotels in Tsedang are a kind of limit, but travelers can still easily find their favorable accommodation from starred hotels to simple budget guesthouses. These hotels in Lhoka usually provide clean, spacious rooms with private bathrooms. And dinning in Tsedang can never be a problem. Similar to other Tibetan regions, Tsedang can offers you a wide range of traditional Tibetan food as well as spicy Sichuan cuisines.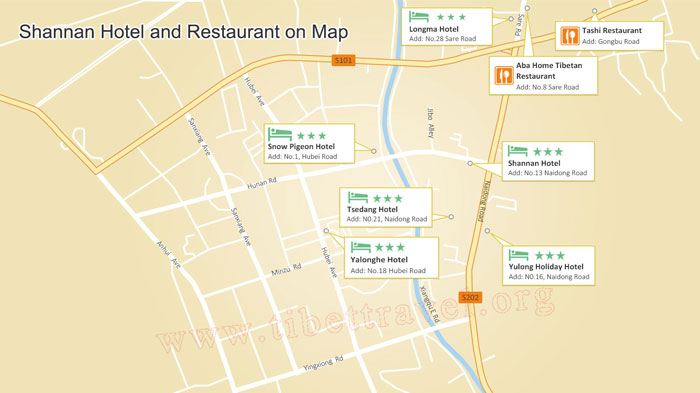 (Simple click to enlarge the map)
Map of Tsedang Hotels and Restaurants
Hotels in Tsedang
Tsedang Hotel
Tsedang Hotel, 4-star, is located in downtown Tsedang, Nedong County. This hotel ranks 1st among all the hotels in Lhoka on the scale, service quality, and management, etc. There are 215 rooms in Tsedang Hotel, including presidential suite, standard rooms and economic rooms, etc. Air condition and electric heating shower will make your stay comfortable and relax.
Address: N0.21, Naidong Road, Tsedang
Yarlung River Hotel (Yalonghe Hotel)
Yarlung River Hotel is a 3-star hotel in Tsedang. It is about 2.6km away from Yongbulakang Palace, and 1.8km from Tradruk Temple. The hotel can offer guests a variety of rooms to choose, such as deluxe suites, standard rooms, single rooms and so on. Its rooms are equipped with standard amenities to keep you comfortable, like free high-speed internet, LCD TV, bathtubs, etc. In addition, guests can enjoy not only Cantonese, Sichuan, and Tibetan dishes, but also Western and Japanese cuisines.
Address: No.18 Hubei Road, Tsedang
Yulong Holiday Hotel
Yulong Holiday Hotel is located in the downtown of Tsetang. The hotel owns 90 rooms, including the luxury suite, single and double rooms with TV, free toiletries, WIFI, hot water, separate bathrooms, phones, and hairdryer. You can dine in nearby restaurants with different cuisines, take cash from banks around, and easily get to surrounding scenic spots, like Yongbulakang Palace in the south.
Address: N0.16, Naidong Road, Tsedang
Snow Pigeon Hotel
Located in Hubei Middle Road, Snow Pigeon Hotel is a 3-star hotel with a blend of both Western and Tibetan style. There are 65 rooms in total, including double rooms and suites. The rooms are equipped with IDD calls, TV, air conditioning, wifi, private bathroom with hot water, etc.
Address: No.1, Hubei Road, Tsedang
Shannan Hotel in Tsedang
Shannan Hotel in Tsedang is one of the ideal hotels to stay in Lhoka. It has 103 rooms, including deluxe suites, standard rooms, single rooms, and economical rooms. The rooms of the hotel are very comfortable and well-equipped with WiFi, AC, TV, IDD and hot water, air conditioning.
Address: No.13 Naidong road, Tsedang
Longma Hotel
One of the ten hotels in Nedong County, Longma Hotel is a good choice when you are visiting Lhoka. This hotel has a selection of standard, deluxe, and luxury rooms, with air conditioning, IID telephones, and free internet access. Longma Hotel will surely satisfy you with its great hospitality and affordable price.
Address: No.28 Sare Road, Zedang Town, Nedong County
Shannan Secret Garden Inn
Situated in Nedong County, Secret Garden Inn features a garden and terrace. It offers a shared lounge and a bar. Some rooms of this hotel have garden views, and the rooms include a patio. The 24-hour front desk can offer useful tips for you. The restaurant can offer various toothsome food, including Sichuan dishes, traditional Tibetan cuisine, western dishes, etc.
Address: Back 20m Police Station Meteorological Bureau, Sare Road, Nedong County
Best Restaurants in Tsedang
Aba Home Tibetan Restaurant
Aba Home Tibetan Restaurant is a traditional Tibetan restaurant in Tsedang with traditional Tibetan decor and modern style. And it is a great place to try traditional Tibetan food in Tsedang. English menu is also available here.
Address: No.8 Sare Road, Zedang Town, Nedong County
Shǎnxī Fēngwèi
This restaurant is run by a Chinese family from Shǎnxī Province and offers Tibetan, Sichuan, and Shǎnxī dishes. If you feel hungry when you wait for the local PSB office to open, you are strongly recommended to taste the snacks here.
Address: Sanxiang Dadao, Nedong County
Tashi Restaurant (ZhaXi FanGuan)
A local Tsedang branch of the famous Tashi Restaurant in Shigatse, the Tashi Restaurant offers a variety of dishes like Nepalese food, Indian, Italian, Chinese and Tibetan cuisine. The English menu makes it much easier to find your favorite food.
Address: No.82 Naidong Road, Nedong County,
Roads to Lhoka Map
As the crow flies, Tsedang is only 75km from Lhasa, Tibet capital. But if traveling by road, then it will take you 3 or 4 hours to finish the 160-km-long Lhasa Tsedang overland journey. By the way, if you take the flight to Tibet, the distance will be cut down to 97km from Gonggar Airport to Tsedang Town. See more about Tsedang transportation.
Lhasa to Tsedang Road Map
Conclusion
With so many other things to see and do in Lhoka, this area of Tibet is definitely one of the most stunning on the plateau, and the most historic and cultural. Travel to the area is still limited on most group tours, but if you really want to get around Lhoka and explore the origins of the Tibetan people, a private Lhoka tour is the best choice.