Lhasa Transportation: how to travel easily in Lhasa and beyond
Travel in Tibet is not like it once was, and is nothing like anywhere else in Asia, with the exception of Bhutan. While originally, travelers could find their own way across the plateau, traveling by public buses and taxis, this is no longer permitted, and all tourists traveling to Tibet are required to have a tour guide, private vehicle, and driver. Attempting to travel in Tibet without your guide and driver, by using public buses will get you into serious trouble.
However, the rules are a little different if you are staying in the Tibetan capital city of Lhasa. While travel in the rest of Tibet by public transport is prohibited, whilst inside the city itself, you can travel on public transport, and without your guide. There are a lot of options for travel inside Lhasa, although you should not expect the services to be as good as in first-world countries like the United States.
Travel in Lhasa
There are several ways in which you can travel around Lhasa, though you should first check with your guide as to the extent of the city area that you are permitted to travel on public transport in. Lhasa has public city buses, which are the cheapest option, as well as taxis, pedicabs, and bicycles for rent.
Take a taxi in Lhasa
Taking a taxi is normally the preferred way for most international tourists to get around a city, if they have the money to do so. However, unlike in most major capitals, the taxis in Lhasa are relatively cheap, with fares starting at 5 yuan for the first five kilometers, then 1.5 yuan per kilometer thereafter.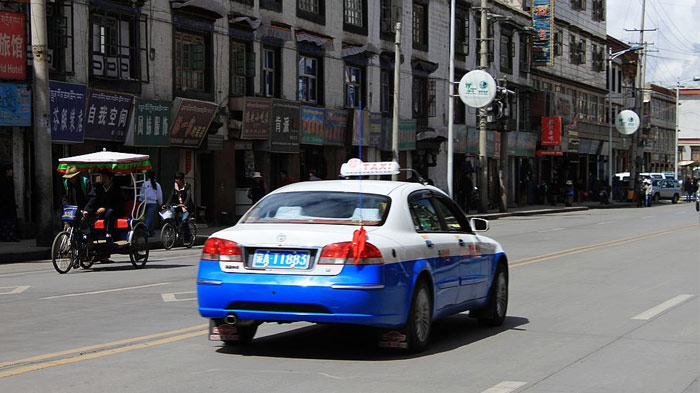 Taxi in Lhasa city
On average, a trip in the city by taxi normally costs no more than 10 yuan. You can also negotiate the fare with the driver, if you know roughly how far you are going to be traveling. A trip to Drepung normally costs around 20 yuan, while a taxi to Sera is around 15 yuan. If you want, you can rent the taxi for the day for around 200-300 yuan. Lhasa taxis are blue on the bottom half and white on the top half, with the usual internationally-recognized taxi sign on the roof, and can be found all over the downtown area of Lhasa.
Experience the Tricycle in Lhasa
Pedicabs or Rickshaws are a great way to get around the city, as they are open and you get a great view of the city life as you roam around. Slower than taxis or buses, you actually get the chance to see more of the city this way, and they only run within the city limits. You can just flag them down as they pass, in much the same way as you would a taxi, and each pedicab can carry two people.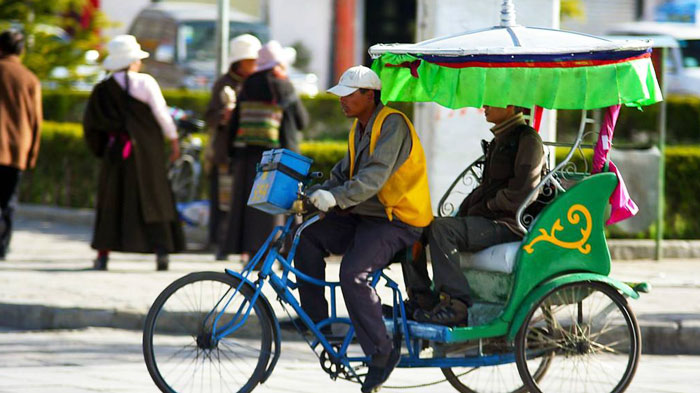 Tibetan tricycle
Trips around the city cost from three to seven yuan, and it is best to negotiate a price before getting in, to make sure you have an agreement with the driver that will be adhered to. These environmentally friendly vehicles are run by local Tibetans in Lhasa, so you are not only helping the local economy, but helping them to provide an income to feed their families. And what better way to tour the city streets of Lhasa than with your own open tour vehicle!
Ride Bicycle to tour Lhasa
Lhasa has a huge number of bicycle rental shops throughout the city, and it is easy to rent a bike for the day to travel around the city. Many of the hotels and hostels around Barkhor Street have their own bicycle rental as well, so check with your hotel first. A normal bicycle without lots of gears will cost around 2 yuan per hour, or you can have the whole day for just 20 yuan. If you prefer to hire mountain bikes, with gears and rough terrain tires, then it costs around 30 yuan per day, or 3 yuan per hour if you are just taking a short ride.
You should really be relatively fit to ride around Lhasa, as the city is not very level, but it is a charming and simple way to explore the delights of this beautiful city. However, make sure you test the brakes and check the tires and other working parts before you leave. You should also take an extra bike chain and padlock, as bicycle theft is common in the city. And do not leave your bags with the bike if you get off to explore.
Take Bus in Lhasa
To get around the city in the cheapest way, the bus is the best option. Modern buses ply more than 20 routes around the city, although the bus stops can be a little hard to find until you are used to them, and the information boards do not always list all the stops, just the major ones. Buses tend to run each route at 20-minute intervals, so there are plenty. However, the information is not in English, so you may have to do a little research with your guide before spending the day traveling by bus. The good news is that they are cheap, with most routes costing just 1-2 yuan.
There are also privately-run buses, that start from the square in front of the Jokhang temple that run to most of the major tourist attractions and sights in Lhasa. Fares for these specified trips are around 2 yuan per person and the main routes are to Norbulingka and the Lhasa coach station, to Drepung Monastery, to Sera Monastery, and from the city center to the railway station. Since there are no stops for these mini-buses, you can flag them down at the side of the road as they pass.
How to Arrive in Lhasa
Getting to Lhasa is another matter. You cannot travel to the plateau by public bus or car if you are not a Chinese passport holder, so there are flights and trains that run to the plateau daily. However, you do need to be on a pre-booked Tibet tour in order to obtain the Tibet Travel Permit that is required to even board the flights and trains to Lhasa.
By Flight
There are dozens of flights to Lhasa from all across China, as well as flights from Nepal that land in Lhasa daily. Flights to Lhasa depart from a large number of cities across China, the most popular of these being Beijing, Shanghai, Chengdu, Chongqing, Xi'an, Xining, and Kunming.
Flights leave most of these airports daily, and many of them have direct flights to the Tibetan capital. Chengdu and Chongqing are the lowest cost for flights to Tibet, with Xining and Kangding being around the same prices but with fewer direct flights per day. The flights from Chengdu and Chongqing cost from around US$ 280 per person for an economy flight, and it pays to book your return flight at the same time to get an even cheaper deal. You can also find more discounts and deals from Chengdu and Chongqing than anywhere else in China.
Flights from Beijing and Shanghai, as well as other airports in the east of China, are much more expensive, often costing as much as twice the cost of the flights from the southwestern airports. Usually averaging more than 500 dollars per ticket, it can be an expensive choice of airport to fly from, but worth it if you are spending some time in the two biggest cities in China beforehand.
Xi'an is a relatively cheaper option than Beijing or Shanghai, with several flights leaving for Lhasa direct every day. Tickets cost from around US$ 360 per person for a one-way economy seat and the flights take just three hours. One of the more popular gateway airports to Tibet because of the Terracotta Warriors that can be found there, traveling to Xi'an first makes your trip to Tibet that little bit more special.
For those traveling to Lhasa from Nepal, there are flights from Kathmandu's Tribhuvan International Airport every day. The only airport with international flights to Lhasa, the flights from Kathmandu take around 90 minutes, and cost from around US$ 500 per person. However, while this may seem expensive for a short flight, it is worth it to see the massive peak of Mount Everest pass beneath you as the planes all fly directly over the summit.
By Tibet Train
There are currently seven gateway cities with trains to Tibet, though that is expected to increase once the railway from Chengdu to Lhasa direct opens in around 2020. For now, the gateway cities with trains to Tibet are, in order of distance, longest first: Guangzhou, Shanghai, Beijing, Chongqing, Chengdu, Lanzhou, and Xining.
The trains travel from between 2,000 kilometers to almost 5,000 kilometers to get to the city, and can take from 22 hours to as much as 55 hours to make the journey to Lhasa. While this may feel like a very long trip by train, it is more than worth the time it takes as you will get to see parts of China and Tibet that you would not normally see in a regular vacation. The trains travel across China, passing through small villages and larger towns, as well as farmlands and rice paddies, where farmers and water buffalo still do the same work as their ancestors did thousands of years ago.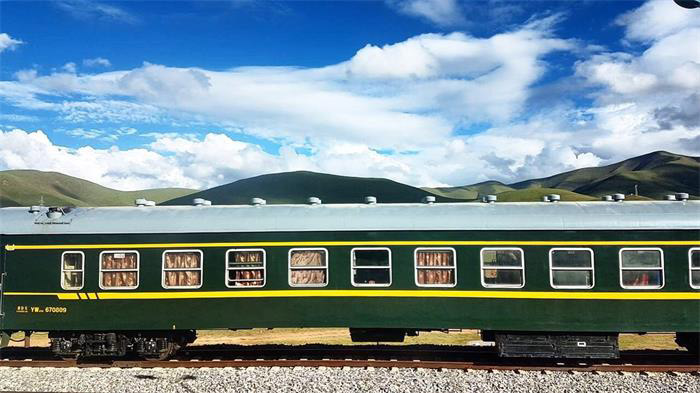 Taking the comfortable Tibetan train
Once you reach Xining, in Qinghai Province, you will start the trip up onto the higher part of the plateau and the final leg to Lhasa. This last 2,000 kilometers is the most stunning of all the journeys, as you get to see the trains crossing the Kunlun and Tanggula Mountain Ranges, as well as the vast open prairies and plains of the Tibetan plateau. The train passes through some record-breaking sites along the way, including the highest railway station in the world and the longest and highest railway tunnels, and is classed as the world's highest railway line, averaging over 4,000 meters above sea level along its length.
Tourist-Friendly Transfer Service We Offer
If you are traveling to Lhasa by train or Plane, then we have a great service set up just for you. For all of our travelers, we provide a free shuttle bus service from the Lhasa Gonggar International Airport to your hotel in Lhasa. The airport is around 70 kilometers from the city itself, and there are few taxis that can transport you to the capital.
Whilst we would like to be able to collect every traveler individually, the distance is a major constraint, so we provide this service three times a day at a designated time. Since there could be a long wait for the service to arrive if your flight is in between the times of our shuttles, we do advise you to check the times and try to book your arrival in Lhasa airport as close to the scheduled shuttle time as possible. We also offer the same service once your tour has ended, with shuttles running three times a day to take travelers back to the airport.
The pick-up times for the shuttles are at 9:30am, 1:30pm, and 4:30pm, while the drop-off shuttles will pick you up from your hotels at around 6:30am, 8:30am, and 12:30pm to take you to the airport for your outbound flights. We also have a free shuttle service to and from the train station for all our travelers for both pick up and drop off.