Is Lhasa Worth Visiting?
Sacred and mysterious, Lhasa for centuries has remained a city of wonders, overflowing with a palpable sense of holiness.
The fortress-like Potala Palace, the endless flow of prostrating Tibetan pilgrims and eye-blinding sunshine constantly remind you of its special place as the center of pilgrimage in Tibet.
So, is Lhasa worth visiting? From our local experts' view, Lhasa is definitely an ultimate destination worthy of visiting for every city explorer.
However, different strokes for different folks. Whether or not Lhasa deserves your visit depends on what you want, your budget, interests, and how many times you've been to Lhasa or other considerations.
Please read on to find out why visiting Lhasa is the right decision you've made.
Old Flavors of Tibet Remain Unchanged in Lhasa
Some travelers are keen to visit Lhasa yet are held back by the concern that "the ever-modernizing Lhasa city can not truly represent the Tibet of the past anymore. Or there might be many Chinese tourists than local Tibetans. So, travelers can no more enjoy the authentic Tibetan experiences in Lhasa."
Well, it's unnecessary to have such false preconceptions. Like all the tourist cities around the world, Lhasa does have experienced tremendous development in terms of tourist facilities and urban infrastructures over the years.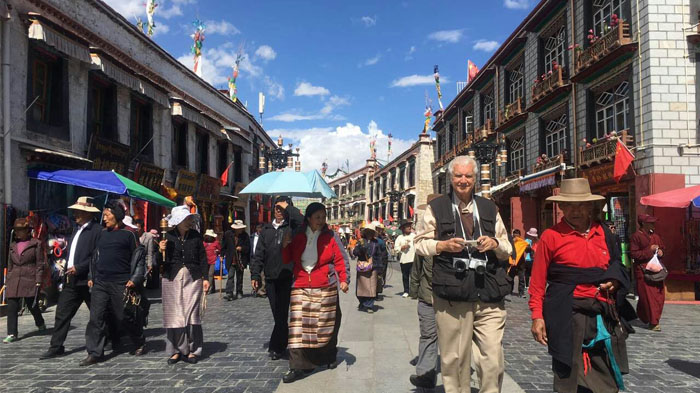 Experiencing Barkhor kora with local Tibetan pilgrims
However, you may rest assured that the ancient Buddhist traditions and old flavors of Lhasa remain unchanged in the old district of Lhasa.
In the early morning, you still can see waves of devoted Tibetan pilgrims, prostrating around famous Barkhor circuit; young and old, circle around Jokhang Temple and Potala Palace, loudly chanting the Buddhist mantra while spinning the hand-held Tibetan prayer wheels in a clockwise manner; the aromatic smoke as a special offering to Buddhas rises from the burning pine and cypress branches further heightening the sense of holiness.
Since all the international tourists can only visit Tibet via a guided tour, you will be traveling with our local experts to join the fervent kora on Barkhor Street; worship the life-size statue of Sakyamuni inside Jokhang Temple, the spiritual heart of Lhasa; and hike the long stairs of Potala Palace to explore mysterious religious halls and meeting rooms used by generations of former Dalai Lamas.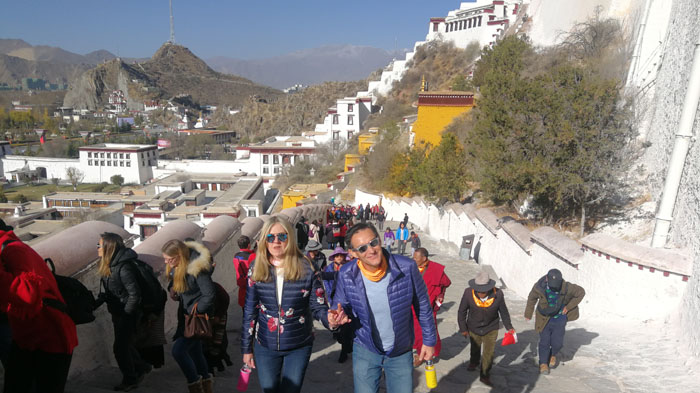 Climbing the long stairs to visit the magnificent Potala Palace
The welcoming smiles of locals, your first sip of renowned Tibetan sweet tea and the scenic hike in the Drepung Monastery and dramatic monk debate seen in Sera Monastery, etc, most importantly with the knowledge of our attentive local leader, you will instantly dispel the worries for not being able to enjoy the authentic Tibetan experiences in Lhasa. - Check more top things to do for Lhasa tours.
Lhasa Is Open to Travellers of All Interests and Budgets
Nestling amid the lofty Lhasa Valley, Lhasa offers you endless opportunities for alpine sightseeing and adventure. Apart from temple visits, there is a vast array of choices to fulfill your travel inspirations.
Lhasa Is a Heaven to All Photographers
Known as a city of sunshine, Lhasa is blessed with clear blue sky, up to 8 hours of dazzling sunlight, and awful lots of photogenic monasteries, old alleys, and pious local pilgrims that every photographer dreams of.
You can carry your camera and roam over the old Lhasa street all day, with unlimited photo opportunities and not feeling tired.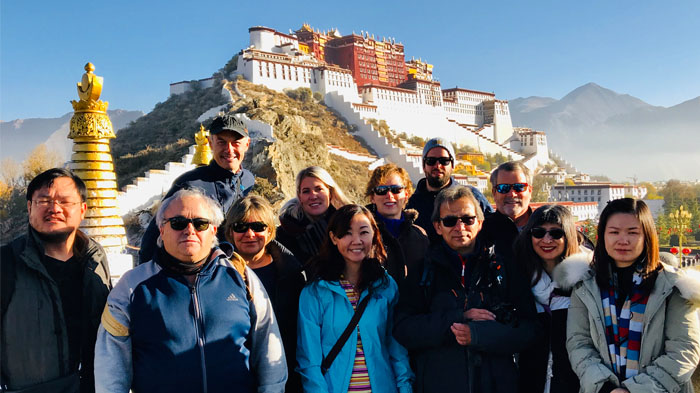 Shooting a group photo with Potala Palace at Chakpori Hill
Hike to the viewing platform of Chakpori Hill to capture the incredible sunset over Potala Palace; document the local grannies sitting in the teahouse for a couple of sweet tea; or use your telephoto lens to shoot devout pilgrims prostrating before the holy Jokhang Temple or the expressive face of monks debating in Sera Monastery; not to mention the street vendors and masterful artisans of Thangka painting, and lives of locals photographed in old Barkhor bazaar, etc. There is no point not to visit Lhasa for an epic shot, isn't it?
Plenty of Trekking Routes to Stretch Your Legs
Wanna tranquil escape from the chaotic modern city and enjoy some fresh air and great mountain vista? The scenic treks with varied physical demands around Lhasa city can satisfy the needs of travelers of all ages and interests.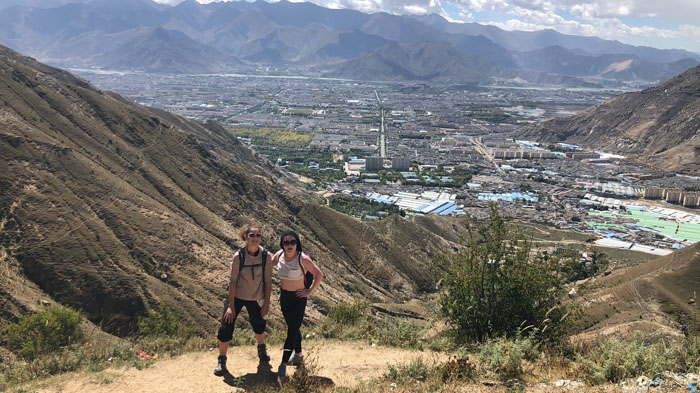 Trekking around Lhasa and enjoying the enchanting view of Lhasa city
You can take your family for a half-day hike to gigantic Drepung Monastery or go for one-hour kora around magnificent Ganden Monastery for the commanding view of amazing Lhasa Valley and later enjoy the short trek to picture-postcard Tsubshi Village and visit the house of local villagers there.
For more off-the-beaten paths, the 11km's day trek from Pabonka to Sera Utsé monastery allows you to explore the secluded lives of nuns living high above the mountain while the 4-day trek from Ganden Monastery to Samye Monastery takes you to experience the ancient pilgrimage route connecting the first Gelugpa Monastery and first Tibetan Monastery in Tibet. - Check for the top treks in Lhasa and beyond.
The intriguing encounter with local pilgrims, villagers, and grazing goats on the rugged mountain trails, and the spectacular vista of snow-blanketed mountain ranges, etc., it is exactly what you've been looking for.
Lhasa Has Much More to Offer Than Your Expectation
If you would like to enjoy a birding tour in Tibet, then do visit Lhasa in winter. The flocks of migratory birds like black-necked cranes, ruddy shelducks, and dozens of local species such as Pallas's gulls, and Tibetan eared pheasants and Tibetan snowcocks, etc. will blow your mind away for the bio-diversity of Tibet.
Winter is a good time to watch birds in Lhasa
In addition, you may also time your visit for a wide range of Tibetan Festivals throughout the year or experience the cycling or motorbiking around Lhasa Valley, etc., whatever travel inspirations you have, Lhasa can be a great place to fulfill your dreamed adventure.
Visiting Lhasa Is Extremely Affordable and Easy to All Travelers
Unlike the high expenses for visiting ultra-modern Asian cities like Tokyo and Hongkong or Seoul, it's very affordable for travelers of all pockets to visit Lhasa.
The classic 4-day Lhasa tour in a small group only costs you around $ 420/person in the shoulder season, including local guide, Tibet Permit, local transfer, 3-star hotel, welcome dinner, entrance tickets, travel insurance, etc. You can enjoy a worry-free journey in Lhasa with our attentive services.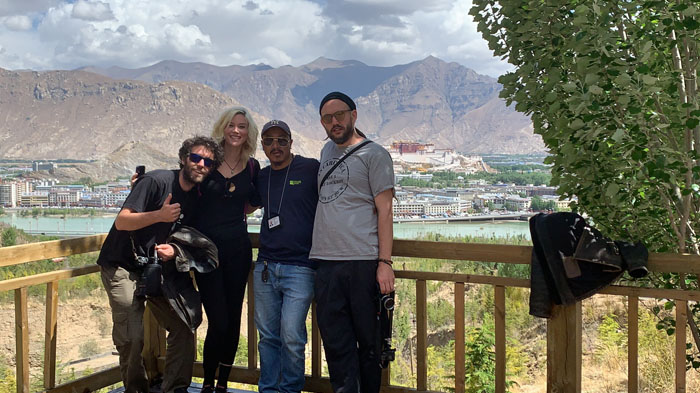 Our Tibetan guide can help you fulfill your dreamed Lhasa tour.
While the easy modern transport like both international and domestic flights and Tibet train to Lhasa makes it exceedingly easy for you to continue your tour to Tibet after visiting Beijing, Shanghai, Chengdu, or Kathmandu.
It could be nothing but a perk to stop by Lhasa and absorb the unique Buddhist vibes here if you plan to experience the global travel across Nepal and China. Trust us, it's the best traveler's choice for such a long journey.
Consult our friendly travel consultant for the China Nepal tour via Lhasa or in reverse.
To Avoid Acute Altitude Sickness, Do Stay A Couple of Days in Lhasa
For the thrill-seekers who want to skip Lhasa and travel directly to Mt.Kailash or Everest Base Camp to embrace the mighty Himalayan Range or vast wilderness, we highly suggest you don't do that.
You just can't be too careful with the proper acclimatization to the altitude change when planning your journey in Tibet.
Staying in Lhasa (3658m) for a couple of days for sightseeing offers you a crucial buffer before ascending to high places in western or Northern Tibet.
You can make the most of this time, buying the supplies needed for the expedition, or visiting popular attractions while getting yourself fully adapted to the thin air in Tibet.
Though whether or not you will get altitude sickness has much to do with your genes, having enough time for acclimatization in Lhasa does make a huge difference to shield you from acute mountain sickness.
Always remember the rule that quick ascent can be fatal when traveling on Tibetan Plateau. - Check more experts' tips to avoid altitude sickness in Tibet.
Lhasa Never Disappoints You, Even to Second/Third-timers to Tibet
Even if you've been to Lhasa and left your footprints in the most iconic Lhasa attractions, still there are plenty of hidden gems for rediscovery in Lhasa and its surroundings.
Don't forget, two of the best-known holy lakes are close to Lhasa, i.e. Lake Yamdrok and Lake Namtso. If you haven't visited either of them, it's time to renew your joy in Lhasa.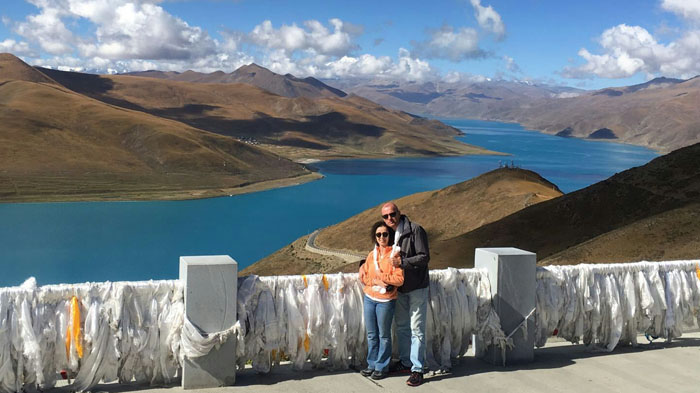 Visit the sacred Yamdrok Lake, one of the three largest sacred lakes in Tibet.
Budget one day and head southwest from Lhasa. Shortly after 2hrs' drive, you will enjoy the stunna panorama of turquoise Lake Yamdrok and pet the Tibetan mastiffs on the roadside.
For visiting Lake Namtso, 2 days are needed. The scenic drive to Namtso will offer you chances to witness the enchanting village and the farming scene of Tibetan nomads.
While the timeless beauty of serene Lake Namtso(4718m), the highest lake in Tibet, simply defies human speech. Yamdrok Lake or Namtso Lake, which one should you visit?
While the locally-favored Buddhist sites like Drak Yerpa Monastery, a prestigious Buddhist hermitage, will offer you a brilliant place for meditation, spiritual healing plus a leisurely trek.
You will learn more about Lhasa with the brand-new experiences and reach the conclusion that Lhasa is worth visiting more than once.
Conclusion
Like all the other tourist cities around the globe, Lhasa has had tremendous developments over the years.
However, its old flavors and time-honored traditions remain intact and unchanged in the veins of local Tibetans.
With diverse outdoor activities to enjoy, so rich the local experiences to explore, you will find that Lhasa is worth a visit, once, twice and forever.