How to Hang Out in Lhasa after Tour
As the spiritual heart of Tibet, Lhasa offers unlimited opportunities for exploration. If you've just finished the day tour to Potala Palace or Jokhang Temple and still have energy and time left to extend your footprints for further discovery, here are the flexible choices worth experiencing that will give you a full picture of Lhasa.
Wander around Tromsikhang Market in the Old District of Lhasa
Yes, you may have seen the souvenir boutiques that grace the Barkhor Street or joined the pious Tibetan pilgrims for the fervent kora around Jokhang Temple. However, it tells you only a small fraction of the daily lives of locals. To have authentic local encounters, delve into the bazaar-like Tromsikhang Market where day-to-day Tibetan life comes alive.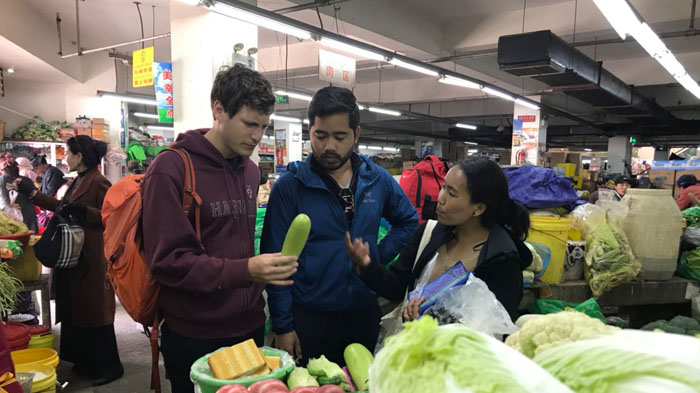 Our clients were shopping in Tromsikhang Market.
Just 5min's walk to the northwest of Jokhang Temple lies the famous Tromsikhang Market. It's the busiest farm produce market in Lhasa. To foodies, it would be great to explore the ingredients of Tibetan staples like large blocks of yellow Yak butter, Tsampa, dried Yak meat, and Tibetan blood sausages and curd cheese and locally-grown vegetables like potatoes, etc.
Bonus Tips: If you prefer, we also offer Tibetan culinary tour or home-cooking class for you to sample raw materials at Tromsikhang and later go back to Tibetan family kitchen to learn a couple of typical Tibetan dishes from our local chef.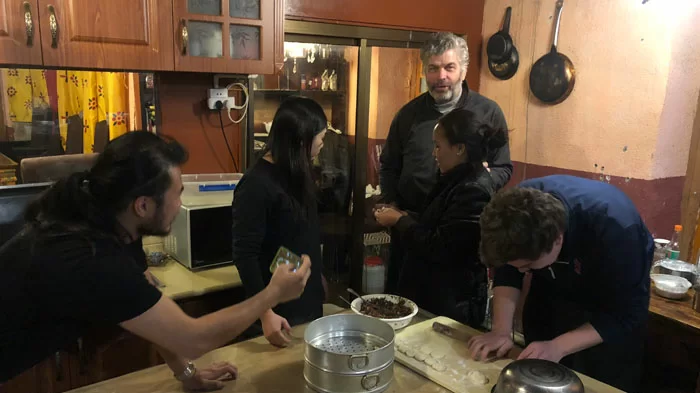 Join in our Tibet home-cooking class tour to learn how to make Tibetan food.
In addition, traditional Tibetan herb medicines and spices and incenses from India and Nepal put on the ground can also be found for sale. You can visit small shops that sell daily commodities like butter lamps, exquisitely-made Thangka paintings, and cowboy-style Tibetan hat, cosmetics, snacks, or spot hawkers who tout their necklaces and rings made of turquoise, amber, Dzi beads, and natural red coral beads, etc.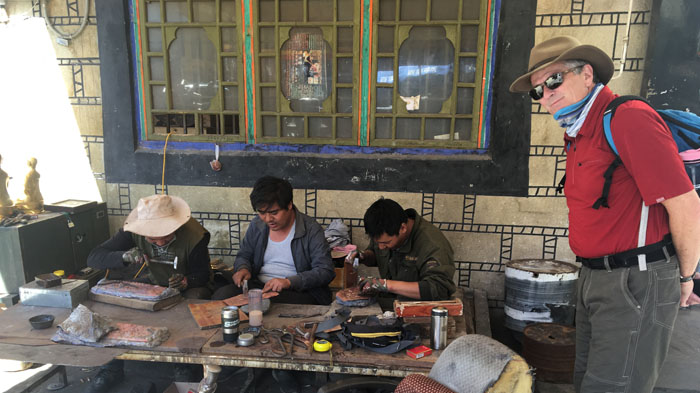 Local Tibetan artisans making bronze Buddha statues.
Just keep walking north around 10mins to around Tibetan Heritage Hotel, where you can see many boutique stores and masterful Tibetan artisans making bronze Buddha statues in the open air.
Go for a Leisurely Stroll in Zongjiao Lukang Park
If you happen to have a half-day to spend freely before leaving Lhasa in the afternoon, the Zongjiao Lukng Park right behind Potala Palace is the perfect place to get a glimpse of the lives of locals.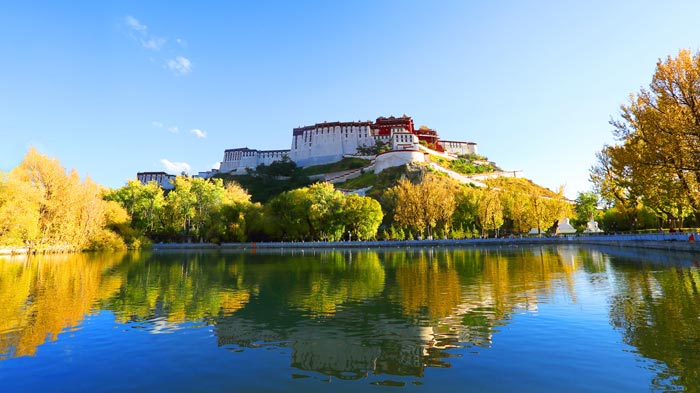 The great reflection of Potala Palace from the tranquil Longwang Lake
Hail a rickshaw and enjoy the ride to the park. You can see many locals doing the morning exercises here. If you arrive at the right time, you can also see locals dancing and singing in a circle, which is widely known as "Guozhuang Dance" for Tibetans. Stop for a pause at the shade of willows and enjoy the great reflection of Potala Palace from the tranquil Longwang Lake. The enchanting view will leave you spellbound. With blue sky and gentle breeze, don't feel reluctant to enjoy the boating in the lake just as locals do.
As you stroll in the park, you are very likely to see Tibetan men playing "Sho", a traditional board game on the meadow. It would be fun to watch. Along the scenic trails are the local grannies selling home-made baked potatoes, omelet, sweet tea, and fresh fruits. Feel hungry? Do have a try.
Particularly, in winter from late Oct to March, a large number of migratory birds like Ruddy Shelducks, Bar Headed Geese, etc. will claim this oasis. It's would a perfect ticket-free park for birding in Tibet.
Small Temple, Big Discovery: Zhaji Temple, Anitsangkung Nunnery, & Ramoche monastery
Unlike the touristy Potala Palace and Jokhang Temple, some of the small temples allow you to get under the skin of Lhasa with intriguing discovery after the end of a day tour.
A. Zhaji Temple, Where the God of Wealth Is Enshrined
Situated in the northern suburbs of Lhasa, Zhaji Temple is widely known as the temple of wealth in entire Tibet. On Wednesday, plenty of worshippers swarm into the Zhaji Temple to worship the Zakiram Buddha, the auspicious Mother of Heaven. Since the god of fortune loves drinking, local businessmen would come with barley wine or liquor and butter oil, incense, and white Hada and bundles of pine branches to offer the Buddha. Do stop by to get your blessings and experience completely different vibes.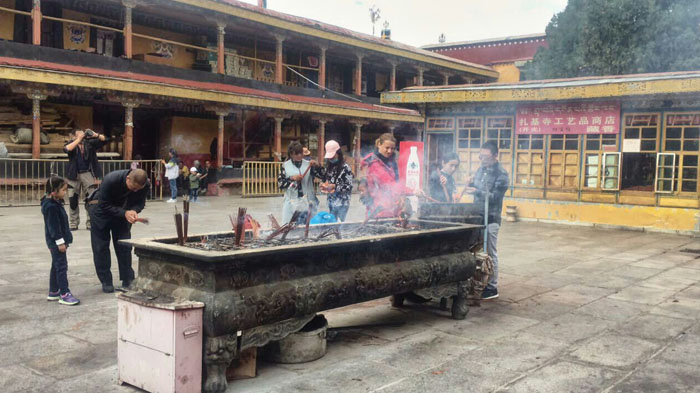 Our client bundles of pine branches to worship the Zakiram Buddha.
B. Anitsangkung Nunnery, A Peaceful Place to Enjoy Sweet Tea
Having finished a day's tour, why not find a quiet and cozy place to sip a couple of sweet tea and rest your legs. Located 700m northeast to the Jokhang Temple, Anitsangkung Nunnery can be your best choice. Just go deeper into the Barkhor street, you will find this peaceful sanctuary. Tourist groups are never found here. Only local families would go here for the afternoon tea and noodles.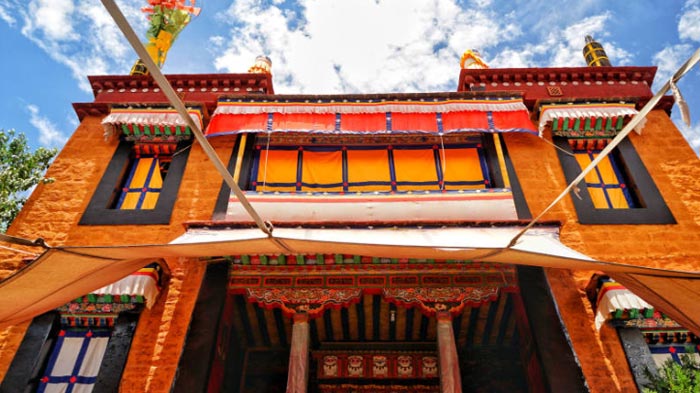 The peaceful sanctuary Anitsangkung Nunnery is a quiet and cozy place in Lhasa.
You can see an artistically-made courtyard adorned with beautiful flowers and photogenic yellow walls. Sometimes, you hear the chanting of mantra floating from the hall. The nuns living here are exceedingly friendly to overseas visitors. Another highlight would be the teahouse of Anitsangkung Nunnery. You simply order a pot of sweet tea and find a place to sit upstairs with local diners. Though you can't speak Tibetan, the friendly exchange of eyes and smiles with locals and laidback atmosphere and yummy yak noodle soup would help you savor the essence of Tibetan life.
C. Ramoche Monastery, the Sister Temple to Jokhang Temple
Built for Tibetan King Songtsen Gampo's wife - Princess Wencheng, Ramoche Monastery is another hidden gem for your discovery. Walking past the prostrating Tibetan pilgrims, you can see dedicated Tibetan pilgrims adding oil to the thousands of butter lamps. The biggest highlight would be worshipping the 8-year-old lifesize statue of Buddha Sakyamuni and exploring the unique architecture featuring both the Han Dynasty and Tibetan style. Meanwhile, it's far less crowded than the Jokhang Temple. And outside the Ramoche, the street is also less commercial than Barkhor. After visiting Ramoche, you may also walk in clockwise along with big prayer wheels in the outer perimeter.
Treat Yourself with Authentic Tibetan, Nepali and Indian Cuisine
Well, to foodies, after a day's visit, nothing quite compares to a mouth-watering big meal. Due to proximity to Nepal and India, Lhasa is never short of culinary exploration. From traditional Tibetan cuisines to authentic Nepali, Indian food, and western and Chinese dishes, you have plenty of choices. Here are the top 3 popular restaurants we highly recommend to you.
A. Tibetan Family Kitchen - Tibetan Cuisine
Just off the Barkhor street with a homely atmosphere, Tibetan Family Kitchen is highly recommended for you to taste traditional Tibetan cuisines and even acquire a new cooking skill via a cooking class. Consult our friendly travel consultant to book home cooking class.
Their specialties include Tsampa, yak noodle soup, yak curry, and yak momos, and minced yak meat with mashed baked potato, and fried chicken with peanuts, sweet rice, etc. A variety of food is both to meat-lovers and veggies. To make it even better, you can sit at the rooftop of the restaurants where you can overlook the Jokhang Temple while enjoying the succulent meals. Well, don't forget to order refreshing Lhasa beer. Highly recommended.
B. Dunya Restaurant - Western Cuisine
Miss the European restaurants back home? No worries. Dunya Restaurant, located right next to the Yak Hotel on East Beijing Road, is a welcome relief from yak meat and fried rice. The restaurant is owned by friendly Dutch couples with clean and western décor.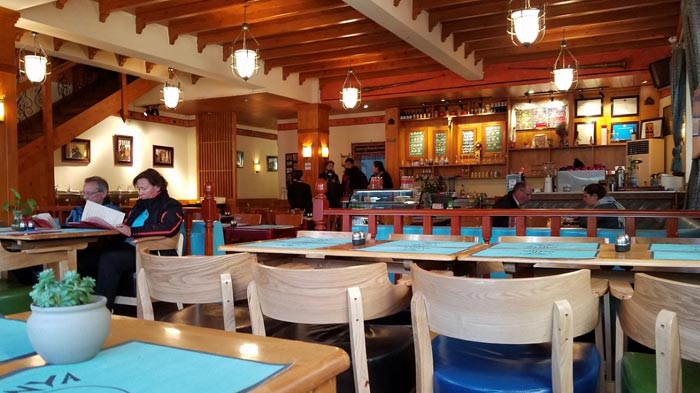 Just Try Tibetan food in Dunya Restaurant
You can order western food like sandwiches, hamburgers, pasta and pizza, steak, french fries, chicken curry with fragrant rice and yummy curry, etc. It's also vegetarian-friendly. The cooked seasoned greens, pickled radish, and vegetable momos, etc are also available. Just enjoy your meal here. By the way, the second floor is a bar. Feel free to drink beers and relax there.
C. Namatse Restaurant - Nepali & Indian Cuisine
"Namatse", the name itself reminds you of the smell of curry and pleasant spices in Nepal or India. Yes, it is one of the best most popular restaurants where you can enjoy authentic Nepali and Indian cuisines. Just off the central square of Jokhang Temple is Namatse Restaurant.
You can enjoy Naan bread and butter chicken, Yak curry with garlic Naan, Tandoori chicken, paneer butter masala with naan, chicken tikka masala, etc. Plenty of veggie options are also available. The ginger tea is also highly recommended. The exotic atmosphere and finger-licking food will make your day. - Check for more food and restaurants in Lhasa.
Pack Your Camera Gears to Photograph Potala Palace at Night
Like the magnificent view of Potala Palace in the daytime, the night view of it equally blows your mind away. And it is something not to be miss out to both amateur and pro photographers. So, pack your tripod, remote shutter, and DSLR and head to the view platform of Chakpori Hill or Potala Square for the epic shot.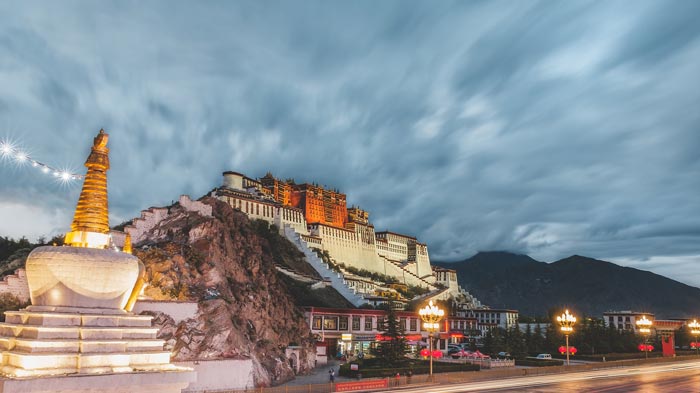 The charming night view of Potala Palace
Bonus Tips: Since the temperature drops quickly at night in Lhasa, do bring enough warm clothes to protect you from the chilly wind. 14-24mm, and 24-70mm and 16-35mm and 70-200mm lens are recommended for the panorama of Potala.
Don't Miss out the Epic Outdoor Musical - Princess Wencheng
For opera and music lovers, the half an hour outdoor musical of Princess Wencheng performed by up to 700 professional actors and actresses, will definitely be one of the biggest highlights during your stay in Lhasa.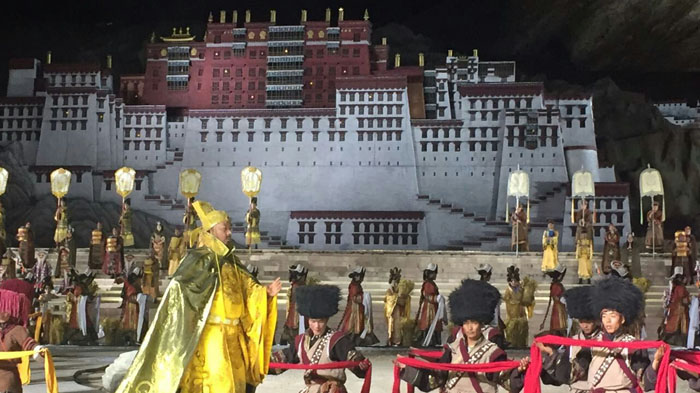 The epic outdoor musical Princess Wencheng Stage Show
You will be sitting in an open-air venue with ever-changing gigantic backdrops. The entire show vividly portrays how Princess Wencheng met Tibetan King Songtsen Gampo and decide to leave her family in Chang'an behind and married Songtsen Gampo for peace and longterm friendship between the Tubo Empire and Tang Dynasty.
The exquisitely-designed costumes, elaborate choreography and detailed performances of a wide array of historical events and folk traditions of Tibet like Guozhuang Dance (also known as Tibetan Circle Dance), Arga dance ( kind of rooftop dance), and Tibetan opera singing, Tsampa splashing scene, and plenty of unique wildlife in Tibet, etc. will make Tibetan history and traditions come alive before your eyes.
Bonus Tips: The musical takes place from 21:30-23:00. Do take enough warm clothes to avoid catching a cold in the open air. Both Chinese and English captions are available during the show. Since the location of Princess Wencheng musical is far away from downtown Lhasa, we offer easy transfer service and ticket booking for you. Please feel free to consult our friendly travel consultants for the early booking.
Hang out in the Musical Bars in Lhasa
As the night falls, the Lhasa takes on a different splendor. Teeming with global tourists, talented singers and music bands, the musical bar in Lhasa is a great place to soak up the laid-back atmosphere and have a couple of great beer.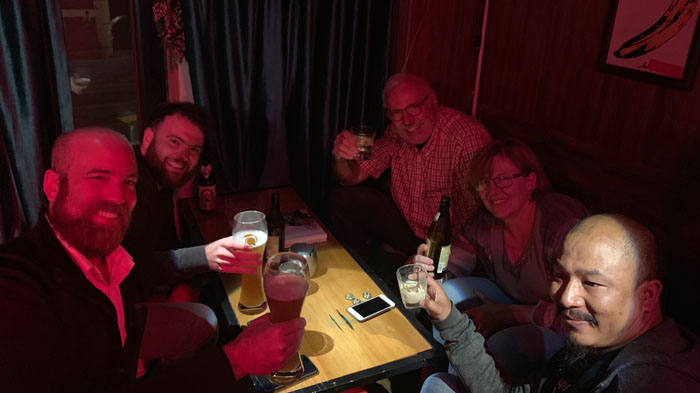 Enjoying the nightlife in a musical bar of Lhasa
A highly recommended one is the Ice Chili, an American musical bar on Barkhor Street. There is a vast array of food and drinks on offer, with rich flavor and aromas too tempting to resist. Order their one of their specialty food like Australian Sirloin Steak, Classic American BBQ Pork Ribs, and Spicy Shrimps and share your travel stories in Tibet with worldwide tourists; The friendly and laid-back atmosphere here will help you unwind with aromatic cold Lhasa beer after a long day's temple visit. Look for more bars and pubs in Lhasa.
If you want to experience the traditional nightclub for locals, the famous Langma Hall is where you should be. You can enjoy traditional Guozhang dance and even join the dance floor with locals. For the Langma Hall visit, it's better to invite your guide to travel with you for travel safety.
Conclusion
Apart from the big names of landmark attractions, Lhasa has more than enough to offer to global visitors. It is possible to make the most of your Lhasa visit by extending your footprints to far less crowded and intriguing small temples, parks, and alleys favored by locals, like Going for a Leisurely Stroll in Zongjiao Lukang Park to discover the local Tibetan lives; enjoying a culinary discovery in Tibetan Family Kitchen or visiting hidden temples around Barkhor Steet, etc. The essence of travel is about walking more and seeing more, isn't it? In this respect, the holy Lhasa never disappoints you with fresh discovery.