Lhasa Hotel: learn to right way to book your ideal hotel in Lhasa
Tibet may give you an impression of holiness, mysteriousness, beauty. However, due to some limitations caused by the plateau geographical environment and climate, Tibet is somewhat not as advanced or well facilitated or prosperous as some other regions in China. And many things in Tibet including hotels cannot be compared with those in other places. With the development of the transportation, however, the accommodation in Lhasa has been greatly developed. There are some good hotels in Lhasa. Our professional travel guide will share you some information about the different hotels in Lhasa, Tibet.
Traveling to Tibet can be done at any time of a year, the most popular season is from June to October. Hotel bookings are also at a premium at this time of a year, as it is the peak of the tourist season and hotels can book up fast. Usually, you can book hotels on the hotels' official website or through booking.com, but you must book it in advance. Moreover, you can contact us. Once you book your Tibet tour from us, we promise to offer the most cost-effective hotels or guesthouses in every corner of Tibet.
Best Value Hotels in Lhasa
There are some best value hotels very popular among international travelers, like St. Regis Lhasa Resort, Lhasa Manasarovar Hotel, Lhasa Gang Gyan Hotel and Lhasa Yak Hotel. These hotels' staffs are very hospitable, the concierge can speak English.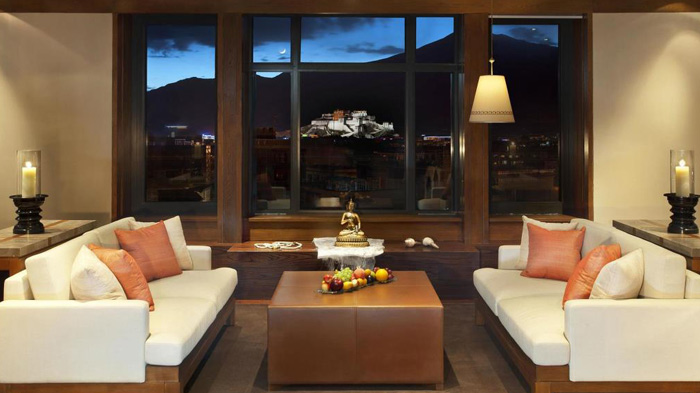 St. Regis Lhasa Resort Hotel
St. Regis Lhasa Resort is a luxury 5-star hotel, St. Regis is near to the famous Potala Palace, Jokhang Temple and Barkhor Street, and only approximate 15km or 9.32 miles away from the Lhasa Railway Station and about 75 km or 46.6 miles away from the Lhasa Airport. And the services provided by the hotel are all of the first class and are the best in Tibet. The St. Regis Lhasa Resort offers a wide range of international cuisine as well as authentic Tibetan, Nepalese, Cantonese and Sichuanese cuisine at its signature restaurant all day. Guests can enjoy the delicacies in a variety of culturally designed settings.
The same as the St. Regis Lhasa Resort, Lhasa Manasarovar Hotel is also a 5-star hotel, located in Yangcheng Square in Gongbutang Road, Lhasa, with the beautiful Lhasa River cross. At the same time, it is close to the railway station and the eastern bus station as well as Potala Palace, Jokhang Temple. Lhasa Manasarovar Hotel is invested by Tibet Holy Lake Corporation and Yamdrok Salt Lake Business Company at the expenses of 60 million yuan. It covers an area of 13,881.28 sq.m with the construction acreage of 12,373.3 sq.m. It has 190 five-star guest rooms including presidential suites, deluxe Tibetan commerce suites, deluxe standard rooms and single rooms.
Lhasa Gang Gyan Hotel as a member of best value hotels in Lhasa, the four-star hotel has a superior location in Lhasa center. It's near the Ramoche monastery and the Barkhor Street, where are good places for tourists to go sightseeing and go shopping. It provides about 170 rooms and suites. Also, there are Tibetan-style and Chinese-style conference rooms are large enough to involve 100-200 persons. The hotel offers VIP guest rooms and teahouse. If you feel tired, the hotel's health center can do you a favor. All the hotel staffs are always trying their best to make guests feel the maximum relaxation and comfort.
Lhasa Yak Hotel is one of the comfortable 4-star hotels in Lhasa and has a good location in the center of Lassa and close to the Jokhang Temple, Ramoche monastery. There are 62 rooms and 185 beds at various levels in the hotel which started operation in April 1986. Yak Hotel provides 24-hour hot water, car parking, car and bicycle rentals and a business center service as well. In the hotel's restaurant, you can enjoy the Chinese cuisine and Tibetan flavor cuisine.
Tibetan Family Hotels in Lhasa
Though there are all kinds of hotels in Lhasa, Tibetan family hotels are favorite hotels in Lhasa among natives and international tourists. You can find Tibetan family hotels throughout Tibet, but those in Lhasa can provide you with better services, facilities and you can experience the real lifestyle of Tibetan. Tibetan family hotels always make tourists feel at home with their warm friendly Tibetan hospitality. They are always ready to assist you and answer every inquiry from traveling in Tibet to meditation classes.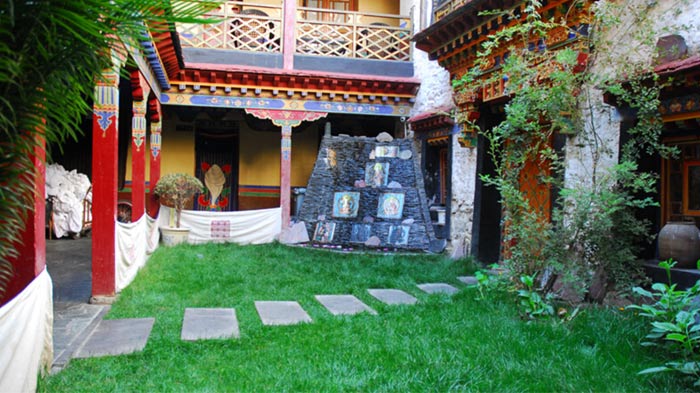 Lingtsang Boutique Hotel
The interior ambiance, design, and decoration are authentic and distinctive and really give you a sense of the exotic culture and style of the Tibetan people. The food is good and the staff is helpful. Most Tibetan family hotels are located around the Barkhor Street, within walking distance of Jokhang Temple and Potala Palace. Famous Tibetan style hotels in Lhasa are Gorkha Hotel, Kyichu Hotel, Lhasa Dhood Gu Hotel and Lingtsang Boutique Hotel.
If you travel to Lhasa, I highly recommend choosing a Tibetan style hotel. It won't cost too much to experience the exotic culture at the roof of the world.
>> Check all Tibetan Style Hotels in Lhasa
Luxury Hotels in Lhasa
If you are looking for luxury hotels, Lhasa, as the capital of Tibet, undoubtedly, has some luxury hotels. Recently, some of the world's top hotel chains having opened their five-star hotels in Lhasa. In addition to the above mentioned St. Regis Lhasa Resort and Lhasa Manasarovar Hotel are five-star hotels. The Brahmaputra Grand Hotel, Four Points Sheraton Hotel in Lhasa, Lingstang Boutique Hotel, Shangri-La Lhasa Hotel, and Intercontinental Lhasa Paradise Hotel are also five-star hotels.
Brahmaputra Grand Hotel is a unique museum hotel in the world. The traditional Tibetan architectural style and modern decorative technologies make the Brahmaputra Grand Hotel really luxurious. It gets more and more popular on the basis of its deep cultural foundation, elegant tastes, human nature, ethnic managing idea, high efficiency and the top-grade service.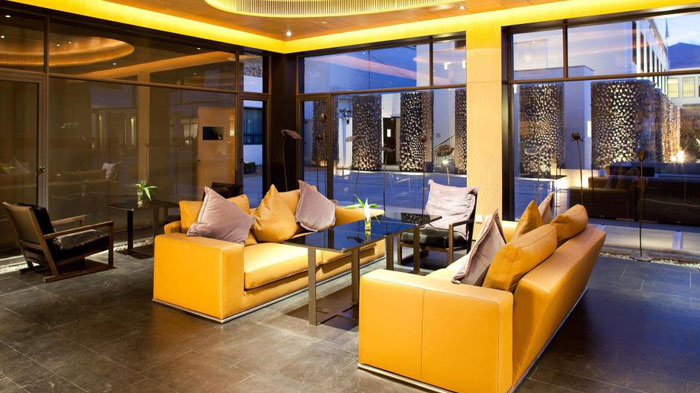 Four Points by Sheraton Lhasa Hotel
Four Points by Sheraton Lhasa Hotel is backed by the Lhasa River. Four Points Sheraton Lhasa Hotel is a well-located luxury hotel, facing Jiangsu Lu. The interior decoration features a Southeast Asian style. Each room is equipped with free broadband Internet access and a 32-inch LCD TV. The hotel has non-smoking floors and rooms for the handicapped. The humidifiers and oxygen facilities are provided to meet the needs of guests. The restaurant in the hotel serves a variety of Western cuisine, drinks and alcohols.
Lingstang Boutique Hotel was the former residence of a saint, Ling Rinpoche, one of the teachers for the 14th Dalai Lama. The new 5-star hotel was even cited under Lhasa in The New York Times' "Places to go in 2012". This old famous courtyard structure with a history of over 300 years was renovated to a Tibetan style family hotel in 2011. This authentic Tibetan building, down to the very steep stairs and the pounded rock floors/ceilings, delivers a strong atmospheric feel from the rooftop to the rooms.
Shangri-La Lhasa Hotel is one of the premier hotels in Tibet. It offers luxury rooms with all the modern conveniences you would expect, such as the plasma-screen TVs, free Wi-Fi, and amazing views of the Potala Palace and Jokhang Temple. It has 262 contemporary guest rooms, 17 suites, and the exclusive Horizon Club lounge. The Horizon Club is luxurious and offers tailored service in line with the world's best "gentleman clubs". A dedicated concierge service is available to meet your every need.
Intercontinental Lhasa Paradise Hotel enjoys a perfect position. It is close to Potala Palace, Jokhang Temple, Ramoche Temple and Tibet Museum within 7km, and approximate 15 km away from the Lhasa Railway Station, about 65 km away from the Lhasa Airport. There are 472 rooms, which offer 24-hour room service, minibars, and TVs with satellite channels. Guests also can find coffee makers, hair dryers, and phones in the room. Moreover, the free area shuttle is also provided.
>> Check all Luxury 5-Star Hotels in Lhasa
Hotels for Budget-minded Tourists
Lhasa, as a popular tourist city, not only has many luxury five-star hotels but also has countless economical hotels for travelers. For those travelers who have a budget-mind, the following hotels are on the list of their choice.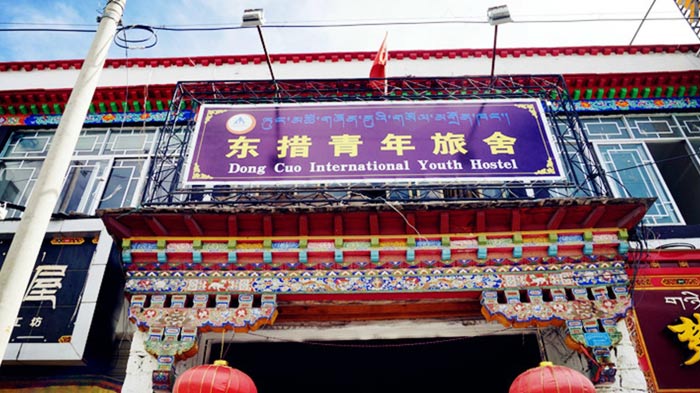 Dong Cuo International Youth Hostel
Opened in 2005, Dong Cuo International Youth Hostel is a leading private Dyeing-clothes residence of the yellow hat sect. It is the highest youth hostel in the world. The hostel is located in the busiest street behind the renowned Jokhang temple and also nearby of the Potala Palace. At the hostel, it provides with 24-hour boiling water, single rooms, double rooms, ordinary two, three or four-bed rooms, Korean bedrooms, dormitory beds and more. This hostel also has a Food and Beverage bar, a Photography club, a Mountain-climbing club, and a Self-catering kitchen. Besides, it offers free laundry, and booking ticket service.
The other budget hotel is Phuntsok Kasang International Youth Hostel. This hotel is situated in the heart of Lhasa, in the middle of Jokhang Temple, Ramoche Temple and Potala Palace. This is a typical Tibetan courtyard. It has about 220 beds distributed in more than 70 different sized rooms, including standard rooms, luxury standard rooms, three-bedrooms, and multiple bedrooms. The hotel also has unique Japanese-style rooms. In addition, the roof bar and restaurant could offer Chinese barbecue and Western cuisine, sitting in a swinging bench to chat with friends, enjoy the splendid view of Potala Palace.