How to Get to Lhasa City from Airport and Railway Station
Lhasa, located in southwestern China, is the capital city of the Tibet Autonomous Region. It's also the transportation hub in Tibet. Traveler can easily reach Lhasa and leave Lhasa in two main means of transportation: by plane and by train.
If you are planning a Tibet tour, understanding the distance between Lhasa Gonggar International Airport/Lhasa Railway Station to downtown Lhasa is important. Once you arrive at either Lhasa Gonggar International Airport or Lhasa Railway Station, you might be wondering how to reach downtown Lhasa. Here are some useful tips are given by our professional travel experts.
Lhasa Gonggar International Airport to Downtown Lhasa: 60km
Lhasa Gonggar International Airport as one of the highest airports in the world is located in Gonggar County, Shannan City, Tibet, about 60km to downtown Lhasa City. It is the largest and most important airport in Tibet. Moreover, it's also the most important arrival hub for domestic and international travelers which connecting Lhasa with other major airports in China, such as Beijing, Chengdu, Shanghai, Xi'an, and etc.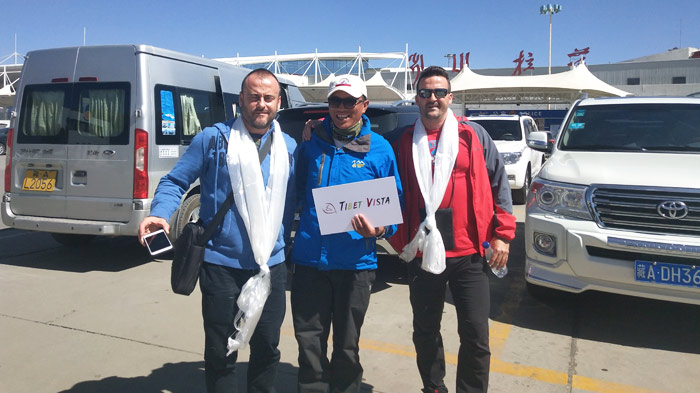 Pick up our clients in Lhasa Gonggar International Airport
Taxi from Lhasa Gonggar Airport to Downtown Lhasa: Costs Around 160-200 RMB
Taxis are another way of traveling. It is easy to hail a taxi in Lhasa city. Normally, it only costs 10 to 15RMB to travel to Lhasa city by taxi. But actually, it is very hard to find an empty taxi that can transport you to downtown Lhasa from the airport. If you want to get to Lhasa city by taxi from the airport, you have to pay 160 to 200RMB. It will take you 1 hour to the downtown. The farther the destination, the more money you spend. However, usually many drivers do not use the meter, so you'd better negotiate with the driver about the price before you get in the taxi.
Airport Shuttle from Lhasa Gonggar Airport to Downtown Lhasa: The Most Common Way for Domestic Tourists
There are regular buses running between Lhasa and Gonggar Airport. Usually, it is very convenient to transfer from the airport to downtown Lhasa by airport shuttle.
There are shuttle buses every day and costs only about 30 RMB per person. It usually takes about 1 to 2hours to transfer between the airport and Lhasa downtown. Seats are in high demand, so please get on early to guarantee a seat.
The disadvantage of taking the airport shuttle bus is that the must wait for all people get into the car, and then after pulling to the city center, travelers have to take the transportation to the hotel where they booked.
How to Get a Free Airport Pick-up Service?
If you book a Tibet tour with us, we can provide our free airport shuttle bus service from the Lhasa Gonggar International Airport to your hotel in Lhasa.
Upon your arrival, our Tibetan guide will meet you at the taxi station right outside the airport and pick you up at a designated time at 09:30 am; 13:30 pm; 16:30 pm.
If your picking-up time is beyond our fixed schedule, you are required to pay private transfer from 60USD/car. Or you may take a taxi yourself to downtown Lhasa, which sets you back 300 RMB.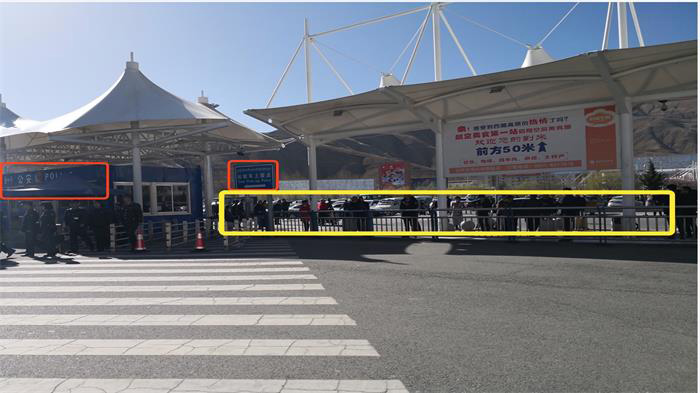 Picking up area in Lhasa Airport
Lhasa Railway Station to Downtown Lhasa: 10km
Lhasa Railway Station is the largest station in Tibet and the end of the line for the Qinghai-Tibet Railway. The station is located in Liuwu New District of southwest Lhasa, nearly 10km to the downtown Lhasa, at an altitude of 3,641 meters. It is linked to Lhasa city by the Liuwu Bridge, which crosses the notable Lhasa River.
Taxi from Lhasa Railway Station to Downtown Lhasa: Costs Around 30-40 RMB
If you arrive at Lhasa by train and would like to take a taxi to your downtown hotel in Lhasa, it is very convenient for you to hail a taxi in front of the Lhasa train terminal station. Most of the taxis are waiting on the main road in front of the Lhasa Railway Station for the convenience of passengers. From the train station to Lhasa downtown drive will cost you between 30 to 40RMB to your specific hotel location in Lhasa. It would be much higher between midnight and 7:00 am.
Bus from Lhasa Railway Station to Downtown Lhasa: Cheaper but Crowded
Taking a bus is the cheapest way to get to the Lhasa city from Lhasa Railway Station. The city buses are parked on the east side of the station and the long-distance bus station on the west side.
Buses are numbered, like those in Western countries, and the Bus No. 1, 6, 13, and 14 runs regularly from the parking area to the downtown area. The ticket price is one yuan for each person, which is relatively cheap.
However, it can be very crowded when trains arrive with many passengers glutted within. If you arrive with big luggage, perhaps you would not want to take the bus due to no vacancy on it.
How to Get a Free Train Station Pick-Up Service?
Although it is convenient to transfer to the downtown from Lhasa Railway Station, international visitors also need to seek other choices, as they are not familiar with this city as a newcomer.
In this case, you can contact us. Once you book your Tibet tour from us, you can enjoy our free shuttle service from the railway station to your downtown hotel. Pick-up time will be based on your arrival time.
Upon your arrival at Lhasa Railway Station, one of our Tibetan local tour guides will meet you at the exit and escort you to your hotel in Lhasa with a private car. What's more, we also have a free shuttle service for all our clients for both pickup and drop off.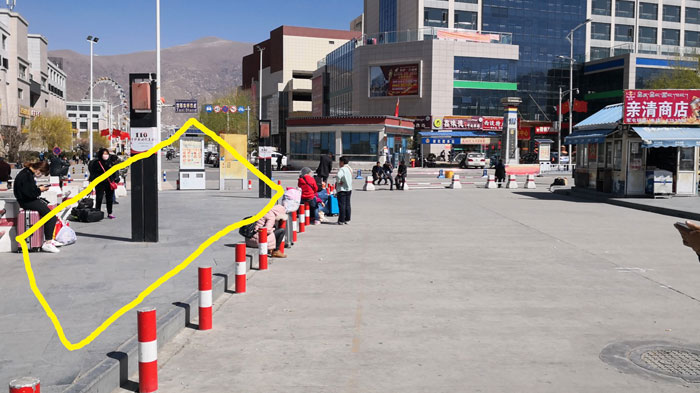 Upon your arrival at Lhasa Railway Station, please wait for your tour guide in the marked area
Conclusion
Reaching downtown Lhasa is a breeze with our free transfer services available from both Lhasa Gonggar Airport and Lhasa Railway Station directly to your hotel in downtown Lhasa.
For those who wish to experience the local mode of transportation, such as taking the shuttle bus or a taxi, simply inform us in advance. Our local travel guide will be delighted to accompany you, as foreign tourists can not travel alone in Tibet.
Most Popular Tibet Tour Packages