Ganden Monastery Incense: a great souvenir for Ganden visit
As the first Gelug Monasteries in Tibet, Ganden Monastery takes a predominant position in Tibetan Buddhism. Built by the great master Tsongkhapa, the founder of Tibetan Buddhism, in 1409, the monastery is highly recognized as the ancestral monastery of Gelug.
To tour Ganden Monastery, you have many choices: to start the popular wilderness trek to Samye Monastery while enjoying beautiful alpine landscapes; or to pour into the hustle crowds in Ganden Thangka Unveiling Festival, watching display of giant Buddha;or you can watch the burning butter lamps brighten the night sky of Lhasa in the evening during Tsongkhapa Butter Lamp Festival as well. But if you are interested in Tibetan culture and handicrafts, your are highly recommended to buy some Ganden Monastery incense as souvenirs and watch how this distinctive handicraft are produced.
Origin of Ganden Monastery Incense
Around Ganden Monastery grows a magical herb which is usually called Ganden Khempa (Tibetan Sage Incense) , also the"Obstacles Clearing Grass". It owns this name since the magical herb only grows in particular regions around Ganden Monastery. Different from Khempa grown in other regions, the faint scent will exude from Ganden Khempa, making it a unique kind.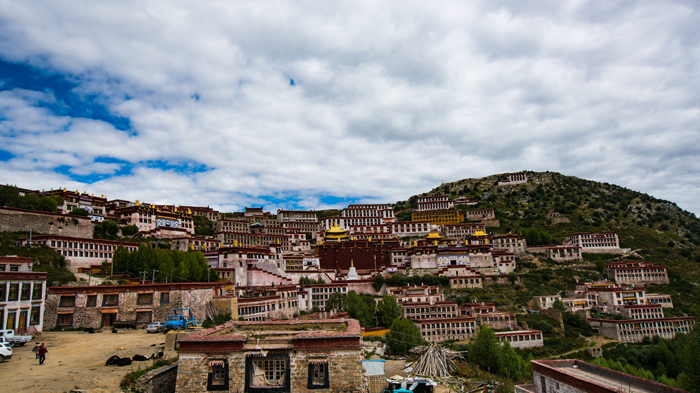 Panorama of Ganden Monastery from afar
It's said that about 500 years ago during the time of The Great Tsong Khapa, there was a wide-spread chicken pox virus in Tibet. To save the people tortured by illness and pain, great master Tsong Khapa cut his hair to scatter around Ganden Monastery and blow the white conch. Later, Ganden grass grew from places where the hair is scattered, so the master instructed his followers to cut the grass and burn them as incense to purify the air in the monastery and distributed the grass to every household for burning as well. Finally, the epidemic was contained. Hence the herb was called Ganden Khempa from that time.
Since growing around the consecrated ground, Tibetans believe that this herb has remarkable power for blessing and it can cure various diseases, sooth one's nerves and get rid of inanity to make one wiser. Greatly effective in expelling filth, this magical herb is burnt in Tibetan household every day.
Health Benefit of Ganden Monastery Incense
Dry and bitter, Ganden grass is not only used as an offering to Shiva and funerals but also the great medical herb to treat various disease. With its fresh and grassy scent, it can be made into a sachet to be hanged in a car and purify the polluted atmosphere and soothe the nervous system and mental disturbances.
Besides, it's also effectual in treating various kinds of sickness such as colds and flu, rheumatism, arthritis, and so on. When soaked in hot bath, it reduces swelling in joints and promotes blood circulation. Maybe this is the reason why Tibetans have not gone through serious epidemics in the past days when lacking advanced medical technology.
Ganden incense, also Ganden Khempa, is effective in soothing nerve and treating disease
In the belief of Tibetans, Ganden Khempa is also good for clearing obstacles in life. Therefore, they often put it into holy statues and stupas for a blessing. In Tibetan Buddhism, it's regarded as a halidom for consecration, so the incense made from this kind of herb is specially dedicated to Tibetan Gelug monasteries for burning and consecrating Buddhas. It's fragrance and medical property are widely praised by other Tibetan sects.
How the Ganden Monastery Incense Are Made
Like most of Tibetan incense, Ganden Monastery Incense is natural and herbal without chemical components. In the long history of incense making, it forms its own distinctive standards with complicated and long production procedure. At present, most of Tibetan inceses are made in specialized incense making factories in Tibet while a small amount of them are made and blessed by monks in the monasteries, and you can get some Ganden incense in the monastery as a great souvenir.
Since the incense is mainly used in religious ritual, handicraftsman must wash their hands and appliances before working. In one hand, it's to guarantee the high quality of products; in the other, it symbolizes to get rid of distracting thoughts and keep the purity and sincerity. The making process generally includes four steps. Our tour guide can lead you to watch the production procedure and witness how the unique Tibetan handicraft is inherited.
Step 1: Grind Wooden Mud
Tibetan pine and cypress are the principal raw material in incense making. Cut the trunk of them into segments and peel the bark, then hang them on the rocker arm of waterwheel. With the driving of waterwheel, these segments are rubbed in the groove day and night until totally become the wooden mud. In this process, water should be poured into the groove continuously, neither too little nor much. Finally, the wooden mud will shape up and take out to be aired and fermented. This step may last for weeks or even months.
Step 2: Add Spice
When wooden mud has been fermented successfully, mix the spices with it in certain proportion. Spices are used as important ingredients in incense making, which can be as many as dozens of kinds, highly medicinally valuable. Except for the Ganden grass, other spices like sandalwood, elecampane, agilawood, tsaoko amomum fruit, musk, cardamom, nard, borneol, etc. will also be mixed in certain proportion. Sometimes, the rare herb like saffron crocus and pangolin will be added, either. Most of these Tibetan spices are expensive. Some even need to be imported abroad. It is these precious medicinal materials that make the incense contributive to people health.
Step 3: Making Incense
Having added up the spice, the next step is to put the wooden mud mixed with spices into the utensils made of horn and then extrudes them on the drying board. This is a very important procedure for making incense for the shape of it requires a straight line. Although seemingly to be easy, only patient and skilled master worker can do it perfectly.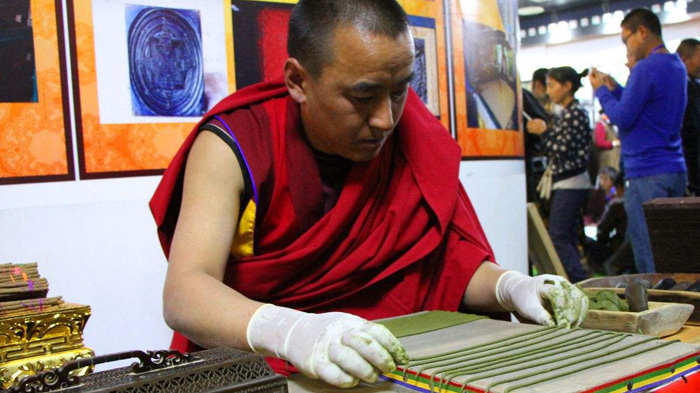 Handmade craft of Tibetan incense is still to be adopted nowadays
Step 4: Airing Incense
The last step of incense making is to air the incense. Not just simply to be aired under the sun, the newly produced incense should be put in the sunny while not that hot places to make sure the quality of production. Besides, it shouldn't be exposed under the sunshine for a long time, neither. Two or three days later, the incense could be packed up for sale. The whole production process is finished.
In some sense, incense making is not simply for producing incense. To incense-makers, the whole procedure is accompanied by a kind of religious self-cultivation to purify the mind and discard distracting thoughts. This ancient and original incense making craft has been passed down by generations for thousands of years. As the national intangible cultural heritage, essence of Tibetan culture is condensed in the special incense making craft. It's manifesting the profound connotation of Tibetan history and culture.
Varieties & Price of Ganden Monastery Incense
Tibetan incense can be divided into four categories: rope incense, gum powder, coil incense and clove incense. Each kind is used in different occasion.
Rope incense is the most common type. It's the string-shaped incense braided together in ropes. This type typically burns strong, but a bit faster than most other incense varieties. It's one of the most common shapes of Ganden Monastery incense;
Another common shape is powder, which usually used in vaporization. Ganden Khempa is made in this form to be burnt. Or you can also smear it on the body after adding some oil to prevent from insect bites;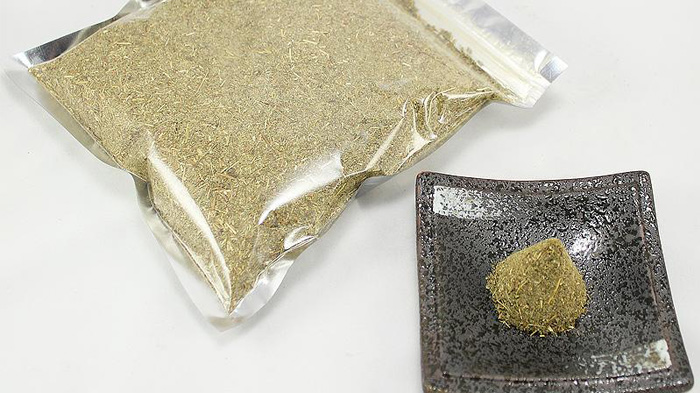 Ganden Khempa is commonly to to seen in powder form to be burnt
The shape of coil incense is deeply influenced by Chinese culture. It's also very common all throughout Asia. Before the rope incense is totally hardened, bend them into overlapping rings, the coil incense will shape up. It's to be hanged up when burning.
Clove incense is the fragments of sandalwood. The first-class sandal is regarded as the best incense in Buddhism. Therefore, clove incense is also called "the Supreme Incense".
Prices of Ganden Khempa vary in qualities. Generally, the price of a bag of Ganden Khenpa Loose Incense can be as low as $4 on Vajrasecrets. If you want more choices, Hither and Yon, SAT NAM, and Garuda Trading are other specialized online Tibetan Buddhism supplies shops where you may find the satisfying one.
Generally, Ganden incenses are sold at a moderate cost. It absorbs the purest sunlight in the world and contains the balmiest fragrance in snow-covered plateau. The wisdom of Tibetan people is spreading with the permeating incense smog in the world.
Conclusion
Originated from a legend, Ganden incense, or Tibetan incense differs from ordinary ones for its great medicinal value. It's not only a religious offering but also the crystal of Tibetan culture and wisdom. Effective in combating various sickness, soothing nerves, improving sleep quality and preventing from disease, it's the combination of science and culture.
From picking up raw material to forming the shape and packing up, it has strict standard for every step in making. Nowadays, Tibetan incense culture has widely spread abroad. Keep indoors, you can get the local Tibetan incense through Internet. Though different in shapes and using methods, balmy fragrance emitting around will make you feel closer to this mysterious oriental land.
To provide you deep experience, our tour guide can take you not only to tour around Ganden Monastery but also to watch how Ganden Incense are produced and recommend you high-quality incense as the souvenir. You can pick up among various types of Ganden Khempa in the monastery while to learn more about Tibetan Buddhism. If interested, please feel free to contact us. We are ready to provide a memorable tailor-made Tibet tour for you.
Join-in Most Popular Ganden Monastery Tours