Everest Base Camp
The Base Camp of Mt.Everest at 5200m
About Everest Base Camp
Everest Base Camp was first used by the 1924 British Everest expedition. The site has a couple of permanent structures and a small army base. Clamber up the small hill festooned with prayer flags for great views of the star attraction, then have your photo taken at the base camp marker, which reads "Mt. Qomolangma Base Camp". The Chinese indicates that it is 5200 meters above sea level.
   
It is impossible to drive all the way to Everest Base Camp. All vehicles must stop at the tent camp a few kilometers past Rongpuk Monastery. From here passengers must trek or take a bus to finish the last 4 km. The way up is gentle and the altitude gain is less than 200 m. Along the way you pass scree slopes, jagging ridges, and broad glacier valleys flowing with muddy water. About 1 km uphill from the tent camp, on the left, is a Guru Rinpoche meditation cave. The resident monk will allow you into the cave and tiny chapel.
   
The Everest Base Camp is a small flat piece of land in front of the north face of Mount Everest. It is at an altitude of 5200m and many people might experience difficulties with the high altitude. Located at the border between China and Nepal, Mt. Qomolangma, also known as the Mt. Everest, with its north slope belongs to China and the south one to Nepal. The peak has been a dreaming attraction for world' s mountaineers.

Recently more and more mountaineers start off from the Everest Base Camp trying to conquer the world's highest peak while travelers trek to the foot of the peak to enjoy its beauty through their own eyes. Around Mt. Everest, there are four peaks above 8,000 meters high, including Mt. Makalu, Mt. Lhotse, Mt. Cho Oyu and Mt. Shishapangma and other 14 peaks above 8,000 meters, which form a soul-stirring picture of Mt. Qomolangma natural scenery area.
Tips of Everest Base Camp
1. You can get mobile phone reception at tent camp and Base Camp. If you want to scare your friends, just make a call.
2. If you want to spend the night at the tent camp, you can rent one. The owners would offer you simple meals and drinks.
3. You can also stay at the Rongpuk Monastery Guesthouse. It provides reasonable dorms and private rooms.
4. Bring some warm clothes with you. The temperature there is freezing.
5. Be careful of the altitude sickness. Try not to do extremely intense exercises and sports.
Attractions nearby Everest Base Camp
Recommended Tour Itineraries Including Everest Base Camp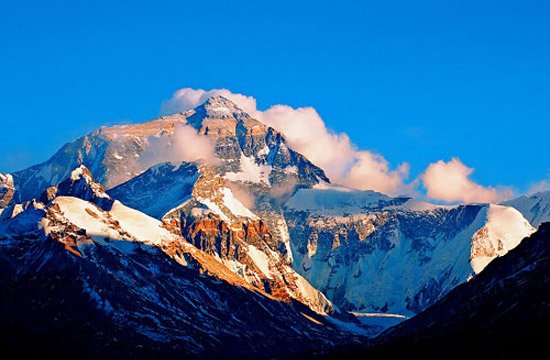 Located in Shigatse Prefecture, Mount Everest attracts a lot of tourists to visit every year. Besides, Shigatse is the second largest city in Tibet characterized Tibetan culture. Tibet Vista provides more than 10 tour packages including these tourist attractions in Shigatse Prefecture at the best price.
Popular Shigatse Tour Deals
More Tibet Tour Packages
How to get there
Address: Tingri County, Shigatse Prefecture
Transportation:
1. 4 Wheel Drive-- there is no public transportation to Everest Base Camp. You can only hire a 4WD to Rongpuk Monastery.
2. Trek-- Trekking to Everest Base Camp requires very strong body conditions and courage. Also, mountaineering gear is a must.
Best time to visit it
Apr. To May would be the ideal time to go. The flag coulds at that time are the most beautiful around the year. Every year at that time, Everest Base Camp is like a paradise of tents. Mountaineers from all over the world come here for the one and only goal.
Opening Hours: All day long
Admission Fee
CNY 180
Read more
Get A Quotation of this Tour