Shigatse Food and Restaurant: the best guide to dining in Shigatse
If you've been considering a trip to Shigatse, you are more likely to be wondering what Shigatse food you might expect to find on your trip except for the ancient holy monasteries and imposing snow-capped mountains. As we all know, food, to a certain extent, always can reflect the character of local people, even their unique regional culture. The Shigatse food is simple and practical without any pretensions. Thus, a trip to Shigatse would be a super-excellent opportunity for you to have a real bite of Tibetan culture via a wide array of exotic Shigatse food.
Most Recommended Food in Shigatse
Generally speaking, Shigatse food is the typical Tibetan food, just similar to that in any area of Tibet. Shigatse is a vast and remote area of Tibet, only with simple materials like dairy products, beef, and mutton. Therefore, the food in Shigatse is simple and practical in general, but the food is full of nutrition and calories, and can provide enough energy for your activities in this remote area with high elevation and chilly weather.
Tibetan Momo
Though resembling traditional Chinese dumpling or Japanese gyoza, Tibetan Momo takes different forms. It could be round and crescent while the yak meat often is used as the filling. Of course, for vegetarians, cabbages, onions, and mushrooms, etc. are widely used ingredients for making Tibetan Momo. In Shigatse restaurants, the most common Tibetan Momo is the steamed and fried ones. However, the steamed Tibetan Momo are the most popular among Tibetans and travelers. And they are served with spicy sauce and cucumber.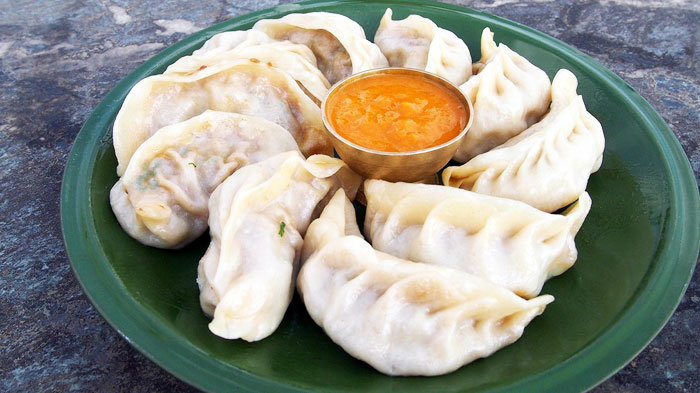 Tibetan Momo is a kind of traditional Tibetan food which roughly likes the Chinese dumpling or Japanese gyoza.
Yak Meat
Yak Meat is commonly known as beef. In Shigatse, as in the rest of the high region, plentiful beef and mutton are the main food of daily life, and they are served up in many different dishes. Yak meat is also sun-dried to preserve it as a staple food of the nomadic herders whilst out on the plains and prairies of the Tibetan plateau. Usually, the mutton or beef is cut into chunks and boiled without any spicy flavoring, then hang them in shady and cool places (usually in special sheds), and finally eaten with a sauce made of garlic, parsley, green onion, and vinegar. The dried meat with unique taste makes people having an endless aftertaste.
Tibetan Sweet Tea
For Tibetans, sweet tea is just like their coffee. There is a saying that Tibetan Sweet Tea is the blood of Lhasa, from which you can see the importance of sweet tea in local Tibetan's life. The color of the sweet tea is milk yellow. It is usually made of milk, brick tea, and sugar. The making process is pretty simple: boil the milk to dark brown, skim the tea leaves, add sugar, pour in some milk and mix all the ingredients together thoroughly. That sounds very easy but only tastes good when Tibetans make it. Sweet teahouses are common recreation places for locals and tourists. You can find a teahouse to enjoy a cozy afternoon with couples of friends at a very reasonable price.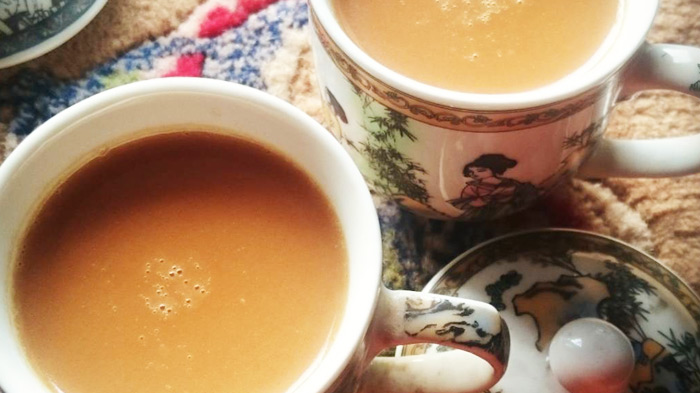 Tibetan Sweet Tea is an important beverage for local Tibetan people. When you travel to Shigatse, just have a try.
Tibetan Yogurt
Tibetan yogurt is always regarded as one of the favorite pastime snacks for local Tibetans. It is a necessary food for Tibetans with more than 1,000 years' history. Fermented from yak milk, Tibetan Yogurt tastes mellower than ordinary yogurt we usually eat. The yak milk has a strong flavor, some people prefer to add sugar to it. Either in the restaurant or small stands on the street, creamy white Tibetan yogurt sprinkled with lovely raisins can be easily seen. It also serves as the indispensable food on some particular religious celebrations for Tibet Buddhism, like the Shoton Festival. When you pay a visit to Shigatse, Tibetan yogurt is certainly worth a try.
Five Best Restaurants in Shigatse
Honestly, what to eat in Shigatse should not be a trouble for you. As the second largest city in Tibet, Shigatse has a wide range of restaurants for you to choose from, which offering your traditional Tibetan food, spicy Sichuan cuisine, and western-style dishes, etc. And just pick out one restaurant to enjoy a satisfying meal here.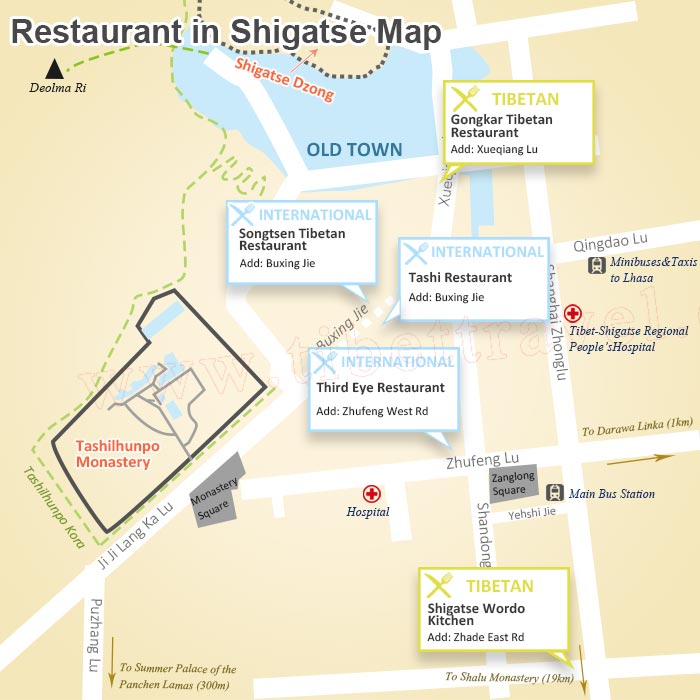 (Simple click to enlarge the map)
Restaurant in Shigatse on Map
Wordo Kitchen
There is a very famous, ancient Tibetan restaurant - Wordo Kitchen in the second largest city, Shigatse in Tibet. "Wordo" refers to the herdsmen for grazing with the whip, and Woo Do kitchen means "herdsman family kitchen". The decoration of Woo Do Kitchen is very luxurious, downstairs is a large area of the Tibetan restaurant, upstairs is a museum collection of many of Tibet folk heritage. The dining area is decorated with Tibetan-style furniture, typical Thangka, and auspicious wall paintings.
This restaurant offers conventional Tibetan, Chinese, and other dishes. Vegetarian dishes are also available. Unlike most Tibetan restaurants in low space and dark, the restaurant is spacious and bright. If you are lucky, You can appreciate local music show in this restaurant at night with singers, players, and dancers. Usually, the show lasts about one hour. The staff are very kind and attentive, and the menu is also detailed enough to help you order almost everything you need. If you are up for savory food and a great night, just come here!
Third Eye Restaurant
The Third Eye restaurant is located in Zhufeng Road, Shigatse. It is a Nepali-run restaurant that is popular with both local Tibetans and tourists. This restaurant serves Chinese, Tibetan, Nepali, and Indian dishes. You can enjoy the traditional Tibetan dishes like Tibetan noodles, Tibetan Momo, and yak meat steak. The other famous dishes such as vegetable curry, vegetable kofta, chicken curry, and chicken tikka are also available here.
Besides the delicious food mentioned above, you can also order some tasty hot drinks, like ginger lemon honey tea, black tea, and coffee. Under the pleasant atmosphere, you can enjoy your meal on the comfortable seating with the heartwarming service after visiting Tashilhunpo Monastery nearby.
Gyantse Kitchen
The popular Gyantse Kitchen is centrally located in the busy shopping street of Gyantse. From outside it looks a little bit dark and unattractive, but inside it is very spacious and the meals are delicious. It offers the usual range of Tibetan, Chinese, Indian, Nepali, and Western dishes. The yak pizza there is lacking tomato sauce but nonetheless tastes delicious. English menu here is available. And the staff is very friendly.
Tashi Restaurant
As one of the best restaurants in Shigatse, Tashi Restaurant is run by Nepali people. When you have a tour in Shigatse, you are expected to go inside and try the food. The decor is Tibetan but the Indian films and Nepali music give it a head-waggling subcontinental vibe. This restaurant offers Nepali, Indian, Italian, Chinese and Tibetan foods in a good ambiance. It is a popular travelers' hangout with various kinds of comfort foods. This Nepali-run restaurant has everything from yogurt muesli to pizza and Nepali curries to choose from. It also has the best range of western breakfasts. You can enjoy the top service in Tashi Restaurant.
Lhasa Restaurant in Shigatse
Lhasa Restaurant in Shigatse mainly provides you with authentic Tibetan and Chinese dishes. Though it is just a small restaurant on the roadside, it is very clean and the service is quite good. Moreover, the staff there are also very kind and hospitable.
Don't Miss the Tsampa Making Mill in Shigatse
Tsampa, actually, is a daily food of all families in Shigatse, Tibet. It is made of roasted or dried highland barley. Usually, the barley are ground into flour and mixed with tea. And you need to use your thumb and forefinger to stir it gently, and knead it with your hand until the dough forms. Finally, you can enjoy the authentic tsampa.
Tsampa is rich in nutrition and has a large amount of calories which is suitable for allaying hunger and keeping out cold. Thus, this traditional Tibetan food is always popular in this plateau area - Shigatse. And with the fragrance of barley and strong taste of Tibetan butter, nowadays, it is favored by more and more people all over the world. Traveling to Shigatse, you can enjoy it in most of the restaurants in Shigatse. If you join our Shigatse tour, you will even have an opportunity to watch the making of tsampa in traditional Tsampa Making Mill.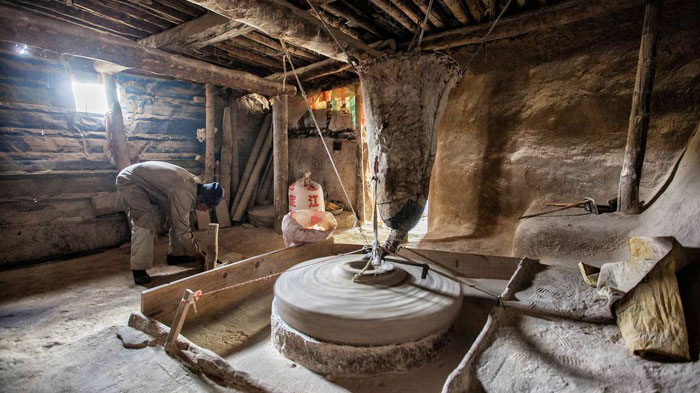 We'll take you to visit to traditional barley mill and experience local life in Shigatse.
Conclusion
In brief, if you are interested in Tibetan cuisine culture, it's a must-try for you to taste the food in Shigatse. I believe you can get closer to local life and authentic customs in person through traditional Shigatse meals.
Tibetan Momo, sweet tea, yoghurt, tsampa and Yak meat are mainly staple food for locals. If time allows, you can also spare some time to observe the making process of Tsampa in the workshop. And all of these Tibetan food mentioned above can be easily found in Shigatse restaurants or tea houses, like the ancient Tibetan Wordo Kitchen, Nepali-run Third Eye Restaurant, spacious Gyantse Kitchen, best-rated Tashi Restaurant, and local Lhasa Restaurant, etc.
Shigatse is a perfect getaway for both nature enthusiasts and food aficionados. If you have any question about Shigatse food and restaurants, please feel free to leave your comment below or send us an inquiry, and we'll reply to you with 24 hours.