Nyingchi Food and Restaurant: what and where to eat in Nyingchi
Unlike the desolate western Tibet, Nyingchi in eastern Tibet is rich in fresh vegetables and unique ingredient, like the crisp Matsutake, the conic Gymnadenia tuber, the wild Cordyceps Sinensis, the pygmy pig, the free-range chicken and other livestock, etc. Thus, food in Nyingchi provides tourists a wide range of choice. Tourists cannot only enjoy traditional Tibetan food and beverage like Tsampa, Tibetan butter tea, and highland barley wine, but also some local food specialties, like Stone Pot Chicken, Zangxiang Pig, Lhoba Grilled Mountain Rat, etc. Besides, you can also find some Chinese dishes, especially Sichuan cuisine, are offered in local restaurants. So no need to worry about dining in Nyingchi tour. Here we are going to introduce you some of the most popular food and restaurants in Nyingchi.
Lulang Shi Guo Ji /Stone Pot Chicken
Undoubtedly, Lulang Stone Pot Chicken is one of the most popular and delicious local cuisines in Nyingchi. It is cooked by the local chicken with palm ginseng, angelica, Tibetan fritillary, medlar, and other local mushrooms. The selling point of the stone pot chicken soup is mainly not the chicken but the stone pot. This unique stone pot is made of black saponite mica that origins in Medog county. Cooked by the special stone pot, it usually takes over 2 hours to complete this dish. Major ingredients are as follows: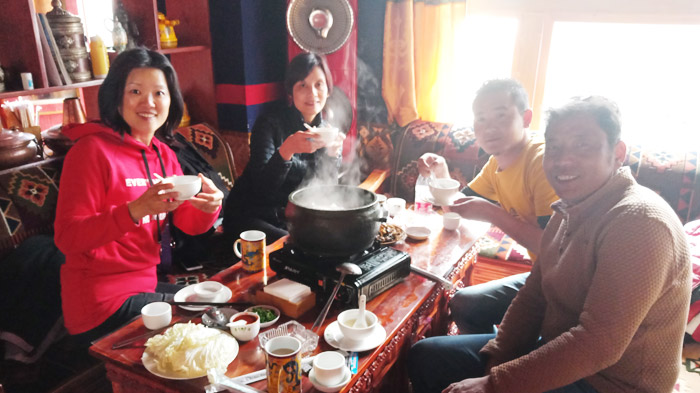 Our clients were enjoying the toothsome Lulang Shi Guo Ji at Lulang Stone Pot Chicken Head Quarters.
Zangxiang Chicken (Tibetan Chicken)
The Tibetan chicken is simply a kind of chicken that breed in Tibet, adapting to the cold and harsh climate of the plateau. Living in a wild environment in Nyingchi, they rarely eat manmade feed. At night, they sleep in the chicken coop. But in the daytime, they are acting freely in the nearby woods. The unique growth environment and feeding methods make this chicken more delicious.
Conic Gymnadenia Tuber
The Conic Gymnadenia Tuber is a kind of ginseng shaped like a palm, which tastes like potatoes. In fact, it is a unique and precious medicinal material that you can only find in eastern Tibet.
Most Recommended Restaurant: Lulang Stone Pot Chicken Head Quarters
Location: South to the Lexiang Convenience Store in Lulang Town, Bayi District, Nyingchi
Food Price: about 135 RMB per person
Highlights: Opened in 1999, this is the first restaurant that offered the unique Stone Pot Chicken Soup in Lulang Town. Though there are lots of restaurants serving this dish now, it is one of the most popular ones among both local Tibetans and tourists.
Pygmy Pig (Zangxiang Pig or Tibetan Pig)
Pygmy Pig, also called as Zangxiang Pig, is an unusual species as well as one of the food specialties in Nyingchi. It is a kind of pig that living in the areas in Tibet that over 3000 meters above the sea level. They do not feed on ordinary feed but eat Tibetan natural feed such as Cordyceps Sinensis, ginseng fruit and natural mushrooms. Also, their drinking water is natural mineral water. They grow slowly in a completely natural environment.
This is a dish made of Tibetan pig.
Generally, the Zangxiang pig grows to 80 pounds in two years. Because of this unique growth process, their meat is tender, the fat content is very small, and the lean rate is high.The meat of pygmy pig with fine flavor is made into sausages or roasted as in a Cantonese style. The pork dishes are served in restaurants of Bayi Town and in most of the counties as well.
Most Recommended Restaurant: Yinxiang Chuancai Restaurant
Location: No.49 Pingan Road, Bayi Town, Bayi District, Nyingchi
Food Price: about 53 RMB per person
Highlights: This restaurant is featured in Sichuan cuisine that made of local Tibetan ingredients. Besides the special Pygmy Pig, you can also taste some typical Sichuan cuisines, such as Mapo Toufu and double cooked pork slices.
Bahe Fish
Although fish is not eaten in most parts of Tibet, in the Nyingchi area, you can taste the unique Bahe fish. The Bahe fish mainly live in the Niyang River and Draksum-tso Lake. It is named after Bahe Town in Gongbo'gyamda County. Because the water quality of the Niyang River is clear and the amount of sediment is small, the fish is tender and has a good taste. According to Tibetan medicine, Bahe fish is also a good food for healthy skin.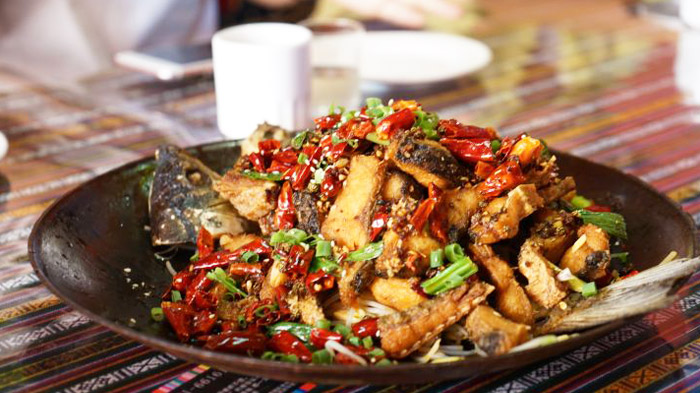 The delicious dry pot made by Nyingchi Bahe Fish.
Most Recommended Restaurant: Basonghu Fish Restaurant
Location: Mingzhu Road (North to G318 Nationa Road), Gongbujiangda County, Nyingchi
Food Price: about 99 RMB per person
Highlights: Surrounded by mountains, the restaurant with a big yard offers a fine dining environment. You can taste kinds of dishes that made from different native products, such as Tibetan fish, mushroom, etc.
Tibetan Blood Sausage
Tibetan blood sausage is a traditional Tibetan food that made from fresh sheep's blood and the best mutton with salt, pepper, and a little Tsampa powder. It has a soft and tender taste and is good for those people who have a weak stomach. Traditionally, the local Tibetan herdsmen set the sheep's blood aside to make the blood sausage, which is not only a food for hunger, but also good for stop bleeding. Made from high-quality mutton, the blood sausage is also good for keeping warm in cold weather. However, the blood sausage is not good for everyone. Those who have a fiver, have a toothache or have other inflammation symptoms should not eat too many Tibetan Blood Sausages.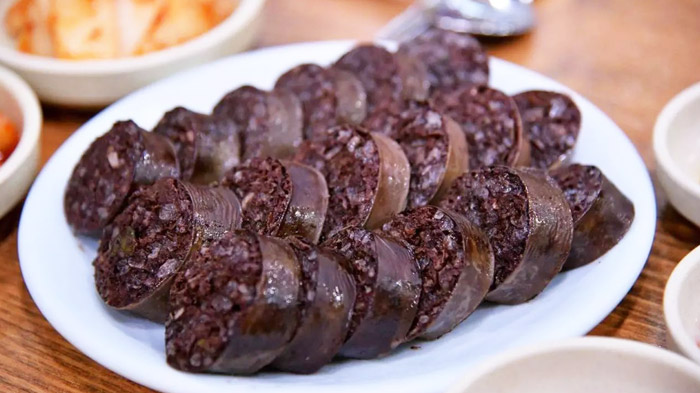 Tibetan Blood Sausage not only enjoys a pure brick-red colour but also has rich nutrition.
Most Recommended Restaurant: Lo Les Traditional Emotion Palace
Location: No.47 Ping'an Road, Bayi Town, Bayi District, Nyingchi City
Food Price: about 100 RMB per person
Highlights: The restaurant is decorated in a traditional Tibetan style. It offers traditional Tibetan food and snacks. You can not only taste the special blood sausage here, but also other popular Tibetan dishes, such as pygmy pig, curry potato and traditional drinks like Tibetan butter tea and yogurt with Ginseng fruit.
Hand-held Mutton
The hand-caught mutton is one of the traditional dishes in Tibet. The harsh living environment and unique living habits made the ancestors of the local residents to start the hand-caught mutton. When they went out to graze, they could get the energy needed for the day by eating mutton. Nowadays, it becomes a daily food for local Tibetans. Also, it is one of the popular dishes that used to entertain guests. The hand-caught mutton is made with local fresh sheep. Served with a local homemade chili sauce, the boiled mutton is not greasy and very delicious. It can be a great satisfaction to eat the mutton slices after a long day travel.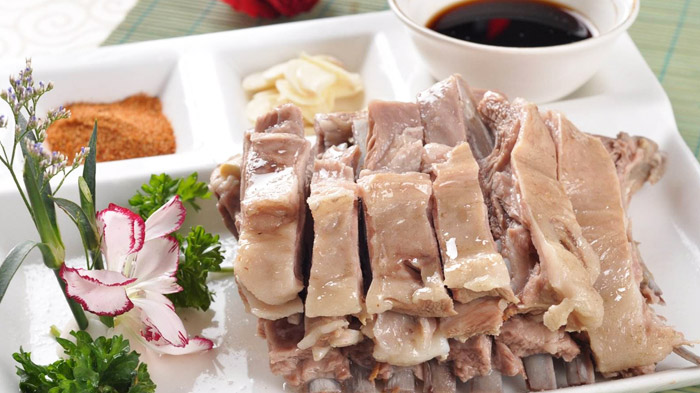 Hand-held Mutton is one of the daily dishes for local Tibetan people.
Most Recommended Restaurant: Linxia Shouzhua King Restaurant
Location: No.304 Guangdong Road, Bayi Town, Bayi District, Nyingchi
Food Price: about 50 RMB per person
Highlights: This is a Muslim restaurant that specializes in Hand-held mutton and large plate chicken. The taste of the mutton is very delicious. The service is warm and thoughtful here.
Lhoba Grilled Mountain Rat and Yellow Wine
In some remote areas of Nyingchi there live a few ethnic groups whose cuisines and dining customs are very well preserved. Isolated from the outside world, Lhoba people's lifestyles and eating habits are very different from those of other Tibetan people.The grilled Mountain Rat is the most special dish that the local Lhoba people only served for VIP guest. And you can also taste the Luoba people's favorite -Yellow Wine made from Eleusine coracana and corn. Due to the humid climate, hot chili is a must on their dinner table.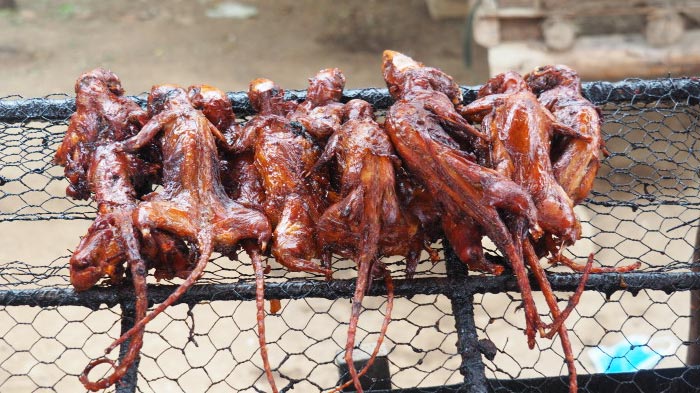 The tasty grilled mountain rat is the most special dish in Nyingchi.
Most Recommended Restaurant: Lhoba Family Restaurant
Location: Inside Lhoba Family Villa in Nanyi Village, Mainling County, Nyingchi City
Highlights: The entire villa is built from wooden planks and divided into two layers. The restaurant and guestrooms are decorated in a traditional ethnic style. Enjoying traditional Lhoba cuisine in such an environment, you can be closer to this mysterious tribe.
Conclusion
You can find the most typical Tibetan food in Nyingchi. Besides, there are also local flavors that worth tasting during your Nyingchi tour: Stone Pot Chicken Soup, made of local Tibetan chickens with conic Gymnadenia tuber; Bahe fish, living near Draksum-tso Lake area; Tibetan pigs and sheep, growing up in the local natural environment; grilled mountain rat cook by Lhoba ethnic group, etc.
Generally, tourists visit Nyingchi will stay in Bayi town, and there are many restaurants to choose. When travel to Draksum-tso Lake or Lulang Forest, it is also easy to find local restaurants to have meals. But compared with Lhasa and Shigatse, the two largest cities in Tibet, the number of restaurants available here is still relatively small. When you visit Nyingchi, please feel free to ask our local Tibetan travel guide for more dining suggestions as they are so familiar with what and where to eat in each of our destinations in Tibet.