Lhasa Food and Restaurant: best guide to dining in Lhasa
If you are thinking about a trip to Tibet, then you must be wondering what the food there is like. One of the main points of any trip to another country is the food, and trying new and exciting dishes from the local cuisine. On the high-altitude Tibetan plateau, the food is very different from most Asian cuisines, mostly due to the lack of rice in Tibet. The plateau land is unsuitable for the growth of rice, so the main staple of Tibetan food is the hardy highland barley that is grown across the plateau. The most cultivated product in the entire plateau, the barley is used in almost every aspect of Tibetan cuisine, and even has its own recipe, using just ground roasted barley flour and tea.
Much of the plateau cuisine is centered around yak meat or mutton, dairy products such as butter and yogurt, some of the hardier vegetables such as potatoes, cabbages, and turnips, and noodles. Even the vegetables need to be shipped from the lower eastern areas of Tibet to the far west, as they cannot grow there. Food on the plateau is mostly high protein foods, full of nutrients for good sustenance in this harsh climate.
Regarding what to eat in Lhasa, all kinds of food including Tibetan cuisine, Sichuan cuisine, Nepalese and western style food can be enjoyed in Lhasa. Restaurants at all levels also serve delicacies and almost every hotel has western dishes. Most of the restaurants can be found clustered around the Jokhang Temple and Barkhor Street. Therefore, travelers can find places to eat and drink within easy reach.
Traditional Tibetan food
One of the main points of any trip to another country is the food, and trying new and exciting dishes from the local cuisine. If you are thinking about a trip to Tibet, then you must be wondering what the food there is like. Here are some traditional Tibetan foods given by our experienced tour guide.
Tsampa
With barley being the largest crop on the plateau, small wonder that the staple of the Tibetan diet is Tsampa. A dish that is eaten at almost every meal, and which is often used as a traveling food by pilgrims, Tsampa is made from roasted barley flour and tea. The barley is sun-dried or roasted and then ground into flour, which is mixed with the remnants of your bowl of tea. Once mixed together, using the thumb and forefinger, it is kneaded around the tea bowl until it forms a dough, and then rolled into a ball and popped into the mouth to eat as it is.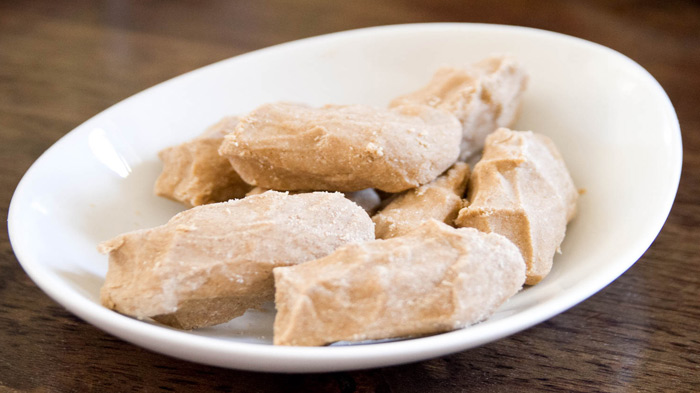 Tsampa is one of Tibetan traditional cuisine.
Tibetan Yak Meat
Although Yak meat is eaten often in Tibet, it is commonly known as beef, and there is little distinction made between real beef from other types of cows and the meat from the Tibetan domestic yaks. Along with mutton, the meat of the adult sheep, beef is the most consumed form of meat on the plateau. Both are regularly used in stews and soups, with added vegetables and noodles, or they are fried, braised, boiled, and roasted for adding to other dishes. Yak meat is also sun-dried to preserve it as a staple food of the nomadic herders whilst out on the plains and prairies of the Tibetan plateau.
Tibetan Momo
Similar in shapes to the classic Chinese dumplings or the Japanese gyoza, Tibetan momos are one of the most popular small snacks on the plateau. Containing a wide variety of ingredients, traditional momos are usually filled with yak meat and vegetables, though modern momos also include a vegetarian option in the local restaurants. Wrapped in a thin pastry wrapper, the momos are either steamed or fried, and eaten with noodles and other dishes, or just with a spicy cucumber sauce or dressing.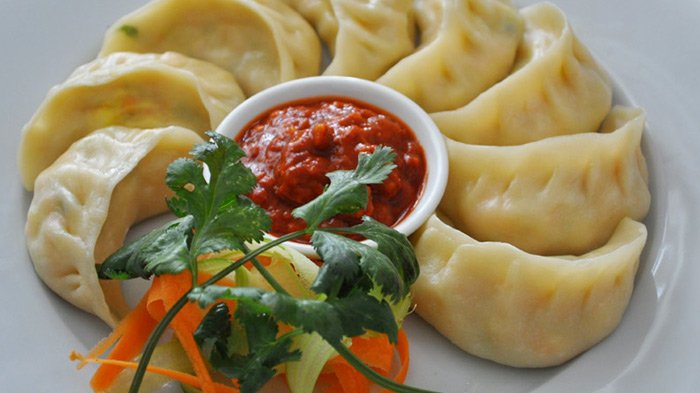 The delicious Tibetan Momo is similar in shapes to the classic Chinese dumplings
Thukpa (Tibetan Noodle Soup)
There is little in the way of food that screams authentic Tibetan than the tasty Thukpa, the typical Tibetan noodle soup. Noodles are used throughout Asia as a staple dish in many countries, and in Tibet, they are best eaten in the form of soup. Made from a tasty bone broth with a few vegetables and the noodles, topped with shredded yak meat, Thukpa is one of the most popular dishes in Tibetan teahouses and is regularly eaten by pilgrims after they have finished their pilgrimage to the Jokhang Temple in Lhasa.
Tibetan Yogurt
With hundreds of thousands of yaks being tendered by the many nomadic herders across the region, it comes as no surprise that yogurt is one of the staple foods of Tibet. Made from naturally fermented yak milk, with no additives and chemicals, yogurt has been eaten in Tibet in one form or another for thousands of years. This delicious dairy dish has its Tibetan origins in the whey, part of the milk that is skimmed off when it is heated, and which was used to give to the monks when they finished their 100-day fasting. From that ancient practice came the modern Shoton Festival, also known in Tibet as the Yogurt Festival. Slightly more reminiscent of Greek yogurt than the cultured yogurts on western supermarket shelves, it has a unique tang and is often eaten as a street food with raisins.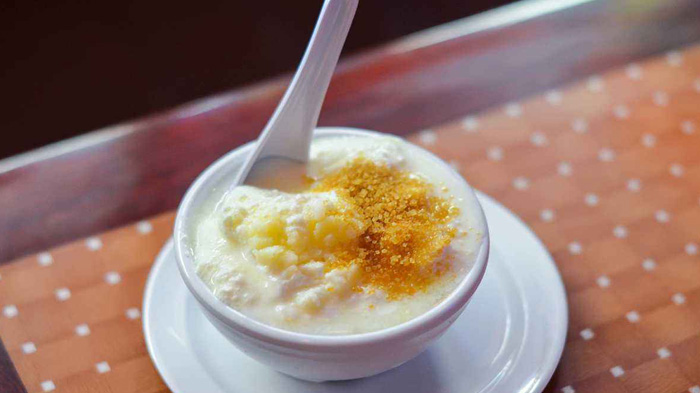 Authentic Tibetan yogurt
Dre-si
Apart from the ever-present yogurt, Tibetan cuisine does not have many desserts. However, one of the most popular of their few desserts is Dre-si, which is traditionally eaten during Losar, the Tibetan New Year. Known widely as an auspicious dish, Dre-si is often used as an offering in the Buddhist temples, and is made from Droma, a root vegetable, with a butter broth and added sugar.
Beverages
Traveling in Tibet, enjoying local food is a necessary way to appreciate the culture of Tibet. The same applies to beverages. Beverages to Tibetan people what is water to fish. Obviously, beverages like Tibetan Butter Tea, Tibetan sweet Tea and other traditional Tibetan beverages are important for Tibetans' daily life.
Tibetan Butter Tea
Tibetans have two types of tea that are drunk in massive quantities throughout the day, and the most unusual is the Tibetan Butter tea. Essential in the harsh environment of the Tibetan plateau, Butter tea can help to stave off hunger and give essential nutrients in a short time. Made from black tea leaves, water, yak butter, and salt, the tea contains a multitude of vitamins that can help replenish lost energy and minerals needed for daily plateau life. The tea is made in a Chandong, a Tibetan urn, and all the ingredients are added and churned several dozen times before being boiled and then served.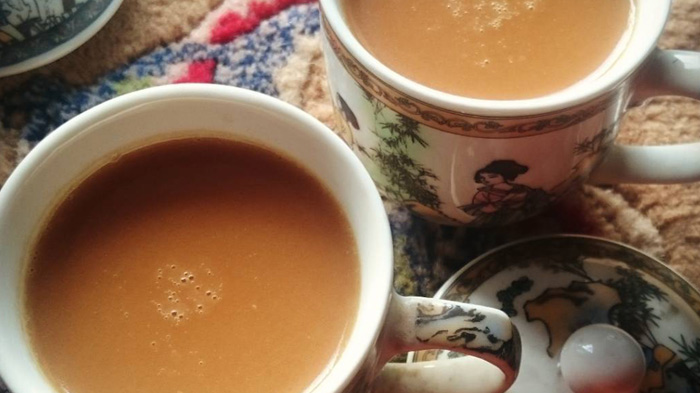 Tibetan Butter tea
Tibetan Sweet Tea
The traditional Tibetan Butter Tea is not to the tastes of many international travelers, and the Tibetans have a ready alternative. Sweet Tibetan tea is one of the most popular beverages among the Tibetan people and can be found in teahouses all across the plateau. Made from black tea, powdered milk or yak milk, and plenty of sugar, the tea is first boiled, then has he milk and sugar added and boiled some more before serving. For those that do not like sugar or milk in their tea, unfortunately, there is no option in Tibet, as it is all boiled together, which gives it that unique sweet creamy taste.
When you are traveling in Lhasa, you will find many tea houses in Tibet Capital City . Sweet tea houses are good meeting places and spend leisure time with the Tibetan people. Tibetan people love tea very much. To Tibetans, tea is a drink just like coffee to the Westerners -- a drink to wake up and start the day. Teahouse also has a long history in Lhasa and is one indispensable part of people's life. In ancient times, drinking tea was only limited to the noble class. However, with time changing, men and even women in all works of lives come to drink tea.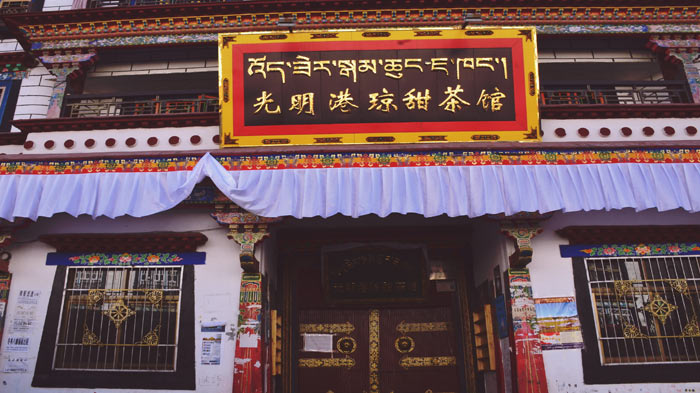 Guangming Kamqung Sweet Tea House, must-visit sweet teahouse around Barkhor Street.
Guangming Kamqung Sweet Tea House, located on Barkhor Street, is one of the most famous and oldest sweet tea houses in Lhasa. The tea house is decorated in a simple style with wooden tables and comfortable chairs. Foreign tourists would go there to have a cup of sweet tea with Tibetan noodles or Tibetan Dumplings to experience the local lifestyle.
When you travel to Lhasa, you can find a corner of the bustling teahouse and sit down, order a cup of sweet tea and some Tibetan snacks, and then enjoy them while watching hundreds of local Tibetans drinking tea, chatting or playing dice. The teahouse has become a place for residents to change information, and the news spread in teahouse is much quicker than media.
A cup of sweet tea costs you only CNY 0.7. It is extremely cheap, but you will get rich experience in the tea house where you can meet a variety of people, such as local Tibetans, religious believers from far away, tourists with different colors. - Find more Tibetan sweet tea houses in Lhasa
Alcoholic Beverages
While we do recommend that you refrain from drinking alcohol in Tibet, as it can lead to dehydration and increase the risk of altitude sickness, there is no harm in trying out some of the plateau's delicious alcoholic beverages once you have acclimatized. Of course, please remember do not drink too much. Contrary to the fact that alcohol goes against the beliefs of Tibetan Buddhism, chhaang and raksi, both locally made alcoholic beverages, have been drunk by the people and the monks for more than a thousand years. The brewing of beer came to Tibet from the Tang Dynasty at the time of the new Tibetan Emperor, Songtsen Gampo, more than 1,300 years ago.
Lhasa Beer
One of the most popular drinks in Tibet for the international tourists, Lhasa Beer is the only beer brewed in Tibet that has international export sales. Made from the local highland barley, Saaz hops, yeast, and the Himalayan spring waters, it was first exported as an international beer in 2009, to the United States. Created by the Lhasa Brewery Company in 1988, this has fast become a world-renowned beer that is most popular with the foreign tourists.
Chhaang (Barley wine)
Chhaang, or Chang as it is more popularly known, is an alcoholic beverage native to the Himalayas, especially in Tibet and Nepal. A relative of beer, it is known in English as "Barley wine", though it has little resemblance to barley wine from the west. In Tibet, Chhaang is made from fermented millet seeds and barley that is put in a bamboo barrel known as a Dhungro, and boiled. Once the barley has cooled, yeast and barm is added and it is left to stand for several days until it begins to ferment. Once it has completed its fermentation, water is added and it is filtered and ready to drink. Chhaang is normally served at room temperature, though in the colder winter days, it is served hot in brass bowls or wooden mugs.
Raksi
Drunk throughout Nepal, India, and Tibet, Raksi is the Himalayan equivalent of Vodka, though the taste is more akin to the Japanese Saki. A distilled drink, it is traditionally drunk with yak meat or strips of dried mutton. A very strong spirit, it is mostly brewed at home or distilled in the plains by the nomadic herders. Made from Kodo millet, it is brewed in a large clay or metal pot over a fire, then, distilled out through bamboo tubes known as pipsings.
Top Restaurants Recommended in Lhasa
There are various restaurants in Lhasa serving all kinds of delicacies, including Tibetan traditional cuisine, Sichuan cuisine, western style dishes, Peking Duck, Wenzhou Seafood, Hairy Crabs, Shanghai Dishes, Chowchew Dishes, Nepalese, Indian, French, Italian, Japanese and Korean food etc. Most restaurants are located around the famous tourist sites in Lhasa like the Jokhang Temple, Barkhor Street, the Potala Palace, and Norbulingka. Therefore, it is easy for travelers to find places to eat and drink.
Tibetan traditional cuisine
One of the largest Tibetan restaurants, Crazy Yak Saloon is located on Beijing East Road. It has unique Tibetan-style decoration and furnishings and provides Tibetan food with a good reputation here. The yak meat is strongly recommended. Besides, it serves aweto chicken and aweto beef as well as some common dishes. Another feature of this restaurant lies in the Tibetan song and dance show from 19:30 to 20:30 every evening.
Another slap-up Tibetan Style Restaurant is Makye Ame. It is located in the southeast corner of Barkor Street, the restaurant is famous for a romantic legend. It is said to be where the sixth Dalai Lama Tsangyang Gyatso met and fell in love with a beautiful girl named Makye Ame on a starry night. Its most famous cuisines are roast mutton chops, acid turnip fried beef, Tibetan roasted natural mushroom, yogurt and ginseng fruit sweet salad, tsamba ball, fresh Tibetan barley wine, and Tibetan butter tea. Its interior décor presents strong Tibetan flavors, too. There are usually Tibetan singers giving excellent performances on the second floor. It is pleasant to sit beside the window to view the busy Barkhor Street while tasting exotic food and listening to beautiful songs. Therefore, this restaurant is a must to visit when travel in Lhasa.
Lhasa Kitchen is a restaurant in Lhasa located on the main drag to the Barkhor Street. The restaurant is upstairs and it looks out towards the square in front of the Jokhang Temple. It has several tables upstairs including a few large ones for larger groups. This restaurant mainly provides Tibetan cuisine, but offers a variety of other food, too, for instance, Indian, Nepalese, Chinese, Western, as well as various snacks. The Nepalese and Indian cuisine are highly appreciated by tourists. The staffs are very friendly. You can enjoy the special atmosphere and top service in Lhasa Kitchen. It is a good choice for a budget lunch and dinner.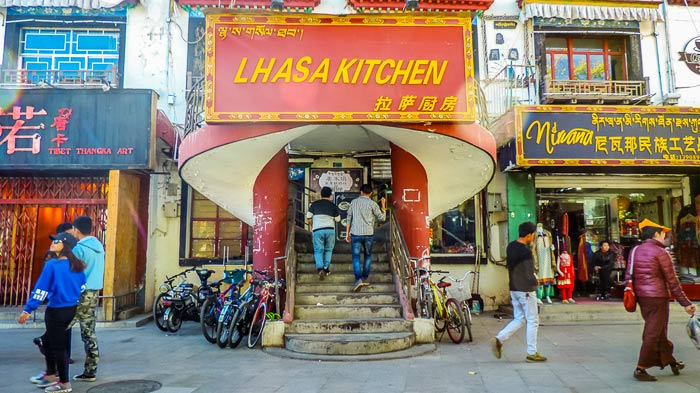 Lhasa Kitchen offers delicious Tibetan traditional cuisine.
The Potala Atmosphere Restaurant in Lhasa is actually a combination of restaurant and bar. The atmosphere in the restaurant is an excellent conglomeration of Chinese and Western culture and Tibetan flavor. Upon entering, you'll be attracted by the internal decoration. It seems to bring you all of a sudden to the Tibet. Wooden window arises together with bright glass make the views inside and outside in harmony. The Potala Atmosphere Restaurant is famous for Tibetan-flavor hot pot and Potala-flavor pizza. Typical Tibetan snacks and beverage are also available.
Kuyuma Restaurant in Lhasa is owned by a Tibetan writer and poet, Ermao. Kuyuma means "Cuckoo" in Tibetan Language. Just from its name, we can guess that the owner must be an artistic man. The whole restaurant is full of a strong flavor of Tibetan culture and post-modern art. It is very relaxing to have a chat with friends on the large and comfortable coach laid beside the window of the ground floor. The most modern part of this restaurant is its bar where you can find all kinds of wines made in other countries. The various wines and bright cups have become a symbol of this restaurant. Moreover, this restaurant also offers accommodation to guest. But there are only a few rooms. It costs around 60CNY for a standard room and 15CNY for a dorm bed. In a word, it is a good place for experience Tibetan culture when you travel to Tibet.
Western Style
Snowland Restaurant in Lhasa is a mid-range restaurant located on Zangyiyuan Road, near the famed Barkhor Square and Jokhang Monastery. This ground-floor restaurant offers all kinds of food at a moderate price, including western food, Tibetan food, and Nepalese food. Its Nepalese food and pizza are very tasty. It is quite popular among budget travelers looking for value for money meals. There's a 50% discount on the excellent cakes after 9 pm and discounts on all food between October and May. But credit cards are not accepted by this restaurant in Lhasa.
Dunya Restaurant is a foreign-run restaurant with excellent and wide-ranging food, so the price is more expensive than the others. It is located in the old center of Lhasa nearby the Potala Palace and Jokhang Temple. It is a great place to relax and enjoy delicious food from the oregano-flavored pizza crust to the Italian imported pasta. It creates a hygienic environment where locals and visitors could meet, eat safely, drink, listen to music and play darts. This restaurant serves an excellent selection of international and Tibetan dishes. The kitchen meets European hygienic standards, with a foreign chef. Only top quality meats and vegetables are used in the kitchen. English Menu is provided.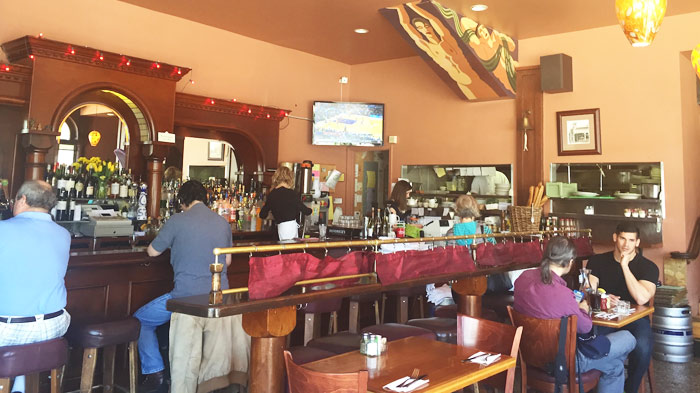 Dunya Restaurant , which is a western style restaurant in Lhasa.
Nepalese food
New Mandala Restaurant is a Nepali-run restaurant in Lhasa. It is a decent restaurant which offers a decent English food menu. New Mandala provides you with a range of food, from Western to Oriental cuisine. If you are going to Jokhang Temple and Barkhor Street for shopping, you can drop by this place. From the second floor or the rooftop of the restaurant, you could get the full view of Barkhor Street. Inside it, some lovely and ornate Tibetan murals come into view. Before the hard trek, it also offers packaged Nepali foods such as muesli and soup mixes. Tashi restaurants in Shigatse and Tsetang also belong to the owner. English menu is provided.
Notice:
Fish is rarely eaten in Tibet, for a number of reasons. One reason is that the dead of the plateau were once disposed of in the rivers, and as such, to eat a fish would mean eating the body of the dead, as fish are known to eat dead bodies and animals that end up in the water. It is also believed in Buddhism that to kill an animal is wrong, so when Tibetans, who are devout Buddhists, kill an animal, they prefer to kill one large animal that can feed many people than many fish, each only able to feed one person.