Barkhor Kora: experience holy pilgrimage with Tibetan pilgrims around Barkhor Street
Lhasa, as the capital city of Tibet, undoubtedly, would boast many ancient and notable attractions. But one of the best ways to explore this ancient city is to join in one of its oldest and most venerated rituals - Barkhor Kora, a devotional pilgrim circuit around the exterior of the old Jokhang Temple. For the first-timers to travel Tibet, you may be drawn by the scene of dozens of people walking around the temples along the Barkhor Street in a clockwise direction. This holy ritual is called kora in Tibet which is a way for pilgrims to pray peace and accumulating merits and virtues. So, here comes a question, why Barkhor Kora attracts countless pilgrims even travelers here? What is the Kora in Tibet?
Kora - The most intuitive experience of Tibetan Buddhism
Kora is a form of pilgrimage or meditation in the Tibetan Buddhist tradition. Usually, kora is performed by making a circumambulation around temples, stupas, or other sacred sites in Tibet. It is mainly performed while turning prayer wheels, chanting the mantra, counting mala, or repeatedly prostrating oneself. It is said that in this way kora functions as a mind-calming meditative exercise.
There are some famous traditional koras in Tibet, such as walking clockwise inside Jokhang Temple, following the pilgrimage circuit around Barkhor Street, circumambulating Namtso Lake, etc. Among them, the Barkhor kora or Barkhor Circuit is the most ancient pilgrim circuit in Lhasa. If you happen to travel to Tibet during the Saka Dawa Festival, you can join the kora because almost all local Tibetan believers go out do the ritual walk along the Barkhor.
Barkhor Street - A Melting Pot of Culture and Religion
Barkhor Street, a bustling and circular street at the heart of Lhasa city, is the oldest street in a very traditional city of Tibet. With a history of over 1300 years, Barkhor Street has thrived with the development of holy Jokhang Temple. It is a place where Tibetan culture, religion and arts assemble and a must-see place for all those who travel to Tibet. This street is hailed as "Holy Road" by the local Tibetans and enjoys a high status in the minds of Tibetan people.
The Barkhor circuit is the most sacred pilgrim route for Tibetan Buddhists in Tibet. According to the records of Tibetan Buddhism, following the Barkhor Kora around Jokhang Temple is a way to express the respect for the Sakyamuni Buddha in the Temple. Tibetan King Songtsen Gampo built the Jokhang in 647. And then there were countless pilgrims gathering to view the magnificent building and pray. And the pilgrim path around the temple soon formed and since then evolved into Barkhor Street.
You can also spare some time to buy traditional souvenirs from the shops in Barkhor street circuit.
Barkhor Street circumambulation road is one of the most important kora roads in Tibetan people's heart. Each day, especially in the early morning and evening, you can see uncounted pilgrims have covered thousands of kilometers to gather in the Barkhor Street for the kora around the temple. Some of them, no matter young or old, would even make a prostration while moving clockwise along the Barkhor.
Apart from prostrating, some pilgrims also spin their prayer wheels, chant mantra, or count their rosary beads. And they will also walk outside of the four columns on which colorful scripture streamers are hung, a custom begun in the Tubo period as a way to show respect. As a tourist who is the first time to see this devout religious ritual. I'm sure you will get confused and ask yourself why they do that? Actually, it is a way to show the strength of their religious beliefs.
Nowadays, other than its spiritual identity, Barkhor Street has also become a prime tourist destination of Lhasa. Souvenir shops have lined up along both sides of the notable street. What's more, for many tourists, following the local pilgrims to stroll along Barkhor Street is also a special and unique experience that will live long in the memory.
Follow the Pilgrims to Experience the Holy Pilgrimage around Barkhor Street
Walking Barkhor kora in a clockwise direction, you will have a great chance to explore the holy Jokhang Temple, Barkhor Big Prayer Wheel, Qing Government in Tibet Grand Minister Administrative City Former Site, Dongsu Lhamo Wall, and Gedun Chophel Memorial Hall and finally return to the Jokhang Square.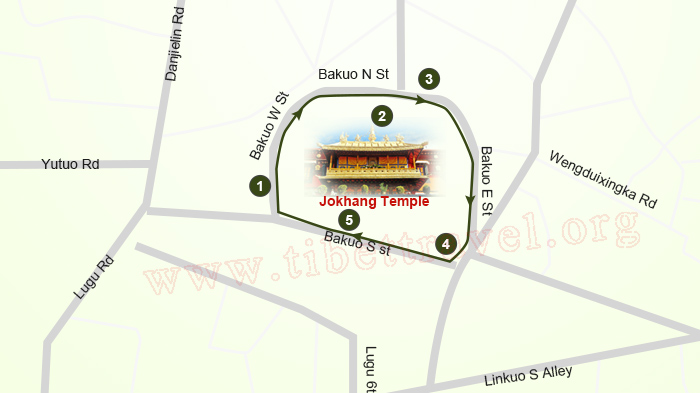 Map of Barkhor Kora and surroundings
As the spiritual center of Tibet, (1) Jokhang Temple always attracts endless pilgrims every day. At the front of the Jokhang Temple, you will notice the smooth flagstones here, and these flagstones were polished by pilgrims making prostration for many years. There are constantly pilgrims prostrating in front of the Jokhang with colorful traditional clothing. Those pilgrims travel far from all over the Tibet, even some other provinces or countries to complete this sacred circuit from morning to night. Here you can view the devoted pilgrims with firmly beliefs and piety toward the religion. Even if you are not a Buddhist, you will be touched by them. You can feel the intangible power of beliefs.
In Jokhang Square, a two-meter-high conical incense burner with incense and aromatic plants burning constantly inside are the most attractive. Local Tibetans and pilgrims burn the incense to please the Buddha protecting Jokhang Temple as well as other creatures in this city. Despite in bad weather, followers swarm here to do the devotional pilgrimage by crawling along this street with their knees bent and arms stretching forward.
On the northern section of the Barkhor Circuit is a small chapel on the right. This is the Mani Lhakhang, a chapel that houses a huge prayer wheel set which is known as (2) Barkhor Big Prayer Wheel. The prayer wheel keeps moving. The grandiose entrance of the former city jail and dungeons, also called the Nangtse Shar situates just to the right of the chapel.
Then you go down the alley. After passing through a doorway, you find yourself in the (3) Qing Government in Tibet Grand Minister Administrative City Former Site. It used to be the place where the high commissioners of Qing Dynasty to handle affairs in Tibet. Nowadays, it becomes a museum to display historical materials on the governance of Tibet from Tang to Qing Dynasty. Hence, through visiting this museum, you will get a better understanding of the relationship between the Central Government and Tibet since the Qing Dynasty.
Going to the east, you will encounter the (4) Dongsu Lhamo Wall. You will appreciate the super gorgeous embossment of the goddess Dongsu Lhamo (the daughter of the "Auspicious Goddess", Palden Lhamo) at the corner of Barkhor North Street. It is said that the goddess is a lazybones and always wandering around Lhasa's streets. Her mother Palden Lhamo was very angry and drove her out. From then on, Dongsu Lhamo can only rely on begging along Barkhor Street for Tsampa and Yak butter. Later, those who pass through this the embossed wall will wipe yak butter and spread Tsampa in front of her statue on this wall. Now, locals still keep this habit.
Going along the Barkhor kora route, it will guide you to the (5) Gedun Chophel Memorial Hall. At the Barkhor South Street, the memorial hall is an exhibition hall which focuses on a famous character - Gedun Choephel. He was one of the important thinkers in Tibetan history. He also was a philosopher, historian, artist, translator, and traveller. His paintings and study journals are exhibited in this memorial hall. When you experience the Barkhor circuit, you'd better explore it to learn something about this successful man. Finally, the Barkhor circuit route will lead you back to Jokhang Square.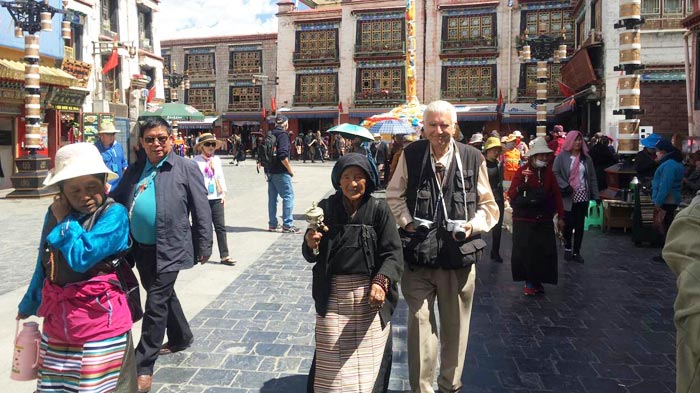 Our client is following the local pilgrims to experience the holy Barkhor Kora.
Dos and Don'ts When Enjoying the Kora in Lhasa
1. While you are walking on the Barkhor Street, it is advisable to walk in clockwise, as all the pilgrims walk in that direction and it is easier to do that for you. And at the same time, local Tibetans will also appreciate your gesture in accepting their way of life and tradition.
2.In order to show individual respect to Tibetans' beliefs and local customs, you have to keep in mind that it's quite rude to point at a person with one finger in Tibet. And also do not point at Buddha Statues with one finger.
3.When you are taking a stroll along Barkhor Street, you, certainty, will encounter pious pilgrims. If you want to shoot a picture of them, please do remember to ask their permission firstly or take pictures from a distance.
4.If you want to follow the pilgrimage kora in Lhasa, you'd better take it easy and never push yourself to complete all the circuits.
Conclusion
Joining in Barkhor Kora and following the crowds of local pilgrims to experience a spiritual baptism, undoubtedly, would be an unforgettable travel experience in Tibet. Along the Barkhor circuit route, you will encounter Jokhang Temple, Barkhor Big Prayer Wheel, Gedun Chophel Memorial Hall, etc. Moreover, if time permits, you can spare some time to buy some traditional Tibetan handicrafts in Barkhor Street market. If you are looking for an authentic kora experience in Lhasa or a specific Tibet trip, our Tibet travel gurus are ready here to help you work out an excellent Barkhor kora trip and beyond.
https://data.tibettravel.org/