The Most Complete Guide to Beijing to Lhasa Tour by Train
As we all known, Beijing, as an important international arrival hub -- is often chosen by worldwide travelers as a popular stop for international flights. Therefore, it becomes a NO.1 gateway city to visit China or Tibet. Traveling to Tibet by train, however, is one of the cheapest ways to travel in China, and it becomes more and more popular for both natives and international travelers to travel to Tibet by train.
If you are planning a trip to Lhasa from Beijing by train, you may just wonder what you will experience on your train journey to Tibet. Now, there is a daily train from Beijing to Lhasa run by China Railways. You'll spend over 40 hours on board, this could be a very special experience for tourists in Lhasa Express to deeply know China for its amazing landscapes and people as well.
Moreover, there are hundreds of tourist scenic spots and historic sites in Beijing. Tiananmen Square, Forbidden City, Temple of Heaven, Great Wall, Olympic Green and Capital Museum and so on. Therefore, you can take some days to visit all of these famous spots.
Best Time for the Beijing Lhasa Train Tour
What is the best time to take a Beijing Lhasa train tour? April to November, undoubtedly, is the best time to have a Tibet train tour. The Tibet winter as you would expect is quite harsh and any tour like trekking or biking outside Lhasa would be very difficult or even impossible. Within this period, April to May and August to October period is most rain-free time and are also not very hot.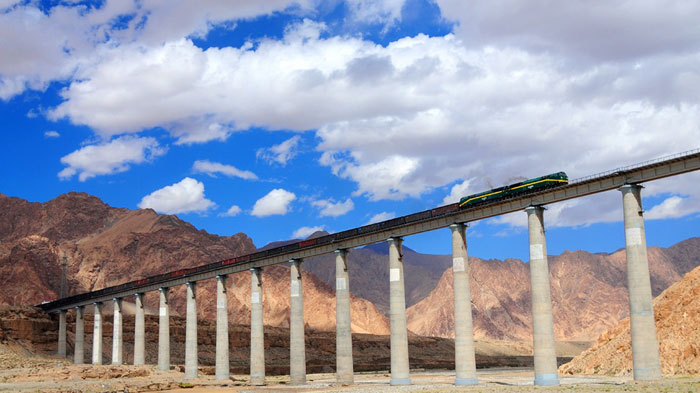 The beautiful scenery during Beijing Lhasa train tour
The scenery between April and November will be more beautiful and charming. Although the nights would be colder than daytime, the day activities would usually be greeted with a high-altitude sun. Of course, except the rainy month of July. Visiting in summer will also enable you to visit remote but beautiful locations in Tibet like Everest Base Camp.
How to Book and Get the Train Ticket
When thinking of booking Beijing Lhasa train, one may find it is more complicated than one thought. There are strict rules and regulations specifically for the tour in Tibet. So getting a Tibet train ticket for the date you want to travel to Tibet can be quite difficult. Hence, the earlier you begin to book your train ticket to Tibet, the more chances you will have to get a proper seat you want.
When booking the train to Tibet from the ticket office of the railway station, international travelers need to show their valid passports and Tibet Travel Permit. Hence, it is necessary to make a full preparation. If you want to get the train ticket successfully, we can help you get the train ticket. Of course, there are other choices to get a train ticket from Beijing to Lhasa.
Firstly, you can get the Tibet Train Ticket at Beijing West Railway Station. Beijing West Railway Station has two front squares: the Southern Square (close to Lianhuachi Park) and the Northern Square (close to China Millennium Monument). There are ticket offices on the east side of North Square and the west side of South Square. If you need to get the train ticket yourself, do arrive at the railway station much earlier (2hours will do.) because long lines occur very often in China. Get to the ticket office and show your train booking confirmation No. and Passport and Tibet Permit (or copies) to get your train ticket. Besides, the group ticket office is on the east side of the station building at 2F. And the working hours for the ticket office are for 24 hours a day, 7 days a week.
Secondly, you also can book the Train Ticket online, which can be a difficult thing for you. For international travelers, if you have a good understanding of Chinese, congratulations! You've won half of the battle. However, the other obstacle is that whether you can buy the ticket successfully. Although there are ticket windows and automatic ticket machines in the ticket office, both offering ticketing services for Chinese ID card holders. If all of this could be solved, you can only get the tickets from the ticket window. But you need to show the booking number, passport, and Tibet Travel Permit for the staff to get the ticket.
Travel Documents Needed for the Beijing Lhasa Train Tour
If you are traveling to Tibet from mainland China, there are a number of documents and permits that you will need, to get around in Tibet as well as to just enter the region. These documents are all required of all foreign tourists to Tibet, and many are not available to be obtained directly.
The Chinese visa is a must-have document for your Beijing to Lhasa train journey. You are required to present them when taking the train to Lhasa. Tibet travel permit issued by Tibet Tourism Bureau is necessary for international travelers entering Tibet. It is also necessary for boarding the train from Beijing to Lhasa. Any carelessness will destroy your train journey from Beijing to Lhasa. So do forget to have a good preparation of these documents.
How to Get to Beijing West Railway station
If you don't have enough time to stay in Beijing, and want to transfer from Beijing Capital International Airport to Beijing West Railway Station, taking a taxi to the railway station is a perfect way to transfer from Beijing Airport to the Beijing West Railway Station. It will cost you about RMB100, but it saves your time. Most taxi drivers in Beijing know a little English, which makes communication easier.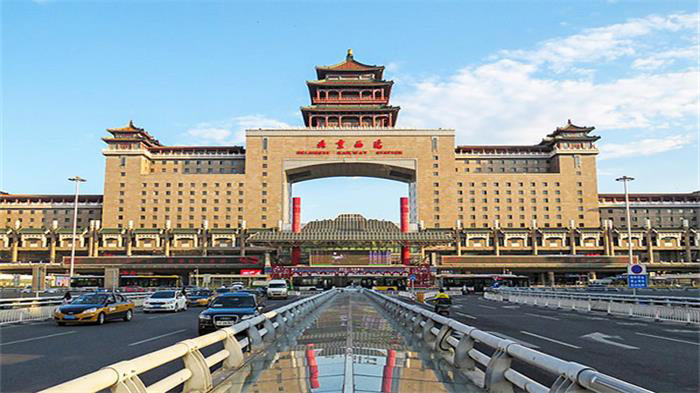 Beijing West Railway Station
Besides, there are direct buses from the airport to the railway station, with a departure frequency of 15 to 20 minutes. If you need, Tibettravel.Org can also provide the airport to train station service in Beijing, the driver will give you the train tickets and permit in person.
How to Board the Beijing Lhasa Train
For the huge passenger flow at Beijing West Railway Station, you are suggested to get to the station at least 2 hours ahead of departure time. Make sure that you have prepared all the necessary documents (Chinese visa, Tibet travel permit), along with your belongings. Passengers need to pass through security check before entering the waiting hall of the station. During the security check, the staff will also check your train ticket, passport and travel documents.
After passing the security check, you can enter the waiting hall. There are many waiting rooms on the second floor. You are supposed to find the right waiting room for your train with the train number listed on the LED screen with Chinese. Also, the related information like time for departures is shown on the screen. If you cannot understand Chinese, you can find the train number on the screen or ask for work staff's help. Z21 waiting room is dedicated for passengers taking the train from Beijing to Lhasa.
Normally, you need to take your train ticket to get to the right platform and check-in 15 minutes before departure. When you board the train, you have to find the right cabin. You can find the cabin number and bunk number on the train ticket. And the bunk number is also displayed on the wall. If you cannot find your bunk, ask the onboard staff for help.
>> Read more about How to Board and Get off Tibet Train: when to show your Tibet permit, how to collect train ticket...
Enjoy the Scenic Ride in Beijing Lhasa Train
Apart from the low cost for taking the train to Lhasa, it also since the trains go through 8 provinces, like Xi'an and Xining, travelers will have a chance to see many beautiful attractions in these provinces. It is really like a mini China tour!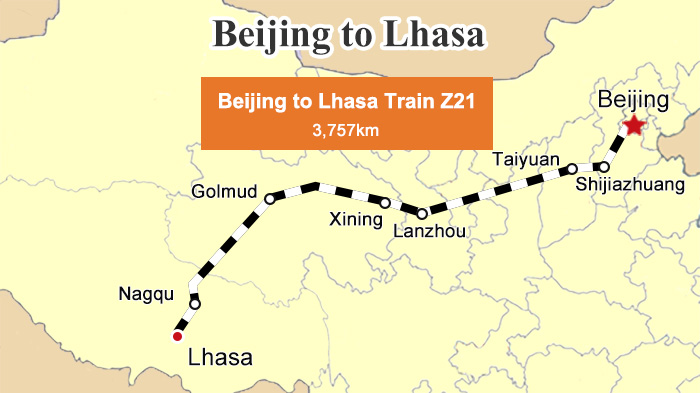 Map of Beijing Lhasa Train Ride
The train passes through Xi'an, which is a historical city. It's located on the Silk Road and is one of the entry routes into Tibet. It is a beautiful city with many lovely pagodas and caves. Travelers can get a glimpse of the city as they pass through. Once the train crosses Xining to enter the Tibetan plateau, the sights are absolutely breathtaking. The train passes through the Kekexili Protection Area which is a national park for Tibetan fauna and flora. You can see wild yaks, antelopes, brown bears, etc. The area is also full of beautiful almond trees, poplars and oaks.
Then as the train climbs higher, passengers will pass through the precarious Tanggula and enjoy the wonderful mountain views. Although the travel time is much longer, it is definitely worthwhile because of the sheer amount of things you can see on the way to Lhasa from Beijing.
How to Travel from Lhasa Railway Station to Lhasa City
Lhasa Railway Station is the largest station in Tibet and the end of the line for the Qinghai-Tibet Railway. The station is located in Liuwu New Area of southwest Lhasa, at an altitude of 3,641 meters. It is linked to Lhasa city by the Liuwu Bridge, which crosses the notable Lhasa River. But how to get to Lhasa city from Lhasa Railway Station?
Getting from the station to Lhasa downtown is very easy, as there are both buses and taxis who can take you there. The city buses parked on the east side of the station and the long-distance bus station on the west side. Buses are numbered, like those in western countries, and the Bus No. 1, 6, 13 and 14 runs regularly from the parking area to downtown area. Taxis also wait on the main road in front of the station for the convenience of passengers.
You also can use our free shuttle service. As always, our Tibetan guide will meet you at the taxi station just outside the railway station. Pick up time will be based on your arrival time. You can enjoy our free shuttle service from the railway station to your hotel.
In the end, sincerely hope The Most Complete Guide to Beijing to Lhasa Tour by Train will give you help and have a good time on your tour.