What can we guarantee for our clients?
1. Travel Safety
Travel safety, the Top 1 priority and the major concern of Tibet tours, is well guaranteed by Tibet Vista team from the following aspects:
Driver & Vehicle: We hire local Tibetan drivers with rich driving experience, we adopt a high standard to our vehicles and apply strict daily checking procedure and regular maintenance to them.
Tour Guide: By joining in our first-aid training, our guides master the urgent treatment of altitude sickness, unexpected injuries, etc and share effective anti-altitude sickness tips with tourists.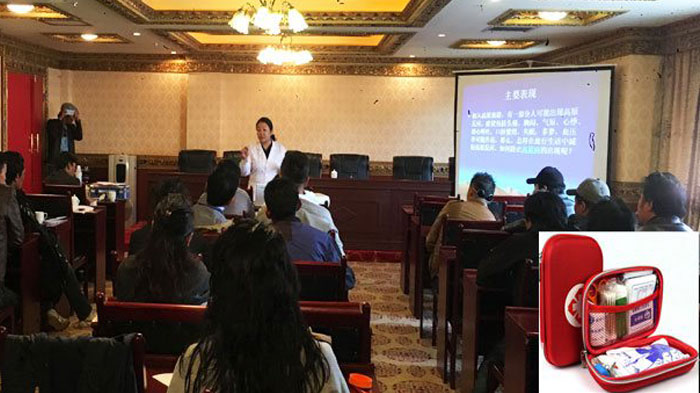 Our tour guides are taking part of the training course.
Food: We only choose restaurants with clean and safe food to avoid food poisoning.
Equipment: Besides medical oxygen cylinders/bags, we have our own Hyperbaric Oxygen Chamber in Everest Base Camp (5200m) and Kailash (6638m). With the 24/7 call service, we can provide a systematic back-up plan for the emergency.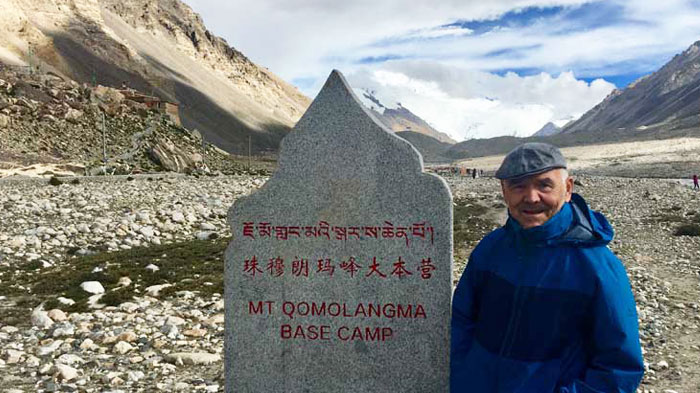 Our 82-year Gerhard from Germany made it to EBC.
As the "Best Everest Tour Organizer" who has organized the Everest Base Camp tour successfully for 4-year Pablo from Switzerland to 82-year Gerhard from Germany. Till now we have assisted more than 100,000 tourists to Tibet and keep a safe tour record from our opening.
In 2012, one of our Taiwanese tourists, Mr.Yu, suffered from serious altitude sickness and went into a coma. Tibet Vista team responded instantly and transferred him to Lhasa for treatment, then escorted him to Chengdu to his family. Mr.Yu came back to Tibet again with us in 2014.
2. Friendly Service
Besides providing wheelchairs to the disabled, distributing Tibet tourist map and daily gadgets such as thermal handbags, water flask, and sleeping bags per tourists' request, we can also offer rental service for trekking and cycling gears like trekking pole, camping tent, sleeping bag, cooking staff to enable you to explore Tibet in the way you like.
What's more, at Everest Base Camp, besides the travel kit (neck pillow, eye mask, and ear plugs, fork knife spoon set, and sleeping bag), we also offer brand-new astronomical telescope to give you a close view of the world's highest mountain and the Milky Way above it.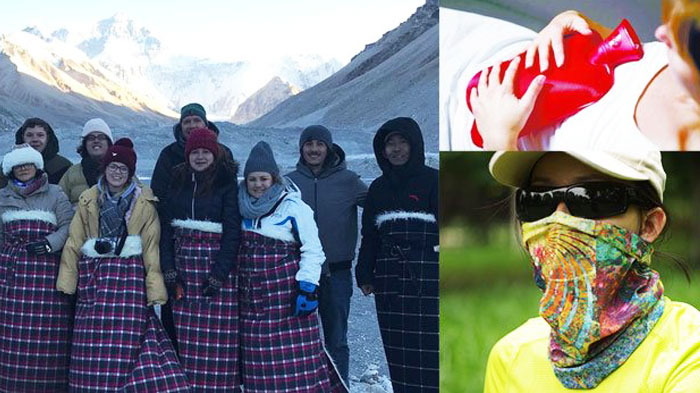 Braving the chilly wind at EBC, our clients are wearing our warm apron.
As the only local Tibet travel agency which has offices in Lhasa, Kathmandu and Chengdu, we aim to making your once-in-lifetime Tibet tour more comfortable and memorable with our abundant resources and rich experience.
3. Customized Tour
Our rich experience and resources enable us to provide well tailor-made tours for travelers. For example, we adopt the "4+2" travel concept which allows tourists to explore Tibet in automobile, by motorbike and/or bicycle. Speak 1-1 with our tour expert for all your Tibet travel needs, pick your date, destinations, hotels you prefer and we will organize a unique trip for you!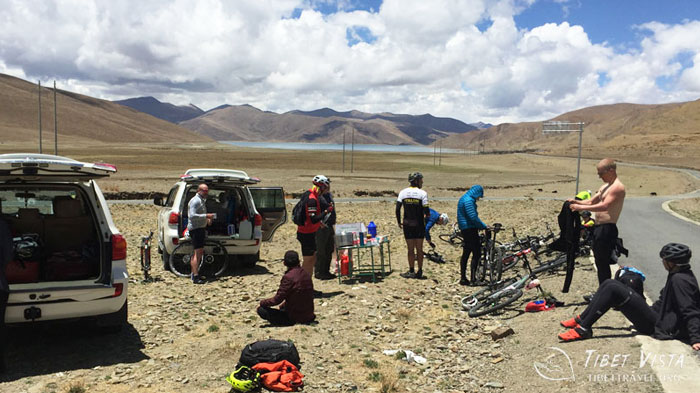 Take a break during the Lhasa to Kathmandu cycling tour
4. Convenient and Safe Way of Payment
You can pay by credit card (Visa or Master), Paypal, Wire Transfer or pay in cash, UnionPay debit card in our Lhasa, Chengdu, Kathmandu office.
The payment information is listed clearly. An email confirmation will be sent to you once the payment is received.
5. Worry-free Travel
- 100%-guaranteed Tibet Travel Permit
- Tibet train ticket booking
- Jeep border transfer from Gyirong Port to Kathmandu transfer
- No forced shopping nor hidden price
- Timely client service during your travel
- Refund Promise ( If the promise is not met )
- Guarantee food safety and Taste local dishes
- Choose the most suitable hotels and optimize our accommodation yearly
- 100% local Tibetan tour guide and authentic Tibetan Service Experience
- Visit the local community and countryside (at tourist's request)
- In-depth Tour Experience in unusual tourist attractions ( at tourist's request)
- Experience local customs and activities (if the time is appropriate)
Most Popular Tibet Tour Packages