How to Book
6 Steps to Book a Tibet Tour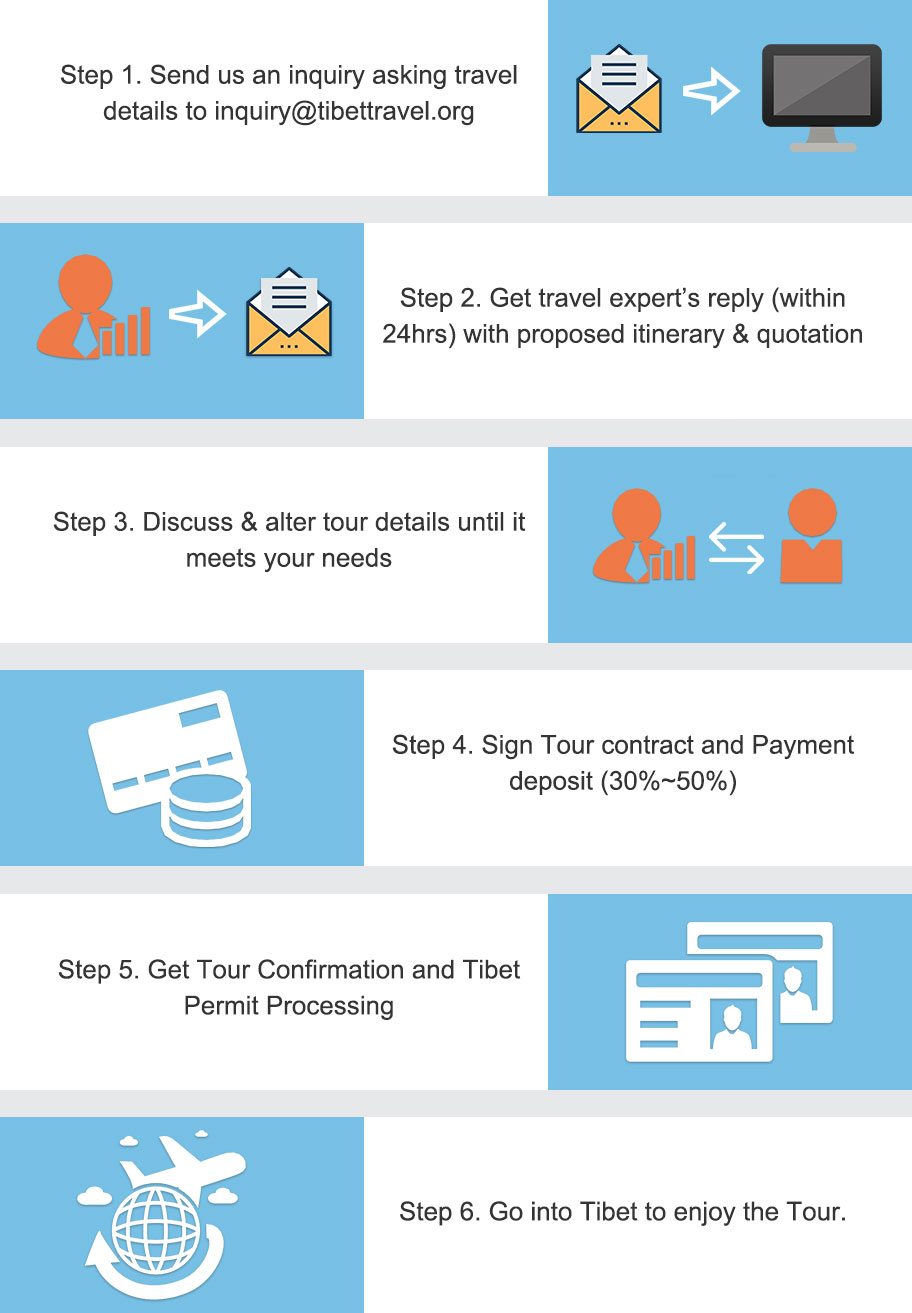 6 Steps to Book a Tibet Tour with us
Let's Guide You Step by Step
1. Send us an inquiry or request of travelling to Tibet
When you are viewing Tibettravel.Org, you may be interested in one of our designed tour packages, or you may have your own idea of travelling in Tibet. please send us an email to inquiry@tibettravel.org or complete an online inquiry form at the end of the tour itinerary to share your idea to us. You can even click online Skpye or MSN service to chat with our travel advisor to get a immediate response. When you sending us your tour request, please do not forget to leave an active telephone number or instant contact like Yahoo, MSN or Skye ID to get more effective and prompt service.
2. Get proposal itinerary and quotation
Once Tibettravel.Travel get your inquiry, your case would be handed over to a professional travel advisor and He/she will response by email, telephone or online instant contact within 24 hours, your travel advisor will communicate with you until we fully understand your idea and need.
Tibettravel.Travel provide 1 to 1 consulate service from the beginning to the end, you will have your own travel advisor to take care of all the things include the solve your problems during the trip.
3. Free Discuss and Change until it meet your need
After the informative communication, your travel advisor will pre-design a tour itinerary and a quote based on your idea, please feel free to discuss and modify the itinerary, services and price quotation with us until it fully meet your need.
4. Sign Tour contract and Payment deposit
Please fix your schedule with the travel advisor and get a final tour program with agreed price quotation. Your travel advisor will prepare a formal tour contract for you include the travelers info, travel company info, fixed itinerary, price quotation, payment info, insurance info, terms and condition of booking a tour, etc. please read this tour contract and get us back with your opinion, your travel advisor will modify the tour contract until making agreement. Please sign your name on each page of the tour contract and fax or email the signed contract to your travel advisor.
Pay deposit according to the request in Payment info, Tibettravel.Travel Normally ask for 20-30% of the local Tibet Tour fee and 100% of domestic transportation fee as deposit when you book the tour, we sometimes ask for more than 30% if you book the trip urgently or your trip is considered as a usual case.
After signing the contract, you will have a free opportunity to modify the contract
5. Get Tour Confirmation
After booking a trip and pay deposit, your documents will be handed over to another department of Tibettravel.Org called -- Operation Department(OP for short). The OP will list a plan to arrange each service item in your contract, like air tickets booking, train tickets booking, Applying for your Tibet Permit, etc. You are kindly required to email the colorful photo copy of your passport and China visa in large size 20-30 days before you set out to Tibet to apply Tibet Permit. And 7-10 days before your tour start, you will get the tour confirmation of local tour guide info, train tickets info etc.
Your Tibet Permit, Train tickets and other important documents will be delivered to your hotel address or home address in the departure city on time.
6. Go to Tibet to enjoy the Tour
Your tour guide will meet you at the train station or airport, enjoy the Tibet Tour!
Please contact your travel advisor when you need his/her help during your trip in Tibet, if you are not satisfied with any of our service, please feel free to point it out and give us a chance to correct it immediately.
If your contract includes a rest payment in Lhasa office of Tibettravel.Org, please pay it before the tour formally starts. Our company does not accept leave a part of tour fee at the end of your trip. all the tour fee are required to be fully paid at the first two day you are in Lhasa. we have an Lhasa office to deal with the payment.