Top 10 Distinctive Restaurants in Barkhor Street
When on a trip to Tibet you tend to enjoy its heavenly beauty and climate. Its mesmerising views, monasteries, temples etc. are overwhelming. But the trip cannot be completed without tasting the authentic food. I believe food plays an important role in the great experience of trip. Barkhor Street in Lhasa has many renowned restaurants and various other small and big eating joints. All the restaurants are well furnished and well equipped for every kind of customer. They have exotic decors which include various traditional paintings, murals implying good luck and happiness. The calm and comfortable environment in the restaurants creates a great ambience.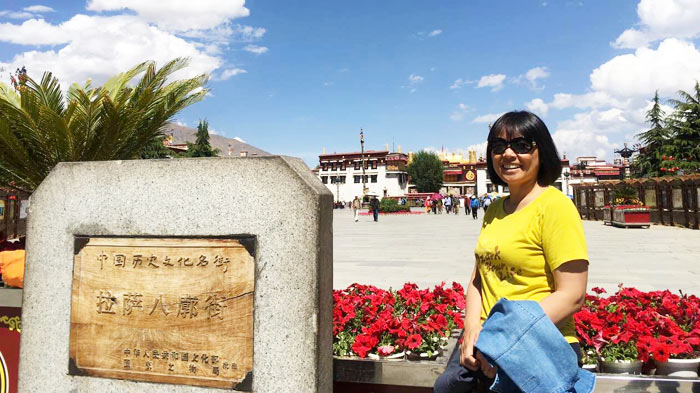 Barkhor Street
Certain restaurants there organise special entertainment programs for their customers. Tibetan singers and dancers present their performances which give an amazing taste of Tibetan culture and also prove soothing and regulate the tiredness. Tibet serves huge variety of foods, whether they are local foods or specific famous cuisines. Its staple foods such as barley grain flour, yak meat, goat meat, wheat flour, milk etc. Predominant local flavours are dried meat of beef and peculiar sausages of mutton. They have a principle of having white food in summer and red food in winters.
Traditional Food comprising dishes prepared from barley, yak and goat meat and dairy products. Due to the whether there is scarcity of vegetables and are available less, this factor increases the cost of vegan food in the restaurants. But must tell you there is no compromise in the taste. Barkhor Street is loaded with a lot of restaurants in a row, available in varied class and prices at pocket friendly prices.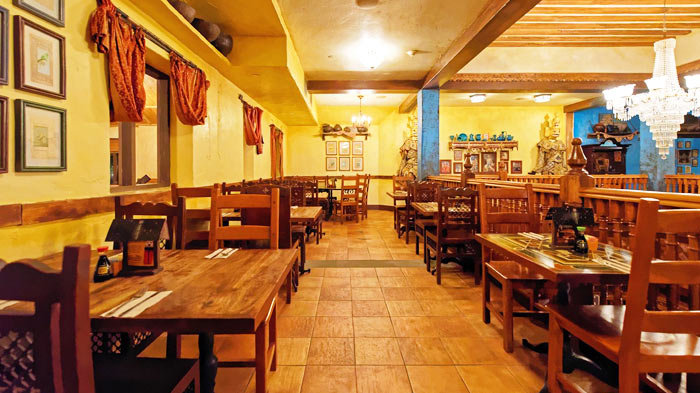 A clean and elegant restaurant located in Barkhor Street.
The menus of the restaurants show a great influence of western countries and neighbouring countries like China, India, Nepal and Bhutan. It is interesting to see some restaurants have menu in multiple language, just as preferred by their language and tastes traditional or western. Even some of the restaurant keeps modifying their menus, just to retain the freshness and customer satisfaction. Isn't it interesting? Some of them are with rooftop restaurants offering a great view to the Barkhor Street, some has balconies with window seats to just sit and relax along with the food of your choice.
There are some restaurants with bar also where visitors can enjoy the drink of their choice to have some relaxing time and to relieve out all the tiredness of the day. All the dining outlets are designed in Tibetan style. These restaurants cum bars are capable of serving imported drinks like whiskies, beers and many more other cocktails and beverages. Many restaurants has an attractive thing called live cooking stations which cooks many international cuisines and also these eateries offers buffet system that serves many traditional as well as western dishes.One of the best part is the staff is well trained, they are genuine and are friendly to their customers. They speak fluent English, so there will not be any problem related to commutation. Such good plus points makes a trip worth remembering as it gives numerous great things to cherish. So here are some western restaurants near Barkhor street in Lhasa.
Top 10 Distinctive Restaurants in Barkhor Street
When foreigners are touring Lhasa, they probably need something reassuringly familiar, food in particular. Here is a list of top ten restaurants of Barkhor street, Lhasa. Hope these will help you out and ease your trip there, restaurants are as follows:
1. Makye Ame
This restaurant is quite renowned in Tibet. Of course for its cuisines and ambience but there is a legendary love story attached to it, people say this is the place where sixth Dalai Lama met a girl named Makye Ame and fell in love. Isn't that cute? The menu of the restaurant serves famous cuisines of Tibet. It includes acid turnip fried beef, roasted natural mushrooms, ginsing fruit salad, roast mutton chops, yoghurt, Tsampa ball, fresh wine prepared from barley and not to forget the butter tea, a national beverage of Tibet.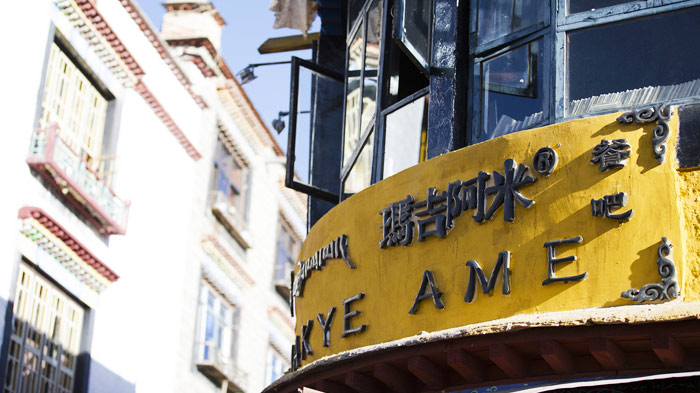 Makye Ame Tibetan Reataurant
It is situated to the southwest side of Barkhor street. The decor inside is beautiful and is arranged with typical Tibetan way, It is recommended as a must visit place as you can have the full view of the local market from its window and the other notable attraction is its live band with wonderful performances, carried out on the second floor of the building. You can see a lot of visitors from foreign sitting there and enjoying this exotic experience.
2. Namaste Restaurant
This Restaurant is beautifully decorated in Tibetan style. It is situated facing the Jokhang Temple. The window seats of the restaurant offers a great view of the Barkhor market along with that it presents a wide variety of Tibetan, Chinese, Nepalese, Indian and English cuisines. The owner of Lhasa Namaste Restaurant is Mr. Jampa and the staff is also fluent in English language and are helpful too. Yes before or after meals you can explore the market too for some shopping.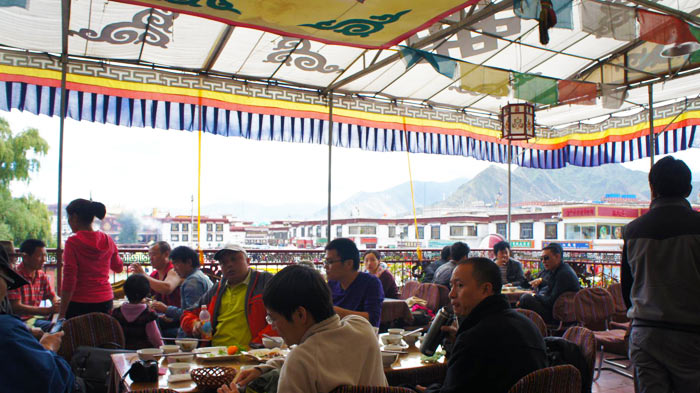 Namaste Restaurant
3. Lhasa Kitchen
Restaurant is situated in the centre of Barkhor Street, this restaurant provides the cuisines of various countries like India, Nepal, China, Italy but predominantly serves the Tibetan food and other good snacks are also served. Its interiors are the mixed blend of different countries like India, Nepal, China and of course Tibet, showing the influence of tourists and cultures.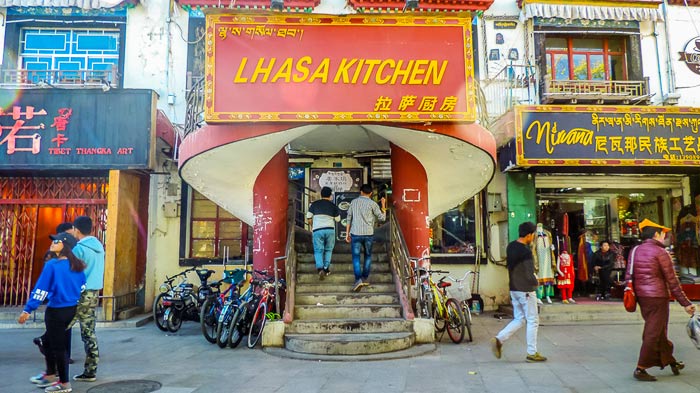 Lhasa Kitchen
4. New Mandala Restaurant
This is a Nepali based restaurant styled in Tibetan way. It offers multi cuisines inspired by different countries so that visitors from different countries can enjoy the food of their desire. This restaurant is at the entrance of Jokhang. It is well equipped with its rooftop restaurant which provides lovely view outside.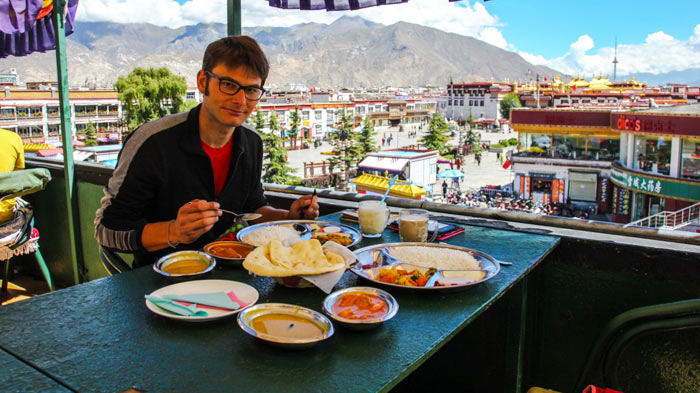 New Mandala Restaurant
5. Crazy Yak Restaurant
This is the largest restaurant in Lhasa. Tibetan furniture and décor gives an awesome feel. This eating joint serves chicken and beef and many other dishes which are common, but it is recommended to try its yak meat as the name of the restaurant itself implies its yak speciality. It also offers you to enjoy Tibetan culture as well as dance performances and songs are presented by the Tibetan artists. Some snacks and a good drink followed by dinner is all what you need here.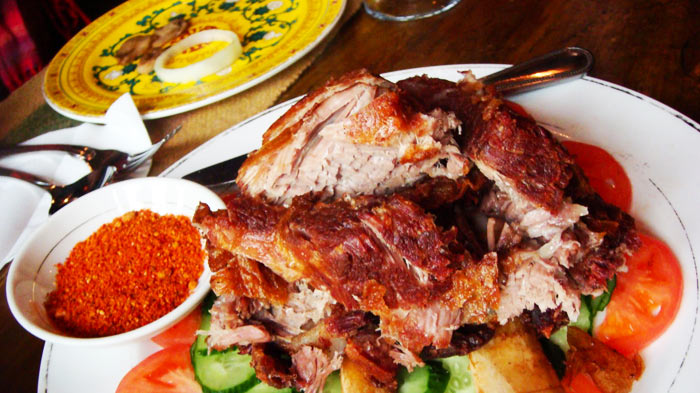 Delicious Yak Meat
6. Snowland Restaurant
Snowland restaurant is a part of Snowland Hotel situated on Mentsikhang Road. It serves varied variety of foods and cuisines at affordable prices, including western food, Tibetan food and Nepalese food.. Its dishes from various countries are yummy and are available at pocket friendly prices. Its speciality from India is chicken tikka, chicken tikka masala, a kind of Indian food there is also delicious and popular.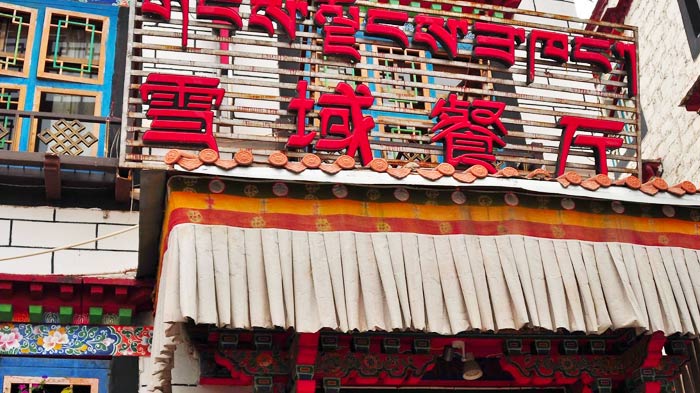 Snowland Restaurant
And likewise its menu has gathered various cuisines from different countries like Japan, Nepal, China and western food is also available. Its Nepalese food and pizza are very tasty. It is designed amazingly in Tibetan style. The unique feature of this restaurant is its menu, Keeping in mind about the tourists from different countries and with different food choices, its menu is written in Chinese ,English and Tibetan all three languages are used, so that customer can choose and order food accordingly.
7. Tashi I and Tashi ll
Both of these restaurants are from the same hotel named Kirey Hotel and are quite famous and a sort of favourite restaurants to many travellers ,reason being its hygiene, reasonable and easily affordable prices, friendly serviceand calm ambience. As to attract the tourists it always keeps on revising the menu of the restaurant so as to retain its freshness. The must try dishes of this restaurants is Bobis,a preparation of flavoured cheese with creamy texture and meat, whereas Tashi II's tsampa, thukpa, momo, spaghetti and various meats are available.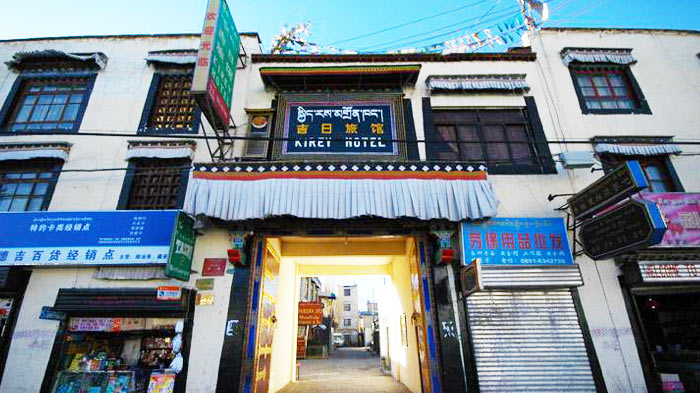 Kirey Hotel
The bobis which is made up of flavored cream cheese and fried vegetables or meat is highly recommended. Rest as being the part of the same hotel the menu is mostly the same with the similar delicacies, snacks and everything. The waiters here are well trained and speaks fluent English. Besides, the staff there speak English very well and English menu is offered.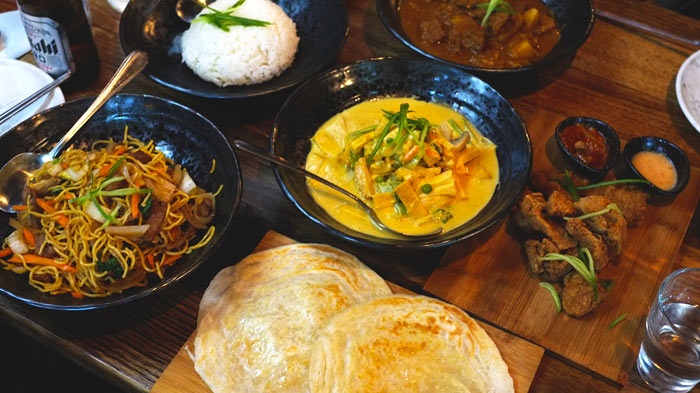 Enjoy the Pleasure of Food
Tashi II in the Kirey Hotel is famous for its clean and quiet environment. It offers Tibetan food including Tibetan momos, tsampa, thukpa and fried yak meat as well as spaghetti, mashed potatoes and fries. Actually its menu is the same as that of the Tashi I.
8. Nam-tso Restaurant
The restaurant offers plentiful of food preparations including burritos, vegetarian lasagna and yak burgers. Prices a little higher than those at Tashi I and II. It serves a classic Lhasa delicacy popularly called the chicken sizzler, which is a must try recipe. It is very comfortable to sit outdoors to have your meals in the sunny sky. It has open restaurant, the fresh air and sometimes the sunny days are enjoyable sitting in outdoors. The menu with English dishes is served with quick serving time. The waiters are friendly too.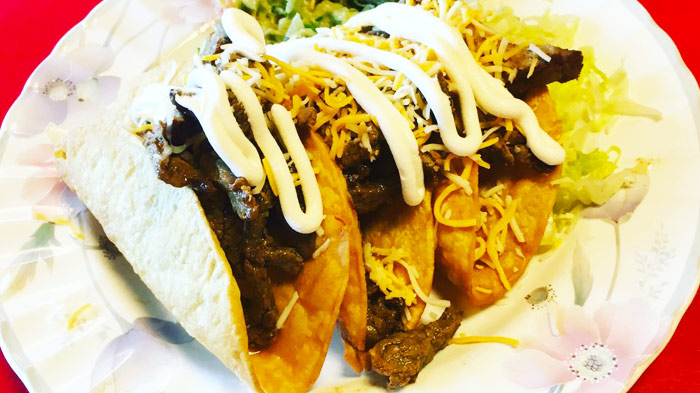 Tasty and Attractive Burritos
9. Dunya Restaurant
This restaurant is maintained and run by foreign owners, it has amazing and classy decor, Its interiors, furniture and a decorations are of western style. And this foreign-run eatery is popular with travellers who need something reassuringly familiar. It has wide variety of dishes in the menu along with interesting specialities, this eating joint is quite expensive, but this eatery is a desired place for the travellers who are looking for western food. Preparations like pizza and Italian pasta, sandwiches, salads and soups.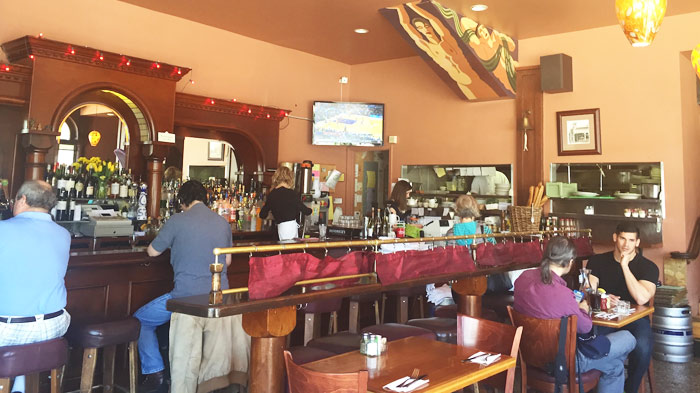 Dunya Restaurant
From the oregano-flavored pizza crust to the Italian imported pasta, try the homemade sandwiches and soups and the good salad in lunch. Many more other things are there to try. Its huge variety and tourist familiar food servings make it little more expensive than other restaurants. If you are fearful or reluctant to experience extremely new kind of food then, this place to go for you. By the way, menu is also in English.
10. Snow-Deity Palace
This restaurant has beautiful décor displayed in Tibetan style. It serves authentic food of Tibet especially the traditional and ancient recipes. The menu emphasizes on Tibetan food only. The recommended dishes of this restaurant are freshly fried chops of mutton and Tibetan steamed buns with stuffing. The staffs here are active and friendly.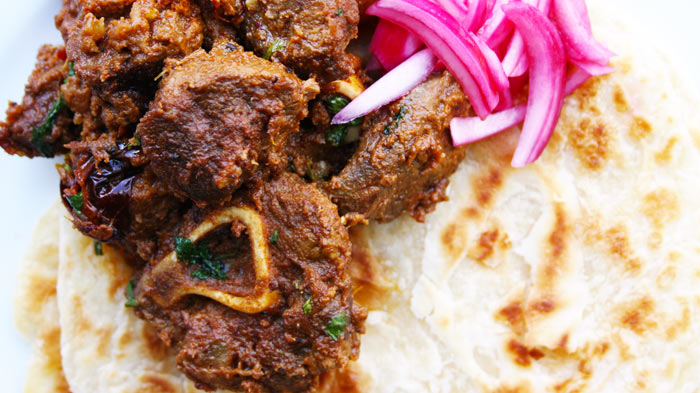 Freshly Fried Chops of Mutton
Except the above restaurants, some hotels in Lhasa also offer western food, such as Hard Yak Cafe of Lhasa Hotel. It is the main restaurant among the three restaurants of Lhasa Hotel and provides western food in good ambience. If you are just an eater not stay in the Lhasa Hotel, you will have to pay the fare. In Hard Yak Cafe, hamburgers, fired tomatoes, local vegetables, Yak fillet, pizza, yak steak and so on are for your option.
Have an exotic holiday at Tibet, enjoy the sceneries, awesome foods in restaurants of your kind. Have a heavenly experience through your eyes and tongue. Don't forget to respect their customs and traditions. Have happy meals.