Is October a Good Month to Travel in Tibet
Is October a good month to travel in Tibet? The answer is absolutely YES in all respects, which includes mild climate and temperature, fantastic natural landscape, characteristic religious activities and festivals, etc. In this month, you can enjoy yourself totally in the holy land. However, in the first week of October, Chinese people are celebrating the National Holiday and Tibet always receives over 80,000 tourists daily in this week. And the prices of hotels and air tickets are usually higher than most time of the year. Therefore, it is best to travel to Tibet after the tourists rush.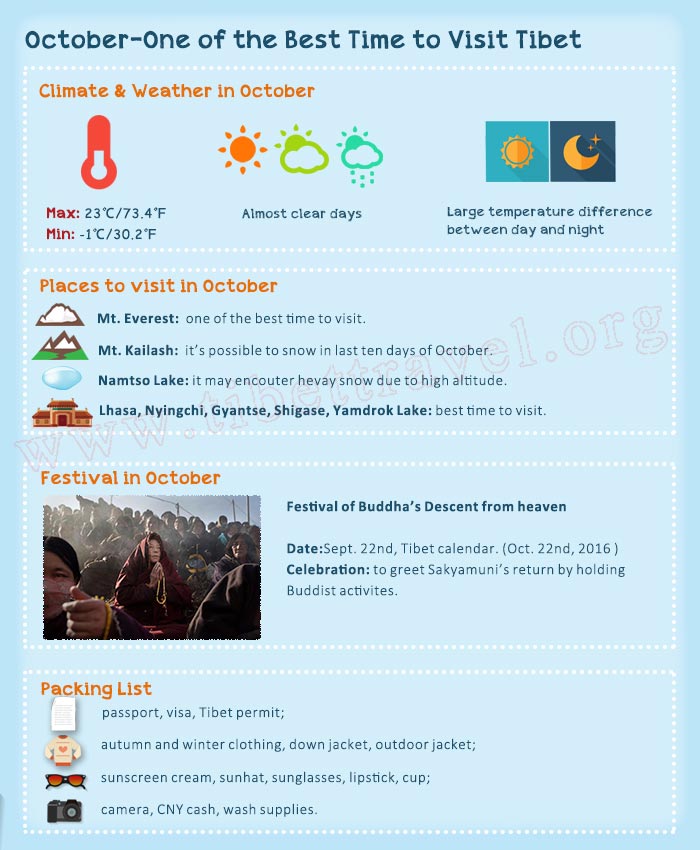 October is one of the best time to visit Tibet.
Climate and Weather of Tibet in October
October marks the beginning of dry seasons of Tibet, when there is little precipitation and dry air. Besides, the temperature is turning cold, but it is not chilly for human's body. In October, the range of temperature is from 23 degrees to minus 1 degrees. Some travelers may be worry about that it is too cold to go to Tibet. Yes, it is a bit cold in October in Tibet, but not cold as you imagined.
In Lhasa, Nyingchi and Shannan, the minimum temperature is about 4 degrees, which gets a little bit higher than in Ari and Nagqu. It's brilliantly sunny in daytime, giving comfortable body feeling. However, down coat is still recommended for travelling in Tibet and strong ultraviolet rays acts on skin, it's better to use sunscreen cream to avoid sunburn.
Places to Visit in October
Mt. Everest
October is one of the best time to travel Mt. Everest because of the climate. It's not too cold to trekking, sightseeing, photographing and other tour activities. Moreover, there is great probability of seeing Mt. Everest in October.
Mt. Kailash
Certainly, Mt. Kailash is also a nice option for traveling in early October. It always snow during in late October and next February, therefore, there is possibility that the road is interrupted by the snow.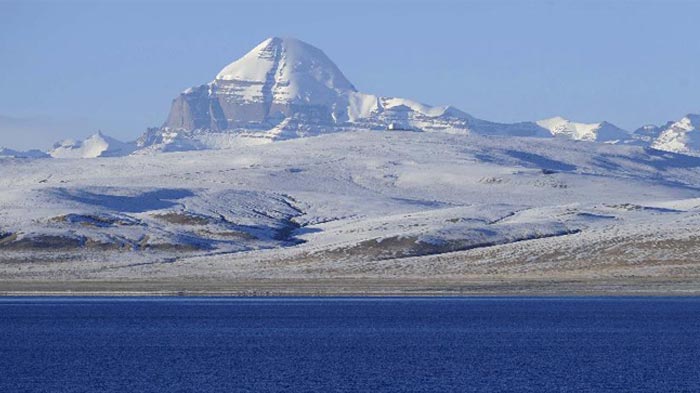 Stunning view of Mt. Kailash in October.
Namtso Lake
Due to high altitude, Namtso Lake is possible to encounter heavy snow which seals the mountain passes.
Lhasa, Nyingchi, Gyantse, Shigase, Yamdrok Lake
If you want to travel in these places, crisp air and clear day decide that October is also the best time to visit.
Festival in October
Festival of Buddha's Descent from heaven is celebrated on September 22nd in Tibetan calendar, usually in October in Chinese calendar, which is also called Lhabab Duchen in Tibetan. It's said that the founder of Buddhism, Sakyamuni, descended to the world from heaven. There are a large number of pilgrims in Lhasa on that day. It's an important Buddhist festival for Tibetan to greet Sakyamuni's return by holding Buddist activities.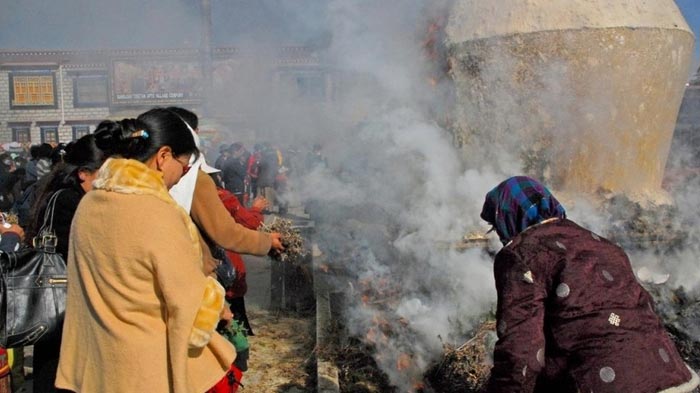 Pilgrims are buring Morus alba in an incense burner.
Packing List of Travel in October
Identification: passport, visa, Tibet permit
Clothes: autumn and winter clothing, down jacket, outdoor jacket
Articles: sunscreen cream, sunhat, sunglasses, lipstick, cup
Others: camera, CNY cash, wash supplies
Travel Tips
a.You need to complete Tibet permit including Tibet entry permit, Aliens' travel permit and military permit. Tibet entry permit is required when you board a flight or train to Tibet. Without it, you are not allowed to step your foot on the land of Tibet.
b.Due to the climate and weather, travelers need pay much attention to preventing from sunburn and cold.
c.To ensure travel to Tibet in your available time, you'd better book train tickets two months ahead of your schedule.
d.Treat altitude stress positively. Once you have symptom of altitude stress, you'd better drink water frequently and rest or take drugs in necessary.
e.When taking photos, especially figure of Buddha and monastery, you need to notice that there is any forbiddance of photograph out of respect for Tibetan custom.