Tsedang Altitude: how to visit Lhoka with varied elevations
Also known as Shannan, Lhoka Prefecture in the south of Tibet has long been the most prosperous region of Tibet, as well as being an amazing tourist destination that has not had the acknowledgement it deserves. Believed to be the home of the first Tibetan people and the cradle of Tibetan civilization, Lhoka is home to the first Buddhist monastery in Tibet, the first Royal Palace of the first Tibetan king, and the area of Tibet where farming originated. Lying some 200 kilometers to the south of Lhasa, the Tibetan capital, this unique area of the plateau is one of the fastest-growing new destinations in Tibet.
Lhoka sits at an average altitude of around 3,700 meters, close to that of Lhasa itself, and is a stunning land of high snow-capped mountains, fast-flowing rivers, stunning lakes, and many other natural attractions. Lhoka has a history that is older than the Tibetan civilization as we know it, and parts of it were inhabited more than four million years ago by one of the earliest primitive people in Asia. All of this makes this unique area of Tibet the richest and most historically significant area of the entire Tibetan plateau.
Altitude of Lhoka City and Counties
Covering an area of 79,700 square kilometers, Lhoka is made up of 11 counties and one district and has Tsedang Town (3,100m) as the administrative center:
| | | | | | |
| --- | --- | --- | --- | --- | --- |
| Name | Simplified Chinese | Elevation (m) | Area (km²) | Population | Density (/km²) |
| Nêdong District | 乃东区 (Nǎidōng Qū) | 3,100m | 2,211 | 59,615 | 26.96 |
| Zhanang County | 扎囊县 (Zhānáng Xiàn) | 3,620m | 2,157 | 35,473 | 16.44 |
| Gonggar County | 贡嘎县 (Gònggā Xiàn) | 3,750m | 2,283 | 45,708 | 20.02 |
| Sangri County | 桑日县 (Sāngrì Xiàn) | 3,647m | 2,634 | 17,261 | 6.55 |
| Qonggyai County | 琼结县 (Qióngjié Xiàn) | 3,900m | 1,030 | 17,093 | 16.59 |
| Qusum County | 曲松县 (Qūsōng Xiàn) | 3,952m | 1,936 | 14,280 | 7.37 |
| Comai County | 措美县 (Cuòměi Xiàn) | 4,220m | 4,530 | 13,641 | 3.016 |
| Lhozhag County | 洛扎县 (Luòzhā Xiàn) | 4,199m | 5,570 | 18,453 | 3.31 |
| Gyaca County | 加查县 (Jiāchá Xiàn) | 3,548m | 4,493 | 23,434 | 5.21 |
| Lhünzê County | 隆子县 (Lóngzǐ Xiàn) | 4,000m | 9,809 | 34,141 | 3.48 |
| Cona County | 错那县 (Cuònà Xiàn) | 4,461m | 34,979 | 15,124 | 0.43 |
| Nagarzê County | 浪卡子县 (Làngkǎzǐ Xiàn) | 4,452m | 8,109 | 34,767 | 4.28 |
Top Eight Lhoka Attractions and Their Altitudes
Yamdrok Lake (4,441m)
One of the Great Three Sacred lakes of Tibet, Lake Yamdrok (4,441m) is a huge and spread-out lake that covers a vast area, though it has a surface area of just 638 km2. One of the few freshwater lakes in the plateau region, the lake is around 72 kilometers long. Surrounded by the high mountains of the Transhimalaya, the lake is fed by several dozen small streams that run the snow-melt from the mountains down into the valleys.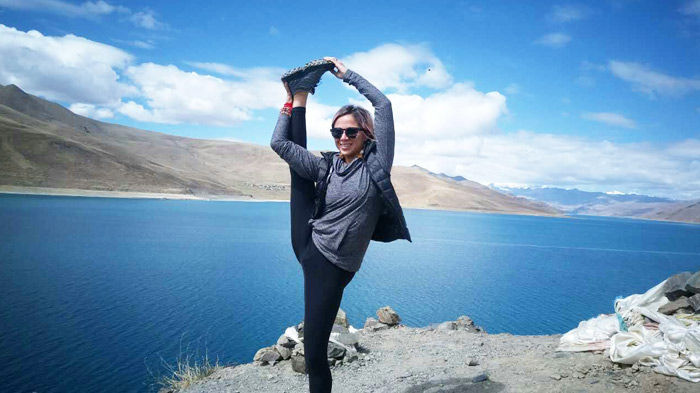 Practicing Yoga at the shore of turquoise Yamdrok Lake.
Mindrolling Monastery (3,700m)
Mindrolling Monastery (3,700m) is a famous ancient monastery in Tibet founded in 1676 by Rigzin Terdak Lingpa. It is one of the six principle monasteries belonging to Tibetan Nyingma School. It is situated in Zhang County, China which is more or less 42 kilometers from the Lhasa airport. This monastic university had trained numerous Nyingma yogis and scholars from Tibet. It used to teach Buddhist scriptures and traditional Tibetan calendar, rhetoric, calligraphy as well as medicine.
At one time the monastery had more than one hundred satellites dedicated to its own purposes. And the throne holder of the monastery was a highly revered person in entire Tibet. Close to Mindrolling there is a high Stupa of around 190 feet dedicated to the cause of world peace which is also a great attraction for tourists. It is worth mentioning that a group of monks in India established a branch of Mindrolling monastery in Dehradun, Uttarakhand, India in the year 1965 and now it is one of the biggest Buddhist religious institutes present in India.
Tsetang Town (3,100m)
Tsetang (3,100m) also known as Zetang is a Tibetan city situated in the Yarlung valley. It has been the capital city of Yarlung and home to the ancient Tibetan kings since antiquity. And this is why it is a historically noted place in Tibet. Moreover it is located adjacent to flank of Gongbori a place with numerous ancient ruins. For all these reasons Tsetang is called the cradle of Tibetan civilization. This is an extremely fascinating place for those interested in histories of ancient cities. The city has several guesthouses and hotels to accommodate tourists coming from all corners of the world.
Trandruk Monastery(3,591m)
Trandruk Monastery (or Tradruk Monastery) (3,591m) is located on the eastern bank of river Yarlung. It is one of the earliest and most sacred monasteries in Tibet and visited by countless tourists and pilgrims every day. It is said that Milarepa and Padmasambhava, two eminent Tibetan Buddhists practiced Buddhism in this place hence it is a highly sacred place for Buddhist pilgrims.
It is regarded as one of the chief historical sites of the state that are provided with special protection. Inside the monastery you will get to see a valuable treasure - a pearl Thangka. For your information Thangka is a type of Tibetan painting demonstrating Buddhism in an artistic way. It is about 2 meters in length and 1.2 meters in width. It is studded with 29026 pearls, 15.5 grams of gold, a beautiful diamond and a number of other precious gems. Admission fee for this monetary is 30 Yuan. The visiting time is 9 am to 4pm and you can easily spend around one and half hour in the monastery.
Yumbulakang Palace (3,841m)
Yumbulakang (3,841m) is actually an antique structure situated in the Yarlung Valley in Lhoka. Standing on the mountain it looks very majestic and magnificent. As per legends it was the first palace of Nyatri Tsenpo, the first Tibetan king who is said to have descended from the heavens. The palace is believed to have been built up in the 2nd century BCE. And after a thousand year the palace was transformed into a monastery during the period of the 5th Dalai Lama.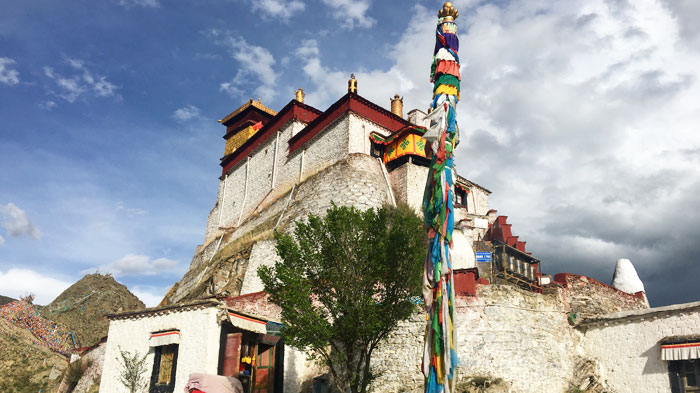 Yumbulakang Palace is the first palace in Tibet.
Yumbulakang Palace is divided into two precincts - rear and front. The front region comprises a three storied building and the rear portion has a tall castle like tower. You can enjoy the grand statues of Thiesung Sangjie Buddha and two eminent Tibetan kings namely Niechi and Songtsen Gampo enshrined inside the palace. The interior of the palace features beautiful murals depicting the ancient Tibetan history to be enjoyed by the tourists.
You can visit the ground floor free of cost but to enter the first floor you are to pay 15 Yuan. At the top of the palace there is a watchtower which is open for the visitors. The tower offers you a splendid view of the far reaching landscapes enclosing the palace. Zortang, the first cultivated land in Tibet, is located just below Yumbulakang and even today the local farmers collect soil from Zortang and sprinkle them on their farming land for a quality harvest.
Valley of the Kings (3,824m)
The Valley of the Kings (3,824m), also known as Chongye Valley, is a series of burial mounds stretching far and wide. It is located near the Yarlung Tsetang Valley, Tibet. It comprises eight large tumuli which are deemed to contain eight graveyards of Tibetan kings inside them. The largest mound situated on the north bank of river Chongye has a temple devoted to Songtsen Gampo, the creator of the Tibetan empire. At the center of the temple there is a statue of Gampo along with his two wives Wencheng and Tritsun. The wall of the temple is adorned with murals portraying different ancient Indian deities belonging to the 8th century AD. The place attracts numerous tourists and pilgrims from all over the world.
The Kings' burial mounds in Chongye provide evidence for a pre-Buddhist culture in Tibet, which is quite rare. Though the way they were buried indicates the Bon faith, most of the kings are now associated with the rise of Buddhism in Tibet. People explain that the burials were probably done by Bon priests and accompanied by sacrificial offerings. More archaeological evidence shows that earth burial, instead of sky burial might have been widespread in the time of the Yarlung kings. Some also suggests that common people might have earth burial as the kings did.
The location and number of the mounds are various. The erosion has made some of them difficult to identify. However, it is agreed that there is a group of 10 burial mounds, located just south of the Chongye-chu.
The Tomb of Songtsen Gampo is the most revered of all the mounds. It is also the closet one to the main road. As the largest of the burial mounds, it has a small Nyingmapa temple, with a top of 13m-high. The Tomb of Trisong Detsen is the furthest of all the mounds, sitting high on the slopes of Mt. Mura, which is about an hour's climb. All in all, the climbing is worth it, for it offers superb views of the Chongye Valley.
Samye Monastery (3,565m)
Samye Monastery (3,565m), situated on the northern bank of river Yarlung Tsangbo, is one of the oldest monasteries in Tibet. It is also a great tourist attraction of Lhoka. Inside the monastery there are two beautiful marble statues bearing the carving pattern of the Tang dynasty. There is also a precious bronze bell curved with ancient Tibetan scripts all over. According to legends it is the first bell of Tibet. The monastery was once badly damaged by the Tibetan king Lang Derma, who forbidden Buddhism in Tibet and destroyed many Buddhist temples with that end in view.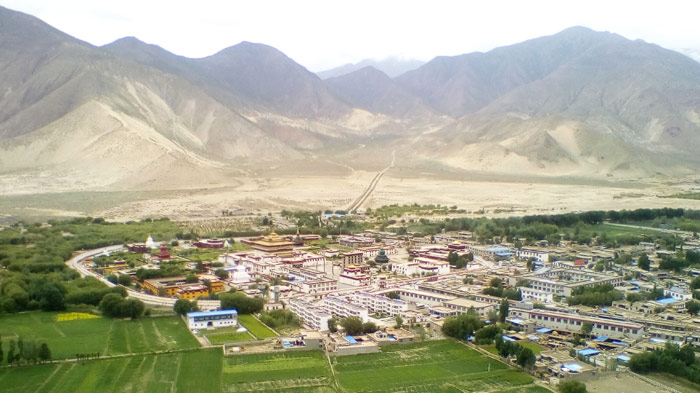 Aerial view of Samye Monastery, Lhoka.
Local people need not pay anything to visit the monastery but tourists are to pay 30 Yuan as entree fee. However students are allowed some discounts. Visiting hour is 9 am to 4 pm and keep at least 2 hours of time at hand when you go. The monastery has a small boarding house inside it which charges approximately 30 to 40 Yuan per from the tourists. You can book one of them if you have a passion for staying inside a monastery.
Dorje Drak (3,564m)
Dorje Drak (3,564m), one of the six Nyingma monasteries of Tibet, is located in Shannan Prefecture in south of Tibet. It was initially founded in Tsang and relocated in 1632 to its present location, a place with a tranquil setting. The monastery has a big chanting hall with a great statue of Padmasambhava (Guru Rinpoche) inside it. It was plundered by the Mongolians in 1717 and was reconstructed under the supervision of the 7th Dalai Lama in 1720. But unfortunately it was again obliterated in 1960s. But it is gradually restituted in recent times. Tourists can enjoy the serene beauties of the monastery along with its peaceful surroundings.
How to prevent altitude sickness in Lhoka, Tibet?
With its higher altitude than most of the areas around Lhasa, Lhoka is one place in Tibet where you really need to acclimatize before traveling. Altitude sickness hits most people when traveling to the higher altitudes of the plateau, and it is common to feel such symptoms as headaches, nausea, dizziness, etc. In order to prevent getting altitude sickness once you leave Lhasa for Lhoka, then it is a good idea to limit the amount of increase in altitude you make in one day, it is recommended to ascend no more than 300-400 meters a day, and that you should always sleep at a lower altitude than you have reached throughout the day. A good way to manage that in Lhoka is to stay in Tsedang, one of the lowest altitudes in the area, and then return there in the evenings, so that you are not increasing in altitude when you rest at night. Here we offer you all the hotels in Tsedang for you to choose from.
Conclusion
Lhoka is a lot higher than Lhasa and Nyingchi, and for those traveling to visit the stunning landscapes and attractions of the area, it is one of the best options for tours in Tibet that you could wish for. With its vast cultural and historic background, this cradle of Tibetan civilization is undoubtedly one of the most unspoiled and unexplored (by western tourists!) areas of the plateau, and definitely worth a visit.