Travel Tips for Tibet Tour in August
August is the golden time to travel in Tibet, especially to the northern Tibet. Both the natural scenery of lakes and mountains are in their best state. Whenever you travel to Tibet in August, you could appreciate beautiful scenery and experience characteristic Tibetan lifestyle. In addition, the color of green and vitality are swarmed with Tibet in summer. Especially, it will hold grand festivals in August to feel the Tibetan enthusiasm and lively atmosphere.The fascinating holy lakes and magnificent mountains attract a sizeable number of tourists here in August.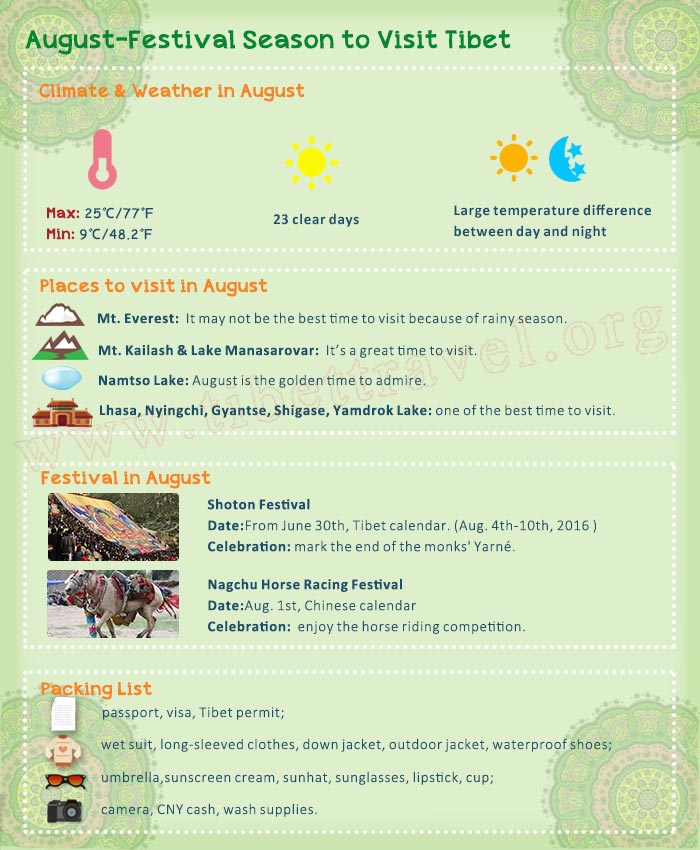 August-Festival season to visit Tibet.
Tibet Weather in August
Tibet weather and climate in August reach their top level. The cool climate here makes Tibet one of the best summer resorts in China. It may be extremely hot in other cities of China during this month, but the high altitude of Tibet makes it quite cozy. The average temperature in Tibet ranges from 9 °C to 25 °C. In Lhasa, on average the maximum temperature is 21 °C, while the minimum is 10 °C. The further you travel away from Lhasa to the west or north Tibet, the lower the temperature drops. August is also rainy season in Tibet, but it usually rains at night. Besides, the temperature between day and night varies greatly. Bring a coat and long johns for the higher elevations and cold nights, and also bring summer clothes. If you will travel to Mt. Everest or Ngari, winter clothes are necessary.
Scenic Spots of Tibet in August
Mt. Everest
Just like July, August may not be the best time to travel to Mt. Everest either because of rainy season in Tibet. Low visibility, rain, and bad road conditon could hinder you to see the peak of Mt. Everest. But you still could try to enjoy the stunning view of Mt. Everest in clear days.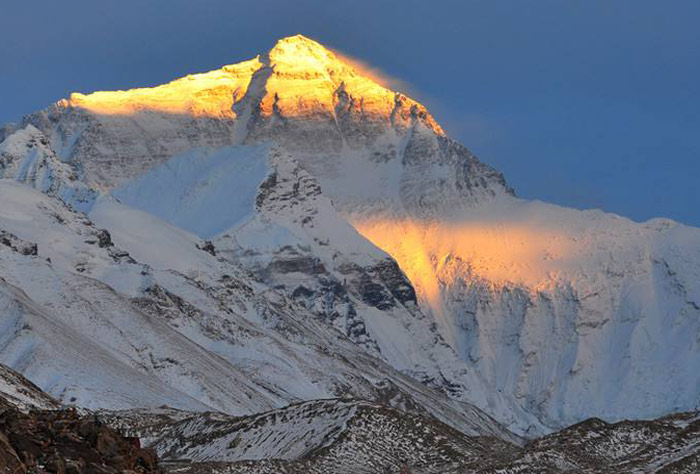 Amazing scenery of Mt. Everest in August.
Mt. Kailash and Lake Manasarovar
Mild climate and high oxygen contents decides that August is a great time to travel to Mt. Kailash and Lake Manasarovar. But it is necessary to bring umbrella or raincoat and warm clothes.
Lake Namtso
There are thousands of flowers in bloom in August and Namtso Lake like a blue pearl on this holy plateau. Natural scenery of Lake Namtso in August is an oil painting of a landscape in summer. You will be beguiled by the beauty of the landscapes. It is a fantastic idea to visit Lake Namtso in August.
Lhasa, Nyingchi, Gyantse, Shigase, Yamdrok Lake
With Favorable climate and temperature, August is one of the best time to travel to these places neither hot nor cold. Wonderful scenery makes a strong impression on your mind about Tibet. Similarly, raincoat or water-proof clothing needs to be prepared.
Tibetan Festivals in August
August is believed to be the best month to travel in Tibet mainly because it is the festival season with Tibetan outdoor festivals and sport competitions such as horse races. Festivals of note include the Shoton Festival and the Nagqu Horse Racing Festival. A large number of tourists would rush to Lhasa to experience the festive atmosphere of Shoton Festival when the religious celebration reaches its climax.
Shoton Festival
Shoton Festival is one of the most solemn festivals celebrated by Tibetans in a year. It is celebrated to mark the end of the monks' Yarné, their hundred day summer retreat. Shoton festival starts on the last day of the sixth month in Tibetan calendar and lasts for a few days. The 2016 Shoton festival will celebrated from August 4th to 10th. Apart from traditional Buddha unfolding ceremony in Drepung and Sera monastery, dramatic Tibetan opera show, and annual Tibetan Thangka EXpo, the 7-day celebration for this year involves International Namtso Lake Trekking, Tibetan music seminar, live commercial concert, and soccer championships.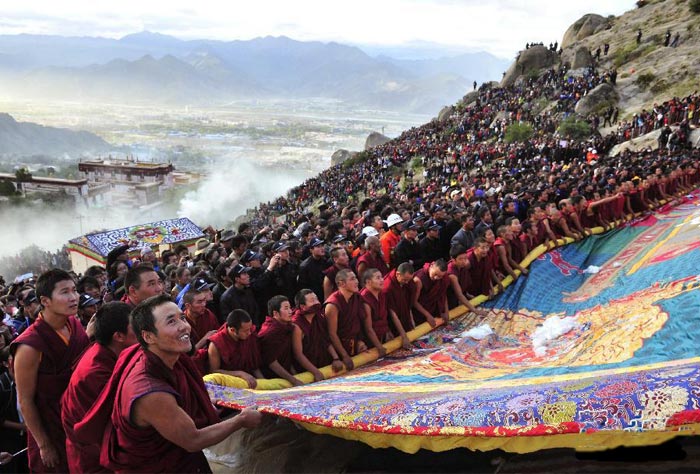 Monks are unveiling a giant thangka on a mount slope.
Nagchu Horse Racing Festival
As one of the grandest annual event in northern Tibet, the Nagqu Horse Racing Festival, which falls on every August 1st in Chinese calendar, will attract Tibetans from every corner of the Tibetan Plateau. The Tibetans are dressed with traditional costumes and decorated in their best clothes. They gather on the vast grassland dotted with all kinds of flowers, and set up beautiful tents to enjoy the horse riding competition, yak race, tug of war, stone-lifting and Tibetan operas.
Packing List of Travelling to Tibet in August
Identification: passport, visa, Tibet permit
Clothes: wet suit, long-sleeved clothes, down jacket, outdoor jacket, waterproof shoes
Articles: umbrella, sunscreen cream, sunhat, sunglasses, lipstick, cup
Others: camera, CNY cash, wash supplies
Tips for Travelling to Tibet in August
a. Tibet permit and other relative permits are necessary when you are planning to travel in Tibet.
b. Due to large numbers of travelers and Tibetans flocking into Lhasa during the grand festive season, it is important to book hotels, train tickets or air tickets in advance.
c. Do not forget skincare products, sunglasses, sunbonnet and sun-blocking cream.
d. Though August is the highest oxygen contents month, you'd better treat altitude stress positively instead lose sight of altitude stress.
e. Umbrella and waterproof clothing are necessary goods when you are travelling to Tibet in August.
Most Recommended Tibet Tour in August
Tibet Shoton Festival Tour – 5 Days
Nagqu Horce Racing Festival Budget by Train - 8 days