Is It Possible to Travel Tibet Individually with a Tibet Travel Permit?
Young travelers often crave adventure on a budget, dreaming of exploring Tibet much like backpacking through Nepal or Southeast Asia. But unlike other destinations, solo travel in Tibet isn't feasible. A Tibet Travel Permit and local agency are necessities. Here's your guide to navigating independent travel in Tibet.
1.Obtaining Tibet Travel Permit Individually is not Feasible
Tibet Travel Permit can only be obtained through a certified travel agency that provides you with tour services in Tibet. The travel agent will submit the visa application to the Tourist Bureau on your behalf.
Tibet Tourism Bureau is located in Lhasa and is the ONLY place where you can get the officially recognized Tibet Permit. It only accepts applications from qualified local travel agencies. Any application from individuals will be rejected.
As the leading Tibet travel operator, we, Tibet Vista, guarantee your Tibet Permit. Once you book a Tibet tour with us, you just send a scanned copy of your passport and visa to us, and we will apply for the permit on your behalf. After the permit is issued, we will send it to your address in the mainland of China before your flight or train to Tibet.
2. Independent Visit to Tibet Without a Licensed Travel Guide is not Possible
While you understand the necessity of obtaining a Tibet Travel Permit, some of you might wonder whether it's possible to acquire a 'permit-only' service from a travel agency.
Sorry, the answer is NO. Every foreign tourist must go through a travel agency and be accompanied by a local travel guide throughout their stay in Tibet. No travel agency in Tibet is authorized to provide a Tibet Permit without making tour arrangements.
It is mandatory to have a guide with you every day. However, if you choose to stay in a hotel in Lhasa or spend five hours shopping in a free market, you won't need an escort.
Just abide by a list of rules, like not visiting temples, not going to a tourist attraction site, not leaving Lhasa City, etc.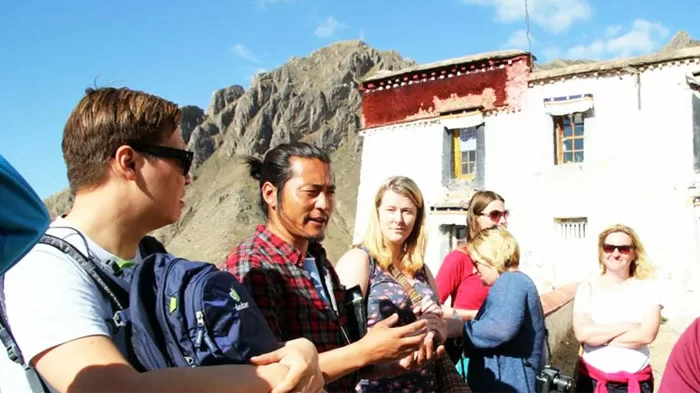 Getting to learn much about the Drepung Monastery with the explaination of the guide
3. You can't Hitchhike or Take a Public Bus in Tibet
It is illegal for foreign tourists to hitchhike or take a public bus in Tibet. You need to rent a vehicle if you want to get on a road trip TO Tibet. As the largest local travel agency in Tibet, we offer different types of vehicles, from 7-seaters to 23-seaters, ensuring a comfortable travel experience. All our vehicles are in good shape and work perfectly.
4. For Individual Travelers, join in a group tour in Tibet is the best choice
Traveling in Tibet is never inexpensive; in fact, when compared to other destinations in Asia, it tends to be relatively costly. Expenses include payments to the travel agency, ground transportation, and accommodation, all of which can add up significantly.
The best choice for solo travelers visiting Tibet on a budget is to join a Tibet small group tour. To provide a comfortable and enjoyable travel experience in Tibet, we provide kinds of Tibet small group tour packages, covering all the essentials of Tibet for different duration and travel interests. With groups limited to an average of 12 people, both you and your tour guide can engage in effective communication throughout the journey.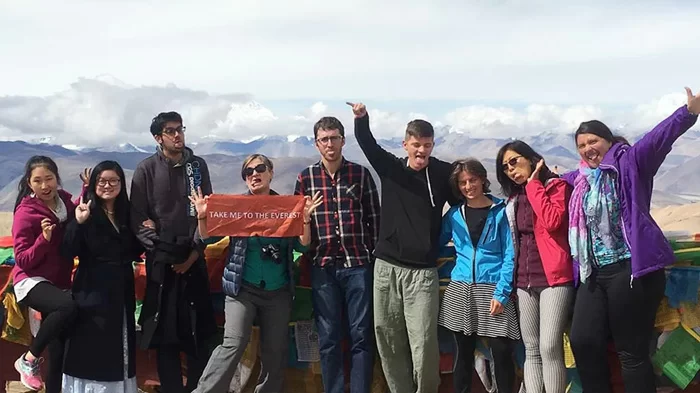 Visit Tibet with our Tibet Small Group Tours
5. Or, you need to hire a private guide and a vehicle at high expenses
If you prefer not to travel with a group, you'll need to cover the Tibet tour expenses on your own. It's important to note that Tibet isn't a budget-friendly travel destination. In addition to covering accommodation, transfers, and attraction fees, you're also responsible for the cost of a guide.
The most affordable certified guide charges USD 50 per day. If you opt for a more experienced guide, the price can range between 70 to 80 USD per day.
Furthermore, you must hire a local driver along with a licensed vehicle. Keep in mind that hitchhiking or using public buses is prohibited for foreigners in Tibet. Your travel agency could face severe consequences if caught violating these regulations. Consequently, no reputable agency would facilitate hitchhiking or bus travel. Renting a vehicle is the only viable option for embarking on a road trip in Tibet.
Conclusion
Many young people love to travel, but tight budgets can be a challenge. As the leading and most experienced Tibet travel organizer, we came up with the idea of 'Shared Travel' for solo visitors who travel to Tibet alone. The concept is simple: we bring together people with similar travel plans to share the costs of things like tour guides and vehicles, which can be expensive. If you're traveling alone in Tibet, why not join us and make it more affordable and enjoyable?
Most Popular Tibet Tour Packages