Best Time to Have a Tibet Cycling Tour
For cyclists who are going to taking a cycling tour in Tibet, you should pay attention to the local climate and weather since many activities and sightseeing in Tibet have to be achieved with the weather conditions.
Located a high altitude with low atmospheric pressure, the temperature in Tibet varies greatly between day and night with obvious season changes.
On the whole, the climate of Tibet is characterized by cold and dry in the Northwest while warm and wet in the Southeast. And the best time to cycle in Tibet is mainly in dry seasons (spring and autumn) rather than the rainy season (summer).
The Best Time for a Tibet Cycle Tour
Generally speaking, if you are for a cycle tour within the terrain of Tibet Autonomous region, say in Lhasa, the best time would be from June to October. If you plan to follow the cycling route to Tibet from mainland China or Nepal, the best time to go would be from April to October.
In November, the routes to Tibet would be sealed by heavy snows and it would be very dangerous to travel to Tibet from outside. It's not the time for a bicycle tour and nobody will cycle to Tibet in winter.
Tibet Weather in Dry Season (Spring, Autumn, and Winter)
Tibet in these times is dry and windy, and the rainfall accounts for only 10% to 20% of the total in a year. The temperature now is cold with little rainfall and snow. The rainfall during this period in Lhasa accounts for only 3% of its year's total. Thus it is called the dry season or the wind season. It is a pleasant time to cycling in Tibet with clear views of the great snow mountains in Tibet.
When cycling in Tibet in these months, you need to bring down coats with you since it is still chilly at night. In the day time, you can sportswear or a thin sweater as well.
Tibet Weather in Monsoon Season (Summer)
From July to August is the time when Tibet has the highest temperature averaging from 25 to 27°C with a clear sky and warm sunshine.
It is the best time for a cycle tour in Lhasa or some surrounding areas. Assisted by the nice weather in Tibet during these months, you could cycle to some of the most popular tourist attractions in Tibet. It would surely be a memorable cycling experience.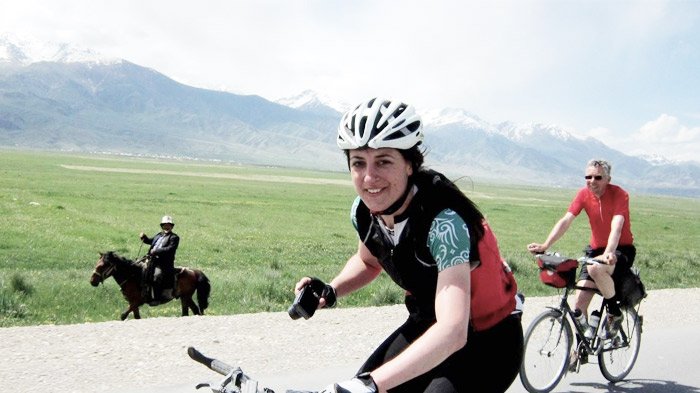 Enjoying Tibet cycling tour in summer
You can wear short T-shirts and shorts for summer riding in Tibet. Due to the strong UV rays in Tibet, you can also prepare some long-sleeves to prevent sunburn.
Besides, a light jacket is also needed, especially if you are going to ride in mountainous areas where the higher the altitude, the lower the temperature.
As summer is the rainy season in Tibet, you should also prepare a rain jacket for your Tibet bike tour in the summer.
The continuous rainfalls may bring some geological hazards, and this will bring many troubles to cyclists on a long-distance journey if you are entering Tibet from other provinces.
It may even be life-threatening in some route sections. So you must be fully prepared just in case. And we highly suggest that cyclists should intentionally avoid the rainy seasons for your own safety concern.
Popular Tibet Bike Tour
Tibet is a destination for outside adventures. There are kinds of cycling routes through Tibet plateau, like the popular biking route from Lhasa to Everest Base Camp and the classic route from Lhasa to Kathmandu.
No matter you are looking for some sightseeing cycling tours or want to challenge yourself, you can find one here in Tibet.
Lhasa to Everest Base Camp Bike Tour
Cycling from Lhasa to Everest Base Camp is the most popular cycling route in Tibet. Generally, it takes around 19 days to complete this great journey with a total distance of around 670km.
The best time for taking this Lhasa to Mount Everest biking tour is from April to May and from September to early October when the temperatures are perfect for outdoor riding.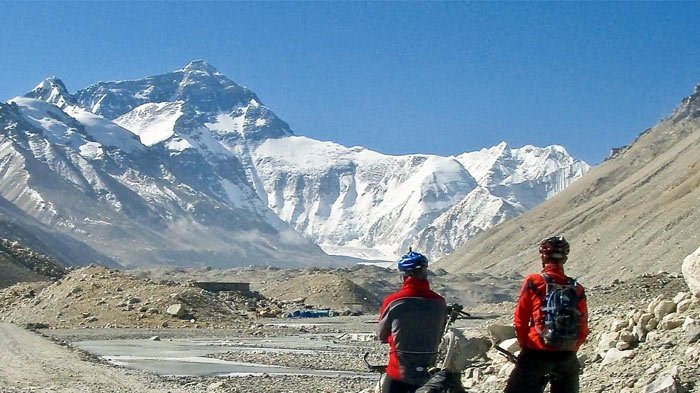 After more than ten days of cycling, we finally arrived at the Everest Base Camp.
Spring and autumn are also the dry seasons in Tibet with little rain, which allows you to get a clear view of Mount Everest, as well as other mountain peaks of the magnificent Himalayas.
Lhasa to Kathmandu Biking Tour
Riding along the famous Sino-Nepal friendship highway, you can reach Gyirong Border and finally get to Kathmandu, the capital of Nepal.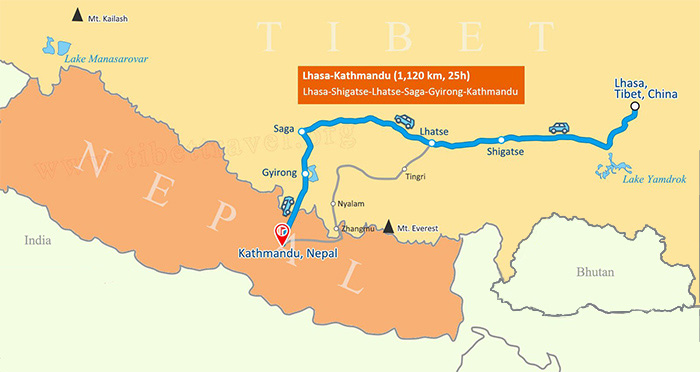 You will follow the Sino-Nepal friendship Highway for the cycling.
This epic overland route can be also done by bike. The Lhasa to Kathmandu bike tour, covering around 1300km in total, takes about 22 days to finish. Starting from the Holy city in Tibet, you will fully explore all the best of this mysterious land through the Himalaya.
The best time to cycle from Lhasa to Kathmandu is from mid-April to mid-June, and from September to mid-October. The road to Kathmandu from Gyirong Border would be destroyed by the heavy rain in monsoon season, so it is better to avoid the summer months from July to August.
Lhasa to Namtso Lake Bike Tour
There is also a scenic cycling route from Lhasa to Namtso Lake. Starting from Lhasa, you will go north through the vast grassland in Northern Tibet, climb over Mount Nagenla and finally reach the holy lake Namtso.
Although the total distance from Lhasa to Lake Namtso is only 428km, the physical demand is moderate since you need to climb over the Nagenla Pass (5190 meters above the sea level) halfway up.
Because of the high altitude of the mountain areas en route, the road to Namtso Lake would be closed during the wintertime due to the heavy snow. The best time to take the cycling tour from Lhasa to Namtso Lake is from April to early October.
Biking Tours around Lhasa City
Besides those long-distance cycling routes, there are also some easy trails around Lhasa city, as a short bike tour from Lhasa to Ganden Monastery (about 106km) and a circular biking tour around Yamdrok Lake (about 262km).
You can also have a bike tour in Lhasa city on a sunny afternoon after a small cup of buttered tea. You can rent a bike in Lhasa city and follow the road to visit the most popular attractions like the Jokhang Temple, Norbulingka Park, and the Potala Palace together by bike.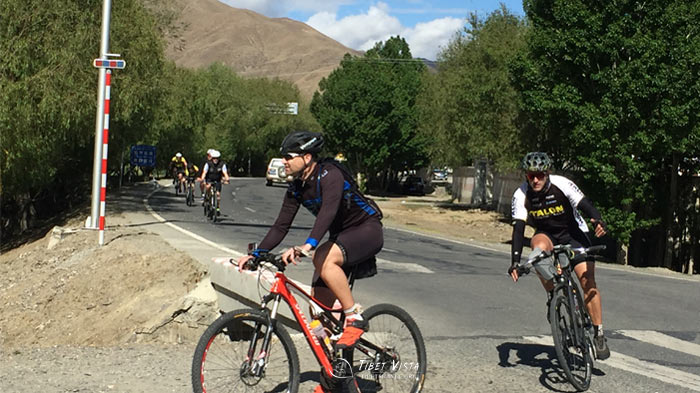 Our clients are cycling to Yamdrok from Lhasa.
Whenever you come to Tibet, you can experience a leisure cycling tour around Lhasa city. The weather is fine in Lhasa around the year, and you don't have to worry about the road being destroyed out by heavy rain or closed due to heavy snow.
More Long-distance Cycling Tours to Tibet
Except for a cycle tour in or around Lhasa, many cyclists would choose to cycle to Tibet from mainland China, say from Yunnan, Qinghai, Xinjiang and Sichuan provinces. There are three main routes to Tibet, the Qinghai-Tibet Highway, Sichuan-Tibet Highway, Yunnan-Tibet Highway.
These three routes to Tibet are mostly taken by Chinese who want to enter into Tibet; along the route, you will see many cyclists take on their road.
As foreign cyclists who want to take these roads, we will provide guides and business cars to accompany your whole tour in Tibet just in case some problems may arise. And we will suggest that your bicycle tour will only cover a small part of the routes, for it would be unrealistic to cover the whole distance by bike.
Useful Travel Tips for Cycling in Tibet
Be discrete when having a cycle tour in Tibet
To have a cycle tour would cost more energy compared with trekking. So you must well preserve your energy. We suggest that you shall not have a bicycle tour immediately after you arrive in Tibet. Do it after your acclimatization after two or three days in Lhasa, or else you may encounter the altitude sickness.
Pay attention to your safety
Slow down your speed when descent, for you may encounter a brake failure. There are too many cases where cyclists met accidents when descending too quickly downhill and collided to the hillside. You shall never ignore the possible dangers that may arise if you just seek pleasure when descending hills at a high speed.
Food to eat during your Tibet cycling tour
In remote areas of Tibet, it is difficult to find a store or restaurant. So you need to prepare some food for your cycling trip in Tibet. Instant food is the best, like instant noodles, ham sausage, steamed bread, pickles, chocolate, drinks, alcohol for warming your stomach after eating cold food, and drinking water.
Clothes to wear during your Tibet cycling tour
The temperatures change greatly in different areas of Tibet and between day and night. In Lhasa, the temperature in July arrives at 30 °C at daytime, but falls to -10 °C at night.
While the temperature at mountain areas is much lower than that in Lhasa. Sometimes it will snow or sleet at night, so you'd better take some down garments (those with hats will better), woolen sweaters, warm gloves, warm and wind-proof shoes and socks. Wear several layers of clothing that can be easily added or removed.
Even in summer, a down coat is necessary for those who are traveling beyond Lhasa and Shigatse into more remote areas such as Everest Base Camp.
Bike gears and equipment for Tibet cycling tours
1. Mountain bike with bicycle rim of 26 inches is the best size. Before your trip, it's better to learn some bicycle mix skills and adjust the bike in the best condition.
2. Take a helmet in consideration of your safety.
3. Magic headscarf which can be used as a wrist brace, scarf, face mask, and headband.
4. Riding gloves are necessary for sweat-wicking, anti-skid, and breath freely.
5. Steel bicycle carrier
6. Riding trousers
The riding trousers are divided into male design and female design. Ladies can wear a riding skirt.
7. Spare wheel, bicycle pump, toolkit
Riders should prepare at least 2 inner spare wheels with good quality. Please prepare bicycle chains and other necessary bicycle parts.
8. Compass; Altitude watch; Flashlight; 10 batteries. Consider for the security, riders should take a flashlight, headlight, taillight.
9. Raincoat of high quality
10. A watch to calculate the mileage, cards including ID card, Credit card.
11. Skincare products such as sunblock and lipstick. Ladies should bring some female wet wipes.
12. Riding cloth, sleeping bag, gaiter, sports glasses, rearview mirror, moisture-proof pad
13. Swiss Army knife, tableware, water can, lighter
14. Food, tea, instant coffee, juice powder, chocolate, peanut, ham bowel, liquor
15. E-book
Conclusion
Tibet has always been a dream place for many cyclists from all over the world. However, the preparation for a Tibet cycling tour would be a huge project.
When is the best time to take a cycling trip to Tibet? What to see in different seasons to go? What to pack and what to wear in a Tibet Cycling Tour? All these things are details that entail careful preparations and arrangements.
To tell you when the best time is to cycle in Tibet with detailed weather information in different seasons, we also provide Tibet bike tours with Tibet permit application, mountain bike rental, and other related services. Hoping you will enjoy an unforgettable cycling experience in Tibet with us.