Best Time to Have a Tibet Cycling Tour
Tibet has always been a dream place for many cyclists for it has so much to offer them such as the beautiful landscapes, numerous religious monasteries and vibrant ethnic cultures and customs. But preparation for a Tibet cycling tour would be a huge project, ranging from the timing and routes to the preparation of biking gears and budgeting of the tour. All these things are details that entail carful preparations and arrangements.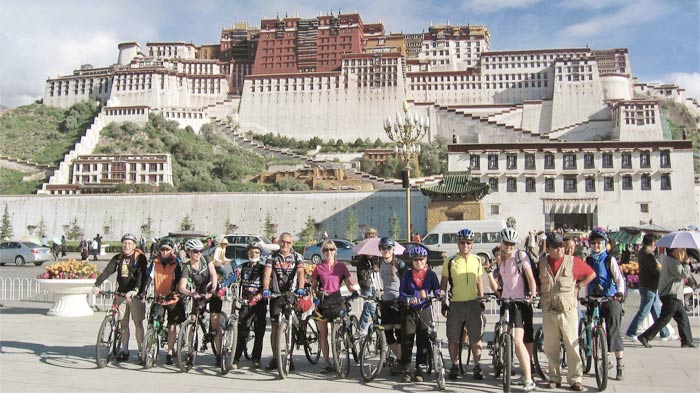 Cyclists taking a photo in front of the Potala Palace
The best time for a Tibet cycle tour
Generally speaking, if you are for a cycle tour within the terrain of Tibet Autonomous region, say in Lhasa, the best time would be from June to October. If you are in other province and follow routes to Tibet from outside, the best time for a Tibet cycle tour would be from April to October.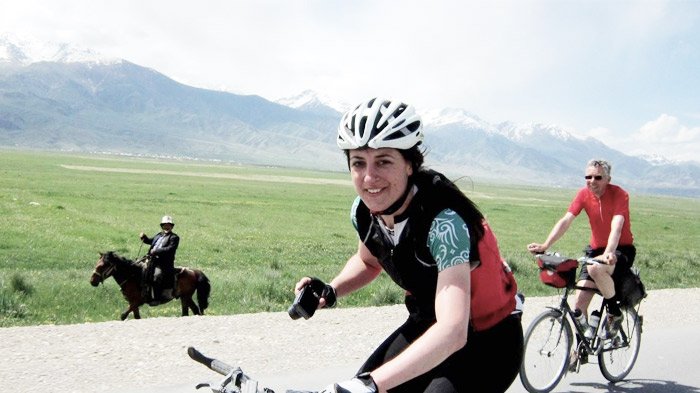 Cyclists havingh a bicycle tour in early summer in Tibet
In November the routes to Tibet would be sealed by heavy snows and it would be very dangerous to travel to Tibet from outside. It's not the time for a bicycle tour and nobody will cycle to Tibet in winter.
Cycle around Lhasa
Lhasa is a small and fine city, and it would be petty bourgeois to have a bike tour around Lhasa in the sunny afternoon after a small cup of buttered tea. It is an environment-friendly way and a green life for a bicycle tour and leisure.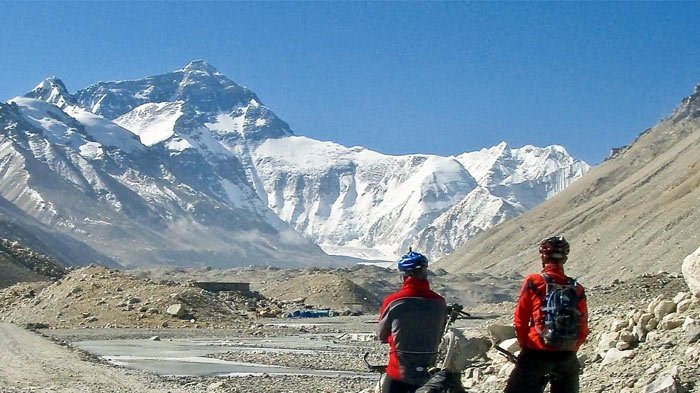 Two cyclists watch the magnificent mountain view in front of them
Rent a bicycle
As a foreigner who wants to have a bike tour in Lhasa, you could bring your own bicycle to Lhasa or you could just rent a bicycle there. The city provides bicycle rent to all man. You could first get the Bicycle Rent Card and start your bike journey.
A popular Lhasa bike tour itinerary
What follows is a popular bike tour within Lhasa city most favored by cycle enthusiasts and the itinerary mainly goes like this:The Johkang Temple--Norbulingka Park( about 4 km and twenty minutes bike ride)-Shibang International residence( about 3 km and twenty-five minutes bike ride)-Lhasa Railway Station( about 5.5 km and forty-four minutes bike ride)-Norbulingka park-Western suburb telecommunication-Zongjiao Lukang Park- The Johkang Temple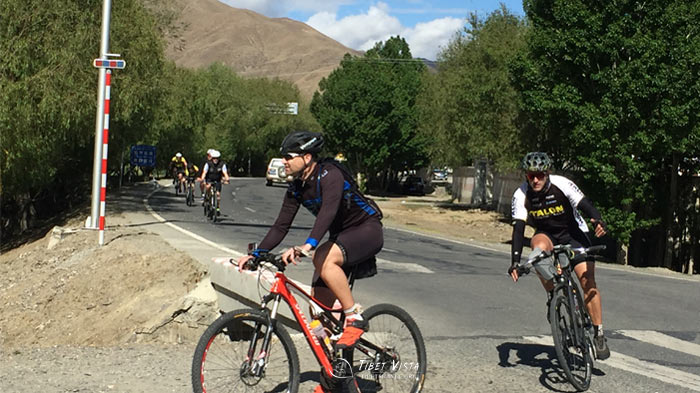 Our clients cycling around Lhasa
You could stop to tour around the aforementioned scenic spots during your bicycle journey and this will give you time for sightseeing and replenishing your energy.
Tips on rent a bike in Lhasa
Where should I get a Bicycle Rent Card in Lhasa
In the following places you could get a Bicycle Rent Card: Lhasa Transportation and Communication Bureau, Lhasa Bus Company, Lhasa Central Post Bureau and Lhasa Saikang Service Unit. You have to give a deposit of 200RMB with 100RMB pre-deposit.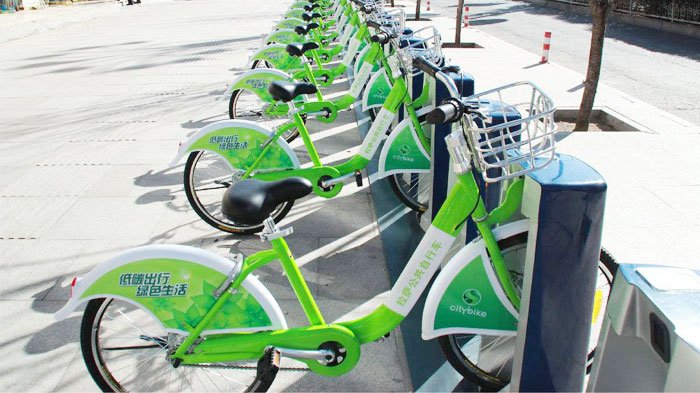 One of the bike rent points in Lhasa with new bikes available for citizens
How to rent bicycle
You could put your card on the card reader at the head of the bicycles then you could rent and return the bike. Consult the personnel at the renting point if you have some doubts
The time for a bike rent
It would be the best to rent a bike in the afternoon so that you could end your rent before 6 o'clock. The afternoon in Lhasa is characterized by clear sky and warm sunshine. The whole land becomes warmer and is quite fit for cycling. You could also plan you bike tour according to your residence and proper routes for such a tour.
When should I return the bike
According to the regulations for bike rent in Lhasa, you shall return the bike within one hour then the money you deposit in the card will not be deducted. You could buy a Lhasa city map to look for bike rent point.
Our guides and business cars will accompany your whole bicycle tour in Tibet
Except for a cycle tour in or around Lhasa, many cyclists would choose to cycle to Tibet from other provinces, say from Yunnan, Qinghai, Xinjiang and Sichuan provinces. There are three main routes to Tibet, the Qinghai-Tibet Highway, Sichuan-Tibet Highway and Yunnan-Tibet Highway.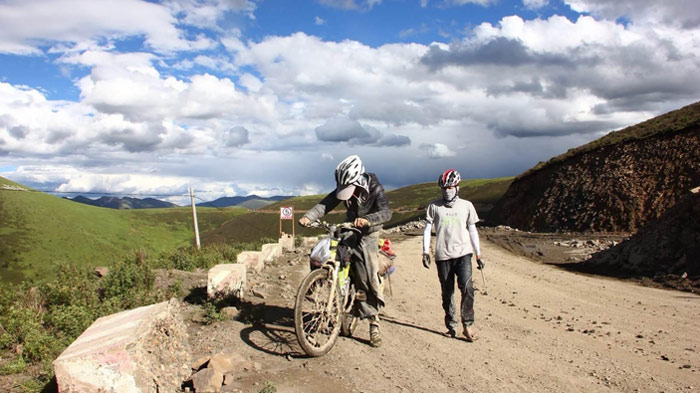 Cycling from Chengdu to Lhasa
These three routes to Tibet are mostly taken by Chinese who want to enter into Tibet; along the route you will see many cyclists take on their road. As foreign cyclists who want to take these roads we will provide guides and business cars to accompany your whole tour just in case some problems may arise. And we will suggest you that your bicycle tour will only cover a small part of the routes, for it would be unrealistic to cover the whole distance by bike.
Climates and seasons in Tibet
For cyclists you should pay attention to the local climate and weather. Many activities and sightseeing in Tibet has to be achieved with the weather conditions. This is especially true for a cycling tour in Tibet. Tibet has a very complex climate type shaped by its plateau topography. On the whole, the climate of Tibet is characterized by cold and dry in Northwest while warm and wet in Southeast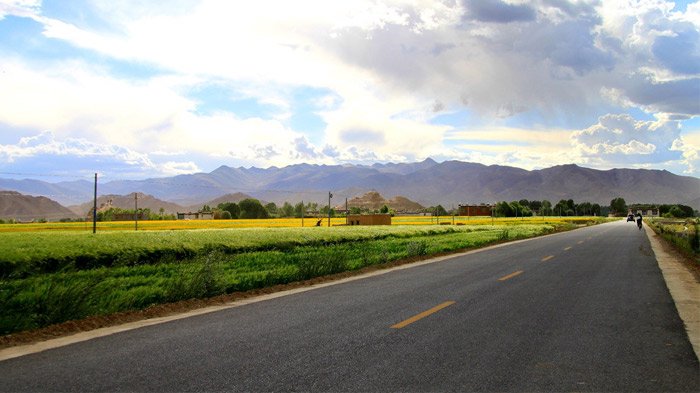 Cyclists will enjoy beautiful panoramic views along roads to Tibet at different seasons and climates

Located in a high altitude with a low atmospheric pressure, temperature in Tibet varies greatly between day and night with obvious seasonal changes. The seasons here are affected by monsoon with clear dry and rainy seasons.
From October to April
Tibet in these times is dry and windy, and the rainfall accounts for only 10% to 20% of the total in a year. The temperature now is cold with little rainfall and snow. The rainfall during this period in Lhasa accounts for only 3% of its year's total. Thus it is called the dry season or the wind season.
From June to August
It is the time when Tibet has the highest temperature averaging from 25 to 27 Celsius degrees with clear sky and warm sunshine. It is the best time for a cycle tour in Lhasa or some surrounding areas. Assisted by nice weather, you could cycle to some of the most noted tourists attractions in Tibet and it would surely be a memorable cycling experience.
After August
After August, Tibet enters into rainy seasons, and the continuous rainfalls may bring some geological hazards, and this will bring many troubles to cyclists on a long distance journey if you are entering to Tibet from other provinces. It may even be life- threatening in some route sections. So you must be fully prepared just in case. And we highly suggest that cyclists should intentionally avoid the rainy seasons for your own safety concern.

One section of Sichuan-Tibet Highway zigzagging its way to destination
Be discrete when having a cycle tour in Tibet
To have a cycle tour would cost more energy compared with trekking. So you must well preserve your energy. We suggest that you shall not have a bicycle tour immediately after you arrive at Tibet. Do it after your acclimatization after two or three days in Lhasa, or else you may encounter the altitude sickness.
Pay attention to your safety
Slow down your speed when descent, for you may encounter a brake failure. There are too many cases where cyclists met accidents when descending too quickly downhill and collided to hillside. You shall never ignore the possible dangers that may arise if you just seek pleasure when descending hills at a high speed.
Food
In remote areas of Tibet, it is difficult to find a store or restaurant. So you need to prepare some food for your cycling trip in Tibet. Instant food is the best, like instant noodles, ham sausage, steamed bread, pickles, chocolate, drinks, alcohol for warming your stomach after eating cold food and drinking water.
Clothes
The temperatures change greatly in different areas of Tibet and between day and night. In Lhasa, the temperature in July arrives at 30 Celsius degrees at daytime, but falls to -10 Celsius degrees at night. While the temperature at mountain areas is much lower than that in Lhasa. Sometimes it will snow or sleet at night, so you'd better take some down garments (those with hats will better), woolen sweaters, warm gloves, warm and wind-proof shoes and socks. Wear several layers of clothing that can be easily added or removed. Even in summer, a down coat is necessary for those who are traveling beyond Lhasa and Shigatse into more remote areas such as Everest Base Camp.
Bike gears and equipments
(1) Mountain bike with bicycle rim of 26 inches is the best size. Before your trip, it's better to learn some bicycle mix skills and adjust the bike in the best condition.
(2) Take a helmet in consideration of your safety.
(3) Magic headscarf which can be used as a wrist braces, scarf, face mask and headband.
(4) Riding gloves is necessary for sweat-wicking, anti-skid and breathe freely.
(5) Steel bicycle carrier
(6) Riding trousers
The riding trousers are divided into male design and female design. Ladies can wear riding skirt.
(7) Spare wheel, bicycle pump, toolkit
Riders should prepare at least 2 inner spare wheels with good quality. Please prepare bicycle chains and other necessary bicycle parts.
(8) Compass; Altitude watch; Flashlight; 10 batteries.
Consider for the security, riders should take flashlight, headlight, taillight.
(9) Raincoat of high quality
(10) A watch to calculate the mileage, cards including ID card, Credit card.
(11) Skin care products such as sunblock and lipstick. Ladies should bring some female wet wipes.
(12) Riding cloth, sleeping bag, gaiter, sports glasses, rearview mirror, moisture-proof pad
(13) Swiss Army knife, tableware, water can, lighter
(14) Food, tea, instant coffee, juice powder, chocolate, peanut, ham bowel, liquor
(15) E-book
Necessary Medicine
(1) Traumatic injury
Safflower oil, band-aid, merbromin, gauze, adhesive plaster, bandage, alcohol.
(2) Larynx needed
Careless Coral Lozenge, Watermelon Frost Lozenge.
(3) Clear heat and antiphlogosis
Radix Isatidis
(4) To fight anoxic: Dextrose
(5) A.P.C battery
(6) Antiphlogistic medicine
Helix mildew element
(7) Huoxiangzhengqi Soft-capsules
(8) Gastric bowel medicine
(9) Patulin: VC Yin Qiao piece
(10) Erythromycin Ointment
(11) Potassium permanganate (put into the washbowl)
(12) Eyedrops