Tibet Religious Month: best time to see religious rituals in Tibet
Tibet is a land of friendly locals who hold to longtime traditions. Mainly devoted to Buddhism (around 90% of the populace), the Tibetans are good-natured people who share good spirits among themselves and their visitors. This practice is especially obvious during Tibetan religious festivals and rituals. At these times, most Tibetans participate in sacred rites that, according to common belief, bring goodness to everyone from humble beggars to powerful deities. To learn when to arrive in Tibet to attend grand religious rituals, such as the Tibetan New Year and Saga Dawa and Shoton festivals, please continue reading.
Religion in Tibet
Khampas in the northeast, Amdos in the southeast and U-tsangs, inhabiting central and western regions of the province, are the main ethnic groups in Tibet. You will find most of these people physically strong, holding to their old traditions and customs with devotion. Buddhism, practiced by the majority of the Tibetans, is the source of their beliefs and religious rituals. Other main religions the local's practice is Bon, the original religion of Tibet (practiced by around 10% of the populace), and Islam.
Tibet is a land of diversity in religion
Tibetan Buddhism is a distinctive form of Mahayana and Vajrayana, which spread into Tibet from India. Mahayana is one of two branches of Buddhism (the other being Theravada), while Vajrayana is a Tantric Buddhist tradition developed from Mahayana. Unlike most other main religions, Buddhism isn't about worshiping a god, but a man who reached the enlightenment. This man is famous throughout the world as Buddha - a person who is awake. However, various deities and divine beings do exist in Buddhism.
Bon religion, which predates Tibetan Buddhism, remains worshipped in its original form in eastern and northern parts of Tibet. Shamanic in its origin, Bon features mystic rituals and meditative practices, many of which, such as prayer wheels and spirit traps, are part of today's Tibetan Buddhism. Some Tibetans are Muslims, but aside from their religion, there is little that distinguishes them from Buddhist Tibetans for their way of life and culture aren't different.
Tibetan Buddhism is the main religion on the plateau
Albeit based on the same principles as Chinese Buddhism, Tibetan Buddhism allows worshipers to practice a wider range of rituals to reach the enlightenment in a shorter time. Tibetan Buddhism appeared between the 7th and 9th centuries AD, and today it incorporates monastic methods of the early Theravada Buddhism and shamanic rituals of the Bon religion. It also incorporates four chief spiritual practices - Renunciation, Bodhicitta, Emptiness and Vajrayana.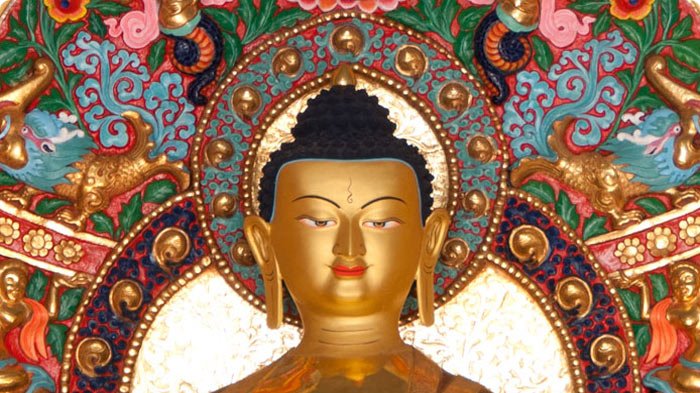 Tibet is well known for its Buddhism around the world.
In its essence, Renunciation, whose purpose is achieving everlasting happiness, is abandoning material possessions and immaterial constraints, such as fame. Bodhicitta is a practice allowing worshipers to achieve great compassion toward others and, thus, gain happiness for themselves. Emptiness is the most practiced meditation in Tibetan Buddhism, allowing the devotee to acquire wisdom and decrease ignorance. Finally, Vajrayana, or "diamond path," takes place after all other practices come to their completion. Vajrayana rites incorporate various sounds and smell in order to stimulate the senses, which is a way toward reaching enlightenment.
With Tibetan Buddhism deeply rooted in the ethnical identity of the Tibetans, Tibetan Buddhist monasteries have a central part in the lives of the locals. The province prides on many monumental monasteries and temples, with the Jokhang Temple and the Drepung Monastery in Lhasa and the Samye Monastery being among the most significant.
Jokhang is the "spiritual center of Tibet," featuring intricate Buddhist murals and panoramic views of the Potala Palace from the rooftop. Drepung, the largest Tibetan monastery, is a complex of unique buildings centering on two white pagodas. It occupies a viewpoint offering views of the Lhasa Valley. Samye, built in the 8th century, is the first monastery and university in Tibet. Pay attention to the monastery's layout, which resembles the Tibetan Buddhist universe.
Best Time to Visit Buddhist Religious Rituals in Tibet
If you are a worshiper or merely curious about Tibetan Buddhism, there are a few distinctive periods throughout the year when you can enjoy related religious practices and rituals in Tibet. For the best experience on religious rituals, you are advised to plan to visit Tibet in January, April, and July according to Tibetan Calendar.
January in Tibetan Calendar – Tibetan New Year
Taking place during the first month of the Tibetan Calendar, Tibetan New Year, also known as Losar, is a grand celebration consisting of religious prayers, official ceremonies, and public performances. The exact date of the celebration may change from one year to another.
In the days before the New Year, you will see the Tibetans embellishing walls with various symbols, such as parasols, golden fishes and vases. The purpose of rituals in Buddhist monasteries is to honor deities that offer protection. On the first day of the Tibetan New Year, worshipers honor their dharma teachers and attend sermons in monasteries. Dalai Lama and other high Buddhist officials present gifts to Dharmapala Palden Lhamo, a female deity considered the protector of Tibet. On the second day, Dalai Lama and the national leaders exchange gifts. On the third day, note prayer flags raised by Buddhist devotees adorning viewpoints, such as hills and roofs. Also, tourists can join locals visiting shrines, monasteries and other holy places.
April in Tibetan Calendar - Saga Dawa Festival
The fourth month in Tibetan calendar (May or June in Solar Calendar) is well known as the "Buddhism month", also called the Saga Dawa Festival in the Tibetan language. This month consists of when Lord Buddha was born, became a monk, died and enlightened and preached Buddhism to sentient beings. That's why Tibetan Buddhists and also those who practice Buddhism consider that month as a holy religious month.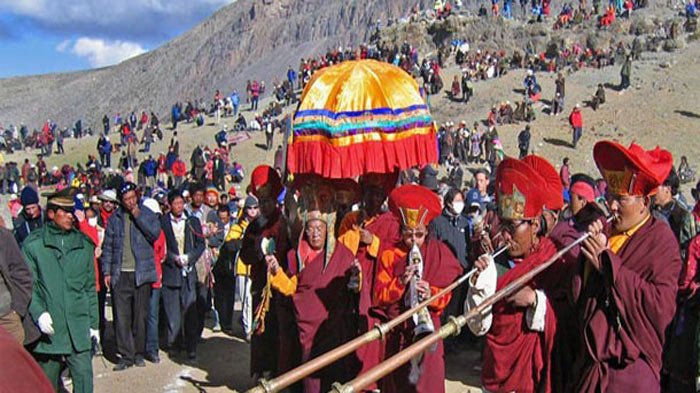 Tibetans are celebrating Saga Dawa Festival.
In Tibet lots of Tibetan people quit having meat during that holy month because we believe that whatever good things you do in that holy month, you will gain more virtues than usual, and whatever bad things you do, you will also gain more sins than usual. During that month hundreds of Tibetan people circumambulate around the Barkhor, Tsekhor (Circuit around Potala) and Lingkhor (the biggest round including all minor temples, about 14km). They also liberate fishes into Lhasa River (Kyichu) and other animals according to their own budget. Some of them are used to liberating the same number of lives according to their age.
In temples and monasteries, you will be able to see monks reciting a prayer in the Assembly hall and serving butter tea during intermission. Hundreds of Tibetan people line up in Drepung Monastery for making their donation to the monks chanting prayers in the assembly hall, and you will see the same scene in other monasteries. Most of Tibetan people are busy with visiting various monasteries with a flask full of butter in their hand for butter lamp. Most of them carry lots of small change for offering in monasteries and also for beggars. During that month you will see many beggars in Lhasa.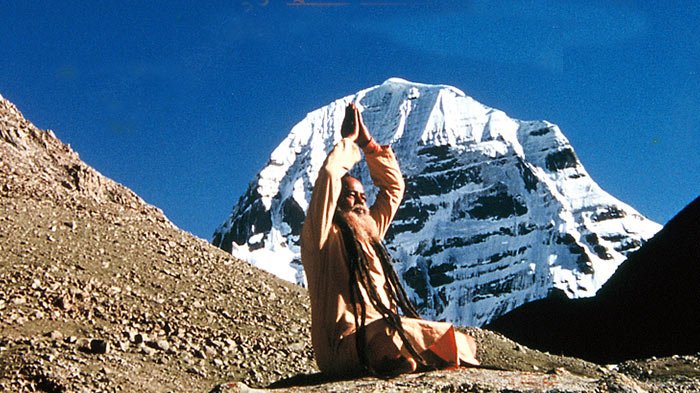 Holy Mount Kailash Worship
During this Buddhism month, lots of Tibetan people who are willing to make a pilgrimage will trek to Mt. Kailash. On the 15th day of that Tibetan month, you will be able to see the ceremony of erecting of the prayer flag pole. You can also start your treking after the ceremony as lots of people will do it. You will have a precious memory if you can worship the Holy Mountain accompanied by the Tibetan local pilgrims.
July in Tibetan Calendar – Shoton Festival
Taking place in August, Shoton Festival gives an overview of the local culture to travelers visiting Tibet. The traditional festival introduces entertaining public performances, such as singing and dancing, and applied arts centered on paintings of Buddha.
Drepung Monastery is a focal point of the Shoton Festival. You can visit the monastery on the first day to see a large depiction of Buddha known as Buddha Thangka. On the following day, travelers and locals attend Tibetan Opera performances held at Norbulingka and a few other parks in Lhasa. Another important tradition relating to the festival is drinking yogurt (Shoton actually means "sour milk banquet"). Monks cultivate yogurt in the mountains, giving the beverage to their relatives once the cultivation ends. While descending from the mountains, they dance, sing and drink.
Tips on Experiencing Religious Rituals in Tibet
When planning a trip to Tibet for attending a religious festival, refer to the Tibetan Calendar for the exact dates. Although months of the Tibetan calendar and the calendar used by the rest of the world are the same, they fall at different times. Tibetan people are very friendly and tolerant toward travelers, but keep in mind the following to avoid offending them:
- When referring to depictions of lamas, deities, and Buddha, the point at them by an outstretched hand with palm turned upright.
- Bend down a little and take off your hat when meeting lama. Also, don't sit with your back turned on respected elders.
- Avoid taking photos and don't smoke in the shrine.
- Respect the local culture and people and don't talk about politics and religion.
- Always stand up when lamas are entering or leaving the room.
In order to go smoothly during the Tibetan religious festivals and events, you can join in an organized Tibetan festival tour to ensure a pleasant experience.
Conclusion
Visiting Tibet during religious festivals is a deeply spiritual experience to devotees of Tibetan Buddhism. As a traveler, you are sure to enjoy and remember chants, songs, dances and other solemn performances on the streets and in Tibetan monasteries. To make the most of your stay in Tibet and benefit of professional guidance, you are recommended to contact a trusted local travel agency to experience a lifetime Tibet tour during festivals.
Most Recommended Tour Itineraries to Experience Tibetan Religion