Tibet's Little Slice of Heaven: Nyingchi
Searching for a travel destination this spring that delivers warm, sunny weather and impossibly scenic, hike-able landscapes? Look no further than Nyingchi, China's Autonomous Region that delivers just that. While the rest of Tibet is likely to be covered in snow during the early days of spring, this southern land offers a welcome reprieve from chilly temperatures. Its name even translates to "Throne of the Sun," a promising indication of the favourable conditions that await its visitors.
For travellers making their way through Tibet, they will find Nyingchi to be a distinct area that stands apart from its neighbouring towns. The land is not only prosperous and fertile thanks to the mild weather, but it is especially picturesque. With a lush, mountainous terrain, mighty glaciers and crystal clear lakes surrounded by wild forests, it is often termed the Eastern world's "Switzerland."
Perhaps the most breathtaking, distinguishing feature of the terrain? The peach blossoms found in abundance at the foot of the mountains. These charming red and pink flowers are not only beautiful to look at, but, on a deeper note, the Chinese believe they are symbols of prosperity, life and love.
The Story of the Peach Blossom
It all begins with the ancient Taoist myth The Peach Blossom Spring. According to this legend of 421 AD, a traveling fisherman comes upon a forest that is filled with blossoming peach trees, the rosy petals of which are scattered all over the earth floor. Making his way through this woodland, he comes upon a narrow grotto, through which he squeezes, coming unexpectedly upon a village.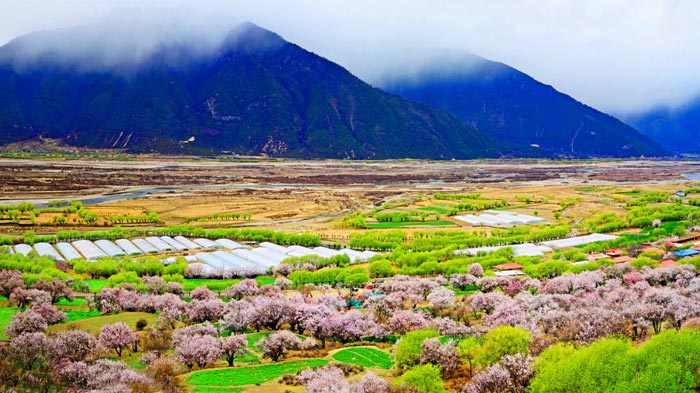 Thanks to moist weather and beautiful natural scenery, Nyingchi is reputed as the Switzerland of Tibet.
Inhabited by endearing animals and friendly people of all ages, this village carries with it an air of mystical enchantment. Upon meeting with the natives, the fisherman discovers they are shocked at his arrival because they have had no contact with people outside their village since the civil unrest of the Qin dynasty, which was when their ancestors escaped to this haven.
The bounty of the land culminates in the powerful, sacred tree that carries in it the power of immortality. This is none other than the peach tree. Following his departure, the fisherman relayed the story of his stay in this magical land with the lovely, welcoming people and animals. Yet, in spite of efforts made, no one was able to locate the paradisal land ever again.
The Symbolism of the Peach Tree
It's believed now that if you eat directly from a peach tree by delighting in its sweet, golden fruit, you will stay eternally youthful. The Chinese also have faith that the bark of the tree has the ability to ward off evil, while the blossoms bring good luck and exceptional love, making it a favourite for those seeking romance in their lives.
The Peach Blossom in Literature
Featured in countless written works over a long period of time, the peach blossom flower has come to be extremely historically and culturally significant. In terms of its literary past, there have been poems that feature the blossom in all of its figurative glory that have been dated back as far as the Tang Dynasty.
A notable Chinese classic piece of literature that highlights the blossom is Cao Xueqin's Dream of the Red Chamber, which draws parallels between women and flowers by examining each entity's beauty and fragility. Another interesting read highlighting the significance of the blossoms is Romance of the Three Kingdoms. In this story, they serve as a powerful backdrop. The three heroes who have decided to form a bond of brotherhood deem the fields covered in the blushing flowers to be the most suitable landscape to mark this life changing ceremony.
The Peach Blossom Festival
The cultural significance of the peach blossom is so great that there is a fête entitled the Peach Blossom Festival that takes place each year in order to honour the flower and its rich history in China. This year, it will be kicking off the last week of March and will last about a month. Here you can expect photography exhibitions, food fairs, fun sporting activities, and more - all in the name of promoting Nyingchi and its favourite flower.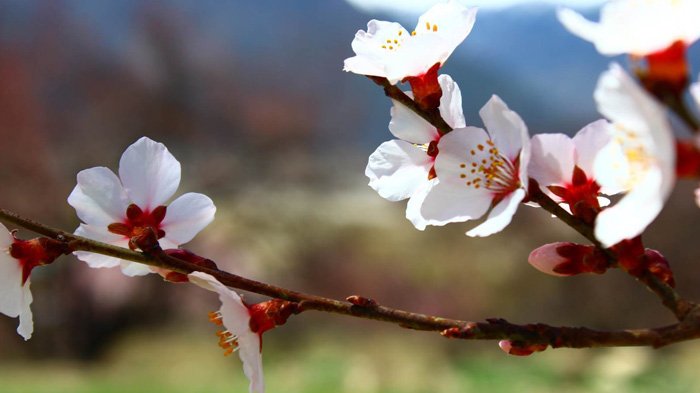 Nyingchi Peach Blossom Festival will last from late March to the whole April.
Know More about Nyingchi Peach Blossom Festival Tour with Tibet Vista
>> Embrace Rosy Peach Blossoms in Nyingchi Spring
>> Tibet Vista's First Group Ended Smoothly with Great Memory in Nyingchi
Other Wonders of Nyingchi, Eastern Tibet
Beyond the rose-coloured petals, there is so much more to explore here. Unparalleled sites include:
Yarlung Tsangpo River
This "Heaven River" holds the record of highest in altitude worldwide, and is the largest, most impressive body of water in Tibet. It's often referred to by locals as the "Mother river" for its crucial role it plays in their lives. It is the home to rare and unique plants and animals, featuring such wildlife as angel insects and yew, the latter of which is often depicted in folklore and traditionally used in the treatment of cancer.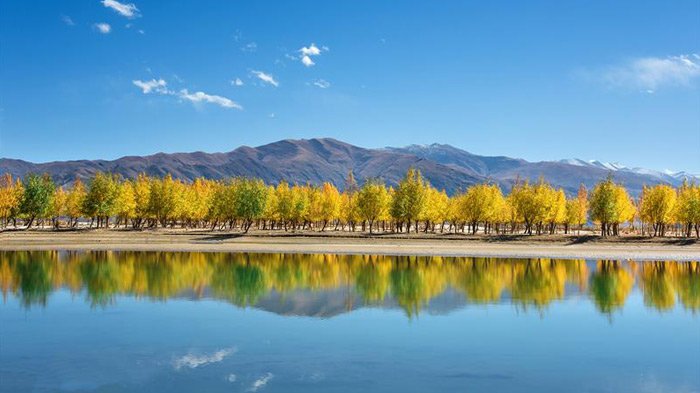 Yarlung Tsangpo River
Benri Mountains
About 4 miles outside the city you will find these sacred alps devoted to Bon Sect, a primitive Tibetan religion, conceived prior to Buddhism. The founder of the faith was said to have practiced it whilst sitting atop these soaring, 15,000 feet mountains.
According to legend, Buddhist master Padmasambhava came to Nyingchi to challenge the Bon Sect faith, producing great storms in an effort to wipe out villages and plants. However, he was quickly defeated by a Bon Sect disciple who was said to have tossed a large stone atop the trees. In celebration of this feat, followers of the faith congregate annually at the mountain in what has come to be known as the Saga Dawa Festival.
King Cypress Tree
With a thickness of 6 metres and an astounding height of 50 metres, this is the most magnificent tree in China. To provide a visual, it takes about twelve, linked adults to encircle the colossal trunk. As its namesake indicates, the tree can be found in the small village of King Cypress, just outside of Nyingchi. According to history, it has been linked to the founder of Lama Buddhism, Shinrab Miba. Apparently, the buddhist leader claimed it as his "life tree."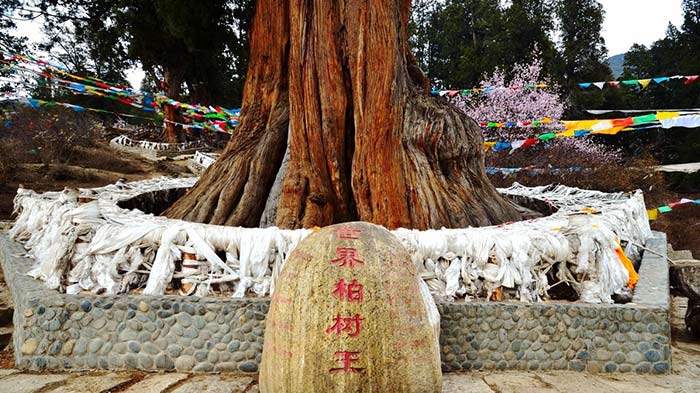 King Cypress Tree
Kading Valley
Best known for its astonishing 200 metre waterfall titled "Heavenly Buddha," this peaceful land is an optimal place for meditation, or even just enjoying your lunch with your travel companions. The name Kading translates to "Heaven on Earth," which makes sense given its connection to the Buddhist faith. Visitors claim the sweet water pouring off the falls comes down in the shape of famed Buddha figures like Avalokitesvara and the Two-Faced Buddha.
The Yarlung Zangbo Grand Canyon Trek
Still feeling a little adventurous near the end of your Nyingchi exploration? Before you head off to your next city of choice, don't miss where Nyingchi intersects with the regions of Milin and Metog. At this border here lies the wonderfully hike-able Yarlung Zangbo Grand Canyon. You can spend up to fifteen days making your way through this territory because of its great size. Over 7000 feet deep, and 314 miles wide, it is the largest canyon in the world, and offers some of the most challenging, electrifying treks in Tibet.
With a climate ranging from tropical to Arctic, you will encounter a vast array of wildlife here that has been largely unaffected by human civilization. From bears and snow leopards to monkeys and parrots, to the more rare goat-antelopes, or "takin," you're bound to stumble upon novel species you never have before. This is the perfect way to salute the city, digging your feet into its land literally, and keeping your eyes wide open to its remarkable, one-of-a-kind geography.
Conclusion
So, for an enchanted getaway off the beaten path, where you can feast your eyes on unforgettable sites like turquoise river valleys, alpine gorges and the ever-alluring peach blossom flowers, head on over to the fantastical Nyingchi this spring. Remember - if you want the optimal cultural experience, make sure you're there between March 25th and April 30th, so you can take part in the annual Peach Blossom Festival. Whether you're searching for a dash of good luck, a remarkable romance, or even just a dazzling view of unspoiled wilderness, Nyingchi and its peach blossoms are your golden ticket.