Currency in Tibet: How to Pay and Use Money when Touring Tibet?
If you are planning to visit Tibet, you might be wondering how to handle money there. Generally, mobile payment is commonly used in Tibet. Cash are also quite popular, while the usage of credit cards is relatively limited. For a more comprehensive and detailed guide on how to pay and use money in Tibet, read on.
How to Pay and Do I Need A Lot of Cash during My Tibet Tour Nowadays?
When traveling in Tibet, you have various payment options. Cash is a reliable method that works in any city or place in Tibet. Additionally, you can use mobile payments such as Alipay, WeChat Pay, and Apple Pay, which are widely used in Tibet and highly convenient. If you intend to use your credit card, it may only be accepted in specific places like large hotels.
However, you don't need to carry a large amount of cash, even if you cannot use mobile payments or credit cards in Tibet. For most international tourists visiting Tibet with organized tours, expenses are generally covered within the tour package. This usually includes accommodation and transportation expenses within the Tibet Autonomous Prefecture.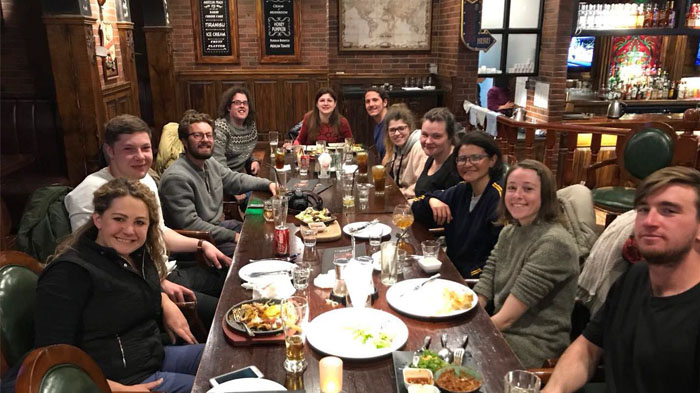 Enjoying the dinner in Lhasa
The only additional costs you should expect outside your tour package are for food and personal items. Some tours include specific meals, like hotel breakfasts. However, in remote lodges such as those at Everest Base Camp, breakfast is optional and not included in the tour cost. Meals in Tibet typically cost around 8 to 12 US dollars per day, equivalent to about 60-80 RMB per day in the local currency.
Therefore, you don't need to bring too much money with you before traveling to Tibet if you've already booked your Tibet tour. You can inquire with your tour operator about any additional expenses that might arise based on your itinerary.
What Currency is Used in Tibet?
The currency used in Tibet is the Chinese Yuan (often written as 'CNY' or known as the Ren Min Bi - RMB). Chinese Yuan is available in denominations of 0.1, 0.2, and 0.5 RMB bills (equivalent to 1, 2, and 5 Mao), as well as in denominations of 1, 2, 5, 10, 20, 50, and 100 RMB bills.
Only Chinese Yuan is accepted in the Tibet Autonomous Region of China, and US dollars are not commonly used in local stores. It's worth noting that unlike many parts of China where coins are used for small transactions like train tickets from vending machines, coins are generally not accepted by sellers and shop owners in Tibet.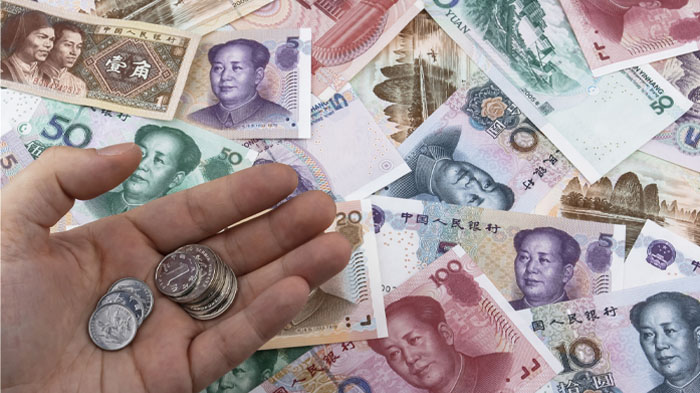 Chinese Yuan (or Renminbi) is widely used in Tibet.
There are varying reasons put forward as to why coins are not used. The first is that coins do not circulate in Tibet because there are no Tibetan words on coins. In fact, Tibetan words can be found on all paper money, even on the 10-cent notes in China, but not on coins. However, others argue that this does not hold water because not many Tibetans know the written language.
The second reason given is that coins are not easy to carry around in the large pockets inside Tibetan robes, as they are too big to carry small items like coins. This sounds just as much like an excuse as the other two reasons. Whatever the truth of the matter is, be prepared to carry small bills when traveling in Tibet.
How to Exchange Money in Tibet and What is the Currency Exchange Rate?
At present, among the banks in Tibet, only the Bank of China offers currency exchange services for visiting travelers. Some 4-star or 5-star hotels also provide currency exchange services for hotel guests, while the rate will be a little higher than the current cash-buying rate published by the Bank of China.
The current exchange rate for Ren Min Bi is approximately 7.2 to 1 US Dollar. Nonetheless, since exchange rates fluctuate, it's advisable to double-check before making any currency exchanges.
Bank of China in downtown Lhasa
Before traveling around the region, it is a good idea to change all your foreign currencies in Lhasa. While you can also change the currency in other cities in Tibet, like Shigatse, you will not get the same exchange rate, and you may only be able to exchange smaller amounts.
If you are unsure about the exchange rates and how to exchange currency in Tibet, your guide can help you, and Tibet Vista can also assist you with exchanging money prior to your trip to Tibet. Contact us for more details.
Which Banks/ATMs Can I Use to Withdraw Money in Tibet?
Tibet now has branches of China's four major banks, which are the Construction Bank of China, the Bank of China, the Agriculture Bank of China, and the Commercial Bank of China. There is also the Postal Savings Bank of China present on the plateau.
In cities like Lhasa, Shigatse, Tsedang, Bayi, Lhatse, and Saga, you can use your bank card to withdraw money when necessary. However, it is better to withdraw cash before you leave Lhasa, as the ATMs in small cities sometimes do not work. If you have trouble withdrawing money from an ATM, you can call the bank or ask your tour guide for help.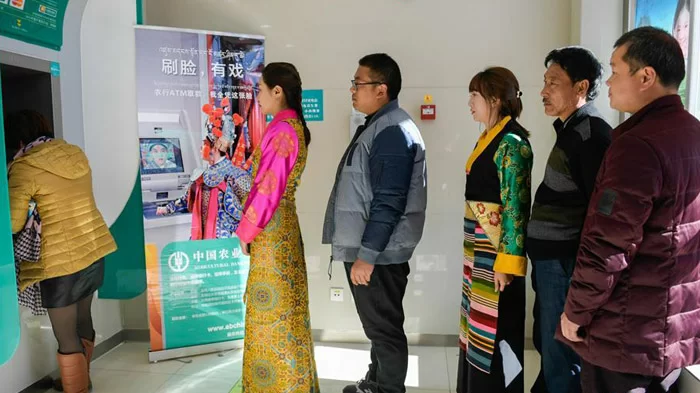 Withdraw Money in Tibet by ATMs
For international tourists, withdrawing money from your bank account may not be available in Tibet through ATMs and banks, as the Chinese banking system is not linked to many international banks. It is best to have a local bank card from one of the main four banks in China or a UnionPay card that is already loaded with enough money to use for your entire tour.
Can I Use Credit Cards for Payments in Tibet?
Credit cards are now accepted in many of the larger hotels in Tibet, especially in Lhasa and Shigatse, though you may find other more remote cities do not have large enough hotels to cater to credit card payments.
In Lhasa, most of the four-star, five-star even three-star hotels accept credit cards for payments, though they will normally charge 3-4 percent on top of your bill to cover the bank charges for accepting payment by card.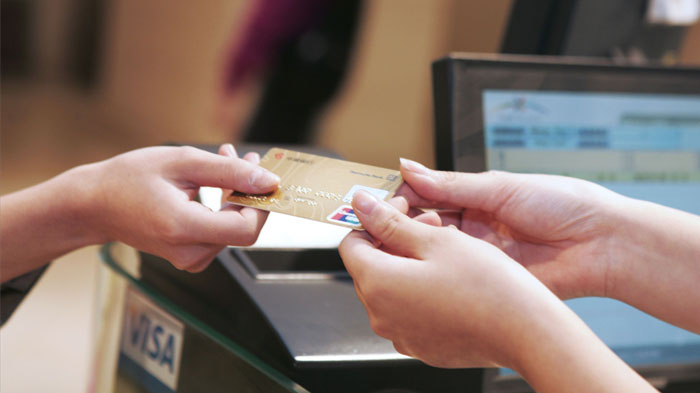 Credit cards are now accepted in many of the larger hotels in Tibet.
In some stores in Lhasa, you may be able to use a credit card to purchase larger items, although some stores will ask for a charge of 2-5 percent to be added to the bill as a service charge. Some stores will also tell you that there is a minimum spend amount when paying by credit card through their Point-of-Sale (POS) terminals.
What About Mobile Payments in Tibet?
In recent years, WeChat and Alipay have become widely used in Tibet and have integrated into the daily life of local Tibetans. Whether you're dining at restaurants, shopping, staying at hotels, or joining organized tours, both WeChat and Alipay are accepted. Tourists can effortlessly complete payments by simply scanning a QR code, making it incredibly convenient and efficient.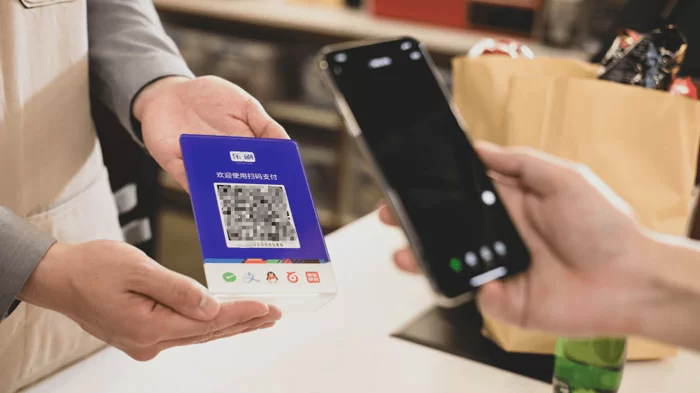 Mobile payments have integrated into the daily life of local Tibetans.
Furthermore, besides the widely adopted Alipay and WeChat Pay, other mobile payment options like UnionPay App and Apple Pay are also accepted in many situations. Surprisingly, you can even use Apple Pay to ride the public buses in Lhasa.
More Tips on Using Money in Tibet
Tibet has many beggars who can be seen in the streets of its cities. If you wish to donate money to them, it's best to carry small bills like the 1, 2, and 5 Mao bills (0.1, 0.2, or 0.5 RMB). These small denominations are also useful for leaving small tips for shop owners and for services you might want to use while in the region.
While crime is not a major issue in Tibet, there have been some instances of scams in larger cities, such as receiving counterfeit bills as change from street vendors when making purchases. It's not advisable to flaunt large banknotes, like 100 RMB bills, to avoid unnecessary trouble.
Conclusion
The use of currency in Tibet is still much more prevalent than using credit and debit cards. Mobile payments are also popular in larger cities of the region. It is always best to make sure you have enough cash to cover your entire trip before you depart for Tibet. For those joining our Tibet tours, you will only need to bring a small amount of money to cover your extra expenses. And if you still have any questions about using money in Tibet, feel free to contact us or leave your questions below.
Most Popular Tibet Tour Packages