Trips to Mongolia and Tibet: how to plan a Mongolia and Tibet trip
Planning a trip to Tibet and Mongolia together can be quite hard to achieve, as Mongolia is a remote and vast country, covering over 600,000 square miles of countryside. Known as the most sparsely populated country, there are less people per square mile than anywhere else in the world. An amazing country, Mongolia is one of the most stunning destinations in Asia, and when combined with a tour of Tibet, the roof of the world, it is the must-do trip of a lifetime.
The people of the Mongolian Steppes and the Tibetan Plateau have a lot in common, from their devout Buddhist faiths to the stunning thangka paintings that can be found at festivals all across Mongolia and Tibet. Both people began their civilizations as nomadic tribes, with the Tibetan people relying on the yaks for their travel and daily needs while the Mongolian nomads used the steppe horses that they are famous for. From the intense desolation of the Gobi Desert to the snow-covered plains of the Tibetan plateau, Tibet and Mongolia have a lot to offer the adventurous traveler and will leave you in awe of their individual resplendent beauty.
Before Visiting Tibet, Things You Need to Know for Touring Mongolia
How to Get Visa to Visit Mongolia
As with most countries you intend to travel to, Mongolia has a requirement for a visa for nationals of many countries around the world, with some exceptions. Twenty-three countries from around the world have visa-free access to Mongolia for different period of time. For Example, U.S. citizens can travel visa-free for up to 90 days, Canadians, Germans, and Russians can travel visa-free for up to 30 days, and Filipinos for up to 21 days. For nations without visa-free access, a full tourist visa is required.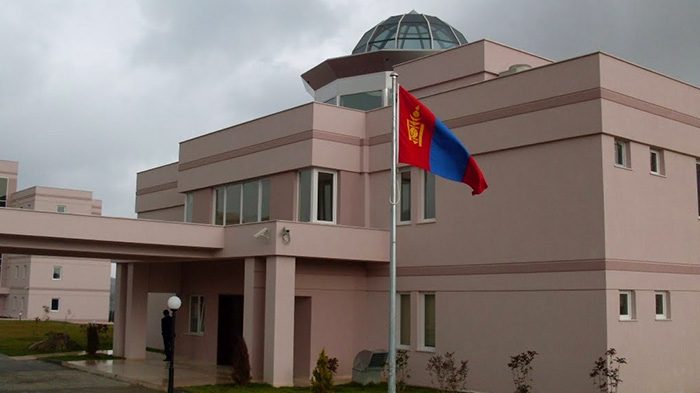 You can apply for the visa at Mongolian Embassy in your home country
Obtaining the visa for Mongolia, however, is quite painless and simple. The visa application merely requires your passport, valid for at least six months at the time of travel, with one passport-sized photo and the 30-dollar fee. Applications can be made at the Mongolian Embassy in your home country, or at one of the consulate offices in countries you are traveling through. Since many people enter Mongolia through China, it is a common practice to obtain the visa at the Mongolian consulate office in Beijing. Processing a visa takes just three days, and forms can be obtained online or at the consular office.
How to Get to Mongolia
Getting to Mongolia is relatively easy and can be done by train or by flight. Majority of visitors to Mongolia enter through the Chinggis Khaan International Airport,which is located just outside Ulaanbaatar. The airport only caters to nine international carriers, and receives flights from Moscow, Beijing, Hong Kong, Berlin, Tokyo, and Seoul. Travelers from other countries will need to get a connecting flight to one of those places in order to get their flight to Mongolia. Travel visas for tourists traveling through one of the six places with flights to Mongolia do not require visas, as long as they are merely transiting through the airport, and not stopping in that country.
Traveling by train is becoming more popular for visitors to Mongolia, and the country can be reached from Russia in the north or from China in the south. Most international visitors to Mongolia traveling by train tend to travel from China, as the rail network is better. The main railway link from China to Mongolia enters the country from Erlian in China, and tickets can be bought to travel direct from your departure location in China to Ulaanbaatar.
When to Go to Mongolia
Mongolia is a vast land, with towns and cities spread far apart on the steppes. With a newly burgeoning tourism industry, the country is now more open to foreign tourists than ever before, though many people still do not know much about travel to this ancient land of Genghis Khan.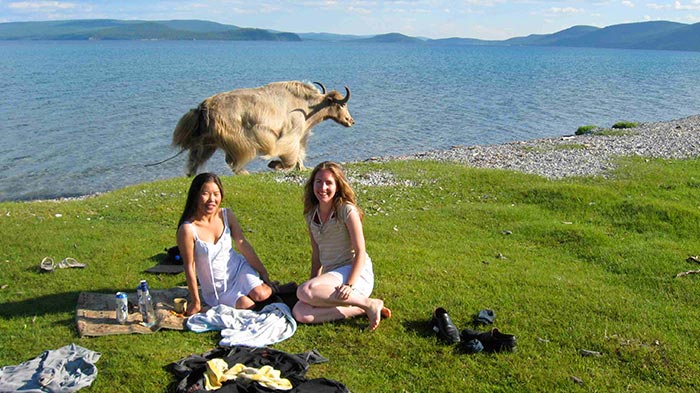 Visiting Mongolia in summer
Mongolia is an Asian country with all four classic seasons, and the peak season for tourism runs from may to around the middle of September. For most tourists, summer and autumn are the best times to travel. And as Mongolia is still discovering its own tourist industry, it is not yet a place that is so crowded from hundreds of thousands of tourists, making it an ideal place to visit now, in its tourism youth.
Mongolia is typically a year-round destination, and when to go largely depends on your itinerary and what you want to see. However, as Mongolia is a landlocked country with a continental climate, it is prone to extreme swings in temperature. While Mongolia does have the classic four seasons, most foreign tourists do joke that its four seasons consist of June, July, August, and winter.
Because the spring and autumn seasons in Mongolia are very short, often only seeming to last a few weeks, it is one place where it can actually feel like there are only two seasons. With that in mind, it is advisable not to visit in winter, as the temperatures in many parts of the country can get as low as -33 degrees during the day, with it being colder at night. The temperature does not start to warm up enough to travel comfortably until around the end of April, and by the end of September it is normally dipping towards freezing point again, leaving a small window of opportunity to travel.
Top Experience for Mongolia Tour
A massively Buddhist country, Mongolia has a huge number of temples and monasteries that are worth visiting. However, there is more to this vast land than just the monasteries, and these attractions can be found easily and deserve a respectful visit.
The Khongoryn Els are the largest and most stunning areas of sand dunes in Mongolia, and are known locally as the Duut Mankhan, or Singing Dunes. The sand moving with the wind makes a unique "singing" sound that can only be found in a few places around the world, and most of those are in Asia. With dunes that reach up to around 300 meters in height, this massive expanse of desert looks like a painted foreground when seen from a distance against the harsh mountains behind.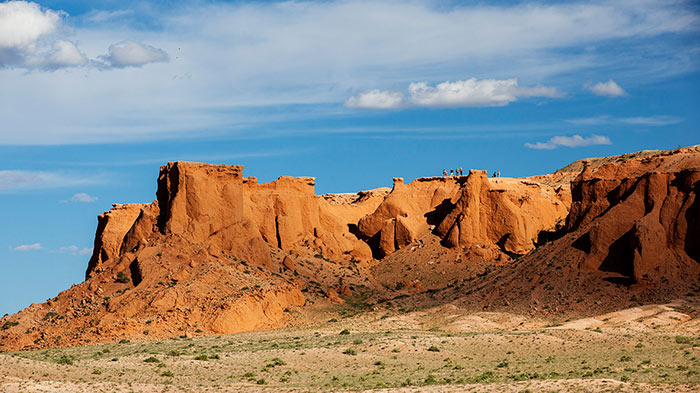 Flaming Cliffs
One of the most stunning features of the Gobi Desert is the Flaming Cliffs. Known locally as the Bayanzag, these cliffs were first excavated in 1922 by the American explorer and palaeontologist, Roy Chapman Andrews. One of the most important ancient sites in Mongolia, the eerie beauty of the surroundings cannot be denied. The layers of colored rocks that form the cliffs are complete with fossilized remains of ancient prehistoric creatures of all kinds, and it is a stark contrast to the lush green valley that lies at the foot of these desolate cliffs.
If there is one place you must visit in Mongolia that is linked to its Buddhist culture, then it is Shambala, the huge Buddhist site in Khamaryn Khiid. The final resting place of the controversial Mongolian monk dubbed the "Lama of the Gobi", DanzanRavjaa foretold his own death three years before it happened. On his foretelling, he told his followers that he would be dead in exactly three years, but that they could return to the place he stayed forever to speak with his spirit for guidance.
Plan Trips from Mongolia to Tibet
Before You Travel: Top Things to Know about Tibet Tour
Before planning a trip to Tibet, there are certain things to take into consideration, such as the fact that you cannot travel independently in the region. Tourism in Tibet is under strict controls, and only those with a pre-booked tour made through a registered Tibetan tour operator, like us, Tibet Vista, can travel there. The permits and passes required for travel to Tibet cannot be obtained personally and have to be arranged through the tour operator.
Tours are the only way to travel in Tibet and as the leading Tibet tour operator, we have a wide variety of tours that you can choose from, or you can customize your own tour if you are planning to travel alone with family. All the permits required for Tibet, including the Tibet Travel Permit will be arranged by us using a scanned copy of your passport and Chinese Entry Visa, and will be delivered to your hotel by express in China ready for your trip to Tibet.
Besides, do send your travel documents to apply for Tibet Permit at least 20 days before your Tibet tour starts.
How to Get to Tibet
Traveling to Tibet can be done in two ways, by flight or by train. Flights to Tibet run daily from several major cities across China, and direct flights can take as little as 2 hours or as much as 8-9 hours to get to Lhasa, the Tibetan capital. Prices range from around 300 dollars and up, depending on your departure location, which makes flying the more expensive option.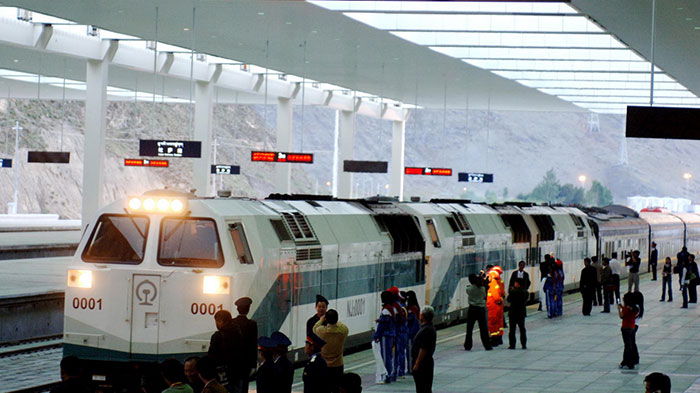 Taking the Tibet train to Lhasa
For those on a budget, there is another way: Tibet trains. Specialist trains to Tibet leave from seven gateway cities across China, which cost from as little as 76 US dollars up to around 228 dollars. Trains leave daily from Shanghai, Beijing, and Guangzhou and every other day from Xining, Chengdu, Lanzhou, and Chongqing, taking between 22 and 55 hours to reach the Tibetan capital. While it may be much slower, the trains are less costly, and you have the added advantage of getting to view much more of the Tibetan landscapes and scenery as the train rolls across the high plateau to Lhasa.
When Is the Best Time to Visit Tibet?
Apart from the months of late February and March, when Tibet is closed to foreign tourism, you can visit many parts of the region throughout the year. When to go depends largely on what you want to see and what your preferences are.
Spring and autumn are two of the best times of the year, especially for trekking and visiting Mount Everest, as the skies are clear and bright, the weather is mild, and the temperatures warm enough to be comfortable. However, it can get very cold at night, so warmer clothes are required.
Summer is the peak season for tourism in Tibet, as well as being the monsoon season. However, apart from the far eastern areas of the region, there is actually very little rain on the plateau, due to the elevation and the rain shadow effect of the massive Himalayas. Most days are dry, and when it does rain, it is normally in the evening or overnight. You may have a problem seeing the peak of Everest in summer, though, as there is often cloud cover that obscures the summit from view at Everest Base Camp.
Winter can be a good travel time in Tibet - Join Tibet winter tour, but only in certain areas. Lhasa is a popular place in winter, as there are fewer tourists crowding the attractions, and there are often low-season discounts available at hotels and for flights. More remote regions may be out of reach, however, due to cold and snowfalls, which can restrict where you can go. And it is not really as cold as many people think, as long as you wrap up warm. - Best Travel Time to Tibet: the ultimate guide about when to tour Tibet
Top Experience for Tibet Tour
Traveling in Tibet is one of the most amazing experiences you can have, and it will leave you with a sense of purpose that can only come from such a divine place. Filled with monasteries and temples, Tibet is one of the most unique lands in the world and has more to offer the adventurous tourist than just monasteries and yaks.
Potala Palace, while not actually a monastery, is a major Buddhist building in Lhasa that once served as the seat of Tibetan governance. Ancient government in Tibet was run by the Buddhist lamas, with the Dalai Lama being the head of both the religion and the government. Hardly surprising in a place where religion and culture go hand in hand. The palace is also the winter palace of the Dalai Lama, and remained the set of government from its construction to the move to Norbulingka in 1755.
Jokhang Temple, in the center of Lhasa, is a must-see attraction for all tourists to Tibet, as it is the most sacred and spiritual building in the region. Built in the 8th century as a temple for the wives of the Tibetan King, Songtsen Gampo, it has stood strong for more than 1,300 years, and still houses the ancient statue of the Sakyamuni Buddha that was brought to Tibet by Princess Wencheng on the occasion of her marriage to the Tibetan king.
Mount Everest, in the far west of Tibet on the border with Nepal, is one of the most popular tourist attractions in the region and sees hundreds of thousands of visitors every year. Standing at 8,848 meters above sea level, the world's highest mountain is best seen from the northern base camp in Tibet.
Join-in Most Classic Tibet Tours