Lhasa Bars: never miss the sleepless night in Lhasa
Many people may think that Tibet is just a remote and a holy land of Buddhist. There should be no entertainment at night. As a matter of fact, the nightlife in Lhasa is very unique and colorful. Compared with what it was in past years Lhasa's nightlife has changed a lot. Many Tibetan young people like to spend their night hours in bars, pubs or taverns now. Hence, Bars and pubs in Lhasa are attractive for their exotic ambiance and fragrant local flavors. Here are some places for you to enjoy a sleepless night in Lhasa.
Top Bars to Enjoy a Drink in Lhasa
Bars in Lhasa give off unique exotic flavors and attract tourists a lot. Therefore, our veteran local guides would like to suggest some well-noted bars or theme pubs for tourists who want to seek a nightlife tour in Lhasa. They are wonderful places for foreign tourists on a Lhasa tour to experience the local youngster culture.
Low House Music Bar
The Nepal-themed bar, one of the most famous music bars in Lhasa, is located at No.68 East Beijing Road, Lhasa, Tibet. It has just been being redecorated because of many years business on the busiest Barkhor Street. A quiet and warm little world enveloped by light music where you could spend your hours with your friends chatting and playing cards or doing whatever small things you would like. The little ornaments and decorations in the bar would set free your imaginations and mind. It is a good place to reminisce your past memories and years. The bar was said to be the house of the 11th Dalailama, Peng Xeikon family. The drinks in the bar, for the local made Barley Beer here, cost RMB35 a bottle and RMB 40 for an average white beer. The honey Pomelo tea costs RMB 50 with free renewal.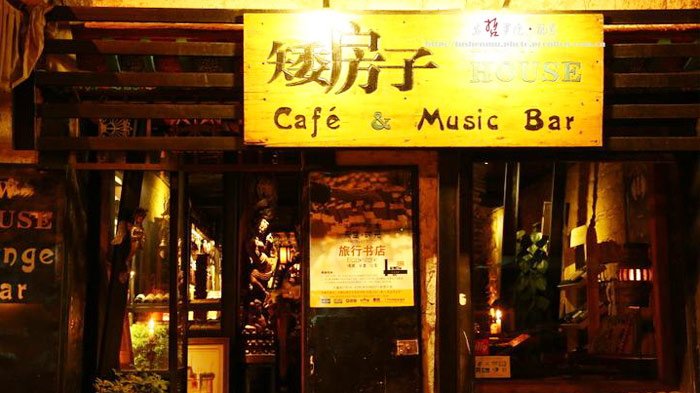 Low House Music Bar near Barkhor Street is a well-noted bar among the youngsters
Mayke Ame
Mayke Ame, it is an eye-catching yellow tavern renowned for its beauty and its petty-bourgeois romance. A landmark of Lhasa nightlife, this restaurant gains its fame partly because of the legend accompanied it. According to legend, Mayke Ame is the heroine of the poem written by Tsangyang Gyatso, the sixth Dalai Lama of Tibet. The little tavern was once the place of date between the two. Many foreign tourists or locals would choose to sit beside the windows and have a drink of beer or whatever wines offered there after nightfall. The price of food and liquors or drinks here are not expensive with consumption averaging RMB100-200.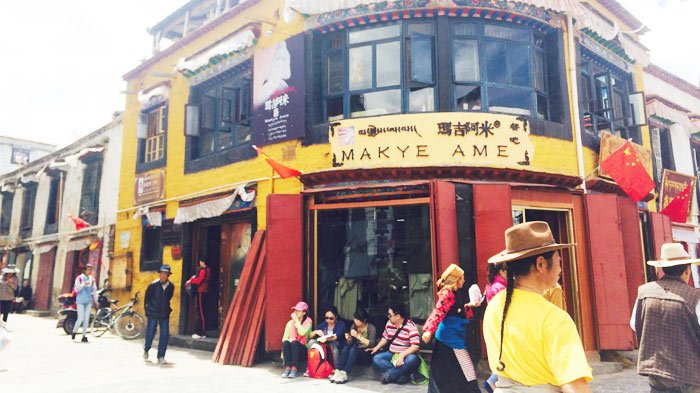 Mayke Ame, the landmark of Lhasa
Ganglamedo Cafe and Bar
Ganglamedo in Tibetan means Snowflake. Ganglameiduo is considered by foreign tourists as a window and symbol of Lhasa. In the little bar, there are canvas and watercolor paintings on Tibet theme hanging on the wall. It is similar to any domestic bar in mainland China, beautiful girls, delicacy, barley wine and tasty beers, both locally made or imported are available. But it is different to other bars that it teems with culture. You could enjoy watching high standard watercolor paintings as you sip a cup of ale. And you could buy any of the paintings if you are really fond one of them if you reach a bargain between the boss and you. It is very easy to find Ganglameiduo as there are three languages written on the door to greet possible guests.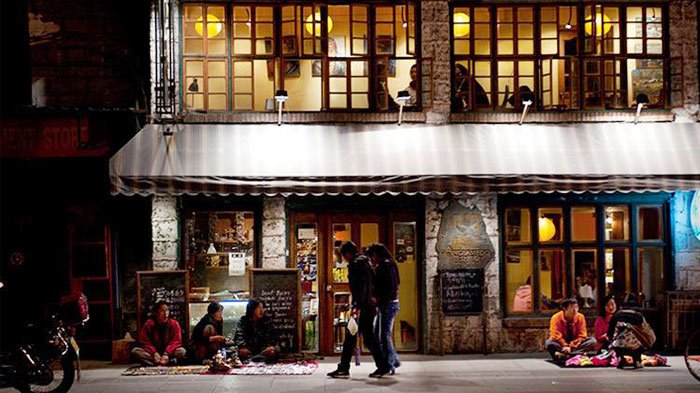 A place for spending one hour or two at night in your tour
Dunya Restaurant Bar
Dunya, an orthodox western restaurant bar is run by Kristin from America and Jannette from Holland. The bar serves its guests both western and Tibetan food and drinks. The artistic iron chairs of the bar are customized in Chengdu, the capital city of Sichuan, and shipped to Lhasa from more than one thousand miles with so many efforts. The inn situates at a very favorable place near to Potala Palace and Jokhang Temple. Tourists visiting the temples could come here for a drink at night. The bar is mostly frequented by foreign tourists coming to Lhasa, as a place to find their western way of life in an oriental city. The beers and wines offered here are inexpensively affordable to average citizens about RMB 90 for a dozen bottles.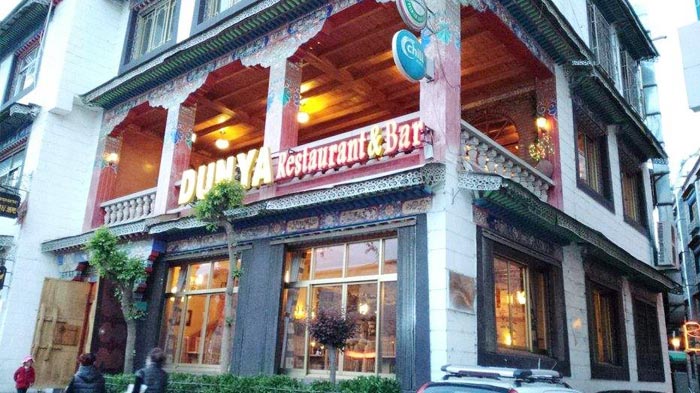 Dunya Restaurant bar is run by a foreign couple in Lhasa most frequented by visiting tourists
Tianhai night market
Also the so-called snack street of Lhasa, the most clamorous and largest scale night market where you find the most visitors with locals and tourists coming and going in the hilarious atmosphere. It is also a place to spend nightlife in Lhasa and have a taste of various roasts mingled in Sichuan, Xinjiang and local Tibetan flavors. Here you could sit at a chair and order some dishes with beers and spend one or two hours watching the normal life of average citizens.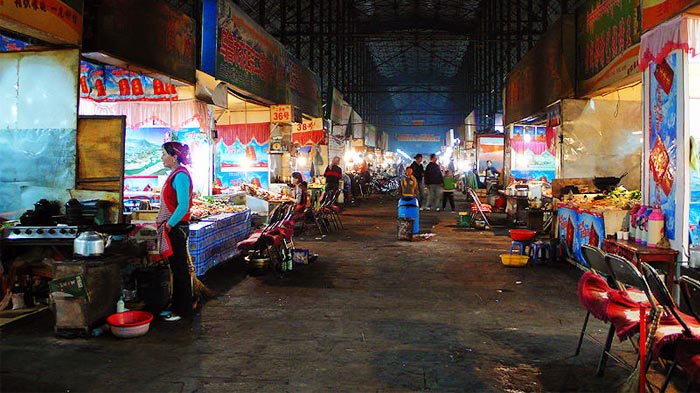 Tianhai night market is a clamorous night market frequented by the majority of people
It would certainly be a wonderful experience to spend the night in such a place during your nightlife in Lhasa teems with beers, singing and dance. Square in front of the Potala Palace is a most bustling place where you could see springs and traditional folk dances. In Tianhai night market, you could eat various meat kebabs and drink liquor or beer to your heart's full. If you are a bar-going addict, you will find the largest concentration of bars in the Mid-Beijing Road in Lhasa.
So please feel assured that Lhasa will give your colorful nightlife during your tour to Tibet. There are also other bars in Lhasa, but tourists to Tibet are not advised to drink alcohol on their first two days in Tibet because it is dangerous for travelers to drink before full acclimation of the high altitude of Tibet. However, you can go there order some Tibetan snacks and feel the exotic atmosphere there.
For Authentic Tibetan Experience, Go to Langma Halls in Lhasa
The word "Langma" in the Tibetan language means the royal music. It was only an entertainment for Tibetan traditional aristocracy in the past. With the development of our society, however, Langma Halls are a part of daily recreation for ordinary people as a nightclub in Lhasa, where people can fully deeply appreciate Tibetan traditional culture. Moreover, the entry is free and people can spend a whole night there.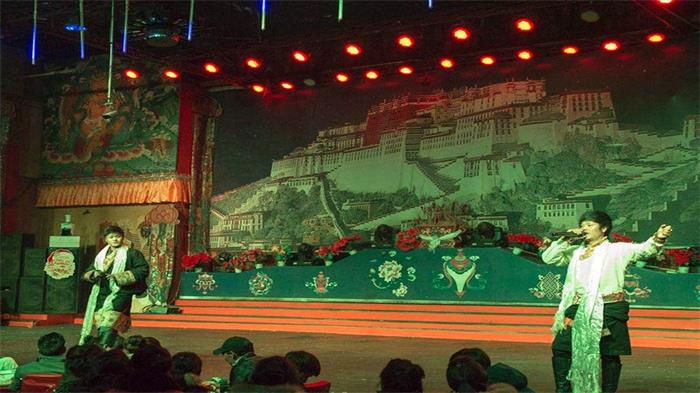 Traditional performance in Langma Hall
Your Lhasa tour would be incomplete if you fail to experience the wild dancing and singing in Langma Hall in Lhasa at night. In recent years, dozens of Langma halls have come forth in Lhasa, such as Lhasa Yinxiang, Rongzhong 'Erjia Auditorium, Niwei National Opera House, and Zangdiyangguang Auditorium. Every night, hundreds of people are gathering here to enjoy traditional Tibetan dancing and singing over beers. Usually, family members and friends sit at a table, order some drinks, chat and watch the performance.
This Langma Hall stage plays two or three different shows a week, most of them are folk dancing and singing. Each show starts with a conventional Tibetan opera, which have been listed in the National Intangible Cultural Heritage. When the show starting, singers and performers wear clothes with Tibetan characteristics on the stage. Colorful spotlights illuminated the huge backdrop painting of the Potala Palace on the stage, while delightful Tibetan melody echoed around the hall. During the performance, you also can join in the elegant and beautiful Tibetan dance.
Chatting with friends and family members, listening to traditional Tibetan music and drinking in Langma hall. At the same time, the sound of joy would embrace you all night. What's really a fantastic nightlife in Lhasa. - See Our Clients Saviored the Glamorous Nightlife in Langma Hall in Tibet
Nice Bars for the Bookworm
Have you ever wondered how wonderful a sunshine afternoon spent on enjoying relaxation and leisure at book bars in Lhasa? "Regardless of the vicissitudes of the outside world, I put my heart into the classics written by the lofty and sagacious." The saying describes the wonderful moment without anything disturbing, only interesting books. You know, we can enjoy quiet in a library, but not entertainment; we can read all kinds of books in a bookshop, but we will feel depression there. Sitting and reading in a book bar will help you enjoy a great time. Interesting books, delicious coffee, beautiful decoration and elegant music make a wonderful afternoon or a whole day.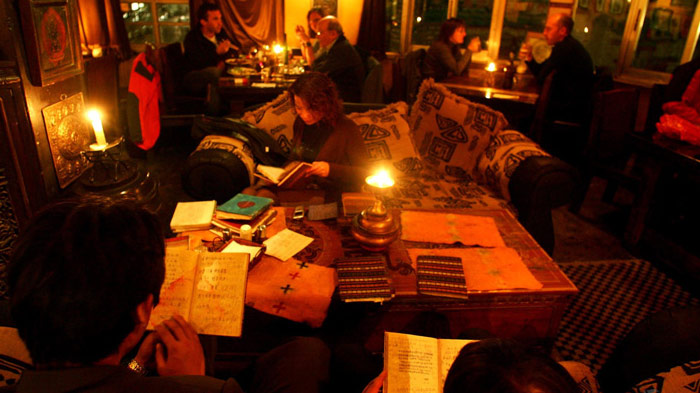 Enjoy leisure time in the bookworm
As a new relaxation and leisure style, "book bar hopping" has become a new trend in the ancient city of Lhasa. In fact, a book bar is not a fresh thing anymore in Beijing, Shanghai or Nanjing. All kinds of book bars can be seen everywhere. However, this is a fresh stuff in Lhasa.
In recent years, the book bars have sprung up like mushrooms. There are many characteristic book bars such as "Tibet book house", "elsewhere", "blog", "Kuyuma" "Guxiuna" and etc. These bars have become a part of the beautiful scenery of Lhasa. If you want to gain a further understanding of the place, books help. No wonder, some tourists traveling to Tibet come all the way to the bookstores and bars to enjoy their leisure time and to gain information and inspiration about the rooftop of the world--Tibet.
In conclusion, Lhasa is considered to be a place full of mysteries which attracts tourists from around the world. Places such as the magnificent Potala Palace, the sacred Jokhang Temple, as well as bustling Barkhor Street are all major attractions in the capital. Except for its famous spots, have a sleepless night here also a worth try.